In preparation for future high altitude climbs (like Annapurna), I decided to start planning for my Kilimanjaro solo trek. I settled on TrekkingHero as my expedition guides, so the day planning pretty much follows their planning. So here's the day planning for my Kilimanjaro Lemosho trek.
Our day planning Kilimanjaro for the Lemosho route
Day 1 – Brussels to Amsterdam to Nairobi
Day 1 is a long day of travel. From Brussels to Amsterdam to Nairobi. Arriving late in the evening in Nairobi in Kenya, I am eyeing a stay at the local Intercontinental Nairobi to get a good night of rest.
Day 2 – Kilimanjaro Airport to Moshi
After an early morning flight from Nairobi, I will arrive around lunch time at Kilimanjaro Airport, where a transfer from TrekkingHero to Moshi town will be waiting.
Moshi is known as the gateway to Kilimanjaro. Meeting the guide and reviewing equipment in the evening in preparation for the trek the following day.
Day 3 – Mt Mkubwa Camp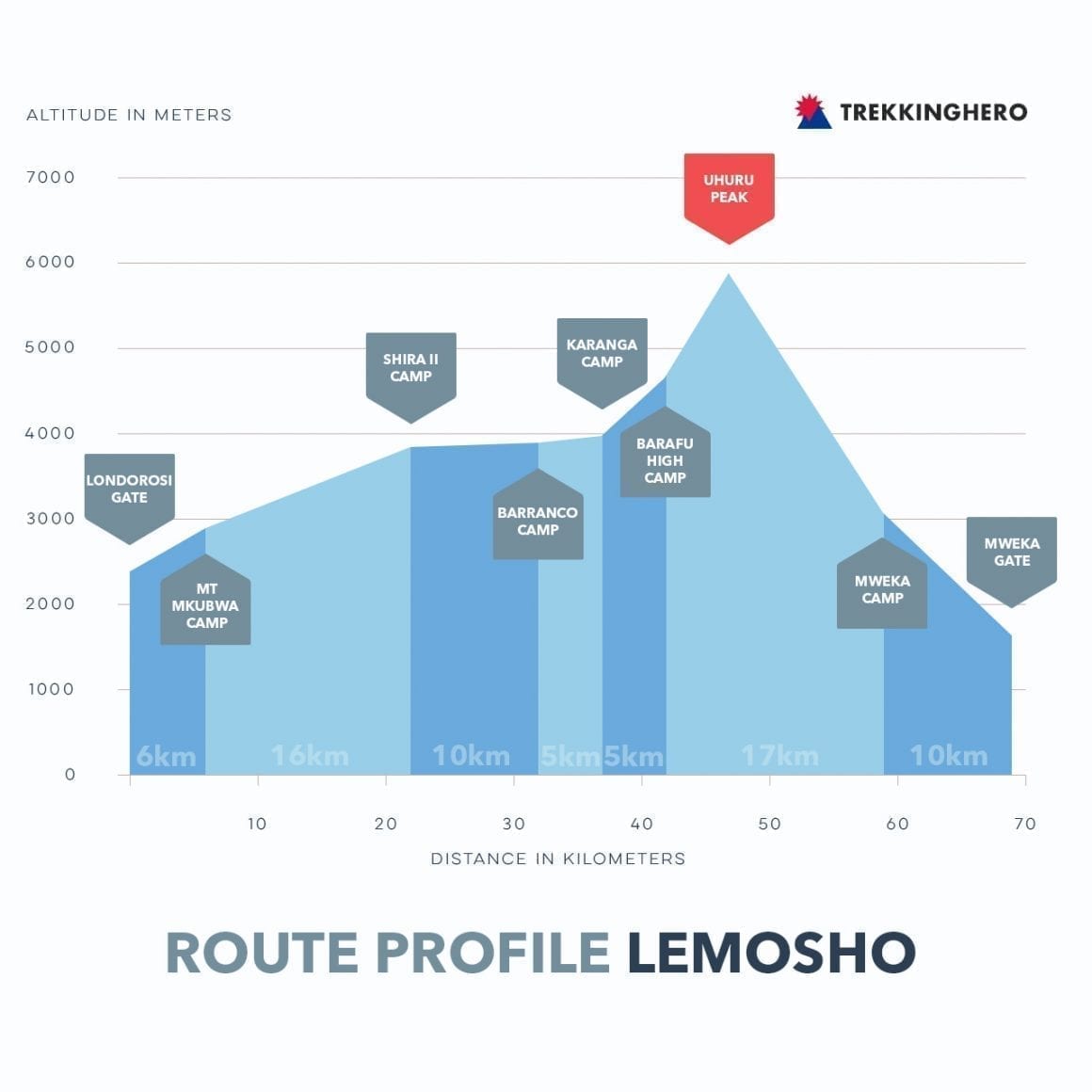 (2900 m), 6 km (3 to 4 hours)
And then it starts. It is between 3 and 4 hours of driving to reach Londorossi Gate the starting point for the climb. It's an interesting drive with some opportunity to see wildlife. Another few hours of formalities with the park rangers at the gate – and off on the trail. The trail goes through the lowland forests first where large Colobus monkeys are fairly common.
Day 4 – Shira 2
(3875 m), 16 km (7 to 8 hours)
The first part of the days trek is fairly steep – a climb up out of the jungle and into the moorland ecosystem dominated by Giant Heathers and a variety of grasses and wildflowers. After Shira Ridge, the trail continues slightly downhill across the broad expanse of the Shira Plateau to Shira 1 Camp for rest and lunch. After lunch push to Shira 2 camp across the Shira Plateau, to admire the Western Breach if the skies are clear.
Day 5 – Barranco Camp
(3,983 m), 10km (5 to 8 hours)
Leaving Shira 2 in the morning – climb towards the main peak Kibo, with the western glaciers clearly visible across the rugged high-altitude desert of volcanic rocks and boulders. The trail ascends to the Lava Tower site (4600m) before descending back down into Barranco Valley. The area before the campsite is known as the "Garden of the Senecios", which features many huge senecio plants as well as the shorter lobelia plants. Its 7 to 8 hours walking and the total ascent is only 110m total but having climbed much higher and dropped back down assists acclimatization.
Day 6 – Karanga Camp
(3,983 m), 5 km (4 to 5 hours)
A challenging climb up the steep Barranco wall (some scrambling but not technically difficult), easily one of the highlights of the trek. Some maajestic views at the top before dropping into the Karanga Valley for resting and acclimatizing.
Day 7 – Barafu High Camp
(4,645 m), 5 km (4 to 5 hours)
Push to Base Camp, arriving to Barafu at lunch time. This allows to spend the day resting legs and preparing for the big push to the roof of Africa later that night around midnight.
Day 8 – Uhuru Peak
(5895 m) Walking Distance: 5 km ascent + 12 km descent (10-16 hours)
The day starts at midnight with the final push to the summit. It's a cold and grueling six hour hike to summit rim up a steep slope. The trail is doable but steep with many switchbacks. The summit rim is reached just about sunrise and it's a fairly level hike around the rim to Uhuru Peak – the ultimate summit and highest point in Africa.
After summiting and some quick selfies and other Instagram material (good or bad) – Going down back to Barafu Hut for a short nap and snacks before continuing down to Mweka camp (3068m).
One of the reasons for such a long day of trekking is to avoid problems with acclimatization (I am really curious to see how my body will react – in preparation of future hikes) and get back down to a lower elevation quickly.
Day 9 – Mweka Campsite to Moshi
(3068m) Walking Distance: 10 km (3 to 4 hours)
From Mweka campsite it is a 4 to 5 hours descent through the forest to Mweka gate to collect certificates and get back to car that will take us to Moshi.
Return to Moshi for the night and to have a final farewell dinner with the team.
Day 10 – Moshi, Nairobi
After breakfast, transfer to Kilimanjaro airport from Moshi. After a short one hour flight, arriving in Nairobi. Spending some time at the pool in my hotel Nairobi with some cocktails to relax after the trek.
Day 11 – Brussels
Early morning rise, arrival in Brussels around 18h00 in the evening after transfer in Amsterdam.
How my day planning Kilimanjaro stood the test of reality
Life is what happens to you while you're busy making other plans. So while above planning was great, we needed to make some adjustments (also read my full story). So here is our final day planning Kilimanjaro.
Day 4 (hiking day 2): Shira 1 camp – because of heavy rain, the water level of the river near Shira 1 was so high, it was impossible for porters to cross. That meant we were stuck for the night in Shira 1, rather than pushing for Shira 2 to wait for the water levels to lower overnight. Based on the opinions of the team, the guide decided to make up for lost time/kilometers on hiking day 5: by skipping Karanga camp and directly pushing for Barafu camp (basecamp before summit).
Day 5 (hiking day 3): Shira 2 camp – we reached Shira 2 camp one day later than planned. 
Day 6 (hiking day 4): Barranco camp – we reached Barranco camp one day later than planned. 
Day 7 (hiking day 5):  Barafu (base) camp – this day was the big change. Rather than staying at Karanga camp, we would combine the Barranca – Karanga – Barafu (base) camp days. In hindsight, this was a bit much – that same midnight I would have to get up to do the summit push and later that day push for Mweka gate. 
Day 8 (hiking day 6): Summit and Mweka gate (the end) – Before summit day, the support team of porters, cook and guide had made clear that their preference would be to summit Uhuru Peak and rather than camping in Mweka camp after, push for Mweka gate (actively finishing the trail and going home). We agreed to evaluate after reaching the summit and arriving back in basecamp what to do. While on our way down from Uhuru Peak, the guide and myself agreed that pushing for the gate would be best for everyone. So eventually we hiked the extra 10 kilometers from Mweka camp to Mweka gate and be at the hotel in the evening.
Day 9: Moshi, Nairobi – I eventually decided to change my flights and leave Moshi a day early (via Kilimanjaro International Airport – luckily I could change my flights for free) to spend more time in Nairobi. For a moment, I considered doing a small day trip around Moshi, but eventually decided on having a decent bed and swimming pool in Nairobi.