It is Africa's contribution to the seven summits and 5,895 meters high – Mount Kilimanjaro. It has been recently added to my bucket list, mainly as a way to rather safely learn how my body reacts on altitude (in preparation for an Annapurna hike, Manaslu or maybe a future Everest Base Camp hike) as well as checking whether I get annoyed by hiking in groups (not sure – guess so). So this is my Kilimanjaro Lemosho trek planning and preparation.
I am continuously updating this post as I am planning to summit Mount Kilimanjaro October 2019.

Before we start: Kilimanjaro Lemosho trek
I prefer trekking solo. I have done that with the Kumano Kodo in Japan, the Laugavegur and Fimmvörðuháls trails in Iceland and the Jordan Trail in Jordan. I love the quietness, being on my own, having to deal with all challenges on my own.
However, with Mount Kilimanjaro, a solo hike is forbidden by law. You will need a registered guide and porters.
Mount Kilimanjaro
The world's tallest freestanding mountain is on many people's bucket list, but the relative ease of the climb means most routes are overcrowded.
Kilimanjaro attracts 50,000 climbers a year, up 25% from 2008 and about 50 times the number attempting either Everest or Denali (formerly Mount McKinley) in Alaska. Managing the impact of so many boots stomping up and down one mountain is a serious challenge, so hikers are required to stick to formal routes and to sleep at designated camps. On one route – Marangu – camps feature permanent huts (so no way I was going to do that route). On the others, elaborate tent villages are erected each afternoon, only to disappear the following morning as climbers come and go, sometimes in their hundreds.
Step 1: settle on the idea for my Kilimanjaro solo trek.
Two important but difficult decisions to make: which of the many routes will I take and which of the insane amount of trekking companies will I join?
Some blog sources I used:
Current plan:
I'm looking for a late summer 2019 summit, so I have all opportunities open for high altitude trekkings in 2020.
I'm looking at Lemosho or Rongai routes (more quiet).
I'm doubting whether to fly into Kilimanjaro or Nairobi (Kenya) and then travel on and maybe combine it with a wildlife tour (something I still regret I didn't do when visiting Johannesburg).
Currently considering Climbing Kilimanjaro and Team Kilimanjaro as Expedition companies.
Settling on the Lemosho route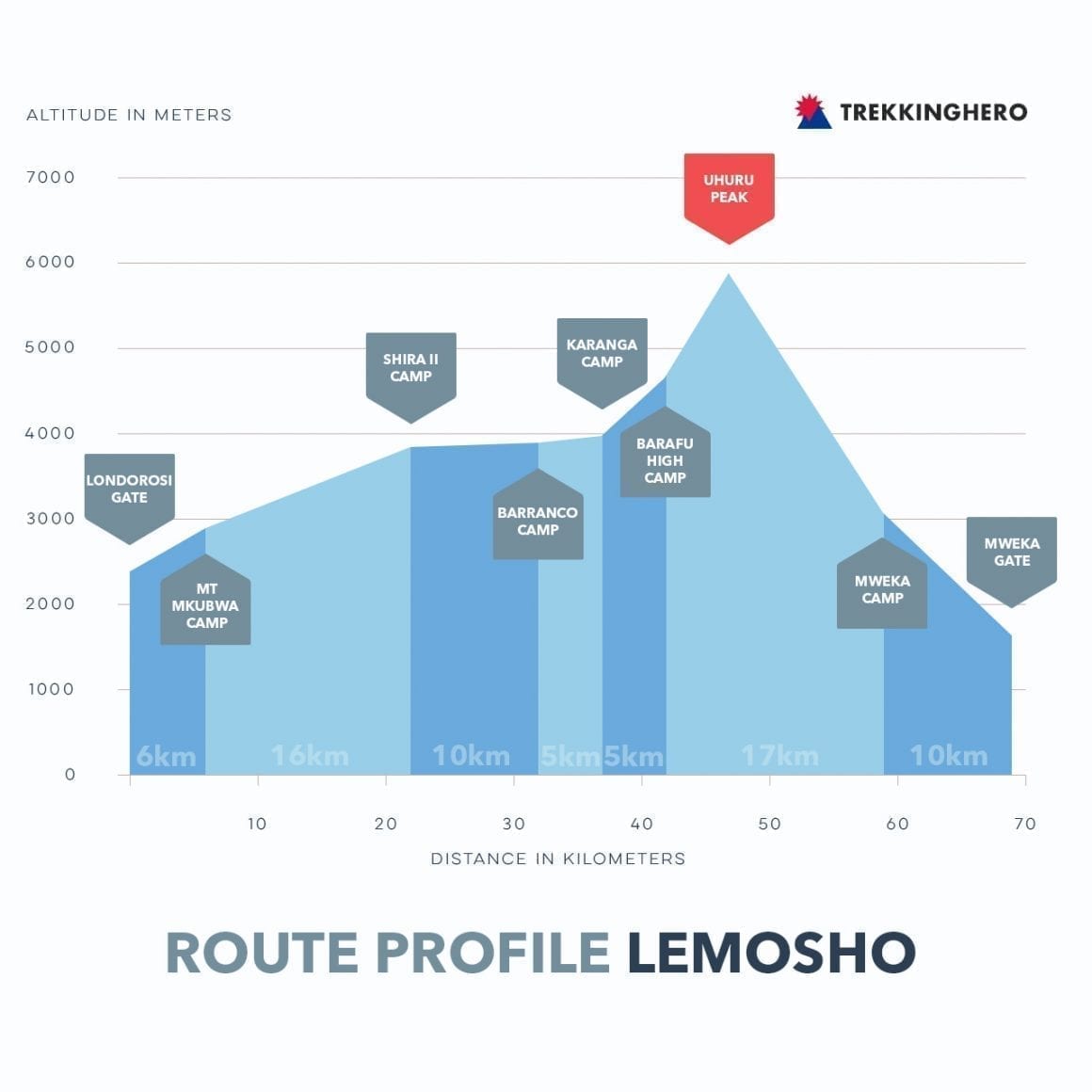 I finally settled on the Lemosho route. The Lemosho Route is arguably one of the best options for climbing Kilimanjaro. The route provides plenty of time for acclimatization and takes in the entire scenery of the mountain as it practically traverses it from west to east. The access via the western route requires a bit longer drive to the trail head but is well worth it as you get to drive through some wild country and may even be lucky enough to spot buffalo or an elephant. During the first few days of the trek you will ascend the western flank of the mountain a side of mountain few visitors reach as you ascend through the lowland jungles to the Shira Plateau. After reaching Shira Camp 2 on the third day the remainder of the trek follows the traditional Machame Route and the number of trekkers on the trail increases. The fourth day of trekking is quite helpful for acclimatization as you ascend to the Lava Tower (15,000 feet / 4600m) before descending to the campsite in Barranco Valley. Another day of trekking brings you to the high camp at Barafu, which lies on a barren volcanic plain. Climbers spend the afternoon resting here before making a midnight summit push. It's a 6 hour slog to the crater rim and another hour of traversing across the rim of the crater to reach Uhuru Peak the final summit and highest point in Africa.
Step 2: validate my Kilimanjaro Lemosho trek plans.
Step 3: settle on a date for my Kilimanjaro Lemosho trek hike.
I'm looking for a late summer 2019 summit, so I have all opportunities open for high altitude trekkings in 2020.
Step 4: lock-in my Kilimanjaro Lemosho trek trip.
I locked my trip in from October 14th till October 24th.
Step 5: create a rough day planning for my Kilimanjaro Lemosho trek.
I made a first draft of my day planning.
Rough planning is as follows:
October 15 Travel from Nairobi to Kilimanjaro Airport, transfer to Moshi (overnight in Moshi)
October 16 Mt Mkubwa Camp (Start climb)
October 17 Shira 2 Camp
October 18 Barranco Camp
October 19 Karanga Camp
October 20 Barafu High Camp
October 21 Uhuru Peak
October 22 Mweka Campsite to Moshi (Return in afternoon)
October 23 Depart Moshi, Travel to Nairobi.
October 24 Travel from Nairobi back to Brussels via Amsterdam.
Fallback options
Especially since my experience at the Iceland Laugavegur trail and it's fast-changing weather as well as my illness and navigational error on the Jordan Trail from Dana to Petra, I promised myself to make a backup planning. As the trek is a guided trek, I did not plan extensively like I would normally do. I am still considering taking my PLB and/or Garmin InReach with me and spend some extra time planning.
Step 6: creating a packing list for my Kilimanjaro Lemosho trek.
I made a first draft packing list as well as a packing list for my day pack.
Budget for my Kilimanjaro Lemosho trek.
Transportation
Climb (guides, etc)

Expedition $2000
Tipping guides and porters $250 – $350

Other
Extra