It is 05h30 in the morning on a Monday and I am crying, patting a wooden sign. The sign is the marker of the highest point in Africa and the highest freestanding mountain in the world, the Kilimanjaro and its Uhuru Peak. I am the first human on that Monday morning to reach the summit and I am crying from pure emotion – 5 days of hiking has brought me here. It is so pure, so beautiful. So here's my story on the Kilimanjaro Lemosho hike.
Hiking Kilimanjaro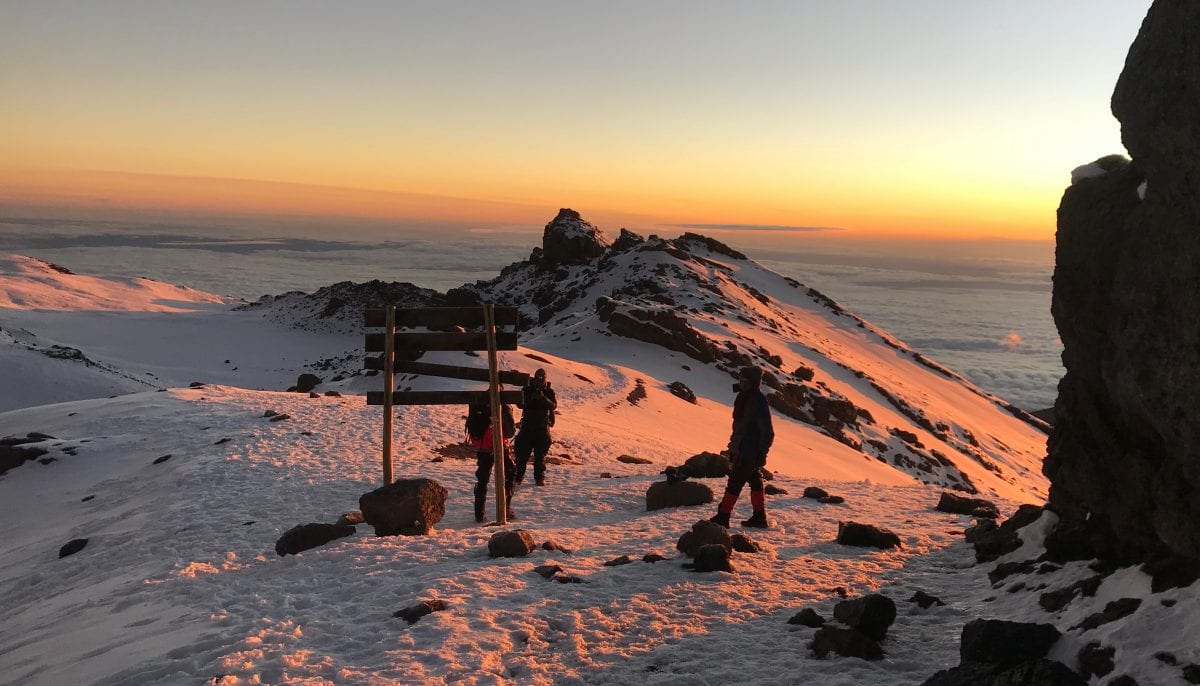 The idea to start hiking Kilimanjaro caught my mind somewhere last year. Kilimanjaro was not the goal, merely a means to a goal. For a while, I had been contemplating hiking some of the long-distance trails in Nepal and other parts of the world. The Everest Basecamp Trek, Annapurna circuit and maybe, ever, someday, potentially even Mount Everest itself. But as someone from The Netherlands, quite literally the low countries, I was not really sure how my body would react to high altitudes.
Hiking Kilimanjaro seemed to be a great way to test how my body would react to high altitudes and if I would actually even like hiking on high altitudes. It is impossible to hike the trail without a guide and porters, which forces you to go with someone who can tone down your speed and can just straight out say if you're acting stupid. I have the tendency to do things other people consider stupid. Hiking the Jordan Trail alone (great way to have locals look at you like you're an idiot), combining the two toughest stretches of the Kumano Kodo in Japan in one day (not doable according to local guides) or pushing 40-50 kilometers per day in Iceland on the Laugavegur and Fimmvordurals trails. So, knowing myself a bit, this would be a good lesson in self-constraint.
The Kilimanjaro Lemosho route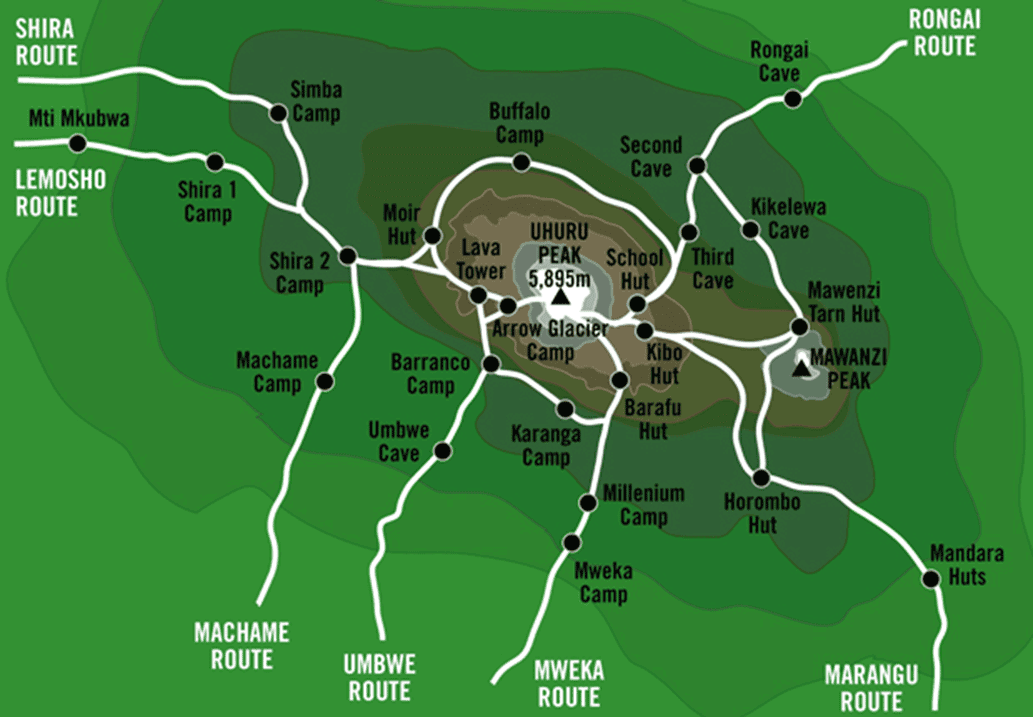 The Mweka route is merely an 'exit' route, it is the way out of the Mount Kilimanjaro park. After summiting Uhuru Peak from any of the routes, you will descent to either Mweka Camp or to Mweka gate directly (an extra 10 kilometers downhill).
The Eastern routes, the Marangu and Rongai routes, are referred to by the locals as the 'Coca Cola routes'. These are the most popular routes, these have huts (instead of tents) and usually attract the
Umbwe is considered the toughest route as it has several steep climbs. Because of the way Umbwe is often broken down into smaller day portions (often into 5 days) it is actually quite doable, but still.
That leaves the Machame, Shira and Lemosho routes. Especially Shira and Lemosho are very similar.
I finally decided on the Lemosho route to avoid the biggest crowds (Lemosho is now the 3rd/4th most popular route) and because of its gradual climb – a fairly safe bet to see how my body would react to higher altitude. It would at least allow my body to gradually acclimatize.
The day before
I had been nervous for a while. Not that I wasn't well prepared. I had spent a lot of time planning and preparing for the hike and had gone over my gear list many different times. It was just nervousness for the unknown – what to expect from the mountain, how would my body react to the temperatures. The day before was about running through the last details with the TrekkingHero team, the company where I had booked my expedition. Meeting my guide (Nico), doing a last gear check with my guide and discussing the last details.
Day 1: Pole pole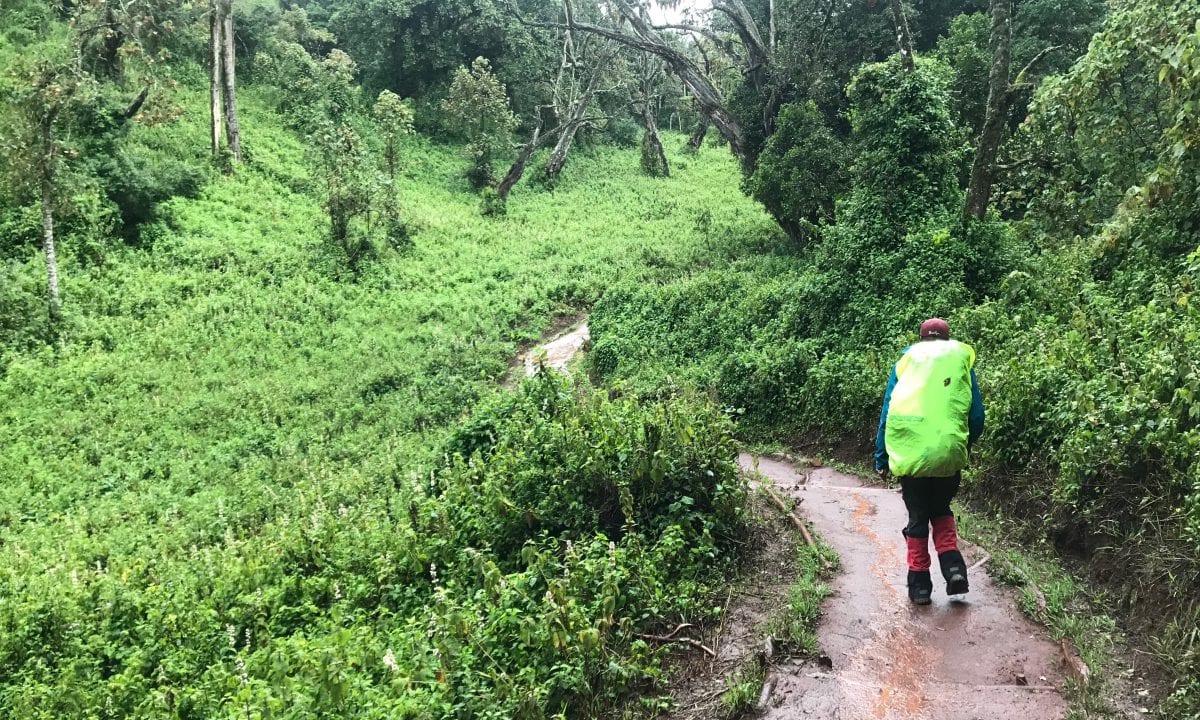 The first day was my first big test. Of my patience that is. Over the years, I have learned to let go and live more in the moment, especially during my holidays. What happens happens. And with an open mind, anything can happen.
So after being picked up at the hotel around 10h00, we made our way towards the Londroso gate to register and have the porters gear weighed. But before that, we had to stop to have me buy some extra food for the trail (the guide insisted I had not brought enough chocolate and nuts and had obviously made a deal with one of the food stalls along the road).
And we had to stop for lunch.
And a toilet break.
And because the vice president of Tanzania and his motorcade had to pass.
Pole pole, slowly.
It gave me more than enough time to get to know the support team of cook, porters and guide and to soak in some impressions from the country. So more than 4 hours later, around 14h30, we could finally start. We set of slowly – again, pole pole – towards our first camp at Big Tree Camp. I was 'warned' for this slow pace – it is essential to keep your heart rate low to acclimatize to the altitude. But still … I was really struggling to find the right pace – it sometimes felt like walking through a busy shopping street on a Saturday afternoon, minus the shopping street and the people and the decent roads.
So I was happy when we arrived at Big Tree camp. Not because I was tired, but just because it gave me a moment to reflect. A monkey must have felt the vibe as I quickly got a monkey visitor in my tent who either wanted to reflect together or just wanted to steal my food.
Day 2: Shira 1, stuck with high water, dark side of the mountain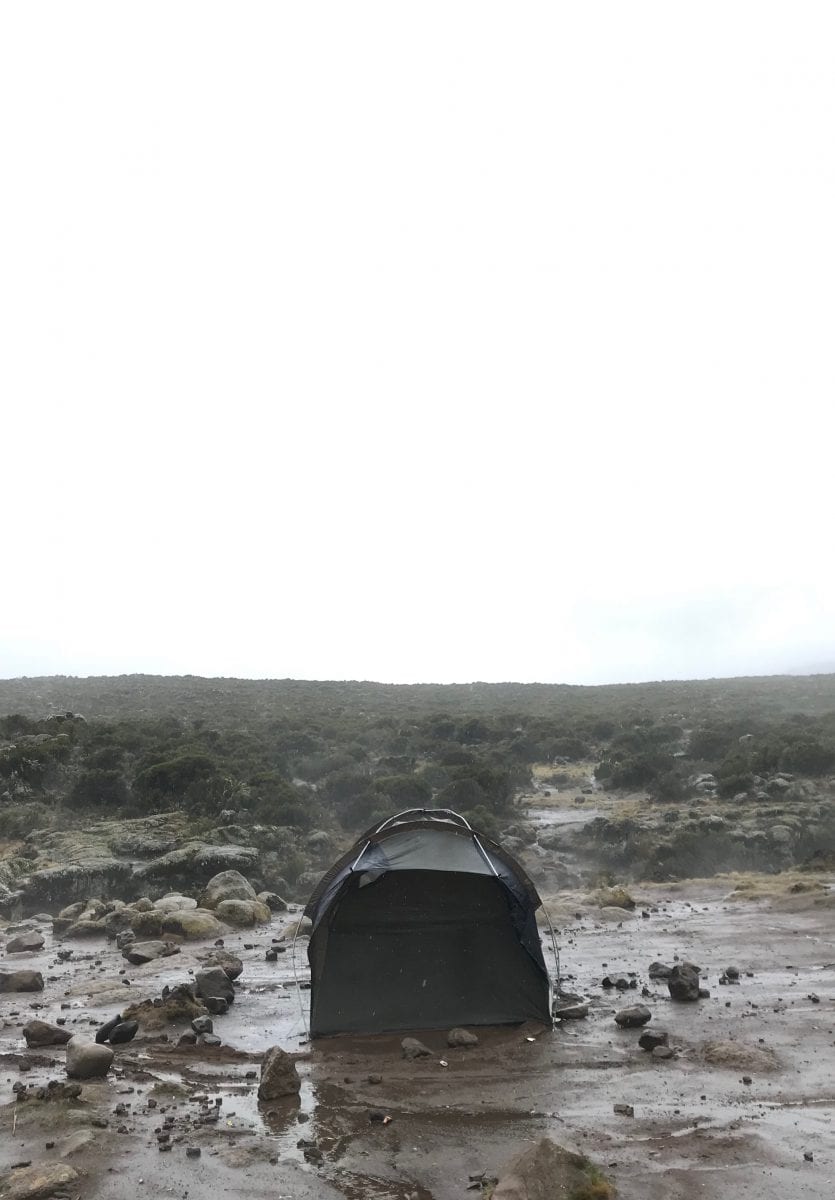 The second day would pretty much set the routine for the rest of the days. Get up at 07h00, breakfast at 07h30 and break camp at 08h00 to arrive sometime before or just after lunch at the next camp. Then, have dinner around 18h00, have a briefing for the next day by the guide and then go to sleep early – somewhere around 19h00. I must note here that this was all possible only because of the support of the cook and porters. The only thing I had to day is pack my own bags – they would carry the bags, prepare the food and break and make camp (set up tent, etc).
The day itself was pretty much a continuation of the previous one. Rainforest, which meant quite some nice forest and forest views. But above all, as it was rain season: rain, rain, more rain. Around lunch we reached Shira 1, which should have been merely the lunch spot for today as we would be pushing for Shira 2, the next camp about 5 kilometers up the trail. However, because of the rain season, the river at Shira 1 was really high and the guide and porters deemed it impossible to cross. Learning from crossing the different rivers in Iceland on the Laugavegur trail and with a mindset of the Arctic Circle trail where that is very common as well – I proposed taking off our shoes and pants and crossing the rivers barefoot.
That must have been one of the stupidest things they ever heard because half of them started laughing and the other half looked at me as if I had just taken a shit in the middle of their tent. So we decided to wait for the night and make up for the lost time and kilometers on one of the other days.
The day was also my first confrontation with the dark side of the mountain. As we were climbing up to Shira 1, porters were coming down. A rare sight as normally the trail is one way. It turned out two people had gotten ill in Shira 1 and had to be evacuated. Another young German couple I bumped into was making a day trip to the Shira camp and was horribly unprepared. She was wearing Nike sneakers that were totally soaked together with borrowed rain paints and a borrowed rain jacket. They had opted into a day tour and did not think about the gear needed for a hike up a mountain. And to top it all off, my guide Nico was ill during most of the day and had to take vomit breaks at least three times during our hike. When asking him if he was ok, at first he was denying anything wrong. Same for one of the other team members later that day – when I asked him if Nico was feeling better, he first denied anything being wrong with Nico.
This commercial drive to have as many people up the mountain as possible, people being unprepared and avoiding anything being wrong later inspired me to write a separate blog post – it's all fun and games until somebody dies.
Day 3: Shira 2
The third day is a relative walk in the park. We pick up a nice pace and within 3 hours, we make it to Shira 2 camp. Yes there is rain, yes there is some climbing involved, but the day goes relatively easy which allows us to rest most of the rest of the day.
The afternoons are also mostly the same – somewhere around 15h00 or 16h00, when camp is set up, we'll have tea and popcorn. And I can not stress enough how amazingly awesomely tasty fresh popcorn is when you have been hiking for a few hours.
Later in the afternoon, there's the first time I have a cellphone signal. Standing on a rock (together with all the porters and guides in camp who are doing the same), I get a brief connection to send some messages to my family. Later in the afternoon, while standing in the toilet (don't ask), I have a longer period of full reception. A great boost for morale.
Day 4: Barranco, Lava tower
The morning actually starts with sun. Sun. The scarce commodity we had not seen for three straight days. It is an immense boost for the morale of the team. The porters were quite fed up with more rain, so they're back to their usual happy, smiling mood. It is a good start of the day and it allows for my shoes (which were pretty much soaked by now) and my rain jacket (which was eerily close to leaking) to dry.
In the morning we pick up pace. I feel strong and we're making good progress on the trail. We're getting into more rocky territory and the higher we get, more and more spots of snow start to emerge until we're just walking in the snow towards Lava Tower. Lava tower is an essential part of acclimatization – the day has you climb up from 3900 meters to Lava Tower's 4600 meters to descent back to 3900 meters again – climb high, sleep low.
It is another day where the variety of hikers that is attracted by the Kilimanjaro is painfully clear. Nico and I arrive at Barranco camp around 13h00, even before our porters have arrived (normally, porters are way faster than tourists climbing the mountain, even despite them carrying at least 20 kilos more). The last few kilometers, we hike together with some clearly experienced Scandinavians and Americans. We keep the pace high, chat about other hikes, have some dumb laughs. The contrast is big with the scene a few hours later. Around 17h30 in the afternoon a group of female hikers, clearly exhausted, arrive at the camp. They had been breaking camp the same time that morning, but it took them 4,5 hours longer. I can only hope they get some rest and are ready for the following tough days.
The Barranco base camp is also the first time altitude sickness hits me like a hammer. I feel like I have a fever and a hangover and I notice I start to think slower. I struggle a bit finding the right words. When one of the support teams enters my tent to check on me, he looks worried. Same for the guide that talks to me a few minutes later. It is the first and only time I really worry if I am going to make it to the summit. But after having dinner and taking an altitude sickness pill, I feel as reborn. I'm happy as next day promises to be a tough one – the famous Barranco wall is waiting for us and we're combining two stages, Barranco to Karanga and Karanga to Barafu to make up for time lost in Shira 1.
Day 5: Barranco wall, Karanga and base camp
We decide to wake up early – an hour earlier than the previous days. Get up at 06h00, breakfast at 06h30 and break camp at 07h00. It will be a tough day. Another reminder of that is five minutes outside of Barranco camp, when we see a helicopter coming in to evacuate a hiker who has fallen ill. Another reminder that Mount Kili is a force to reckon with.
First up is the famous Barranco wall that everyone has been warning me about. I just love it. Some climbing, some tricky rocks – nothing I had not seen before on hikes in Italy, France or on the Jordan Trail. A nice change from the moorlands and rocky empty fields from the last days. We make it to the top of Barranco wall quite easily and then move on. On our way down from Barranco to the valley just before Karanga, Nico slips and cuts his hand on a stone. Again – Mount Kili is something to take seriously. We regroup with the porters in the valley at the river to take care of Nico's wound and push to move on.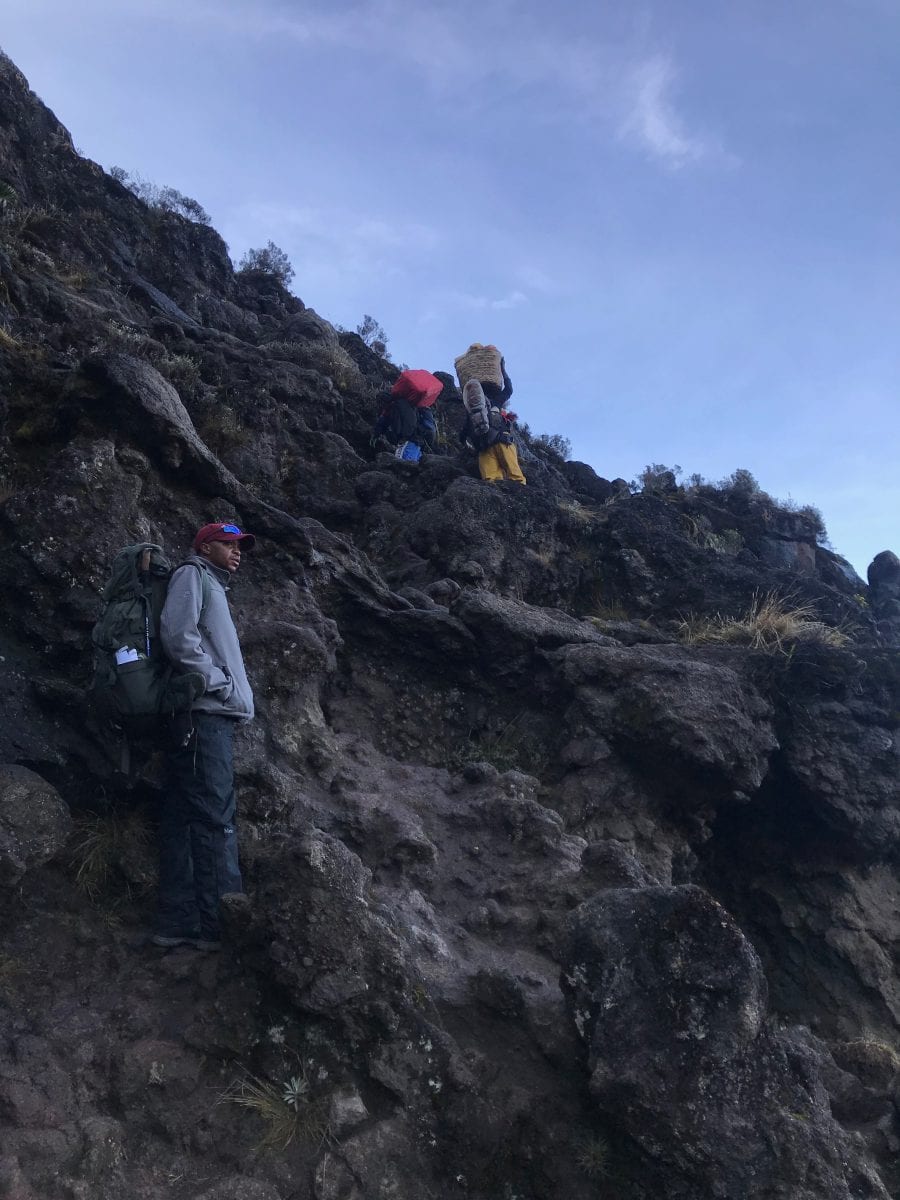 For whatever reason, I feel weak on the second part of the day, from the climb to Karanga up untill Barafu. But it is a blessing in disguise. Nico starts to act more and more as a pacer and it allows us to get some practice time towards the summit night later that night. When we arrive in camp around 11h30, I am happy to be able to get some rest. Barafu camp is crowded, but fun. The Umbwe, Machame, Shira and Lemosho routes all use this as the basecamp for the summit push, turning it into something of a small village with colourful tents and lots of energy and anticipation. Everyone is here for the same reason – to push for the Kilimanjaro summit that night. After dinner I quickly go to bed. It will be a short night.
Day 6: Summit day on Kilimanjaro Lemosho, a very sad ending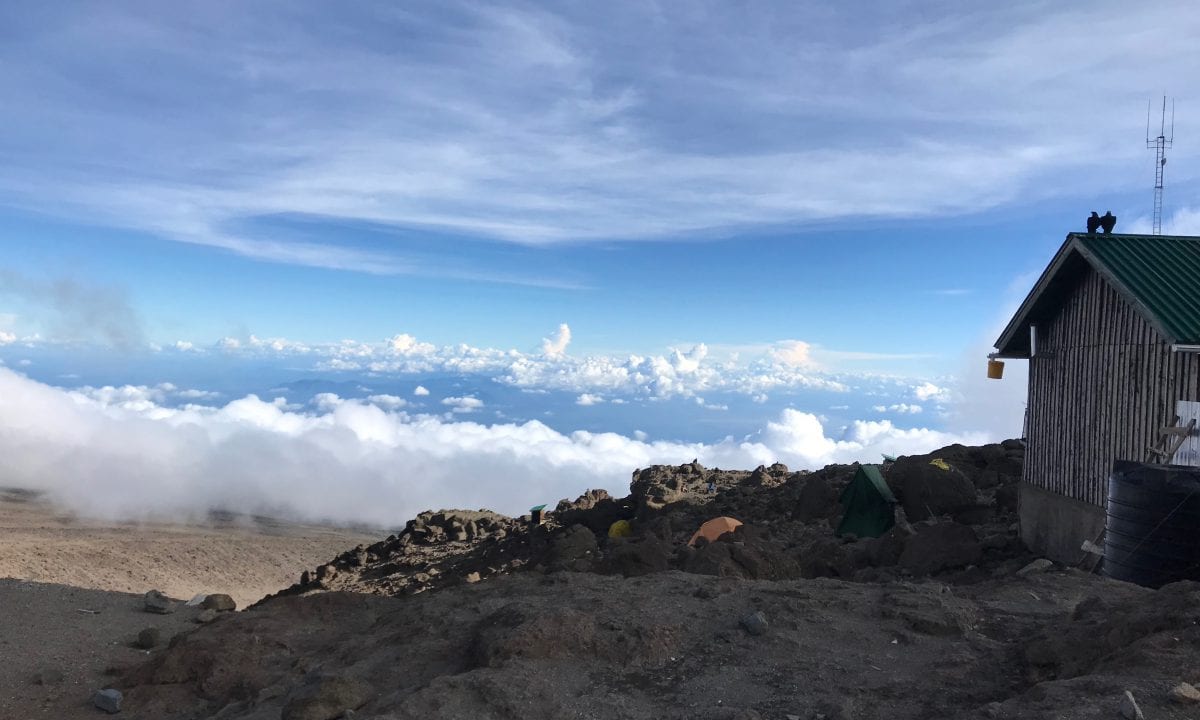 At 23h00 I get woken up. It is time to get ready for the summit push. Breakfast is popcorn (my favorite food in the whole world by now) and at midnight we steadily but slowly start the magical route to the Kilimanjaro summit.
It is truly magical.
It is cold. Cold enough to wear two pairs of socks, 4 layers on my legs and 5 layers of upper layers.
It is dark. The only light are the headlights.
It is quiet. No sound but the sounds of your feet.
It is beautiful. The views are amazing. Looking back on the mountain shows a long meandering line of small lights, representing the different groups of hikers who are trying to make it up to the summit.
It is not easy, but certainly not as tough as I had imagined. We go slowly, pole pole. My focus is on the gaiters of my guide and our pace is like a metronome. Tik. Tak. Tik. Tak. Left foot. Right foot. Left foot. Right foot.
I feel we are going to make it. I feel strong. Everything is going quite well. I do feel the impact of the altitude – I feel a bit weaker than normal, but we're going strong and steady. We're actually going so strong and steady that we have to slow down to not summit too early – the sun won't be rising before 05h30 and we're actually on schedule to arrive between 04h45 and 05h00, which would force us to wait for more than 30 minutes in the ice-cold setting of the summit.
So we lower our pace and proceed metronome-style. Tik. Tak. The closer we get, the tougher it gets. As warned by many others, my Camelbak has frozen. Also, the last 30 minutes before Stella Point, the last true challenge before the summit, is particularly steep. Nico warned me before and reminds me just before that last steep part. We can do it. And then we reach Stella Point. We're almost there. Now it's just another 30 minutes to the top. It feels like a victory lap. There is some climbing involved, but we mastered the toughest part.
And then I see the sign and my eyes start tearing up. It is 05h30 in the morning on a Monday and I am crying, patting a wooden sign. The sign is the marker of the highest point in Africa and the highest freestanding mountain in the world, the Kilimanjaro and its Uhuru Peak. I am the first human on that Monday morning to reach the summit and I am crying from pure emotion – 5 days of hiking has brought me here. It is so pure, so beautiful. And the views are amazing. Out of this world. Whatever happened before, whatever the pain and suffering, it was all worth it.
But it is cold, freezing cold. So after some quick pictures, we start to descend back to basecamp. Most of the way back is the same as we came from, which means we're encountering all the people coming up the mountain.
The first 20 minutes that's pretty much a parade of likeminded sport-minded friends. But the more we descend, the more it shows how commercialised the mountain has become.
People trying to climb the mountain on sneakers.
People without rain gear.
People without proper gear.
People who are clearly not experienced or trained enough to make it.
People who stop and try to retake their breath every few minutes.
Groups that are stumbling up.
People who stop exhausted, hanging over their trekking poles maybe 20% up the mountain.
I guess when you promote the mountain being a hike for everyone – you attract everyone. And I myself get confronted with something I had overlooked completely – climbing up is one, going down is something completely different.
The way down from the summit is tough. A lot of slippery parts of snow, a lot of pebbles, a lot of loose sand. It requires all my focus and skills to keep up with Nico who set out on a record-breaking pace to get down to basecamp. I have to ask for some break just to catch a breath and refocus again.
When we arrive at basecamp around 08h30 I am very much looking forward to an hour of sleep and some food. Together with the team, we decide to push directly for Mweka Gate and not camp out in Mweka Camp for the night. The rest has helped me to find some new energy for the challenge ahead – another 17 kilometers and 3100 altitude meters to descend. It is a tough challenge – a total of 1200 meters of climbing and 4300 meters of descending in one day.
The rest of the day is a sort best-of of all the previous days. In rapid pace we make it through the empty rocky lava lands, the moorlands and see the vegetation becoming back. From Mweka Camp, only 10 kilometers from Mweka Gate, we're back in the rain forest. The rain from the previous days have made the trail a mudslide from time to time, but around 16h00 in the afternoon, we make it to Mweka Gate, end point of the day.
End point of our 6 days.
End point of my Kilimanjaro adventure.
Looking back at my Kilimanjaro Lemosho hike
The Kilimanjaro was exactly the learning experience I was looking for: I know now how my body can react to altitude, I know better how to pace myself and I know I very much dislike walking trails with an expedition. The views during the hike were amazing and the moment that you're summitting the Uhuru peak is a magical feeling.
But overall the bittersweet taste remains. It's amazing, it is fantastic, it's all fun and games until somebody dies.