When you catch yourself running through the husky-crowded streets of the outskirts of Ilulissat just to catch a glimpse of the icebergs at sunset, just because you're wondering how different it will be from the previous 5 visits you've made to the icebergs, you know you got it bad. It took the Ilulissat icebergs a few seconds to got me fully under their spell – after that, I could just spend hours sitting on a bench or -even better- on a rock somewhere along one of the local trails staring at the pure, raw beauty of the icebergs. It is unlike anything I had ever seen before. So here's to enchanting Ilulissat: icebergs, glaciers and whales.
An introduction to Ilulissat
It is the third-largest city (village? village!) in Greenland with about 4500 inhabitants (after Nuuk and Sisimiut) and easily the most touristic village in Greenland. And just flying into Ilulissat (you'll be most likely transferring at Kangerlussuaq international airport) or getting there by ferry (which I didn't do myself, but heard great things about that from multiple other travelers) will instantly show you why the village is so famous: it's breath-taking, amazing, magical, out-of-this-world icebergs. You won't be surprised to learn that Ilulissat actually means 'icebergs' in Greenlandic.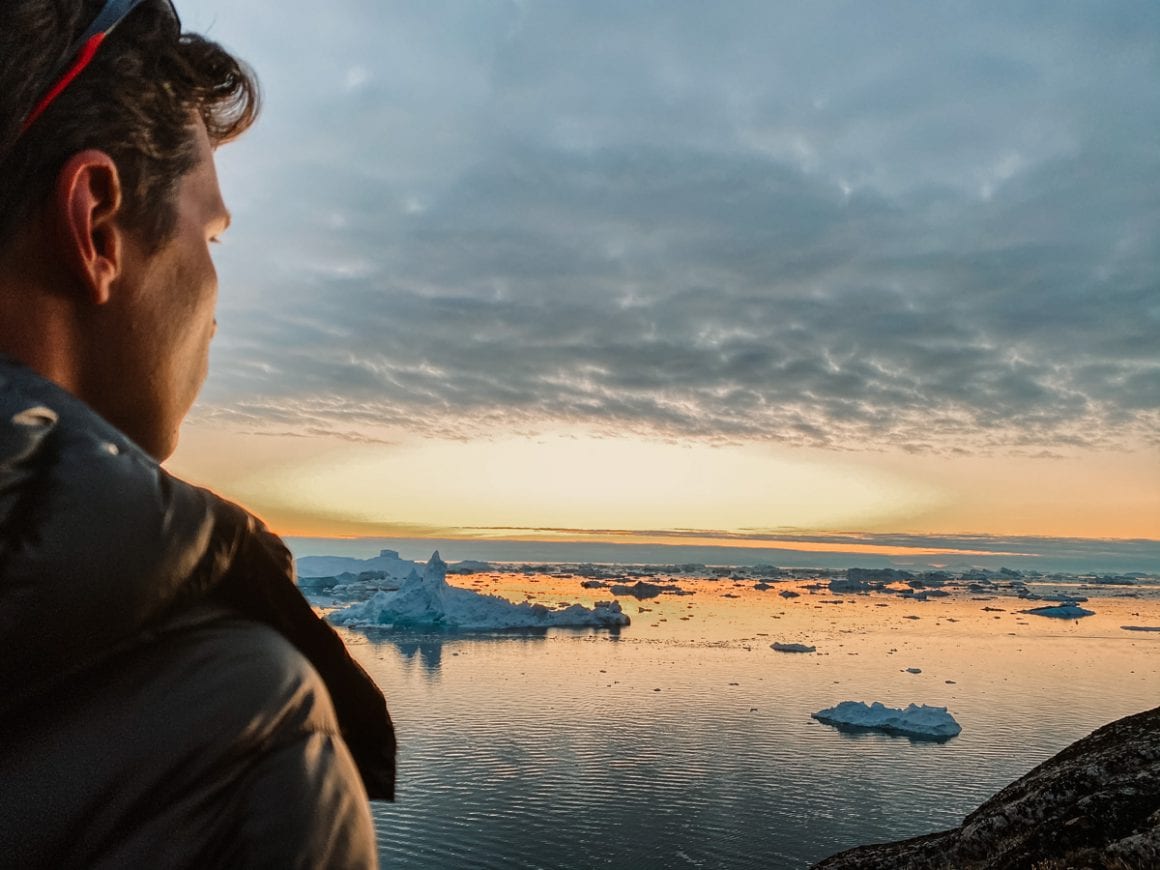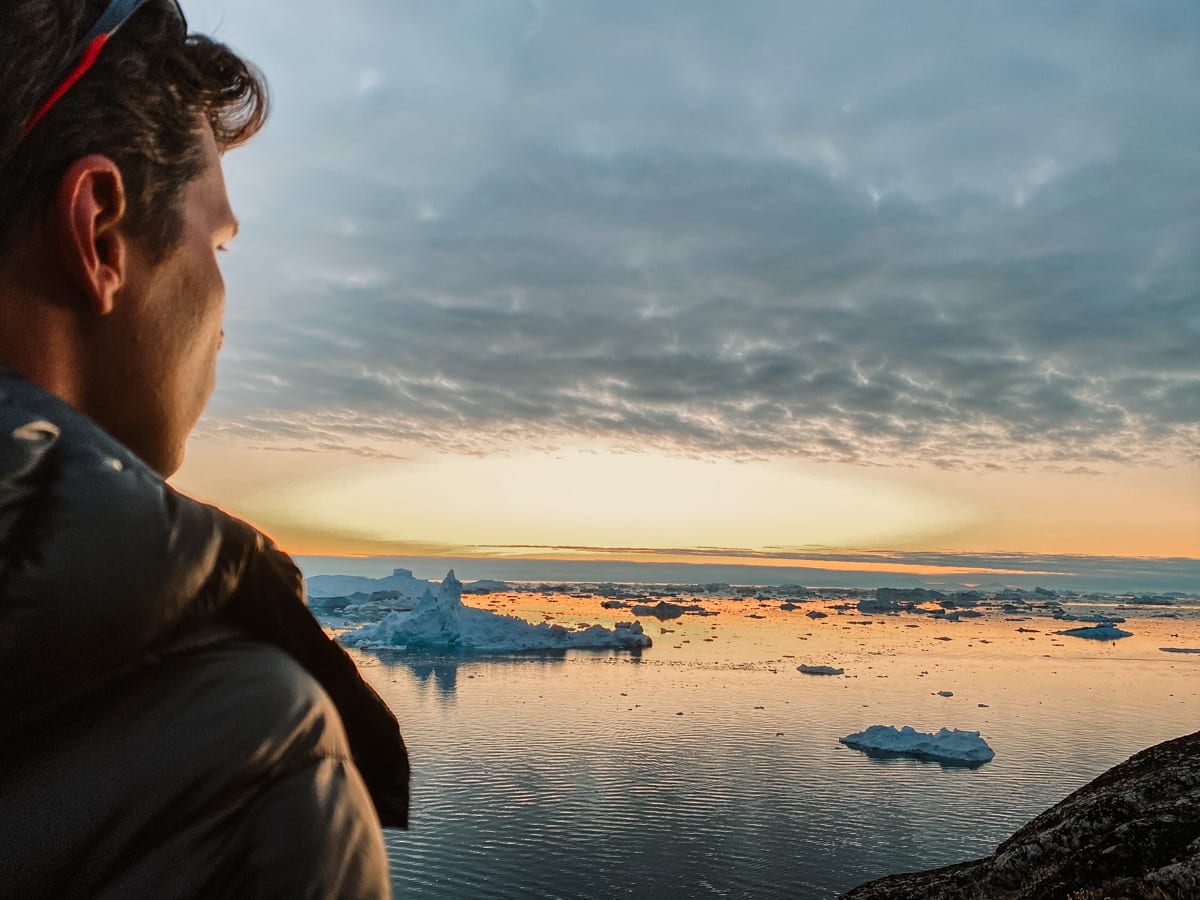 Overlooking the Ilulissat icebergs just before dawn, just outside of Ilulissat.
And finally, there is a claim that the iceberg that sank the Titanic was most probably born in Ilulissat.
Ilulissat and icebergs are one. Pretty much everywhere you look in and around the city you will see icebergs in the front or back.
Why you'll love Ilulissat
Yes, Ilulissat is by far the most touristic destination you'll find in Greenland. But with 100.000 tourists per year in total, that still means it is nowhere as busy as other tourist hotspots around the globe. As soon as you'll arrive by plane, the icebergs will be inevitable – everywhere you look you'll see these massive creations of nature.
Maybe even more surprisingly, only a few hundred meters outside the Ilulissat harbour, you will find not only massive icebergs, but also massive humpback whales.
Don't expect too much fancy restaurants, foods or facilities – just exactly the right ones. It is an amazing base to explore the best Greenland's nature can give you.
Ilulissat icebergs
They really had me at 'hello'. Flying into Ilulissat (or coming by boat), it is hard to miss them. Driving from the airport (or entering through the harbour) as well. And pretty much everywhere you look in Ilulissat, you will see the magnificent icebergs.
My first evening in Ilulissat, I took one the larger walking tour out of the side, along the coast overlooking the icebergs.
It is hard to describe. Every moment of the day makes the icebergs bathe in a different kind of light, reflect differently, move differently, it was fascinating to just spend minutes, hours observing them, watching over them, seeing them change. Over the course of three days, I must have spent close to 10 hours, just spending time near the icebergs. It might sound as an obscene amount of time, but every minute was amazing and it brought me a strange combination of calmness and awe of the power and awesomeness of Mother Nature.
I also took the boat to explore the Eqi glacier from close. Impressive to see calving glaciers up close and experience climate change first hand.
Ilulissat whales
In all honesty, I wasn't really planning to go on a whale safari up until the very last day. My flight back to Kangerlussuaq would depart late in the afternoon and I didn't have any place to store my luggage safely, so I was both looking for something to do and where to store my luggage for the morning.
I had been on a whale safari a few years ago and I actually enjoyed the speedy boat more than actually spotting the whales. It might have been that we weren't that close. It might have been that in my head, I was already at hiking the Laugavegur trail. But while the Iceland experience wasn't that impressive for me, this experience was quite the opposite.
Only a few hundred meters outside of the Ilulissat harbor, groups of huge humpback whales were browsing the area.
It was great to spend a few hours together with other tourists and the crew overlooking the waters, trying to spot the whales to then eventually … (like all tourists do) … aim for the tail.
Tips for Ilulissat
Hotels, lodges, and accommodations in Ilulissat are sick expensive. I decided on a rather cheap but well-located B&B style accommodation with shared bathrooms named 'Hotel Ilulissat B&B'. Still not cheap, but with simple breakfast included and pretty much right in the city center and close to the local supermarkets.
Normally I would have hiked up to Oqaatsut, a small settlement with approx 40 inhabitants, but because of COVID-19 I was restricted to staying in large villages. It seems to be a great hike up there (about 25kms), and you can either choose to hike back and forth or have a boat drop you off.
Ilimanaq is another small settlement with a great lodge with amazing views. Again, because of Corona, I couldn't visit it.
Conclusion: Ilulissat icebergs, whales and more
After hiking the Arctic Circle Trail I was really looking forward to taking it easier and just enjoy Greenland's beautiful nature. Ilulissat was just perfect for that. Because of COVID-19 I was not able to visit Oqaatsut or the amazing Ilimanaq lodge, but despite that, there was plenty to enjoy for the three days I spent in Ilulissat. From the icebergs/glaciers to the whales and from the hikes to the food and kayaking, make sure to visit Ilulissat when you're on a Greenland trip.