Just. Wow. I am writing this post on the plane back from an amazing trip to Iceland to hike the Laugavegur trail. It has been physically straining, but above all a breathtaking experience. It is hard to put into words or even into images how beautiful the trail is (NatGeo named in one of the World's best trails for a reason) and especially how mindboggling it is how around every turn and corner the colours, the landscape and views seem to be completely changing, even more impressive than before.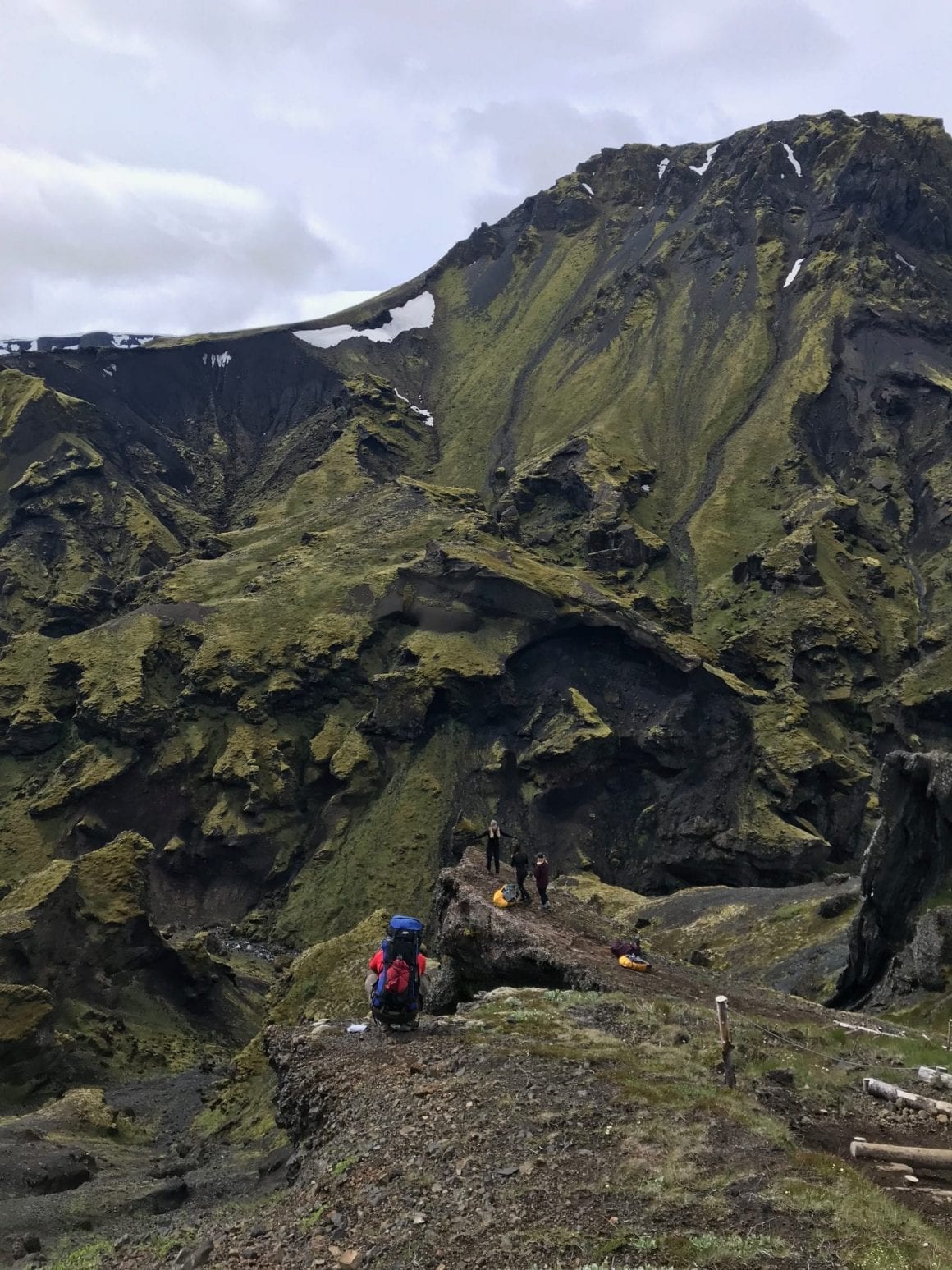 Because a lot of things happened in a mere 72 hours, I chopped the story up in a few parts:
Note before reading: I ended up hiking the full Laugavegur trail (Landmannalaugar to Thorsmork) and the Fimmvorduhals trail (Thorsmork to Skogar) – a total of 82 kilometers – in two days. Solo (see
my separate post on why I travel solo
) and camping rather than sleeping in huts. I would strongly recommend taking 4-6 days to cover this distance – from a physical perspective, but also to truly appreciate the magnificence of the trail's scenery.
A quick word on Icelandic people, Laugavegur trail and Huts
Before I proceed – I can not stress enough how much I would recommend a visit to Iceland and to the Laugavegur trail in particular. I have only encountered amazingly friendly, funny, helpful local people. From the bus driver that waited for me while I was delayed to the coffee lady that gave me a free coffee because I had to wait 'too long' (in her view – I only had to wait 5 minutes), to the wardens at the trail that were making jokes (apparently, phonetically 'tot straks', the Dutch word for see you later, means 'blowjob now' in Icelandic).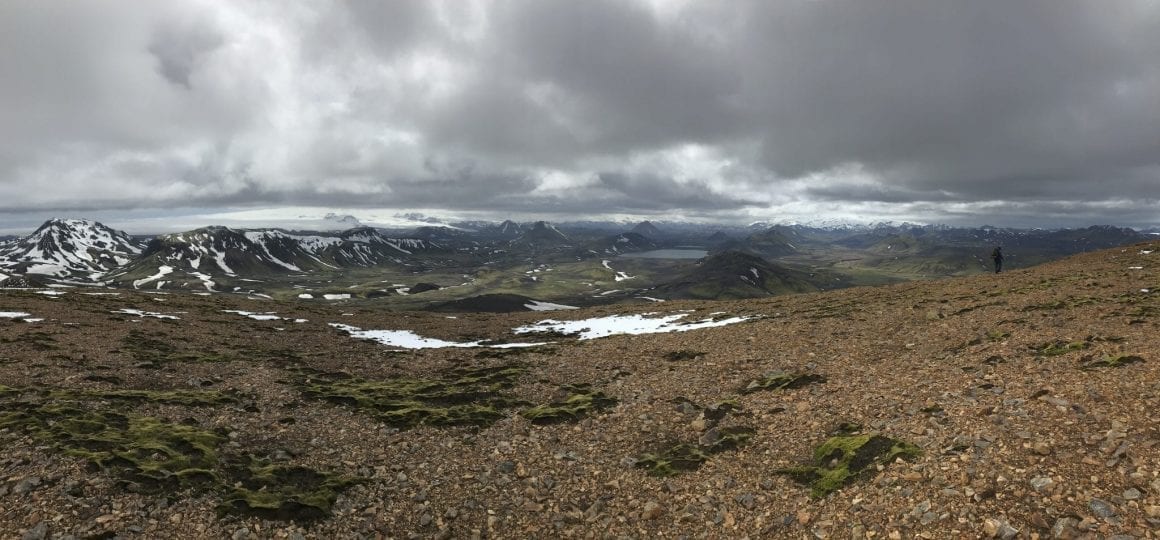 The Laugavegur trail is amazing. There are just so many amazing views. The variety of landscape – lush green fields, mountains, glaciers, lava fields, streams is breathtaking.
The facilities along the trail are also good. Signage is good, huts are there every 10-15 kilometers. The huts are a great way to either replenish (there is water available, there are food and supplies in Alftavatn and Thorsmork). You can either sleep in huts or bring your own camping gear and sleep on one of the camping grounds at the huts.
Life is what happens to you while you're busy making other plans (Day 1)
Originally, I had planned a three day hike: catch the bus early Monday morning near the City hall in Reykjavik, arrive in Landmannalaugar 4 hours later, and get walking as soon as possible to chip away as much as possible of the 82 kilometers ahead of me. Weather looked great, I felt amazing, all signals go. But even before reaching the starting point of the trail, I got a text message from Safetravel.is (also see my blog post on the service) saying "No hiking conditions today! Weather and conditions are poor!". The idle hope I had that I could still hike that day was sunk when the Viking-esque warden of the Landmannalaugar hut told me that he 'strongly advised against hiking' today. And when a Viking-warden says that, you listen.
Later, a bus driver summarised it probably in the most Icelandic way possible: "People always ask me 'what is the weather'. I don't know. One moment it is this, one moment it is that. That is Iceland."
"People always ask me 'what is the weather'. I don't know. One moment it is this, one moment it is that. That is Iceland."
Slowly, but steadily, rumors started to pour in. A group of hikers was told to have been hiking despite the warden's warnings and had to be rescued with hypothermia. Another group had stayed at another hut and their tents had broken because of the snow and wind. Parts of the trail were invisible because of heavy snow. The wind was so strong that it had blown hikers away to trip and fall. More than enough to keep us in the Landmannalaugar camping site.
Frozen tent at Laugavegur trail

Evening on the Laugavegur trail

Camping at Landmannalaugar

View over Landmannalaugar
So, there we were. Probably more than 80 hikers, waiting for the weather to calm down, with 18+ hours to spare. There was a large group of teenage Americans who had gone on adventure camp in Iceland and where their American guides were desperately trying to keep the morale up (honey-peanut-butter-wraps and visits to the hot spring work miracles).
A German family of a father and his sons. Several couples with varying degrees of worry on their faces. And -strikingly- many Dutchies. A large group of well-prepared and well-trained hikers from adventure sports company Van Amerongen led by two former marines, an extended family, and two friends from the Eastern part of the Netherlands, Roel and Thijs, who I ended up spending some time with, in the big communal tent that was set up at the premises.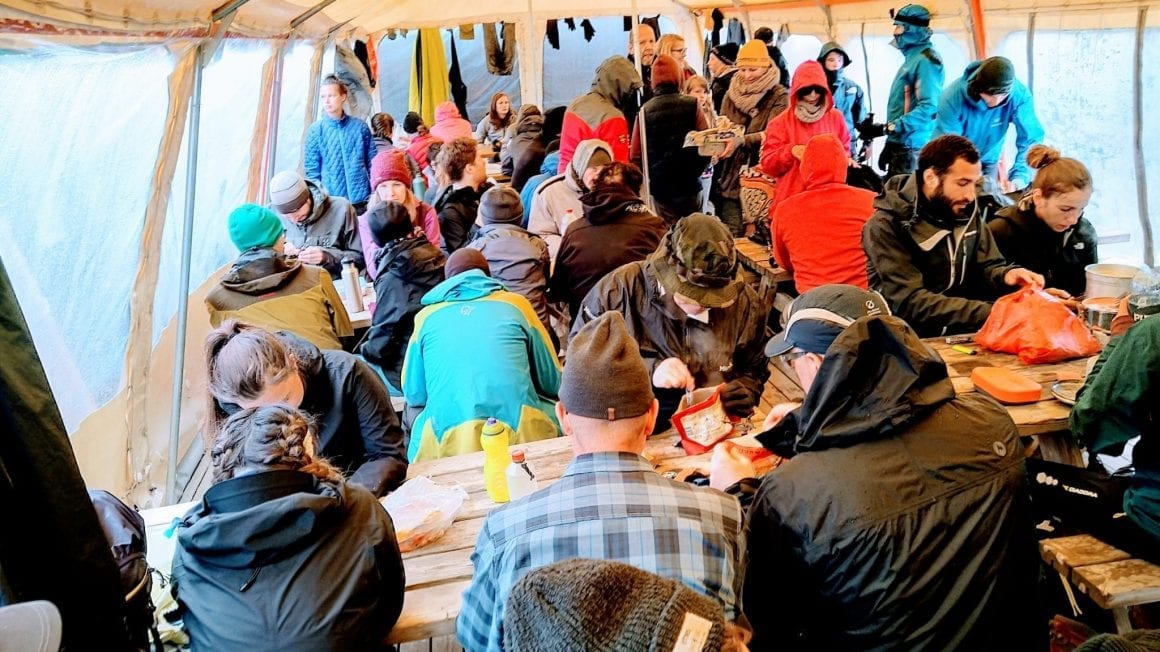 After a quick dip in the Landmannalaugar hot spring, I decided to get to bed really early, just to make sure I was well-rested for whatever was coming my way the next day.
The night was ok-ish. It felt like a tapas-meal of weather conditions. One moment the sky was clear and the sun was coming through, literally a toilet break away it could be snowing. One moment it was raining, the other the rain stopped and the wind would be so strong it would actually break tents (I have heard of at least 2 tents that broke during that night).
And so it begins (Day 2)
I woke up early to be ready for whatever the day would bring. Quick breakfast, washing, breaking up my tent, packing my bag. In the communal tent, I bumped into Thijs and Roel again and we decided to stick together at least for the first part of the trail to be safe.
So at 7h30, seeing that the weather had cleared up, we decided to get going, convinced there would have been others before us.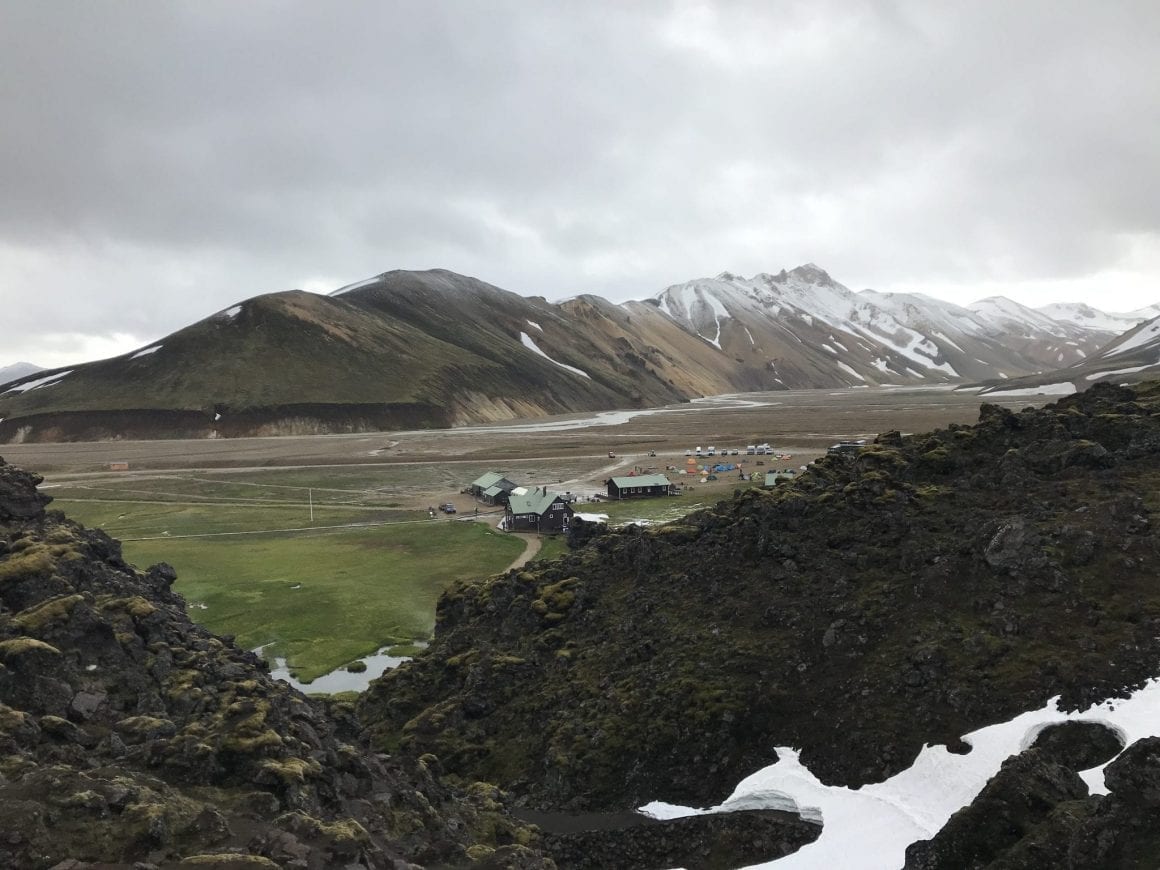 From the very start, the Laugavegur trail hike was amazing. Around every corner, there seemed to emerge a new view that was even more beautiful and breath taking than the one before that (a trail feature that continued for the rest of my days on the trail). Beautiful snowy mountains, green hills, hot springs, ice caves … on and on and on.
But the higher up the mountain, the clearer it became why listening to Viking-wardens is always a good idea. It became more and more difficult to find the bright neon-yellow way markers as they seemed to sink further and further way into the snow, with every step we took. Where they first were fully visible (mind you, the way markers are about a meter in height, sometimes even more when they are constructed on top of a pile of stones), we eventually arrived at a point where we could not see a way marker anymore. At that point, we found a very brave, extremely fierce, but somewhat naïve ("I bought a really cheap tent, that was not a smart idea" "I went straight from the airport to here, so the only food I have with me is this bag of nuts") waiving Malaysian guy, K.C., who turned out to have been the very first one on the trail. So now we were four, Roel, Thijs, K.C. and me.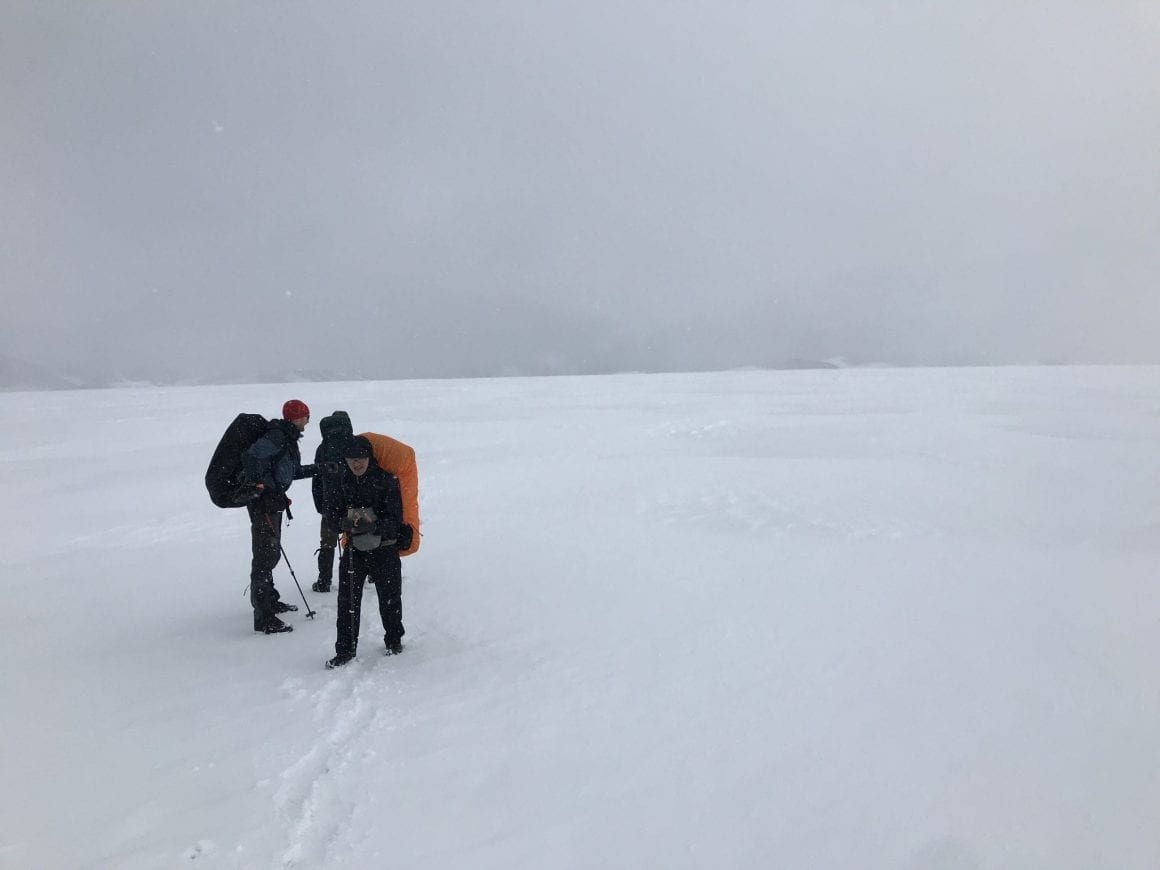 For several more kilometers we traced back the original track by finding rough patches in the fresh snow and -in some cases- just plain guessing until the moment we found an occasional but conveniently reassuring bright yellow marker. This went actually quite well until we arrived at a large plateau with only fresh snow …and no yellow markers in sight.
With an enormous amount of luck, in the far distance, we spotted a group with the exact same problem, coming from the other side – so walking directly towards them we solved each other's problem by creating a track in the snow.
To be honest, I think I could not have pulled this part of the track of without K.C., but especially Thijs and/or Roel. Besides that I did not have the b*lls to check for old tracks in fresh snow, I felt it was mentally quite challenging to bridge these kilometers in the deep snow.
So the first hut, the Hrafntinnusker hut, was a welcome stop after a tough few hours in the snow. Some warm lunch, a chat with other hikers, a toilet break and back on to the track.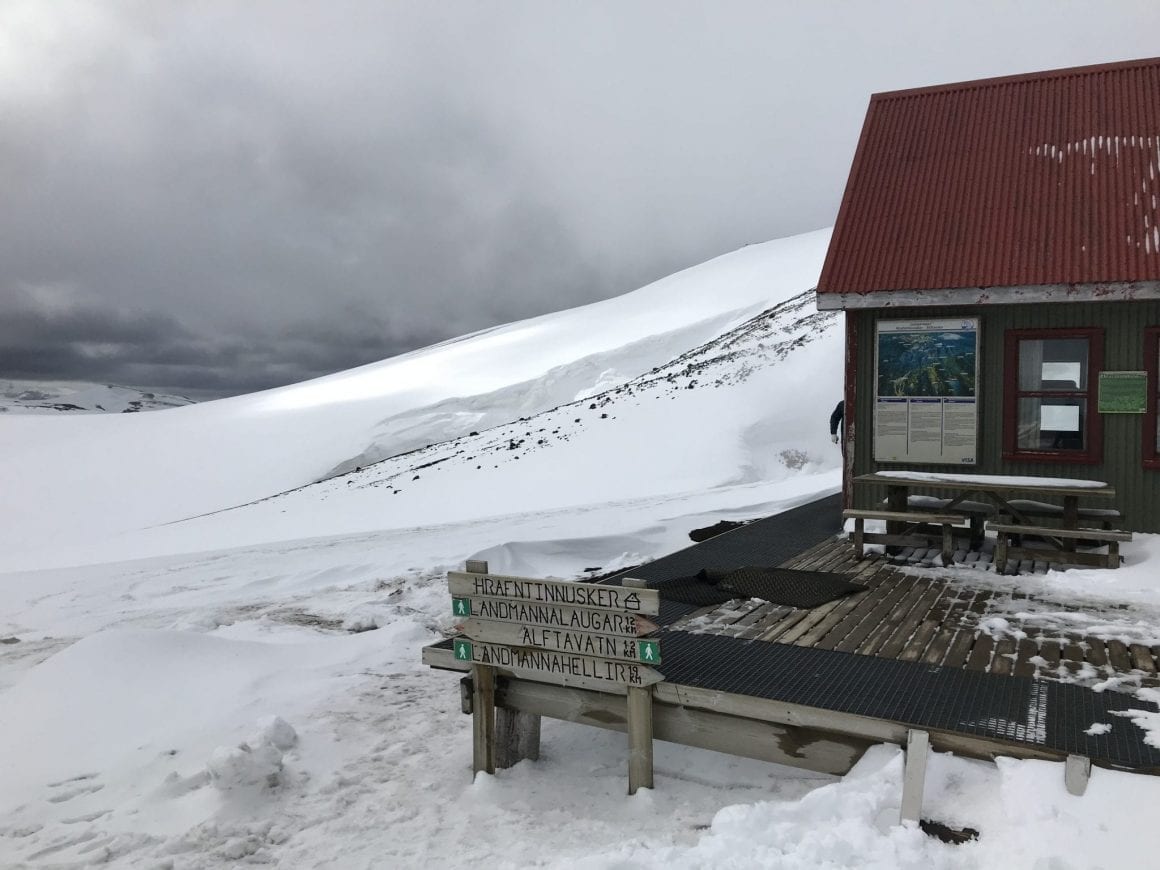 After the Hrafntinnusker hut, it is pretty much a long descent to Alftavatn. After a difficult morning, I started to feel good and regained some hope I could finish the full trail in two days (instead of three). That would mean I had to make it to Emstrur ideally, or worst case Hvanngil.
So I decided to say goodbye to Thijs and Roel (who had more time to finish the track and were -rightfully- more focussed on the beers in Alftavatn then on making it to Emstrur) and I went off on my own. I quickly cleared the distance to Alftavatn, had a short last break for the day and headed out for Hvanngil (and thus encountering my first of man river crossings).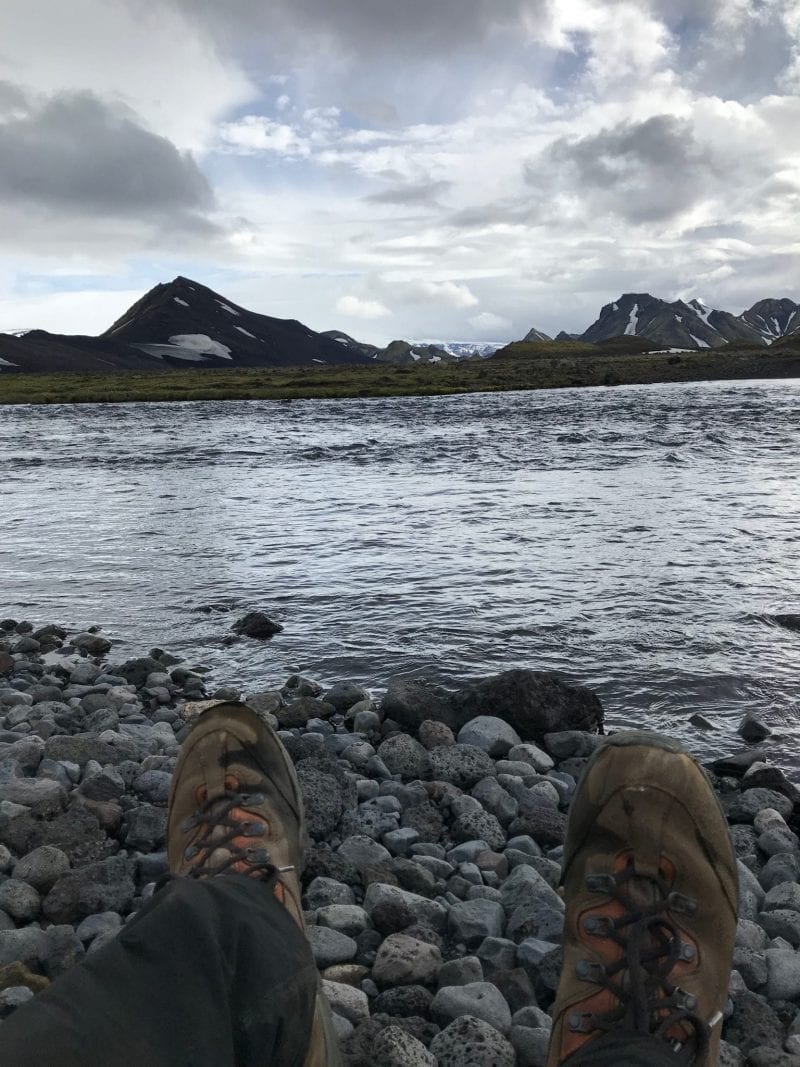 As I still felt fairly good, I decided to push for the next campsite at Emstrur/Botnar, another 10 kilometers. A rather boring 10km, with long, flat stretches of black lava fields.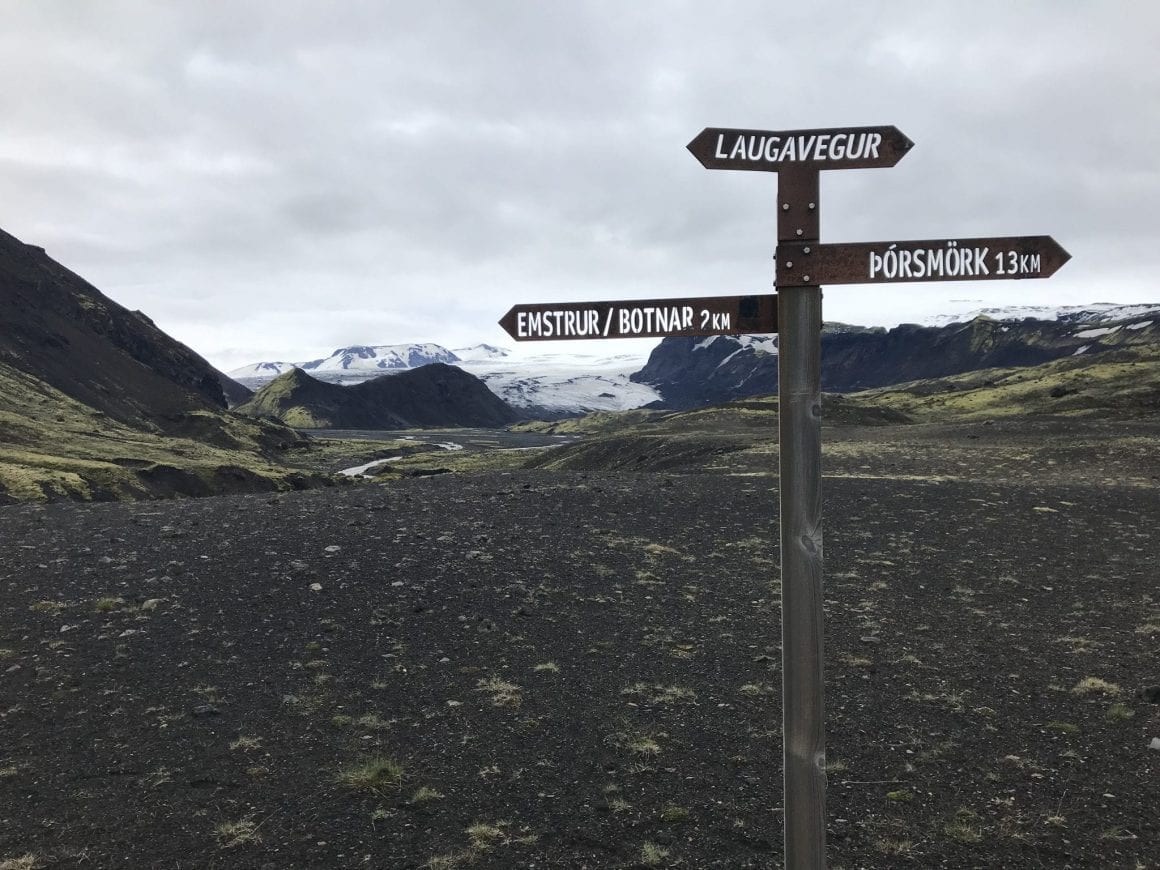 The most annoying thing, however, was that I did not have any cell phone reception in this stretch. I had informed my family extensively about my travel plans before the trip and had kept them updated about my plans and the situation (as I am used to – see my safety tips). The last message I had sent, to my wife, was that I was planning to push for the last 10 kilometers and that I was starting to feel tired. So when I wasn't able to check in, they -obviously- were starting to feel worried.
So after a 10km that felt like a lifetime, I arrived at the picturesque, almost Hobbit-like camp site of Emstrur/Botnar.
A day of options and rookie mistakes (Day 3)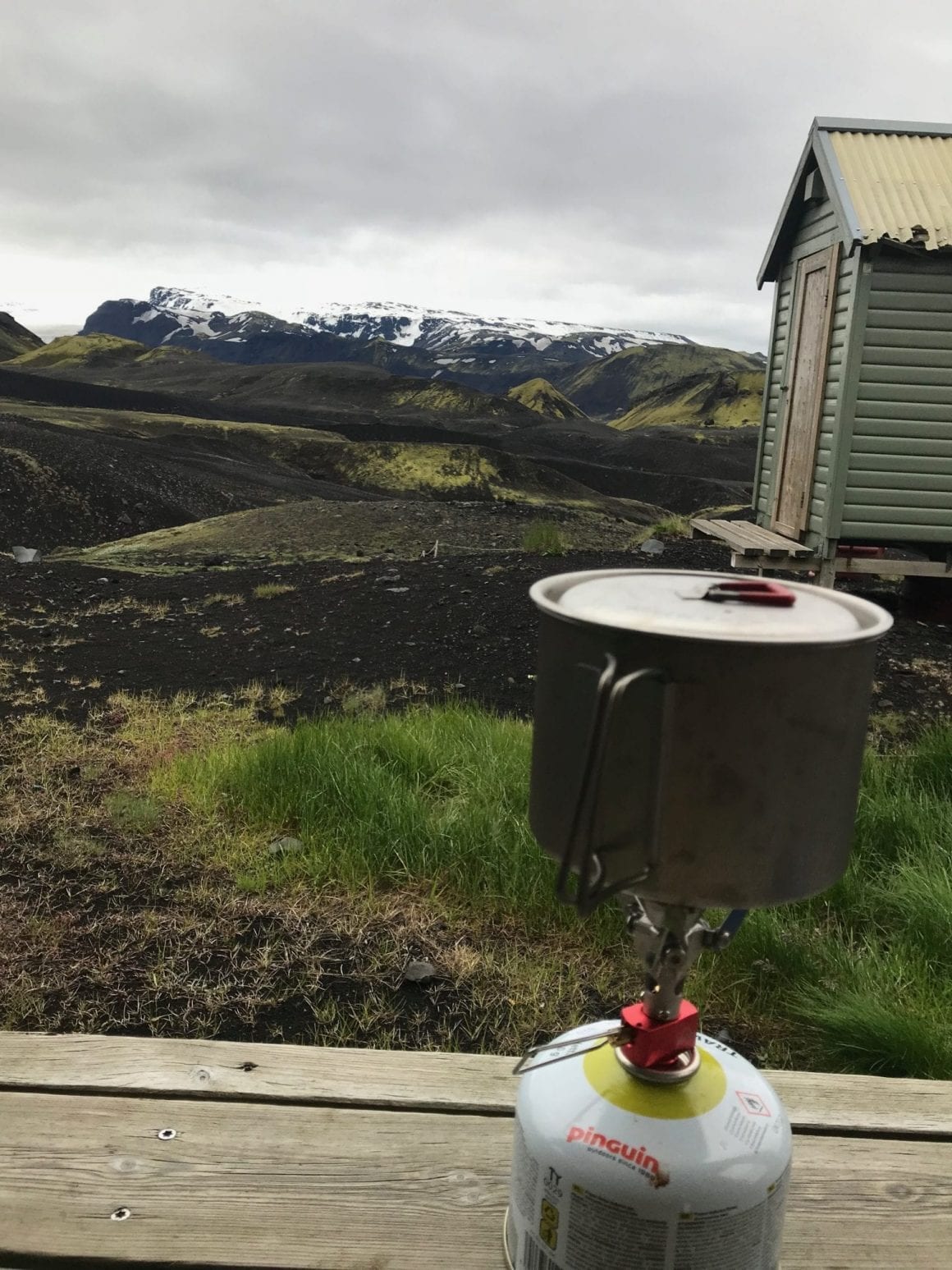 When my alarm woke me at 5h30 the next day, I had two important things to do: 1) inform my family as soon as possible that I was ok and 2) decide on my plans for the day.
I still had no cellphone reception at Emstrur/Botnar, so tried to head out on the trail as soon as possible to inform my family as soon as I could. I hoped that if I would able to get out of the small valley the camp site was in, I would have instant connection (which proved not to be true by the way).
Pretty much before breakfast was finished, I had decided to try and make it to Skogar that day (a total of 42km). I felt really good and really wanted to finish the full stretch – I did not wanted to have a storm get in the way of my plans. I would try and make it to Thorsmork at a rapid pace and then proceed from there to Skogar (the so called Fimmvorduhals trail). In Thorsmork, I would take a short break and I would be able to decide if I would be able to make it to Skogar in time to catch my bus.
But the rapid pace thing did not work out that well. I lost incredible amounts of time with trying to get in contact with my family and -when I finally regained connectivity- to call/text them to let them know I was fine. They had been worried – after me keeping them updated of the situation on a regular basis, my communications had fall flat. By then, they had tried to get in contact via safetravel.is and even the camp site at Emstrur/Botnar before settling on the notion that I probably did not have a cellphone connection. My take-away for next time: inform my family better of my backup plans and maybe consider buying a satelite enabled device for text.
I lost a lot of time also because one of the straps on my backpack broke and I had to tie my tent to my backpack in an alternative way. Lastly, the trail has a zero waste policy (you have to take everything with you out of the park that you brought inside) and the makeshift garbage bag I prepared, had started leaking, so I had to quickly clean my backpack and prevent further leakage. All of this, even before the real challenge of the day started: the 27km stretch to Skogar …
What turned out to be a 27km run to catch my bus
As the last 27/km were a separate trail, the Fimmvörðuháls trail, I created a separate blog post out of it.
My top tips and take-aways
Safety first. Don't be stupid, listen to wardens, check the weather, log your plans with safetravel.is and inform your family and friends of your travel plans and changes of plans. Als see my separate blog post on this subject.
Mother nature. The trail is incredibly beautiful. But the weather can change in an instant. Respect nature – do not leave your waste at the trail.
Icelandic people are awesome. Every single Icelandic person I met was super friendly and helpful. They (especially the people I met on the trail) seem to have an amazing symbiotic relationship with nature – very well aware how to respect and use the elements.
Pack smart. At Emstrur I bumped into a couple of whom the man had a 20kg backpack and the woman of more than 15kg. This, while they did not pack a tent nor sleeping pad (they stayed in the huts). Unless it's a purposeful training exercise, there is no reason to have a. 20kg backpack while hiking Laugavegur. Did you pack too much clothing? Food? Stuff you do not need? Also see my packing learnings below and my full packing list.
Planning is everything. Then be prepared to change your plans. I was well-prepared. Knew the route, planned my backpack carefully, informed friends and family. But I was not really prepared for this weather and the disappointement of not being able to hike on Day one. I could have planned my total number of days better, informed my family better when my plans changed and could do even more next time.
Hiking is social. Because of the harsh circumstances, it was great to see how many new bonds were created. I -again- have to thank Thijs and Roel for having me join them, but also the Ukranian triathletes for sharing food, the countless hikers that shared bits and pieces on the weather, distance, etcetera.
Planning learnings
Take more time. As said in my opening statement, Laugavegur in just two days is insane. Please take more time.
Place to dry my tent. I had not realized I might actually be arriving back in Reykjavik with a tent in need of drying. The hostel I stayed at, did not have an area to dry my tent. So I booked a last-minute room in a hotel to dry my tent.
Last day – plan better. I really had to rush the last day to be in time for the bus (and barely made it). Although I had reserved some extra time, I could have reserved more and could have got up earlier. And should. Because missing the bus was not an option.
Packing learnings (well, actually just fails)
After a few days on the trail, I had some learnings on what to pack and what not to pack for the trail.
Also, see my original packlist for the trail.
Packing errors (not enough):

I should have brought gaiters to protect from snow (especially the second day between Thorsmork and Skogar).
Turned out I did not have an appetite for the Adventure Foods Breakfasts, so next time I should bring normal dinner meals rather than their breakfasts.
Garbage. Super obvious, but I had not realised before the trail (of course) has a zero-waste policy. You have to bring all the trash with you, you also brought on to the trail. I did not have a solid system in place to store this. I do use one of my pockets while on the trail, but I did not have a bag/container to keep all my waste from the trail and my cooking in the evening and morning.
Mixed Nuts. I got some mixed nuts from K.C. and from the Ukranian triathletes. Really liked it, so will have to pack the next time.
Waterproofing. I had just enough bags to pack my sleeping bag, clothing, digital materials (cables, charger, etc), could have had more.
Sunglasses. sunscreen and moisturizer. With so many hours in the snow, the sun beams refracting on the snow, were rather inconvenient.
Rope. Had packed it to take with me, but forgot it at the hostel.
Duct tape. Likewise.
GPS. I trusted I would be ok with the good signage along the trail. However, there were several moments in the snow when an exact GPS would have been convenient.
Backpack. I have a rather small backpack which meant I had my tent hanging outside of my bag. Will need a bigger backpack for my upcoming GR20 (Corsica, France) plans.

Packing errors (too much):

I brought a GoPro Gimbal – what on earth was I thinking. Used it twice.

Packing wins (just enough):

Bifi. Mini salami. The best.
Adventure Foods. Super tasty, nutritious meals.
One trekking pole. I know a lot of people walk with two trekking poles, but I only use one for my right hand. I like to have one hand free to drink, eat, send messages or do whatever, while not having to hold two poles in one hand. Very happy therefor, I only brought one.