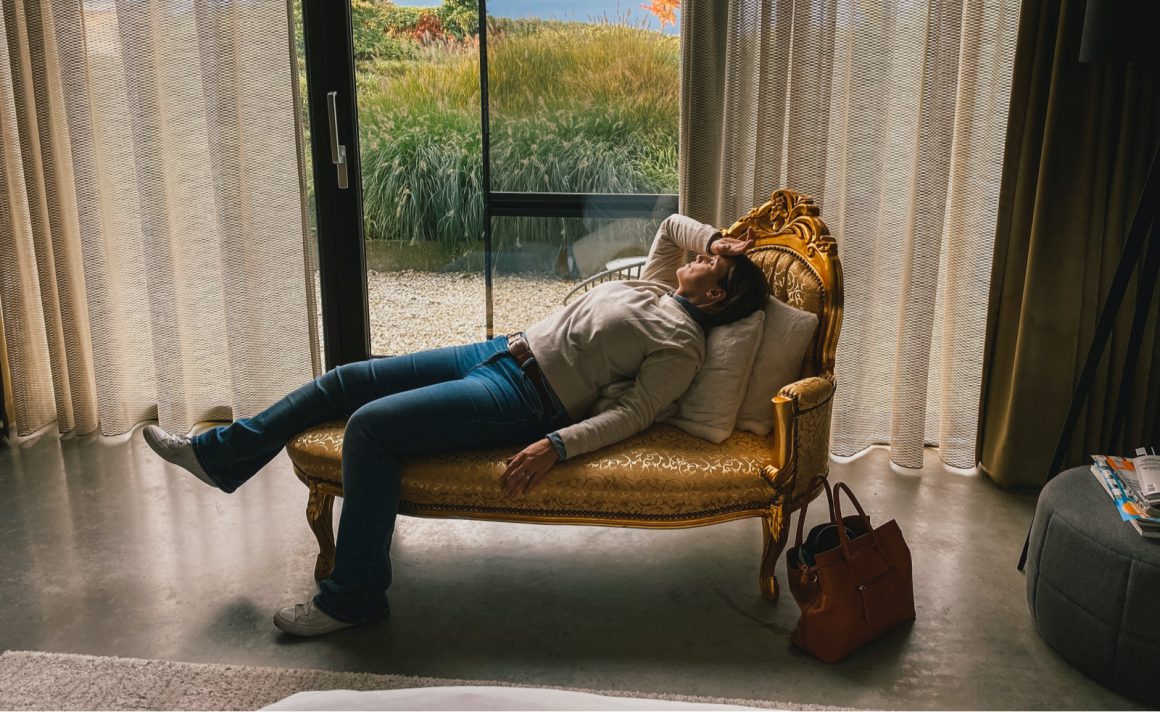 Good, could be great.
My wife Marieke and I spent two nights (date weekend in October 2020) at La Marquise Chambres d'hôtes de luxe. Although the chambres d'hôtes is really nice (and the breakfast is great), there is room for improvement in the details – especially set by the expectations from the property itself.
We paid €330,- for a 2-night stay in the Or suite. Read on for the detailed review and/or visit the property website.
After a long summer of little travel because of COVID-19, (relatively speaking; coming from 200+ nights of travel, only having a week with the family in Hof van Saksen and two weeks in Greenland), my wife Marieke and I were craving for some time off together.
Updated: Marieke and I got divorced in 2020.
My wife and I had decided earlier, that we would prefer stays in nature, in smaller towns, over city trips. We tended to notice that we would always be cruising the cities to not miss anything and that we did not really unwind. On top of that, traveling abroad for just a weekend, rushing to get back to see our kids before bed time on Sunday did not help to relax either.
So La Marquise Chambres d'hôtes de luxe seemed to be the perfect location: near a small town in The Netherlands (approximately 1,5 hours by car from Ghent where we live), close to nature and close to some great restaurants (in Weert, near Budel and/or even in Eindhoven).
On La Marquise Chambres d'hôtes de luxe
La Marquise Chambres d'hôtes de luxe is a set of five luxury suites near Budel in the Southern part of The Netherlands. Each of the five suites has it's own theme: Naturelle, Blanc, Argent, Noir, and Or (gold, the suite we eventually used). There is a big communal area with several couches and tables to sit and relax as well as a large breakfast area.
Location of La Marquise Chambres d'hôtes de luxe 8,5/10
More than everything else, La Marquise Chambres is an oasis of peace and tranquility; a sizeable garden with a natural swimming pool, just outside a small village in the middle of a region with green areas in the Brabant province in The Netherlands.
The property is not too far (actually a 15-minute walk, just perfect) from the charming village of Budel, where you can find several bars, restaurants and supermarkets. We -for example- opted to buy some tapas-like foods for the Friday evening and get some rest and early sleep.
On both Friday and Saturday, we had lunch (Restaurant Azie)/dinner (OH30) in the nearby city of Weert, about a 15-minute ride from La Marquise Chambres d'hôtes de luxe.
On Saturday, we made a morning and after-lunch walk near the Venbergse Molen (Malpie nature reserve), which has several hiking trails and allows for a 10-kilometer walk, with a food/drinks stop at 5 kilometers in the nearby village of Borkel en Schaft (for example in Grand cafe de Zwaan).
Rooms at La Marquise Chambres d'hôtes de luxe 7,5/10
Each of the five rooms/suites (Naturelle, Blanc, Argent, Noir, and Or) has a distinct style and elements. We stayed in the Or suite which was -obviously- all gold.
The Or suite features a flat-screen TV and a golden blinged-out bathroom (some presidents would love it) complete with a free-standing bath, separate shower, heated floors, and exclusive bath products from Moooi. In addition to the 'usual' facilities, this suite features a sauna (which accommodates two people sitting next to each other, no laying down).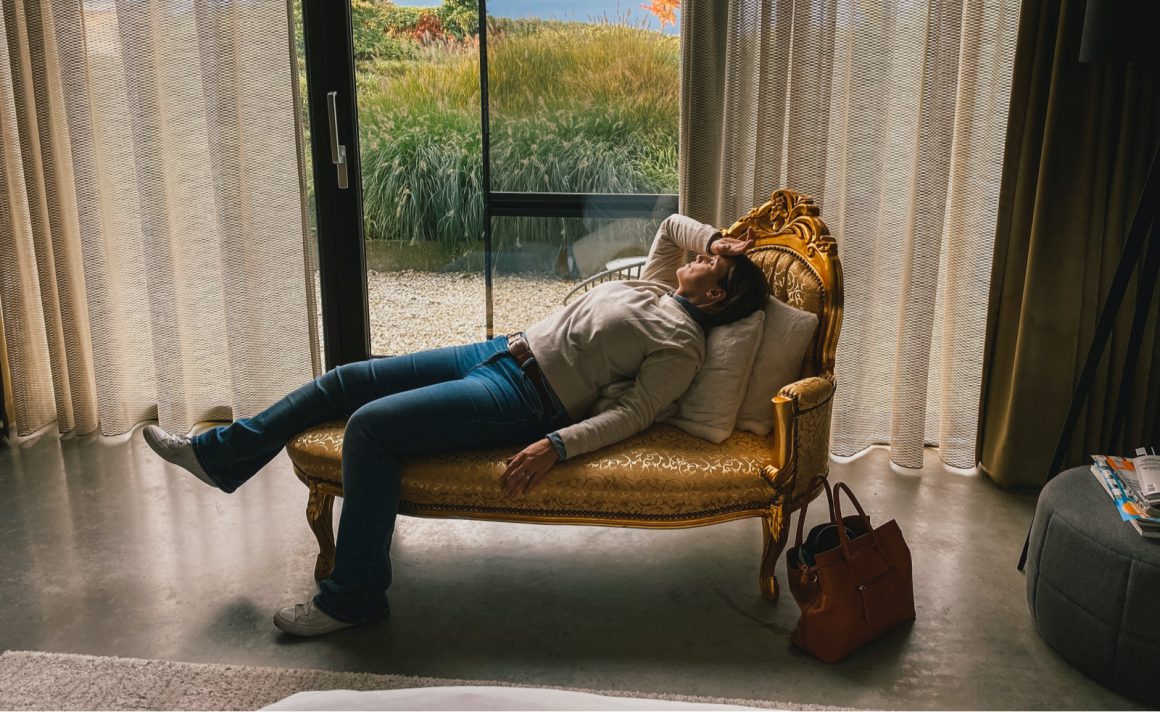 We did spot several imperfections in the room – the standalone bath was leaking (and when we told the staff, they told us it was a common problem), the shower head kept falling off and some of the soaps/conditioners/etc were re-used between several guests (something I am not quite used to with other hotels, e.g. the Antwerp Indigo Hotel who has the same Moooi luxury cosmetics and did not feel the most sensible option in Corona times). Additionally, it would have been great to not have the coffee in the rooms being paid (which kind of makes sense in the €165 per night price range).
Service at La Marquise Chambres d'hôtes de luxe 8,5/10
Staff was super friendly and reminded me of my childhood in Tilburg, about a 30-minute drive from the property. Welcoming, warm.
We had a small challenge when we arrived and our room key wasn't waiting for us (the room was open, so we could enter anyway), but nothing big.
On top of that, it was a bit of a pity that most contact with the team was during breakfast; a but more contact with the team would probably help in making more out of the property and its surroundings.
Getting stuff done at La Marquise Chambres d'hôtes de luxe 8/10
La Marquise Chambres d'hôtes boasts a small conference facility and its communal space has several great areas (and coffee and wifi) to get some work done. I was lucky enough that I had the weekend off and did not have to work, so I did not have to use the facilities, but if I would have needed it, I'm confident it would have been a great place to get some work done.
Breakfast at La Marquise Chambres d'hôtes de luxe 9/10
Breakfast was simple but good. Fresh bread, croissants, cutlery, and the choice of boiled eggs, omelets or eggs sunny side up.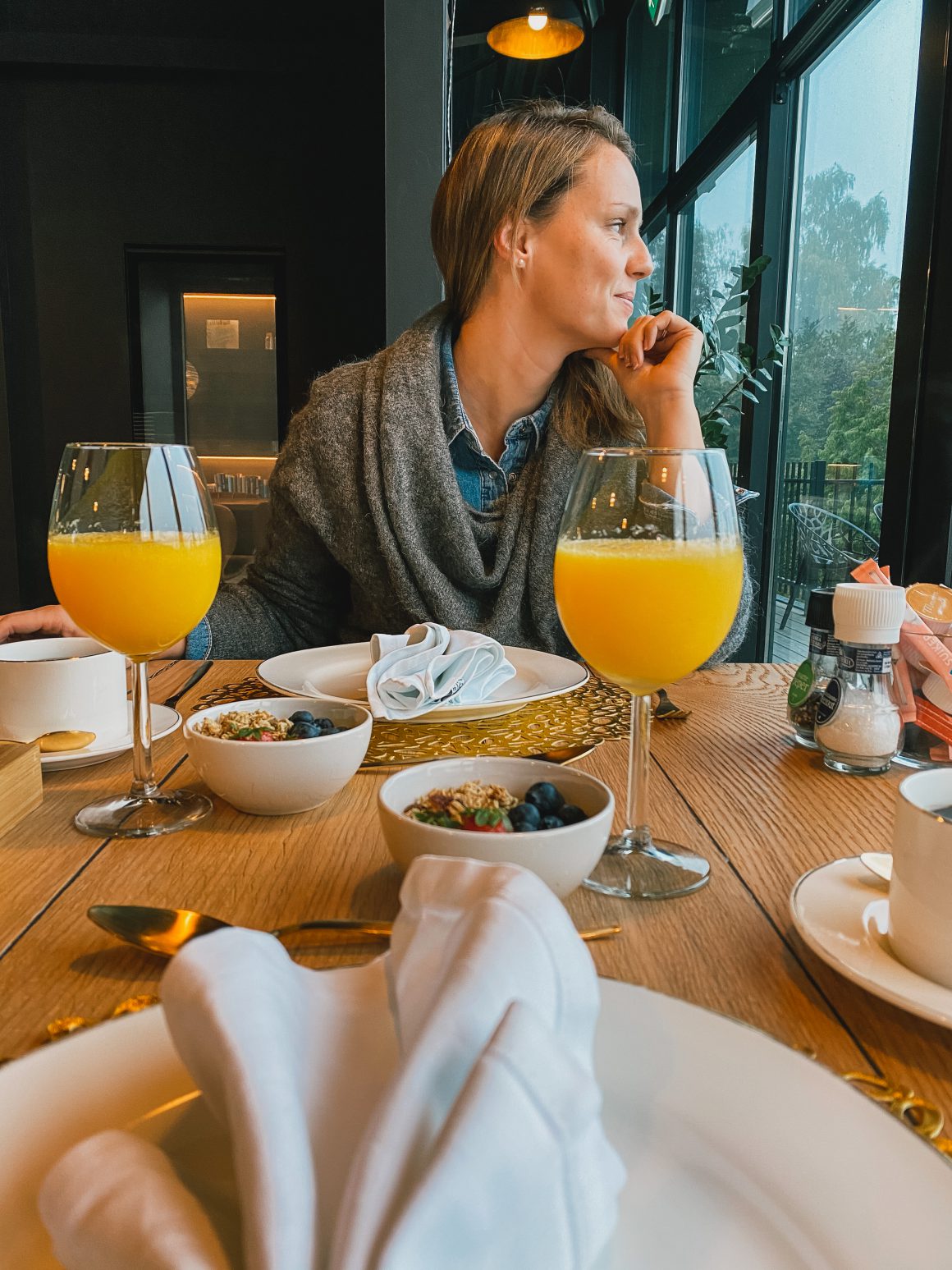 Our stay at La Marquise Chambres d'hôtes de luxe 8/10
Overall, we had a great stay. Location was great and perfect for our date weekend, in which we just needed some time together to have some good food and nice long strolls in the woods. The property is good, but we were a bit surprised by the leaking bath, the showerhead and re-used cosmetics (which in our opinion should not be the case in a luxury suite).