Since hiking the Kumano Kodo in Japan a few years ago, I fell in love with the different pilgrimage routes in Japan. Arguably the most famous one is the 88-temple Shikoku island trek. So here's my planning and preparation for a future Shikoku hike.
Note: I am continually updating this post as I am in the process of planning my Shikoku solo hike to take place somewhere in 2020.

Before we start: Shikoku
The Shikoku Pilgrimage (四国遍路 Shikoku Henro) or Shikoku Junrei (四国巡礼) is a multi-site pilgrimage of 88 temples on the island Shikoku in Japan (not too far from Osaka and Kyoto), associated with the Buddhist monk Kūkai (Kōbō Daishi). Large numbers of pilgrims, known as henro (遍路), still undertake the journey for a variety of ascetic, pious, and tourism-related purposes. The pilgrimage is traditionally completed on foot, but modern pilgrims use cars, taxis, buses, bicycles, or motorcycles. The standard walking course is approximately 1,200 kilometres (!) long. Many pilgrims begin and complete the journey by visiting Mount Kōya in Wakayama Prefecture.
The henro part of Shikoku
Henro (遍路) is the Japanese word for pilgrim, and the inhabitants of Shikoku call the pilgrims o-henro-san (お遍路さん), the o (お) being an honorific and the san (さん) a title similar to "Mr." or "Mrs.". They are often recognizable by their white clothing, sedge hats, and kongō-zue or walking sticks. Alms (osettai) are frequently given.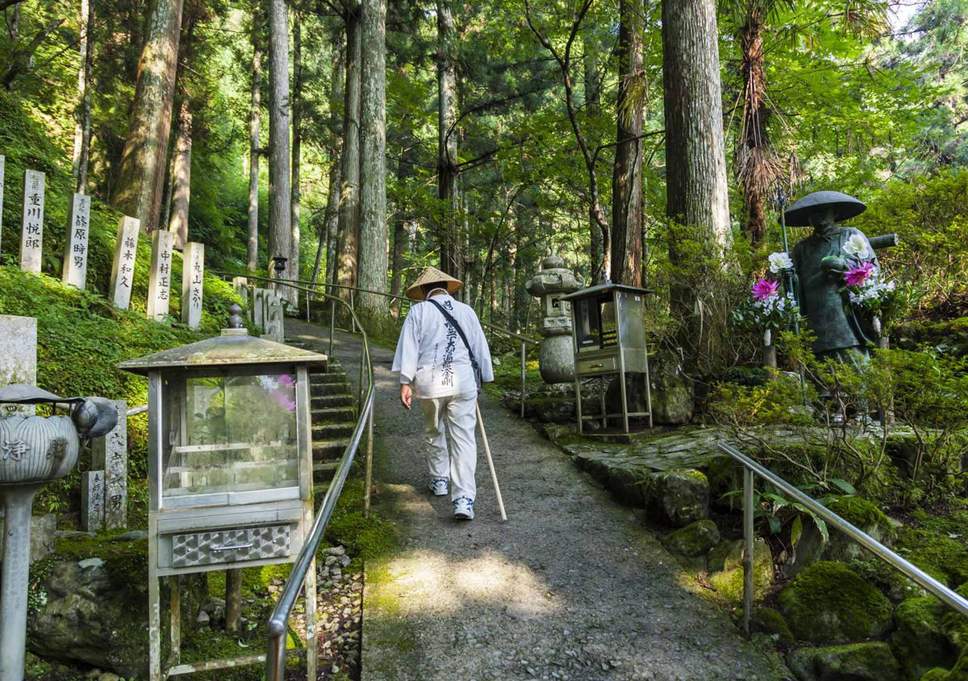 The pilgrim's traditional costume comprises a white shirt (白衣 oizuru), conical Asian hat (すげ笠 suge-kasa), and staff (金剛杖 kongō-zue). This may be supplemented by a ceremonial stole (輪袈裟 wagesa). The henro also carries a bag (ずだ袋 zuda-bukuro) containing name slips (納札 osame-fuda), prayer beads (数珠 juzu) (also known as nenju (念珠)), a booklet (納経帳 nōkyō-chō) to collect stamps/seals (朱印 shuin), incense sticks (線香 senkō), and coins used as offerings (お賽銭 o-saisen).
Step 1: settle on the idea for my Shikoku solo hike.
As the Shikoku is 1200 kilometers (but with plenty of support with ryokans or minshukus and restaurants near the trail), this will take quite some planning and preparation.
Some first thoughts:
I would like to fly into Osaka and skip Tokyo altogether.
I would like to start and end at Mount Koya san (as well as making the way up by foot instead of taking the train).
I would like to look into 40-60 kilometer days to both make it a physical challenge and keep the number of days spent on the trail manageable.
Sites I used for ideation and validation:
Step 2: validate my Shikoku solo hike plans.
I'm still validating my plans, but it seems more and more the case that 90% of the trail is hardened asphalt rather than trails. Still looking for more details on this, but if that's the case, I'm not sure if I'm really up to it.
Step 3: settle on a date for my Shikoku solo hike.
Step 4: lock-in my Shikoku trip.
Step 5: create a rough day planning for my Shikoku solo hike.
Fallback options
Especially since my experience at the Iceland Laugavegur trail and it's fast-changing weather as well as my illness and navigational error on the Jordan Trail from Dana to Petra, I promised myself to make a backup planning.
Step 6: creating a packing list for my Shikoku solo hike.
Budget for my Shikoku solo hike.
Extra