The Kumano Kodō is a series of ancient pilgrimage routes that crisscross the Kii Hantō, the largest Peninsula of Japan. Since I was a kid, my dad took me and my brother out for hikes. When we grew older, we started hiking stretches of the GR5 pilgrimage route through Europe. So it made total sense to do this as a solo hike when I visit Japan in June 2016. I loved it so much that I returned in June 2019 to do another part of the trail (from Hongu to Koyasan – the so-called Kohechi route) as well as re-doing the Nakahechi route. This post will go deeper into hiking the Kumano Kodo
About Kumano Kodo
I'm not even sure how I had heard of the Kumano Kodo. It was probably listed in one of those 'ten-things-you-should-do-in-Japan'-lists while I was preparing for my trip to Japan. Looking back, it is one of the things I will never forget. The Kumano Kodo is an amazingly beautiful and mystical experience. From nature to meeting other hikers, from the amazing views to the weather and from the amazing food to the glorious feeling when finishing the path. I liked it soo much that when I had to cancel my Arctic Circle Trail hiking plans for 2019, I quickly decided to go back to the trail.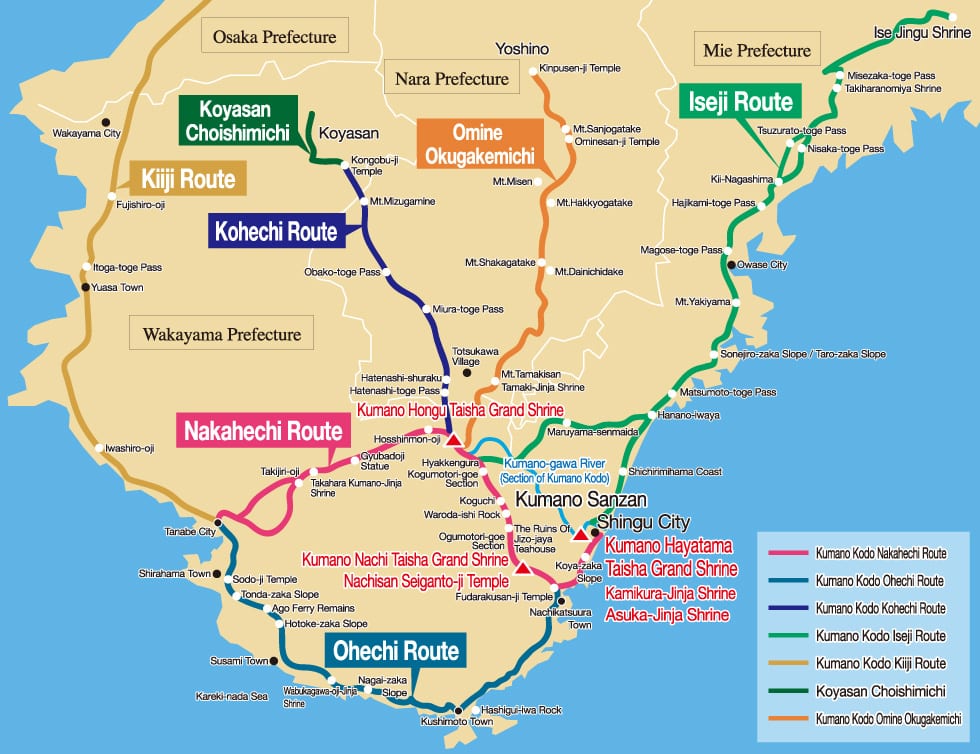 As said before, the Kumano Kodo is a series of pilgrimage routes (as seen above). There are different connected trails and there are different 'official pilgrimage routes' that are part of the ancient tradition of pilgrimage treks to Kumano Hongu Taisha. Collecting stamps on your route from a starting point (e.g. Koyasan or Takijiri-oji) to Hongu will allow you to apply for an official certificate. If you're one of the brave people to have completed the Way of St. James (Camino de Santiago) in Spain as well (the other big pilgrimage route), you can apply for a dual pilgrim certificate.
The many options to hike the Kumano Kodo
The Kumano Kodo as a set of hiking trails is a very versatile trail. It is quite suitable to do everything from day hikes to multi-day hikes. You can sleep in ryokans (inns) or camp out, you can carry your own gear or have luggage drop-offs. There are so many ways to hike the trail that it is truly
The "normal" route. The most common way to hike the Kumano Kodo is to start near Tanabe in Takijiri-Oji and hike to Hongu Taisha to -from there on- proceed to the Kumano Nachi Taishi Grand Shrine near the Pacific Ocean. This is also what I did in 2016. 
Day trips. Especially the short hike from Yunomine to Hongu or the Hongu-Yunomine-loop are perfect for a day trip.  But feel free to merely visit Hongu or Kumano Nachi Taisha.
Multi-day hikes. It is perfectly possible to do several stretches of the trail, including the possibly longest one from Takijiri-Oji via Hongu to Koyasan (which I did in 2o19).
Multi-day hikes supported. The level of support can vary. While some people camp on the trail (I don't – I take a ryokan with onsen every day of the week), others have their luggage transported along the trail.
Pilgrimages. Completing any one of the stretches to Hongu and making sure you collect the stamps on the trail will have you receive a certificate in Hongu. 
About me as a hiker
I opted for the "normal" route in 2016 (as will be detailed below) and decided on To put things into context:
My 2016 hike: Nakahechi and Hongu area to Kumano Nachi Taisha
The Nakahechi route is the by far most popular route to the Hongu area (including the famous Yunomine onsen). In two (or three) days, it takes you from the starting point in Takijiri-oji to the famous temples in Hongu. 
I made a breakdown of each single day as well as my preparations in separate posts:
Kumano Kodo: preparations Nakahechi and Hongu area to Kumano Nachi Taisha: my full day planning, getting there, including my packing list.
Kumano Kodo Nakahechi and Hongu area to Kumano Nachi Taisha Day 1: Takijiri to Tsugizakura: Bus from Tanabe to Takijiri, First stage Takijiri-oji to Tsugizakura-oji, Spend the night near Tsugizakura-oji (Nonaka Sanso);
Kumano Kodo Nakahechi and Hongu area to Kumano Nachi Taisha Day 2: Tsugizakura to Yunomine, via Hongu: Second stage Tsugizakura-oji to Hongu, Connecting stretch Hongu – Yunomine, Spend the night in Yunomine;
Kumano Kodo Nakahechi and Hongu area to Kumano Nachi Taisha Day 3: Ukegawa to Nachisan: Bus from Yunomine to Ukegawa, Third stage Ukegawa to Koguchi, Fourth stage Koguchi to Nachisan. Please note, I would recommend doing this in two days. 
My 2019 hike: Nakahechi to Hongu area, Hongu area to Koyasan via the Kohechi route
In 2019, I really wanted to relive some of my favorite travel moments. I wanted to visit the Kanteki team again where I had my first true omakase experience.
I made a breakdown of every single day as well as my preparations in separate posts:
My preparations for the trip, including how I decided on Japan, my day planning and my packing list. 
At first, the Nakahechi part of the trail:
Day 1: Takijiri to Tsugizakura: Bus from Tanabe to Takijiri, First stage Takijiri-oji to Tsugizakura-oji, Spend the night near Tsugizakura-oji (Nonaka Sanso);
Day 2: Tsugizakura to Yunomine, via Hongu: Second stage Tsugizakura-oji to Yunomine (so take the direct route to Yunomine, go to Hongu the next day), Spend the night in Yunomine;
And then, the Kohechi part of the trail:
Day 3: Yunomine to Kumano Hongu to Totsukawa Onsen 
Day 4: Totsukawa Onsen to Miura-guchi
Day 5: Miura-guchi to Omata
Day 6: Omata to Koyasan