It was our first real holiday together. My then girlfriend, current wife Marieke and I. We had spent some time in Florence and Rome and were about to travel to Milan. This would be our last day in Siena and we were planning to take it easy … until the day got a different turn. So this is the story how I ended up as a karaoke DJ at an Italian graduation party (without any DJ skills).
Updated: Marieke and I got divorced in 2020.
We had spent several days in Siena already: exploring the city and its surroundings, enjoying the heavenly food, sipping wine and having small bites. We even had our favorite bar by now: Caffe del Corso. Amazing bites, always crowded, super friendly staff, great wines.
The morning of the last day we would spend in Siena, I persuaded Marieke that I needed an hour of time to check on my email. We decided on the local Irish pub. After a while, it turned out that another couple was in pretty much exactly the same situation: workaholic man, annoyed lady.
Marieke and the woman got into talking, which got the four of us talking and we agreed to have dinner later that day. It would later turn out, saying yes is indeed the gateway to an adventure.
Robb and Celena (their names) were from the United States and London, United Kingdom respectively and also had a romantic holiday planned in Italy. It was their first night in town, so they were open to explore whatever Siena had to bring.
The dinner was remarkable in itself, but that is a story for another day.
After dinner, we decided to have some more drinks at our favorite bar, Caffe del Corso. When we went into the bar it was … empty. Marieke and I felt a bit embarrassed … we had promised Robb and Celena a busy, cozy bar with great bites … all they got was an empty place.
And then, suddenly it changed. A group of at least 50 Italian with laurel wreaths enter the bar with a lot of noise.
Not too much later, they had a heated and even noisier conversation with the bar owner.
The problem -it turned out to be- was that they had a deal with the bar owner that they would celebrate their graduation party in the bar with a karaoke party. But … the bar owner did not arrange karaoke songs.
A lot of Italian hand gestures later, Robb – hero of the evening – intervened: "I have a hard disk with 20GB of karaoke songs in our hotel – should I get it?".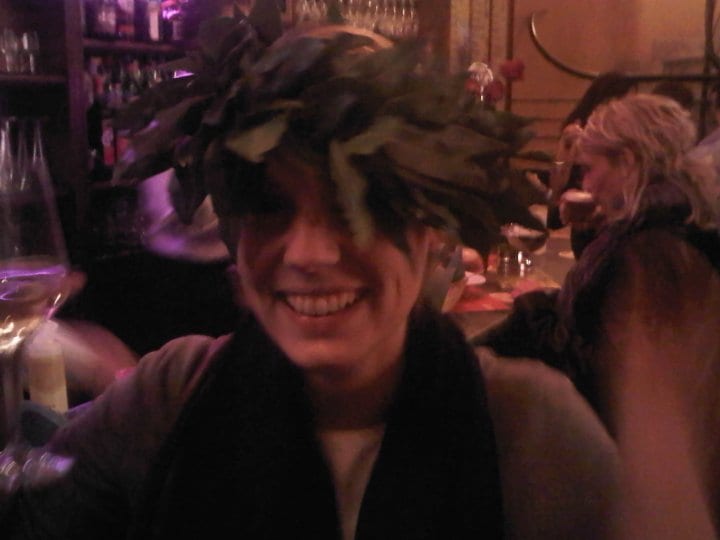 And that was the start of a remarkable night, where each of us had our role. Rob and I were the karaoke DJs and Marieke would professionally annoy the Italians by stealing their laurel wreaths and (even more important) the karaoke microphone.
It probably is because Rob and I were DJs that the Italians didn't revolt and kick us out.
And that is pretty much how I ended up as a karaoke DJ at an Italian graduation party. A chance meeting of two strangers, a great dinner, a chance encounter with graduating Italians and the legendary Robb who just brought 20GB of karaoke songs on his romantic holiday to Italy.
There's actually another travel story connected to the evening – it was the night I realised I wanted to marry Marieke.