This week I had a crazy week of traveling. From my home near Gent to Antwerp to Amsterdam. After two days in Amsterdam, I left for Madrid where -after one meeting- traveled on to Frankfurt. After a day of work there I flew back to Amsterdam with a stopover in Madrid. Back to Gent for a short weekend with the family before traveling to Athens from Brussels via Zürich. With approximately 15 hours on a plane, of which 5 hours in business class, I had plenty of onboard getting-things-done time for myself. And then, somewhere on a flight from Madrid to Amsterdam in Seat 28D next to a restless sleeping Spanish woman I realized – I actually get more work done in Economy.
On getting work done
Much of my work consists of either strategy or storytelling – I either plan the way forward for my customers to achieve their goals and/or I create the storylines, speakernotes or presentations to get them accross. I need my focussed time for this. I just get easily distracted by pretty much anything. Something happening in the corner of my eye

I need my focussed time alone behind my computer to get my stuff done. It is one of the reasons why I tend to wake up every day between 04h00 and 06h00 – to have the alone time behind my computer.
Getting work done in Business Class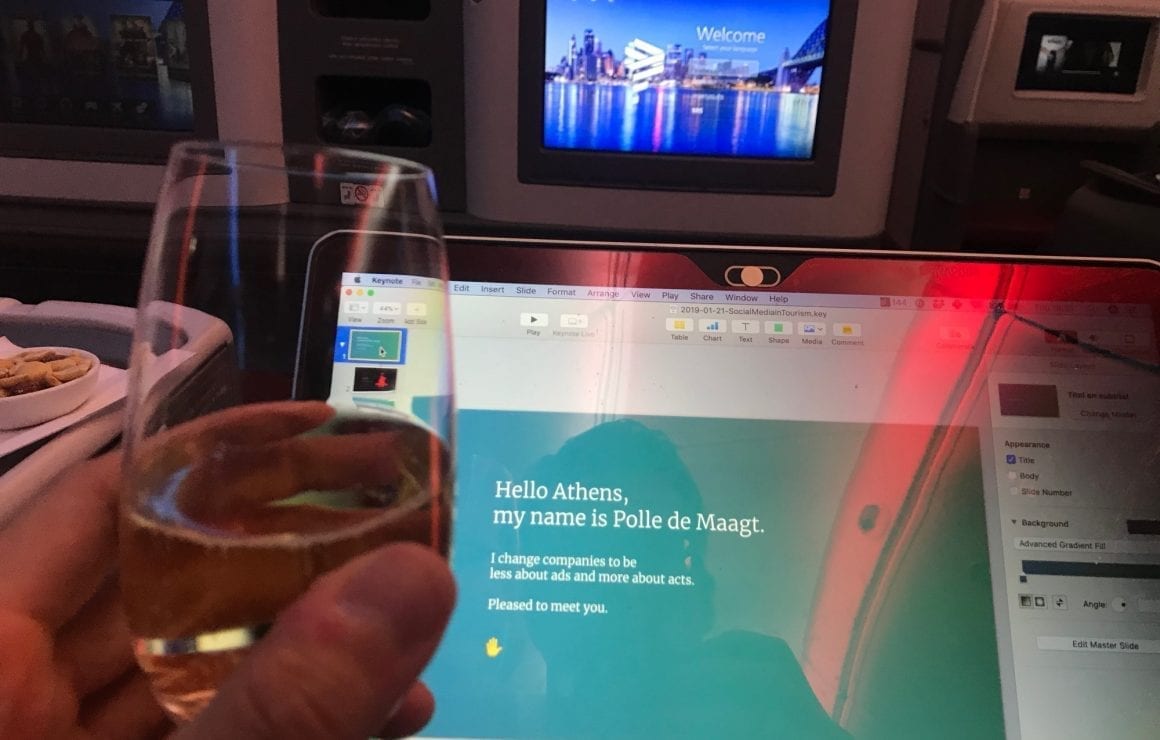 I was lucky enough to be on a wide-body Dreamliner from LATAM this week in Business Class. A great plane, great service. I loved it. But I didn't get much work done.
Before take off I got my drink and nibbles.
After the fasten seatbelts sign was turned off, we got our hot towels and thing were prepared for a fancy snack.
During the snack I watched some movie and although I didn't really like it, I couldn't force myself to turn the movie off to get some work done.
By the end of the movie I had given up.
Getting work done in Economy
No snacks.
No champagne.
No food.
No wine.
No movies.
Nothing to be distracted.
Same flight time, two presentations and a blog post finished.
I realised I get more work done in Economy. I guess am not a spoiled brat (yet).