"What if …" is usually one of the best ways to start thinking about awesome stuff. What if … you would design a weekend for kids? What if … -for one weekend- we would leave all the conventions and rules we have developed growing older at the door? Well, that's pretty much Wonderweekend, a 3-day festival in the city of Meise in Belgium.
Updated: Marieke and I got divorced in 2020.
Wonderweekend in a nutshell
Wonderweekend started a few years ago when a bunch of fathers started gathering once a year to have a sleepover with their kids (pretty much the super-awesome equivalent of my father-daughter-day with Ella). This, slowly, every year expanded and now consists of two nights (you either stay Friday to Saturday or Saturday to Sunday).
In the large (92 hectares) Botanic Garden in Meise, Wonderweekend is pretty much a super big playground. The founding fathers (pun intended) and the staff make a sport out of turning regular moments into remarkable ones and spice them up further with magical touches of absurdism. From the restaurant-without-cutlery to the cardboard tents and the 'snoepermarkt' where kids can harvest their own tomatoes and from walking dodos to a mad king and real-life theater shows of children books.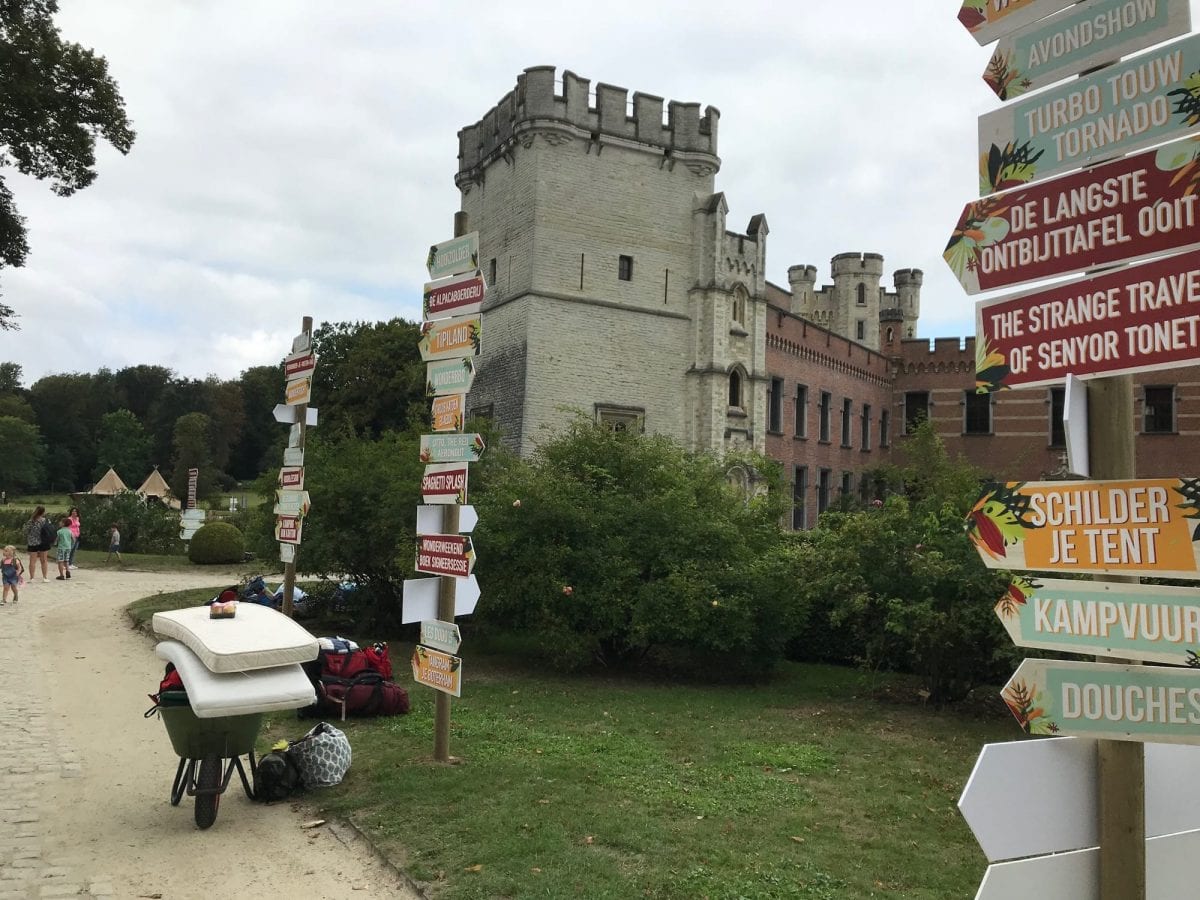 And for an event that has grown so fast, the event is remarkably professionally put together. Plenty of super-friendly staff, a map of the area, plenty of signage (including maps), a central information desk, bus transfers from a nearby large parking area, etcetera.
In that way – and many ways, it probably is like Tomorrowland for kids.
A home away from home – cardboard tents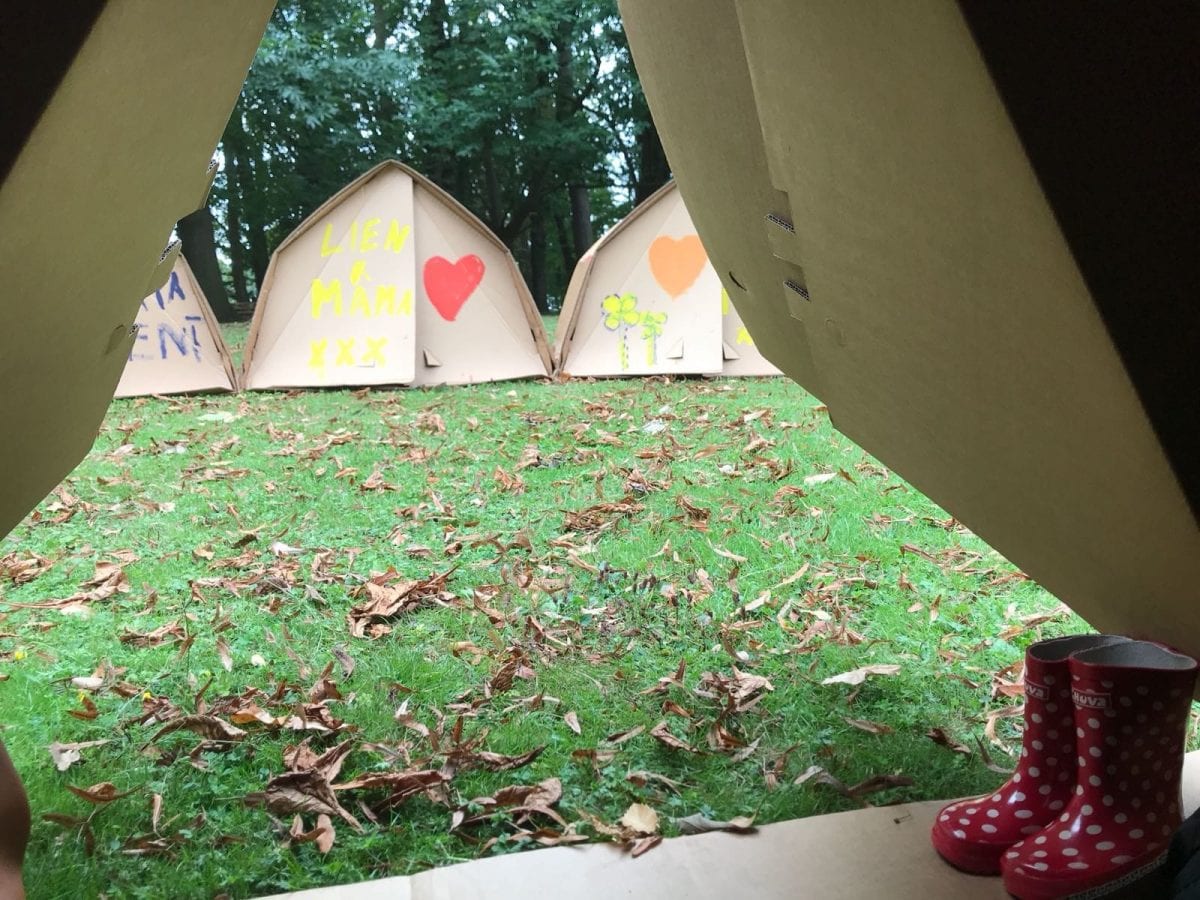 One of the core elements of Wonderweekend are the cardboard tents – the large majority of guests will stay in cardboard tents the size of a 2 person tent, with some guests opting for more luxurious tipi tents on the terrain. They look like regular tents, they work like regular tents, so it's pretty much a large camping with cardboard tents.
For being cardboards and tents, they are remarkably comfortable. Cardboard is a great insulator of heat, so we actually had a rather comfortable night of sleep. And the best thing – of course – is that kids can customize/decorate their tents.
Ah yes, we were assured that the cardboard tents would withstand 2-3 days of severe rain.
Probably the most sub-optimal things about the tent-situation were the other guests (some thought it was a great idea to camp outside of their tent rather than party on in the central bonfire area) and the toilet/showers, which were difficult to keep working/clean and available with such large numbers of guests.
A home for Belgian absurdism
Before I go on, a quick word on why I love Belgium and how this connects to Wonderweekend.
One of the things I love most about Belgium is its absurdist humor, something they refer to as 'met een hoek af' (a corner missing). It is on full display with some of its prominent comedians/artists (Kamagurka, Wim Helsen) and -for example- during the Genste Feesten (the 10-day inner city festival in the city center of Gent), where Cirq organizes a festival that challenges contemporary issues (e.g. mocking pedophilia by the church by locking up kids in mock cellars on the festival terrain, mocking democracy by instaling an overly bureaucratic festival).
It is hard to put in words as a non-Belgian (I am Dutch, although I have been living in Belgium for over 8 years now), but maybe it's closest to the role of a court jester in Medieval days – continuously mocking and challenging the establishment, conventions and the status quo.
Absurdism during Wonderweekend (activities)
During Wonderweekend this absurdism is also on full display. It maybe is too easy to discard many of the activities around the festival as mere absurdism. Yes, many of the activities have a touch of absurdism, many of the events seem to play with conventions, seem to tickle kids' and parents' creativity and open up your mind for some magical moments.
It is done by making some simple things remarkable, by adding some touches of absurdism and magic to the day and by some smart commercial partnerships.
Simple things made remarkable
Just to name a few (I missed and/or omitted plenty of other performances or initiatives, but this will give you a general idea):
Cardboard tents: As mentioned before, having a a tent you can decorate with paint is pretty cool in itself.
Restaurant-without-cutlery: Pretty high on my youth list of things to do was probably eat dinner without cutlery. So the little child inside of me was super excited there is a restaurant where you can only eat with your hands.
Hay barn: I grew up as a city boy, so never fully appreciated the value of having a hay barn nearby where you could play. So the hay barn on the Wonderweekend was one of the highlights of our day.
Bonfire-without-fire: Because of the ongoing draught in Belgium, the organisation was not allowed to have open bonfires, so they opted to have LED lights on top of wood stacked as bonfires.
Live music during breakfast: As One Marimba used their marimba super powers to create the most relaxed wake-up background music I have experienced in a while.
Some absurdist touches
Otto, the red Aeronaut (pictured above) is an amazingly creative installation that uses a balloon and two walking actors (with matching pipes) to propel a 'rowing' aeronaut, that is graciously moving through the air.
Les Dodo's (pictured above) are two guys in a dodo suit (well, they are dressed up as explorers sitting on top of dodos) running around causing havoc.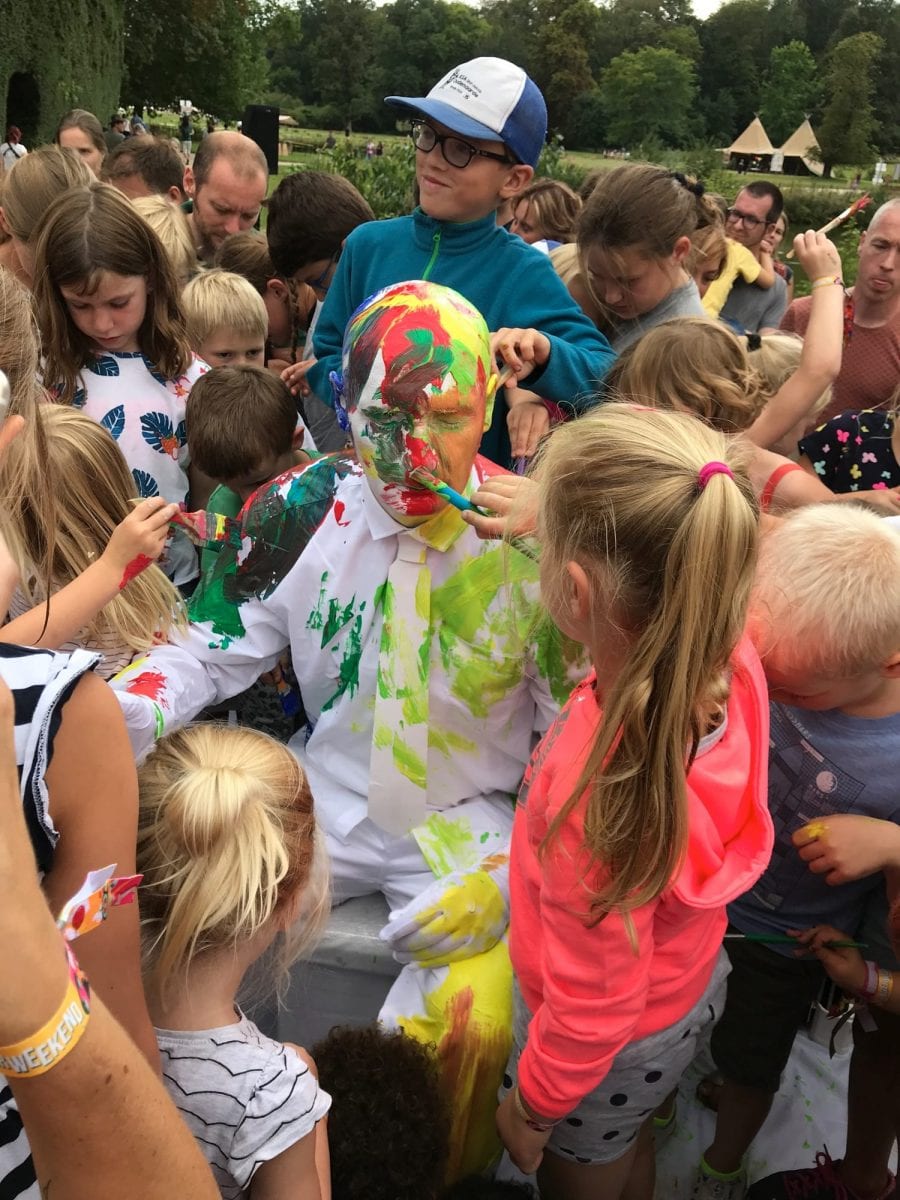 One of the many moments I wished I was a kid was during the 'Blanko' performance at Wonderweekend. 'Blanko' is a guy dressed and face-painted white and that can be used as a literal canvas for kids with colored brushes. I do not envy the guy for being on the receiving end of all this paint and possible evil kid brains, but it makes for a great performance.
What would have been nice (maybe next year) is to have more of the supporting team also adopt a role/character and even entertain/trigger the kids more. Some of the amazingly friendly staff I encountered (including the woman at the hay barn, some at the restaurant without cutlery) would instantly qualify. That would make the experience even more magical.
Advertising and Wonderweekend
An event like Wonderweekend (on this scale) can not exist without commercial sponsors. But even this has a logical place in the event.
Snoepermarkt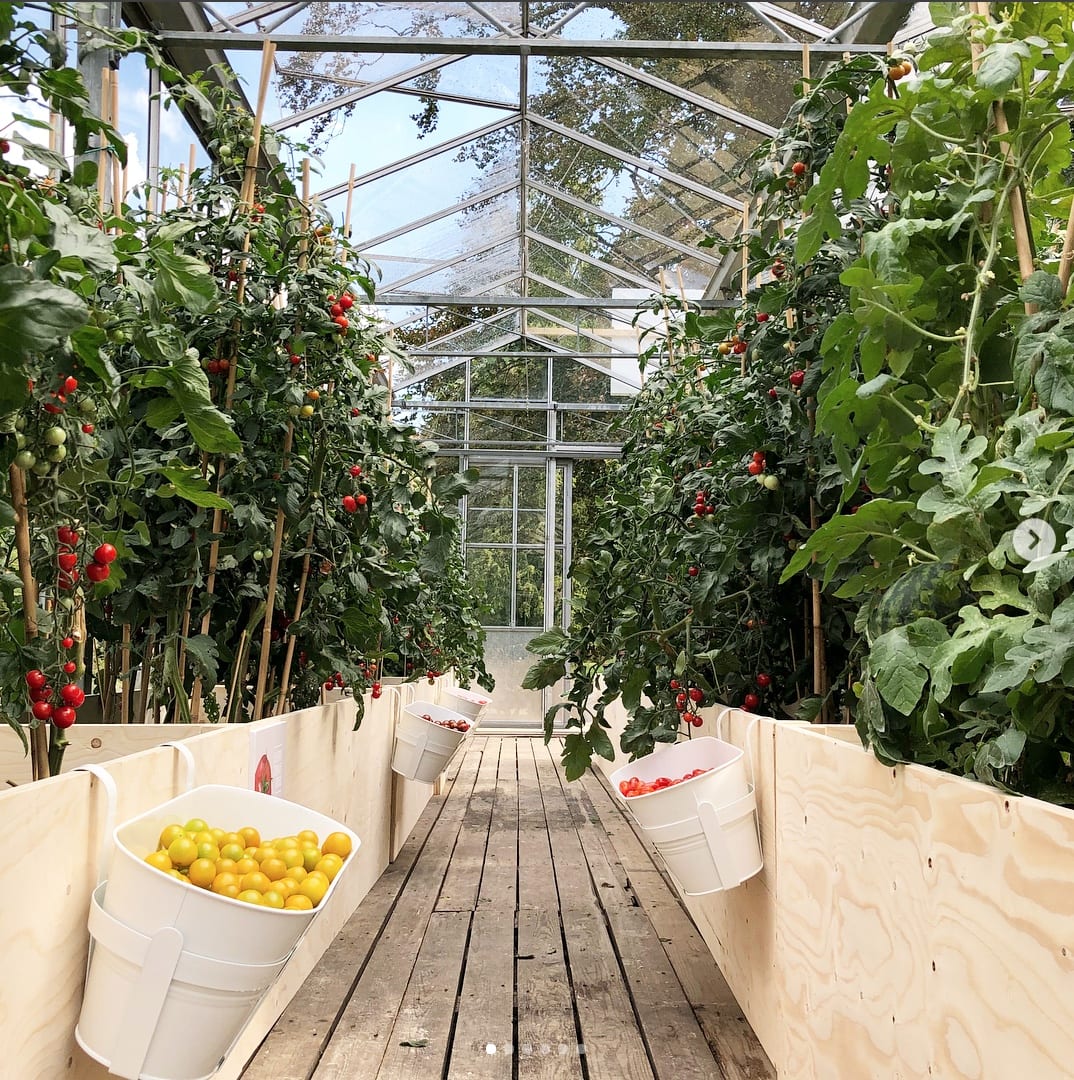 Supermarket chain Lidl had a Snoepermarkt (candy supermarket) on the premises, a large greenhouse where kids could harvest their own tomatoes. Our daughter Ella is already a tomato-monster, but this only made tomatoes even more appealing. A really nice, creative way to build their presence
Bare-feet-walk
Days before Wonderweekend, the bare-feet-walk was opened, a kilometer long path over various types of sand, stones, bark, mud, water … pretty much whatever organic material you could think of. It may sound lame at first, but it is actually great fun. Super simple, but our daughter loved it. The Belgian Brantano shoe store sponsored it (makes sense).
Wonderboekenfestival
Libelle magazine had sponsored last year's edition with flower-decorated breakfast tables (which were dearly missed by some of the parents who had seen last year's photos), but now sponsored a large tent with children's books you could borrow. From time to time, authors would read from their own books. Maybe even cooler, several theatre acts had taken the contents of the books and had turned it into a performance – a really great way to bring the contents of a book alive.
Wonderweekend book
Wonderweekend now also has its own book with cool and simple ideas for your weekends with the family (or even for regular week days).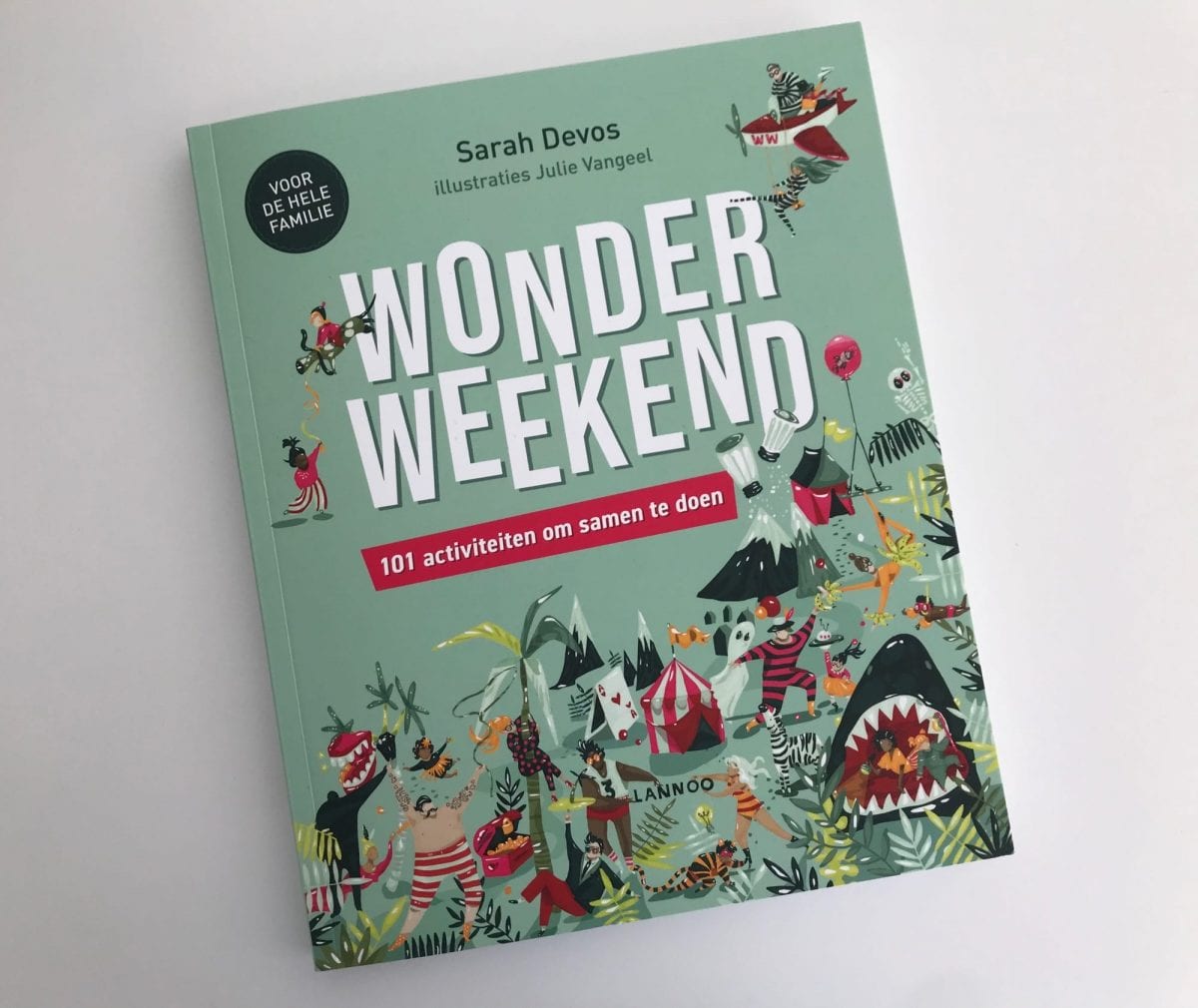 The practical stuff and conclusion 8/10
We paid 282 euros for the three of us (Marieke, Ella and me). This included a night in our own cardboard tents (we had two as one tent only fits two persons), lunch on the first day, evening dinner at the Restaurant-without-cutlery and breakfast. Additionally, we spent approximately 20 euros on additional drinks (mostly water as we forgot bringing our own).
We had an amazing weekend as a family and our daughter Ella just loved it. Although the weekend is not cheap, it really felt we had our value for money and it's something we will definitely return to. Probably not next year, but the year after when our son Gust is also old enough to truly appreciate all the magical things that happen at Wonderweekend.
Vinne and the rest of the team, thanks a bunch for a great weekend!