I really like the style and vibe of IHG's Indigo hotels, so I was really happy when last year Indigo opened a hotel in Antwerp, a city where I regularly have to spend the night. I have stayed several times now in the Hotel Indigo Antwerp City Centre and it has quickly become my favorite hotel in Antwerp (and one of my daughter's as well). However, I have some reserves – it is pretty neat, but it could be better.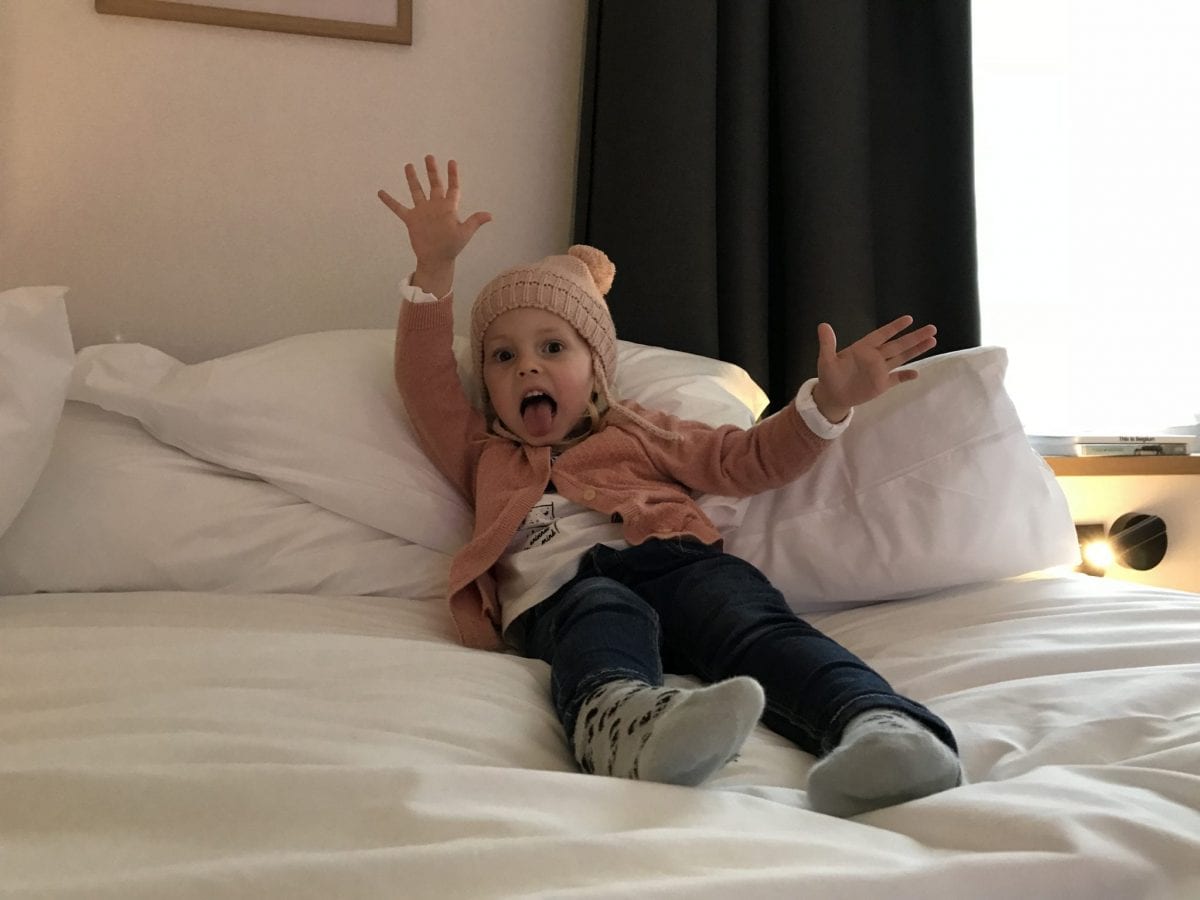 Hotel Indigo Antwerp City Centre
Hotel Indigo Antwerp City Centre has 82 boutique guestrooms in a rather new (recently renovated) building, surrounded by amazingly beautiful Gothic, Renaissance and Baroque buildings.
Each and every Indigo hotel tries to incorporate some elements of its neighborhood in its interior ("bringing the outside in"). Although usually, for me personally, it feels like marketing-speak ("reflecting a small slice of the Flemish joie de vivre in their unique design" – every heard a hotel guest say that?) and kind of a forced branding exercise, I really like the focus of botanical and insect motifs in the Antwerp Indigo Hotel, a nudge to the nearby Antwerp Zoo.
In the same building as the Hotel Indigo is a bar/restaurant, the Queen of A's kitchen, with a separate entrance and which doubles as a breakfast area for hotel guests.
Location of Hotel Indigo Antwerp City Centre 8/10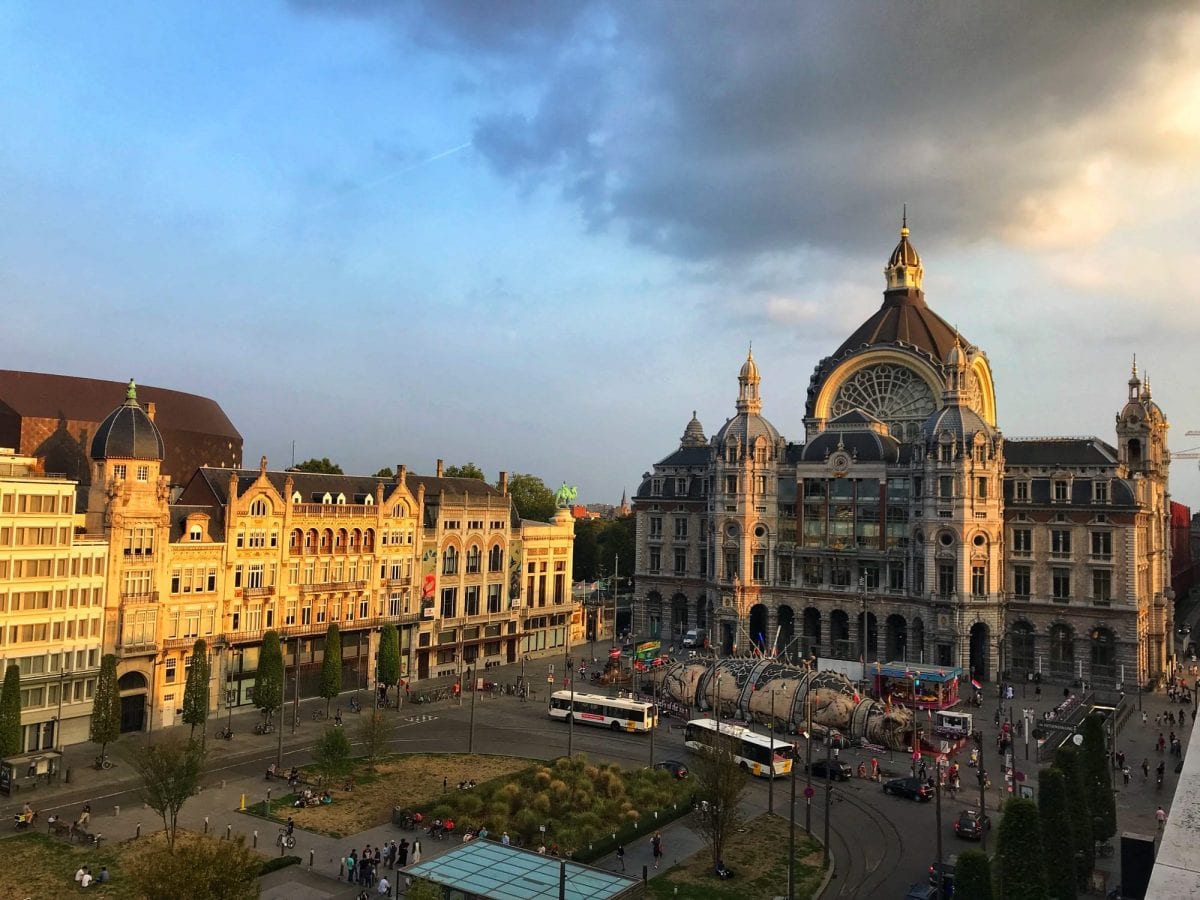 The Indigo Antwerp City Centre is at Koningin Astridplein, the large square in front of the Antwerp Central Station. What I really like about the area is the mix of contemporary architecture with magnificent Gothic, Renaissance and Baroque buildings. The central station is just stunning and arguably one of the most beautiful train stations in the world, but also other buildings near the square are quite impressive.
The location next to the central station makes it a good base to explore the city. With multiple tram, bus and trains departing from or near the square, it is super easy and fast to reach different parts of the city, including Antwerp's famous and epically tasteful The Jane restaurant (4 tram stops), the central Groenplaats square (3 stops) or -for instance- the start of the Antwerp marathon on the other side of the river (7 stops). Even longer trips like Ghent (about 45mins by train) or Brussels are super easy.
The hotel is also within walking distance of some of Antwerp's main attractions. Antwerp boasts cobbled lanes of architecture from as early as the 13th century. Rich with historic character, the city offers guests plenty of unique cafes and a vibrant restaurant scene, a riverside fortress, some amazing museums (including the iconic MAS) and an impressive cathedral, the Onze Lieve Vrouwe Kathedraal (Cathedral of our Lady). Also, the Antwerp Zoo, a really nice inner city zoo is literally across the square.
Although the hotel location is good, other properties (notably the Hilton at Groenplaats) are closer to the city center and/or nicer restaurant and bar areas, which you might want to consider when you're pressed on time.
Lastly, I have heard and read of other guests complaining about the noise coming from the square at night. In my different stays at the hotel, I have stayed in rooms on lower floors, higher floors, at the front of the hotel and at the back of the hotel and personally never had issues with noise coming from outside.
Rooms at Hotel Indigo Antwerp City Centre 8/10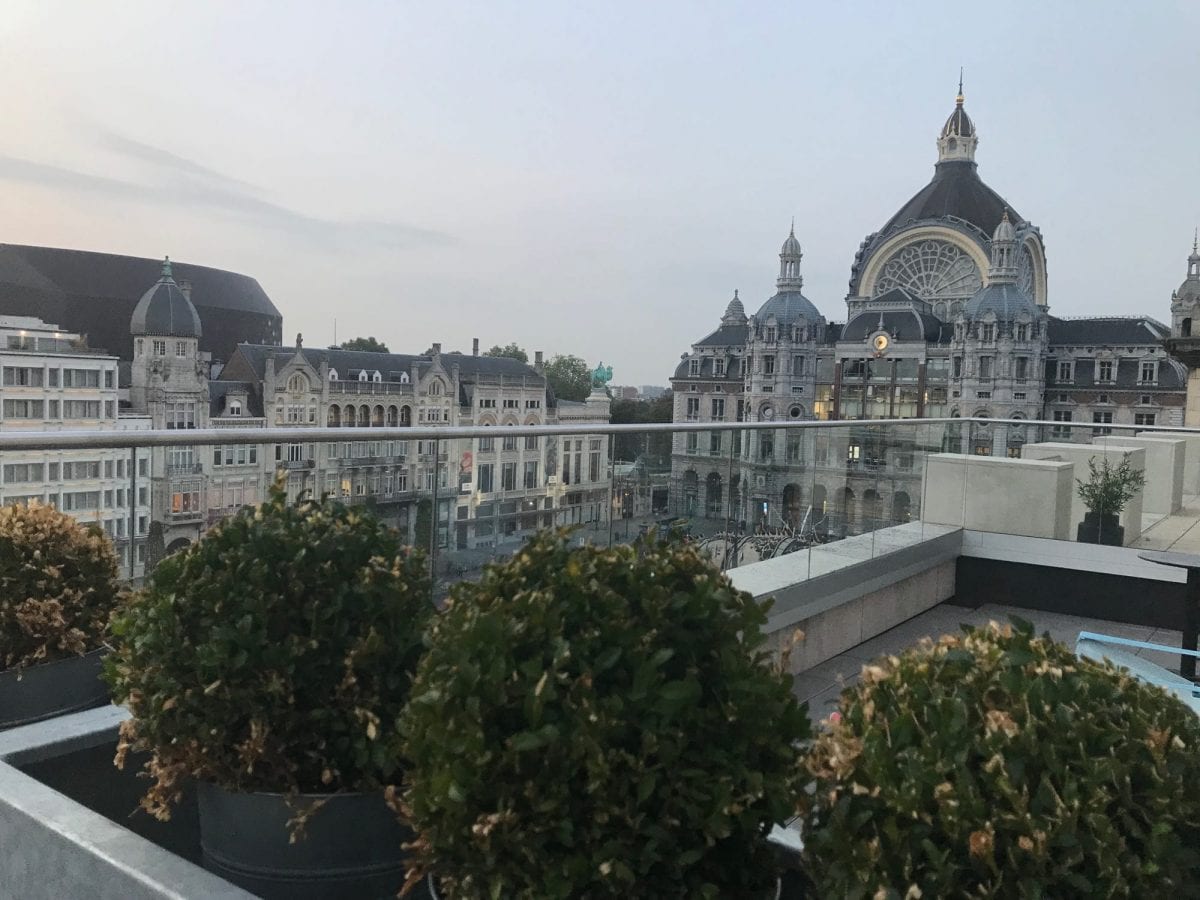 Rooms are normal-sized (maybe even a bit small in comparison to other hotels) and have plush bedding, hard surface flooring with large rugs and a lot of warm oak. Ah yes, there is an in-room Nespresso machine. Rooms feel really warm and welcoming. Although I know the hotel has been experimenting a bit with room decoration (rooms were sparsely decorated at first and now have more books, framed art, and decoration pieces), it seems to have found a good balance now.
Bathrooms have walk-in showers with glass window showers, really nice wood-enclosed bathroom sinks, Moooi soaps and creams (I love the smell, tied with Kimpton's Stella Maris soaps).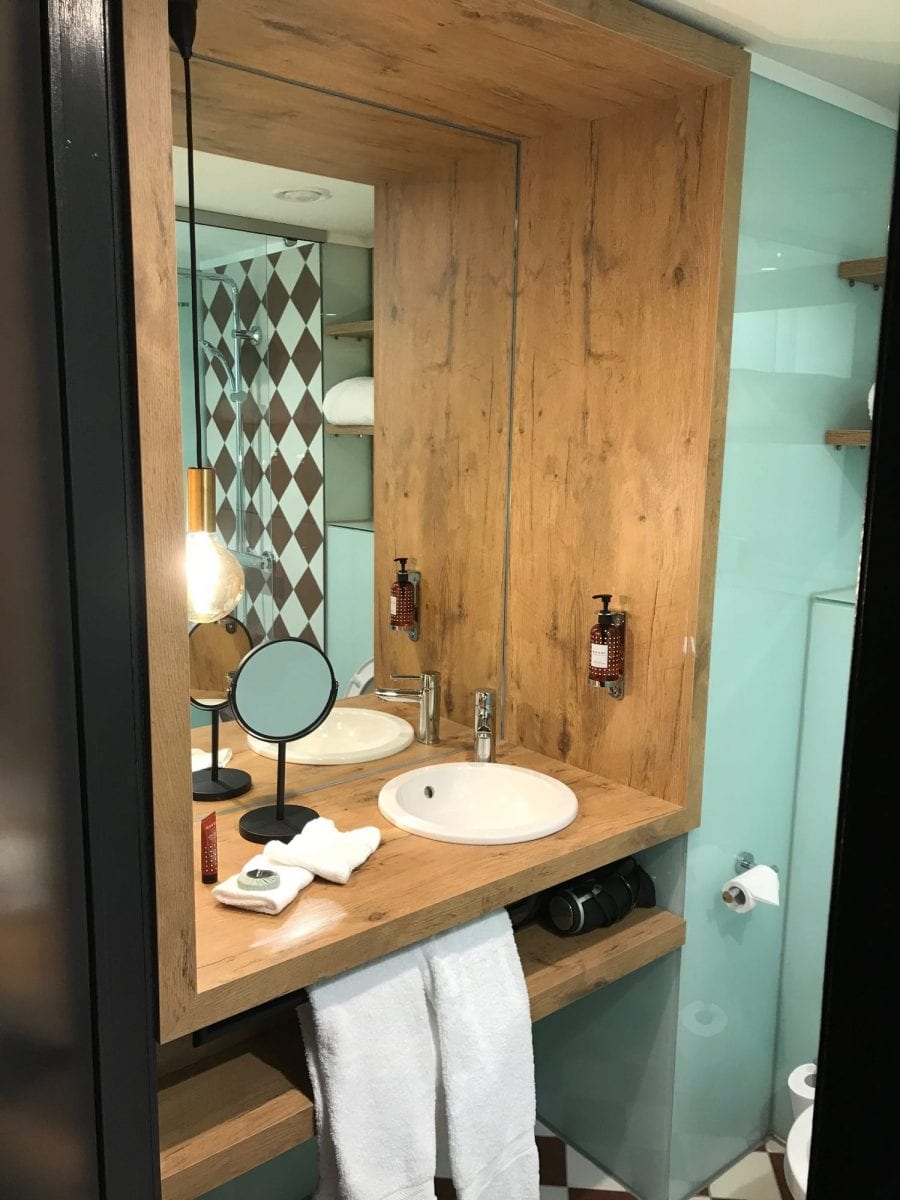 Service at the hotel Indigo Antwerp City Centre 7/10
Hotel staff is local and super friendly/welcoming. One of their staff members was actually why I kept blogging after starting blogging a while ago.
I had two small issues with the hotel, that were resolved. I had an issue with pricing/filing of hotel prices in 2019 (which took some reminders to be addressed) and a small problem with the stay/points missing from my IHG account, but both were resolved reasonably quickly and in a friendly manner.
Getting stuff done at the hotel Indigo Antwerp City Centre 6/10
The hotel is probably not the best place to get stuff done. The restaurant/bar Queen of A's kitchen is ok-ish (there are some power sockets and more quiet corners), but outside of its opening hours, there is a limited possibility to work outside of your hotel room. In your hotel room, there is a 'flexible work space' (how Indigo describes it).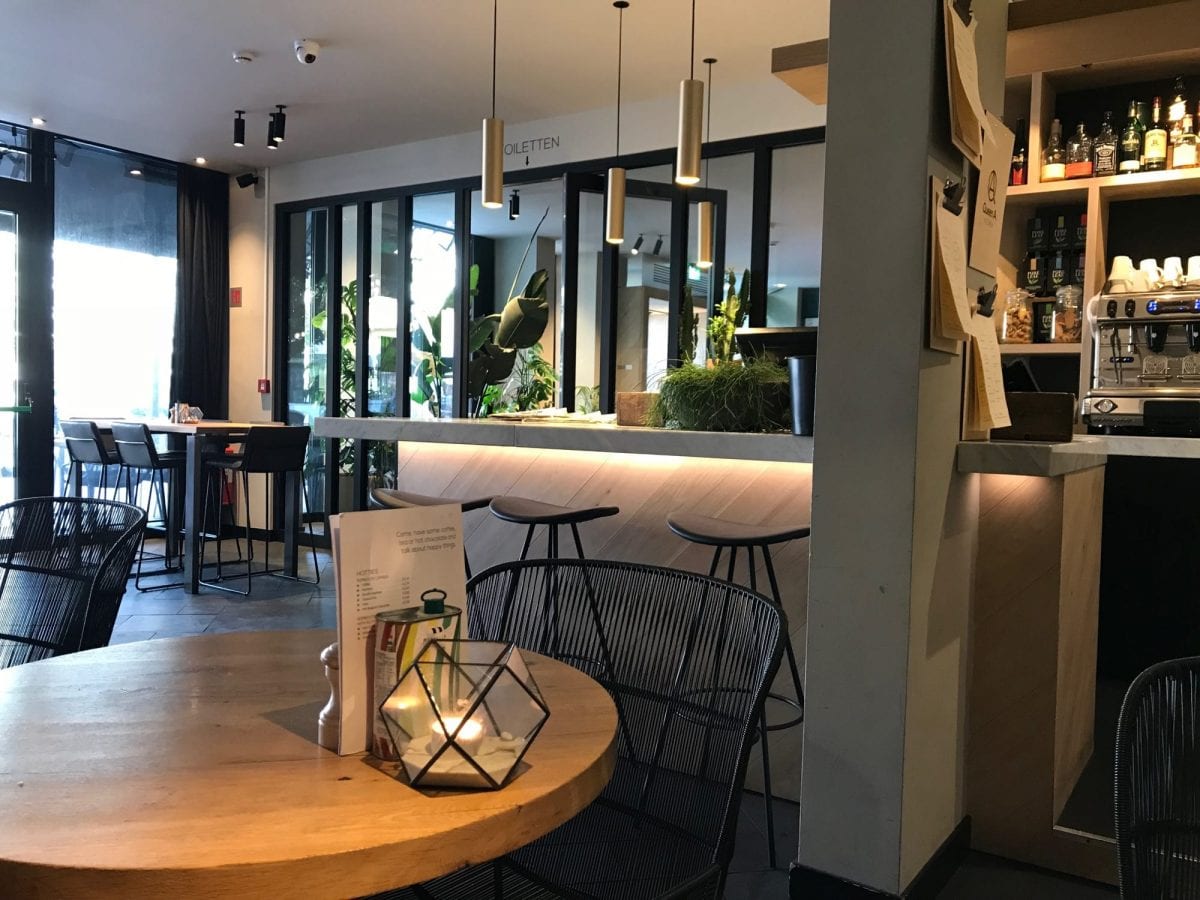 Breakfast (Queen of A's kitchen) 7/10
I had breakfast once at the hotel and had dinner twice in the Queen of A's kitchen.
The Queen of A's kitchen is beautifully decorated (see previous part of getting stuff done). Although I like the buffet style breakfast (I really liked the bread), in all honesty, I am not 100% sure if it is on par with Indigo standards. I have had better breakfasts, lunches and dinners in other Indigo properties (most notably the Hotel Indigo London – Kensington).
Staff is friendly, but it seems there is some room for efficiency (had to reorder/remind several times, spotted many times that staff had to ask each other what the order of other guests was again). Also the food is ok, but is more in line of what you would expect from other lower tier IHG properties, both in quality and in presentation.
Likewise for dinner. Tapas plate I once had with my daughter really was bad (some items that were clearly not fresh). My recent stay's carpaccio was ok, but seemed rather 'standardised' and well, that pretty much was the case for my Chicken Tagliatelle. I have had dinners where I felt the chef put more love and devotion into the food.
My stay at Hotel Indigo Antwerp City Centre 8/10
Overall, I really really enjoy my stays at the Hotel Indigo Antwerp City Centre. Apart from being a cosy place to stay, it really is a nice base for your visits to Antwerp because of it's central location near the Antwerp Central train station and it's bus/tram/train connections.
In total, I have stayed more than 10 nights at the Indigo Antwerp City Centre. The average price I paid per night was approximately €115,- (excluding breakfast).