I spent several days in Aqaba after hiking part of the Jordan Trail (actually from Dana to Petra). I spent most of my time reading, swimming and sleeping, recovering from my hike. When that's your idea of a perfect holiday – then Aqaba might be the place for you. So here are the best tips for Aqaba – according to me.
Why you'll love Aqaba
Aqaba is a Jordanian port city on the Red Sea's Gulf of Aqaba. Inhabited since 4000 B.C., it's home to the Islamic-era Aqaba Fort and the adjacent Aqaba Archaeological Museum. Its beach resorts are popular for windsurfing and other water sports, and the area is a top destination for scuba divers, with notable dive sites including the Yamanieh coral reef in the Aqaba Marine Park, south of the city.
There are some really nice day trips available to Petra and Wadi Rum. I heard mixed reviews on the Eilat/Bethlehem day trips (long, long wait times at security, dirty). 
The best hotels in Aqaba – according to me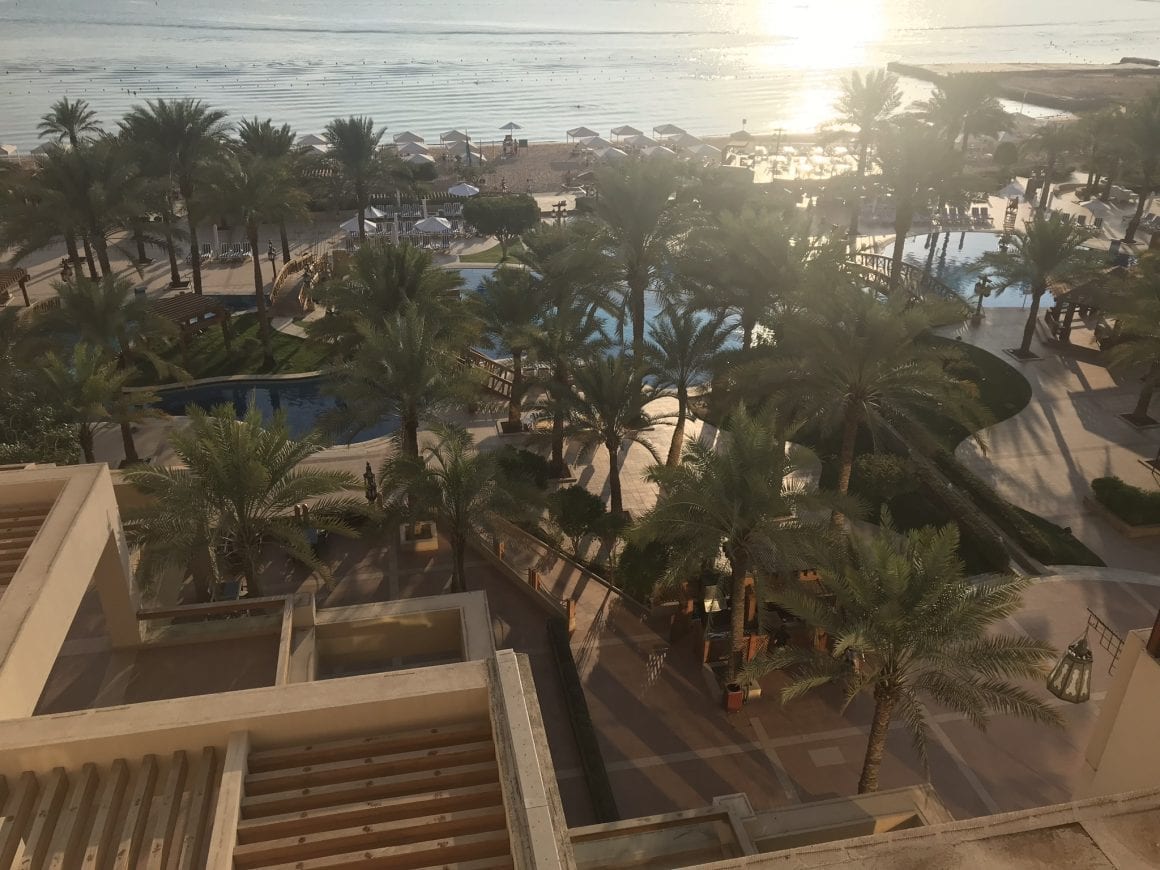 I myself stayed in the Intercontinental Aqaba (Resort Aqaba), which was pretty much convenient and affordable luxury at the Red Sea – great service, private beach.
I haven't stayed here, but Kempinski is said to have a great resort in Aqaba as well. I read the spa is amazing (actually considered going there for a massage, but settled for the Intercontinental). 
The best things to do in Aqaba – according to me
If you're not scuba diving, into spending time at a resort swimming pool or are looking to make day trips to Petra or Wadi Rum, then it might be a channel to enjoy yourself in Aqaba. 
Scuba diving! Notable dive sites include the Yamanieh coral reef in the Aqaba Marine Park, south of the city.
Day trips to Wadi Rum (desert) or Petra (ancient city).
The best restaurants in Aqaba – according to me
The Syrian Palace Restaurant was a really affordable introduction to the Syrian kitchen. Great food, nice atmosphere and a better alternative to the McDonalds and other junk food closeby or to break the habit of your resort restaurant menu. 
The best places to go out for a run in Aqaba – according to me
As my hotel was situated at the water with a private beach, I had to get out of the hotel and run along Al-Ghandour beach and Al-Hafayer parc. Both suboptimal (dirty, busy in the afternoons), but doable early mornings.
So, what are your best tips for Aqaba?