In earlier posts, I have written about my experiences with the IHG and Hilton loyalty programs as a frequent traveler and about IHG, Hilton and Marriott in general. I haven't written about the Intercontinental Ambassador – yet. After a few months and 3 different stays in 3 different cities, it is time to look back: Intercontinental Ambassador – is it worth it?
This is a post on hotel loyalty / rewards program Intercontinental Ambassador. Read more on
loyalty
and/or
hotels
in the respective categories.
I have updated this post based on the 2019 changes to the Intercontinental Ambassador program – most notably the fact that you now get Spire Status within IHG based on your Ambassador status. 

Intercontinental Ambassador – what is it?
IHG (way more than Marriott or Hilton) has some strange leftovers from mergers, acquisitions and other strange structures within their loyalty portfolio. Notably the Kimpton Karma system, where some amazing acts of hospitality are still in place, but many benefits have merged with the more traditional IHG Rewards program. But also the Intercontinental Ambassador program.
Worldly, refined and discerning, the qualities of the modern traveler, and the essence of the
InterContinental® Ambassador recognition program. With every journey you take, whether business focused or wanderlust inspired, Ambassador enhances your stay with exceptional benefits to ensure an unforgettable experience.

Intercontinental Ambassador website
IHG Rewards Club has separate rewards program called Ambassador that only applies for stays at InterContinental properties and one needs to pay to join.
Cost and benefits
Complimentary weekend night certificate that is valid on the second night of a paid weekend stay on the Ambassador Weekend Rate. Weekends may vary by region.
A 4 pm late check out, as well as a choice of refreshments on arrival (I usually go for the fruit, which is pretty neat), in-room welcome gift, and mineral water. Additionally, you will receive one complimentary pay TV film per stay.
Upgrade to a superior room at check-in, each time you stay. Superior room is defined as one category higher than purchased. Note: this applies to upgrades with Intercontinental properties. Upgrades with other properties, e.g. Kimpton (De Witt, Fitzroy), Indigo (Antwerp, The Hague), QO, etc are strictly speaking excluded, but, I will get to that in my next point.
And, since, 2019, an instant Spire Elite status (the highest status within IHG's loyalty program). This was upgraded from Gold status in 2018. This is super intersting as it removes every need to stay with IHG other than earning points (no need to qualify for Spire Elite via stays or points).
This, for a cost of $200 USD or 40.000 points for a period of 12 months.
Why I decided on Intercontinental Ambassador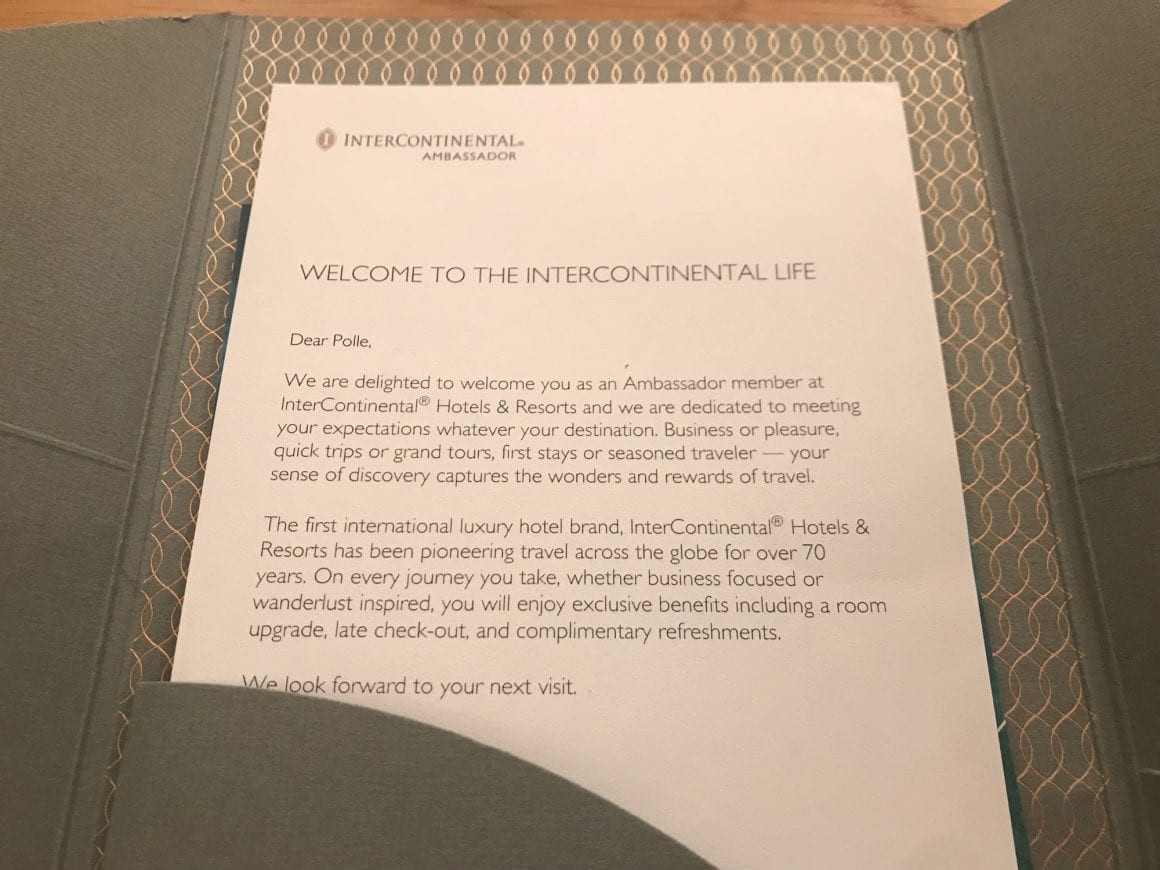 I had planned my trip to Jordan to hike part of the Jordan Trail (which eventually turned out to be Dana to Petra) and planned to spend the night in the Intercontinental in Amman and the Intercontinental Aqaba (resort Aqaba) in Aqaba. On top of that, I had a stay at the Intercontinental in Vienna planned and would see myself stay other Intercontinentals during 2019 (I even briefly considered the Intercontinental Amstel Hotel in Amsterdam before settling on the Kimpton De Witt).
So being certain of room upgrades (especially on my Jordan holidays), the quick check-ins and a free night was enough for me to at least try it for a year.
Becoming a member
I then called the Ambassador service line. Customer service wouldn't let me choose the start date of my Intercontinental Ambassador, which is kind of annoying, as I had 3 weeks of extra (unused) membership time.
Let's say we weren't off to a good start.
Things that don't work for me.
See above – becoming a member was quite the challenge.
There is a special ambassador desk for check-in at the Intercontinental hotels, but often the desk is hidden out of sight and/or not staffed.
Sometimes my level is referred to as 'Spire Elite', sometimes as 'Spire Ambassador' (spire elite + intercontinental ambassador), which is rather confusing.
It is not always easy to check the free weekend night price on the IHG website, there is – however- a special link for that (kudos LoyaltyLobby for that).
Since the 2019 update that allows you instant Spire Elite status, I have pretty much lost the need to stay with IHG. As I don't need a specific number of stays or points to re-qualify for Spire Elite next year, I only
Things that do work work for me.
Free fruit in your room is always #winning.
I got some really nice room upgrades, especially in the Intercontinentals in Amman and Aqaba (the resort), less so in Vienna. It is, however, difficult to estimate how different the upgrade would be from the 'normal' upgrade I would get as an IHG Spire Elite.
In conclusion: Intercontinental Ambassador – is it worth it?
Intercontinental Ambassador only makes sense if you stay in Intercontinental hotels on a frequent basis. The free weekend night makes the return on investment pretty much even – the room upgrades and the free fruit are the additional benefits. So probably: yes.
It is however a bit strange that you're paying to go to a higher tier level rather than it being about being loyal to the brand – one of the things that seems to be wrong with loyalty in travel. To be even more concrete – I have lost most incentives to stay with IHG, other than collecting points (I have no need to maintain my Spire Elite through points or number of stays).
What do you think: Intercontinental Ambassador – is it worth it?