I don't even know how many hours or -by now- days, I've spent on Schiphol airport. At points in time it has been so bad that I actually could predict which food there would be in the KLM Lounge on Schiphol airport and that Lounge staff would recognize me. Together with Brussels National Airport in Brussels, it's the airport I spend most of my time. So, these are the best tips for Schiphol Airport in Amsterdam – according to me that is.
Some general tips for Schiphol Airport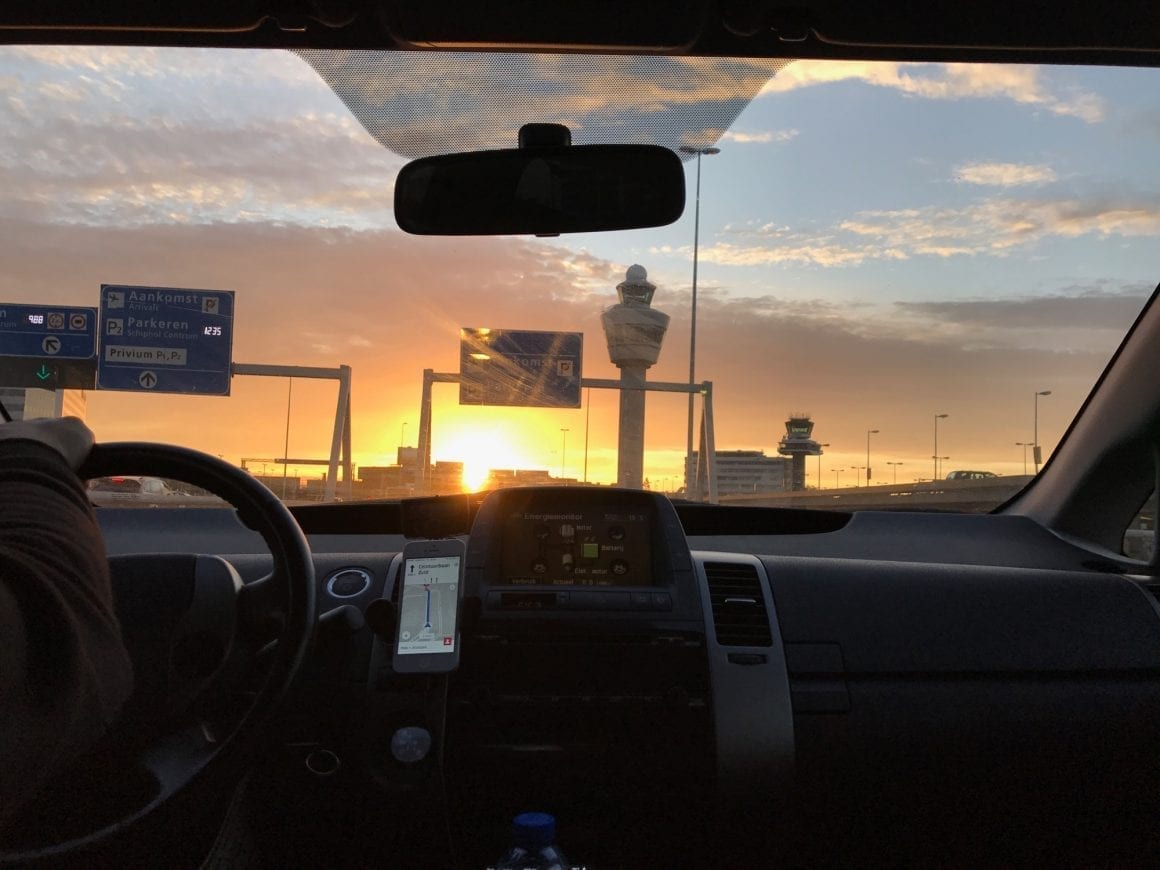 In my experience, Schiphol airport is actually a rather convenient airport to fly in/out from. Easy to navigate, not too busy, clean and plenty of facilities. Security could be faster and more consistent (more on that), but apart from that, I actually really really like the airport.
The best hotel tips for Schiphol Airport – according to me.
Got an early flight or meetings near the airport? These are my favorite hotels:
There is a CitizenM hotel near Schiphol airport (walking distance). CitizenM has super functional clean, digitally enabled (iPads control everything) hotel rooms. Staff is super friendly.
My favorite, however, is the Renaissance Amsterdam Schiphol Airport (part of Marriott), which has a free shuttle transfer from the airport to the hotel (approximately 10-15minutes). Nice hotel, super friendly staff, good breakfast.
I have also spent the night at the relatively new Hilton Schiphol Airport (Hilton), close to the airport, but in my honest opinion, the price for a normal room (often North of 150 euros) doesn't match the value of the hotel and its rooms. I do appreciate though that they have an early 5h30 coffee and croissants bar for people leaving early for the airport.
On top of that, I have some clear favorite hotels in Amsterdam, but they often don't have a direct connection to Schiphol airport:
Probably one of my most favorite properties ever is the Kimpton De Witt hotel in Amsterdam (see my review post on my stays there, as well as Kimpton's remarkable acts of hospitality). Certainly not cheap, but a truly amazing option if you really want to have a romantic weekend in town.
A great rather new hotel is the super sustainable QO Amsterdam (also, see my review), which is close to Amsterdam Amstel station (next to Amsterdam Spaklerweg metro station). Apart from implementing a lot of smart circular and sustainable ideas (e.g. recycling water, smart heating, automatic hall lights), which is already more than enough reason to visit it, it is just a really good hotel.
The best things to do on Schiphol Airport – according to me.
I love just sitting on a bench at the airport, watching people. Business people running around, new couples on their first trips, families on their holidays, friends psyched for their party holidays …
In the international terminal, there's the amazing Maarten Baas' Schiphol clock. In 2016, Baas created the Schiphol clock in which a working man can be seen painting the time minute by minute. The clock is installed in the international terminal of the Amsterdam airport, one of the last things travelers see before departing the Netherlands. The worker's blue overalls, yellow rag and red bucket pay homage to the famous Dutch artist, Mondrian. I can watch it alllll day.
And I spend quite some time just workin and getting things done (more on that in the next part).
The best places to get some work done on Schiphol Airport – according to me
Airside on Schiphol Airport
KLM Lounge. The different KLM lounges (and especially the new KLM Lounge 52 and their nooks) are great to get some work done. Good coffee, some bites and some nice nooks and areas to concentrate and get some work done.
For people who don't have lounge access, the Mediterranean Sandwich Bar (at Departures 1) has nook-like places where you can charge your laptop/phones and where you can get some work done.
Schiphol has some areas near the gates where you can charge your laptop or phone and/or get some work done (often standing/bar-like workplaces), but I'm honestly not too fond of them.
Airside on Schiphol Airport
I love places with decent coffee and that allow me to get places fast (stations, airports, etc). I like the vibe and it helps me get to my next meeting fast. So these are my Schiphol favorites:
The NS (Dutch Railways) lounge at Schiphol Airport (operated by Regus) is one of my favorite places to get a lot of work done on land-side. The coffee is fine and free and the wifi is horrible, which makes it a great place for me to get some work done. I won't get distracted too much by browsing the web (because the wifi is bad) and the coffee is nice, which makes it a great place to be. Often, it's also rather quiet. Access to NS lounges is only with a 1st ticket or international railways loyalty pass (e.g. Thalys Gold/Platinum).
The best food on Schiphol Airport – according to me
Landside on Schiphol Airport
Pizza Per Tutti! (landside) is one of my guilty pleasures when at Schiphol airport. Their pasta's are so-so, but I love their pizzas.
Albert Heijn (landside) is a large Dutch supermarket chain with a large supermarket on Schiphol Airport. When I got the time on landside, I usually get one of their large salads.
Airside on Schiphol Airport
I really don't like the food on airside at Schiphol airport and try to avoid it at all cost. I either try to have some food in the lounge or -if that's not possible- the Foodcourt near Departures 1 (there's a ramen bar there).
What are the best tips for Schiphol Airport – according to you?