Although I spent more time in Gothenburg (and nearby Vrango), I actually like the other Swedish main city, Stockholm, a bit better. I spent a week long holiday here and went here on training once. So here are the best tips for Stockholm – according to me.
Why you'll love Stockholm
Modern, yet with so many old details in the city center. Green, yet vibrant, bustling and hyper modern. It is nice to see how Stockholm is able to embrace so many aspects of life most of us deem so important.
On top of that, I appreciate cities that have a smooth connection with the city center (like cities like Naples, but unlike Prague). The Arlanda Express train takes 20 minutes (and about 30 euros) and brings you directly to the city center.
My best omakase experience in Stockholm
The Japanese habit of omakase (お任せ) when you're ordering at a restaurant pretty much means, "I'll leave it up to you", inviting the chef to be innovative and surprising in the selection of dishes. I try to do it in every city I visit, and apply the idea behind to everything between how I pick my runs, how I pick my food, how I plan activities with my kids, how I explore cities and how I travel in general. So, I tried this in Stockholm as well.
My most remarkable omakase experience in Stockholm is many omakase experiences in itself. I had "met" Leif through Instagram when he was hiking part of the Jordan Trail, several weeks before I would be hiking the trail. He gave me some super useful tips and we kept in contact during the months after and so when I was about to visit Stockholm, his hometown I reached out to see if we could have a drink. He agreed and we met up in Grappa, an Italian restaurant in the city center. We had an amazing evening, with lots of talks about travel, traveling, the art of travel (that sounds strange, but does make total sense), relationships, cultures, work and a variety of other subjects.
We clicked so well over drinks that we decided to have dinner as well. As I tend to do, I asked the waiter for his favourite dish. The waiter, who turned out to be a Syrian guy named Philippe, did not hesitate for a second. It was one of their pasta's with piri piri on top. And it was. Wow. One of the best pasta's I ever had. The waiter clearly took great pride in the fact that I liked it and we connected. Leif, the waiter and me had a great talk on food, on where to find the best Syrian food in Stockholm, on travels and culture.
When I left Grappa, I got a big hug from Philippe.
I will definately be back the next time.
The best hotels in Stockholm – according to me.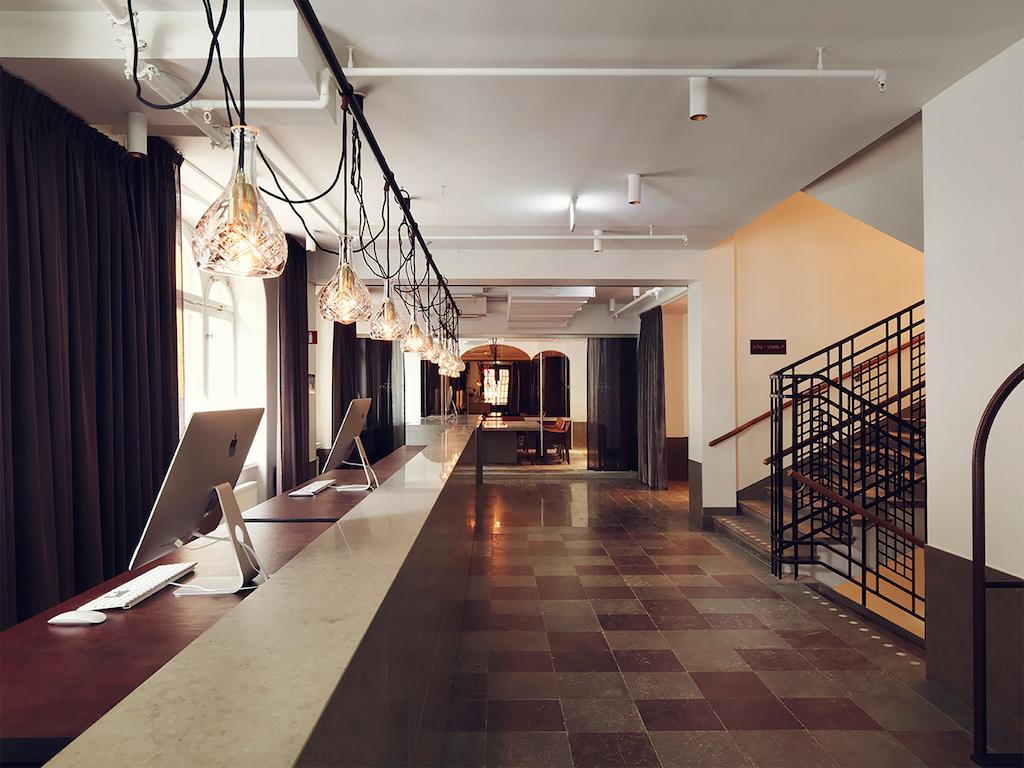 During a week-long training in Stockholm, I stayed in the stylish boutique-style Miss Clara hotel (also see my separate post / part of Marriott). The hotel is housed in the former Ateneum girls school, with original art nouveau decor and herringbone parquet flooring, swirly bentwood bedheads and arched windows that overlook Sveavägen Boulevard.
I have not been, but hear many great stories about At Six, which is situated in an old bank in Stockholm.
The best restaurants in Stockholm – according to me.
K25 is a really nice food court with mainly Asian food at Kungsgatan. I had a really good Vietnamese pho at Yoi.
Grappa is a nice Italian place with one of the best pasta's I ever had.
Meatballs for the people is a great place for traditional Swedish meat balls (unlike the IKEA ones). Try the sharing platter.
The best bars in Stockholm – according to me.
Teaterbrasseriet in Scandic Grand Central is a good place to catch up with cocktails.
Ölkafe has an amazing aelection of beers.
The best things to do in Stockholm – according to me.
When I was in Stockholm in summer, it was great to just have the metro for 30min out of town and find a place on a rock near the water to have a swim and bathe in the sun. Green areas and water are so close to the city, it makes it feel like a town.
The best places to work in Stockholm – according to me.
I like getting a coffee and some food at the Urban Deli near the Miss Clara hotel. Good food, good vibe.
The best places for a run in Stockholm – according to me.
I love Djurgården for a run in inner-city Stockholm. It varies dramatically from season to season but you will always find people exercising out there. The beautiful run along the canal is around 7,5 kilometers, or you can run the full way around Djurgården which will be 10 kilometer.
Hagaparken (more North) is another nice place to go out for a run.
What are the best tips for Stockholm – according to you?