September 2018, I will be hiking the GR20 in Corsica (France) – six days and 180 kilometers through pretty rough terrain. Here's GR20 solo hike packing list:
GR20 solo hike packing list (Corsica, France)
Essentials
 Clothing

3* Underwear (Icebreaker)
2* Hiking pants
Rain poncho
Cap (with removable neck protection)
1* Swimming trunks (for the small ponds)
Sun glasses Julbo aero zebra light fire
Footwear

3* Walking socks
3* Liner socks
Solomon Trail Gaiters
Electronics

Mobile Phone (iPhone 8) for pictures and communications
Battery pack Xtorm Power bank
GoPro Hero 6
Watch/route tracker (Garmin 935)
GPS map Garmin 64s

 Toiletries

1* Towel
Toilet articles for personal use
Plaster for blisters and medicine for personal use
2* Wet toilet paper towels
Toilet paper
Hygiene hand gel
Biodegradable soap
Sun screen

Cooking

MSR Titan Titanium Cooking Pot
MSR Pocket Rocket
MSR fire spark starter
Gas cannister (bought locally)
2l Camelbak pack
Camelbak liter pouch
MSR Titanium Knife
Spork
Pocket knife

Food (for 6 days) 

3* Adventure Food Expedition Breakfast (I didn't like the breakfast too much during my Laugavegur hike every morning, so decided only to bring for every other morning)
18* Adventure Food Dinner
6* Adventure food mixed vegetables
6* Adventure food dessert
6* Adventure food energy bar seeds
14* Powerbar gel
2* Powerbar Gelshots
2*5-pack Bifi
Medicine

Norrit O.R.S.
Pain killers
Extra vitamins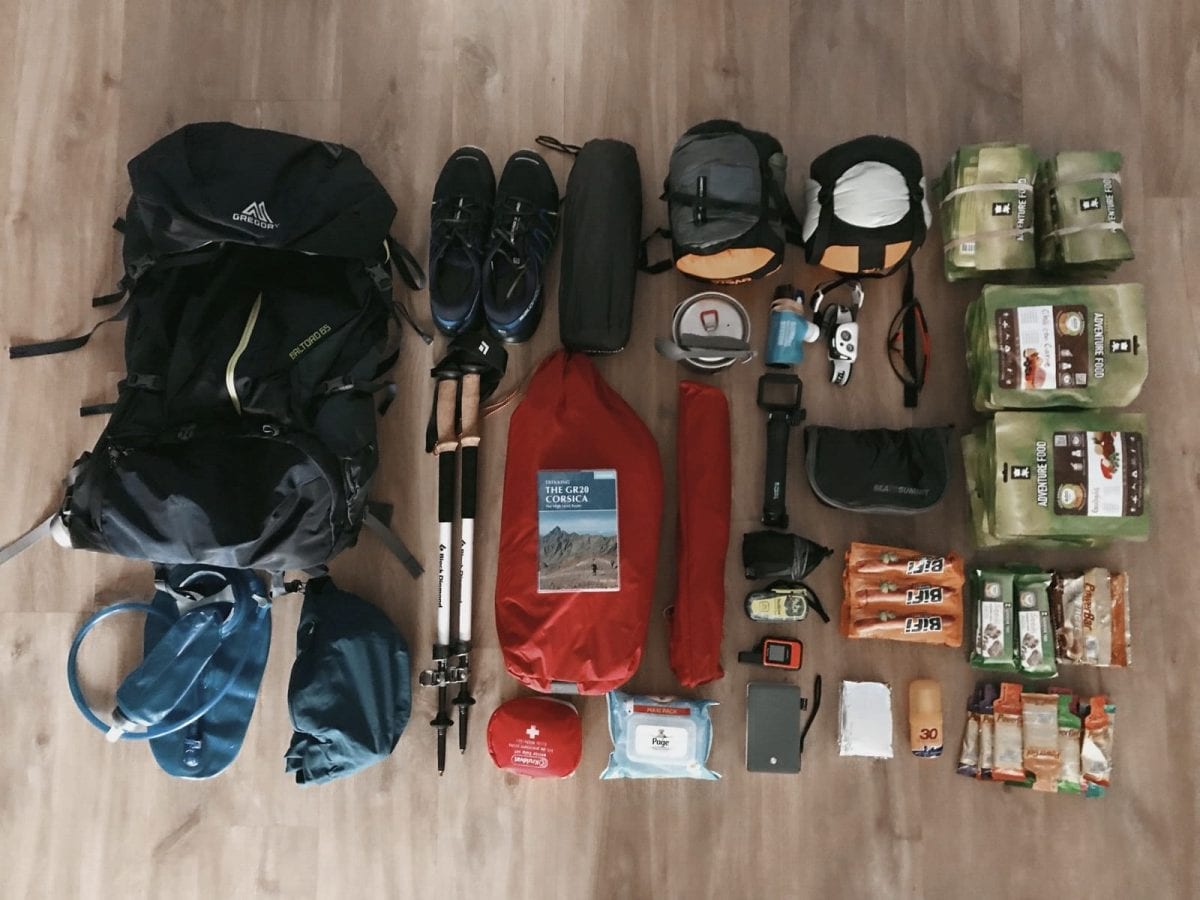 Recent tweaks and changes in my GR20 solo hike packing list
Since my last Laugavegur trail hike, these are the key tweaks/changes I made:
I decided to exchange my Decathlon hiking pole for a double Black Diamond Alpine Carbon Cork. As the GR20 terrain is super rough, I really wanted to have two super reliable hiking poles. These also give me the flexibility to maybe in the future start exchanging my tent for a tarp (using the hiking poles as tent poles).
Thermarest Space Cowboy for Thermarest Questar: although the Questar is a 3-season sleeping bag, the weather in Corsica in September is pretty warm so it would make more sense to take a lighter, less warm sleeping bag.

Gregory

 Baltoro 65 (M) for 

Gregory

 Z30 Iron Gray. The Baltoro is bigger than the Z30 and will make sure I can more easily pack my gear and keep my gear dry while hiking.
Garmin InReach Mini as a way to update my family when there's no cell phone reception and as an extra device when things go wrong. I need one for 2019's Arctic Circle Trail solo hike, so decided to invest in it already as that would enable me to use it both for the GR20 as the Arctic Circle Trail.
Sunglasses. I did not consider to bring decent glasses to my Laugavegur hike, which was stupid with so much snow. Now, high up in the Corsica mountains I will probably be super happy with them.
Garmin 64s. I decided on having a dedicated GPS map to make sure I wouldn't run out of iPhone battery too soon on the trail and to avoid getting lost (like on the Laugavegur trail in the snow storm).
Additional considerations for my GR20 solo hike packing list
There are still some things I am doubting about while packing for my GR20 solo hike:
Tarp or tent: A tarp is seriously lighter than a tent and would be perfect for weather conditions with not too much wind. As I am not sure how much wind I'll be encountering in the mountains I opted for my tent for now.
Hiking boots or trail runners: the GR20 seems to be fit for either of two footwear directions: either go full stability hiking boots to protect your ankles or try to be flexible and agile and go for trail runners. For now, I opted for trail runners.