I know the exact moment I decided to buy a Garmin InReach. During my Laugavegur trail hike in Iceland, I could not reach my family all evening and the better part of the next morning. Although I was totally fine, I wanted to make sure they knew, as they turned ever more nervous about my situation. With two hikes with notoriously bad cell phone reception coming up (the GR20 hike in Corsica, France, my Jordan Trail hike and the Arctic Circle Trail in Greenland) it was time to prepare for these situations. So, recently, I bought a Garmin InReach Mini.
I field-tested it now for several days. Here's are my takeaways.
Safety first
I do the large majority of my hikes alone (read why I love traveling on my own), whether it is the Kumano Kodo, Laugavegur Trail in Iceland, the GR20 in France or the Greenland Arctic Circle Trail. Only at my Kumano Kodo hike in Japan, I started to realize that I needed a decent backup plan for when hikes go from amazing to horrible.
So over the years, I developed my own hiking safety habits and slowly but steadily gathered my safety gear pack. You can check my detailed packing lists, but over the years it started to include a safety blanket and, since my Iceland trek, a Personal Locator Beacon that would let me call in rescue services if this would turn really really bad. A Personal Locator Beacon is great, but as I mentioned above, there are situations where a rudimentary (two-way) way to contact family, relatives and emergency services is more convenient than a mere emergency beacon.
So, that is why I added the Garmin InReach Mini to my gear.
What a Garmin InReach Mini is for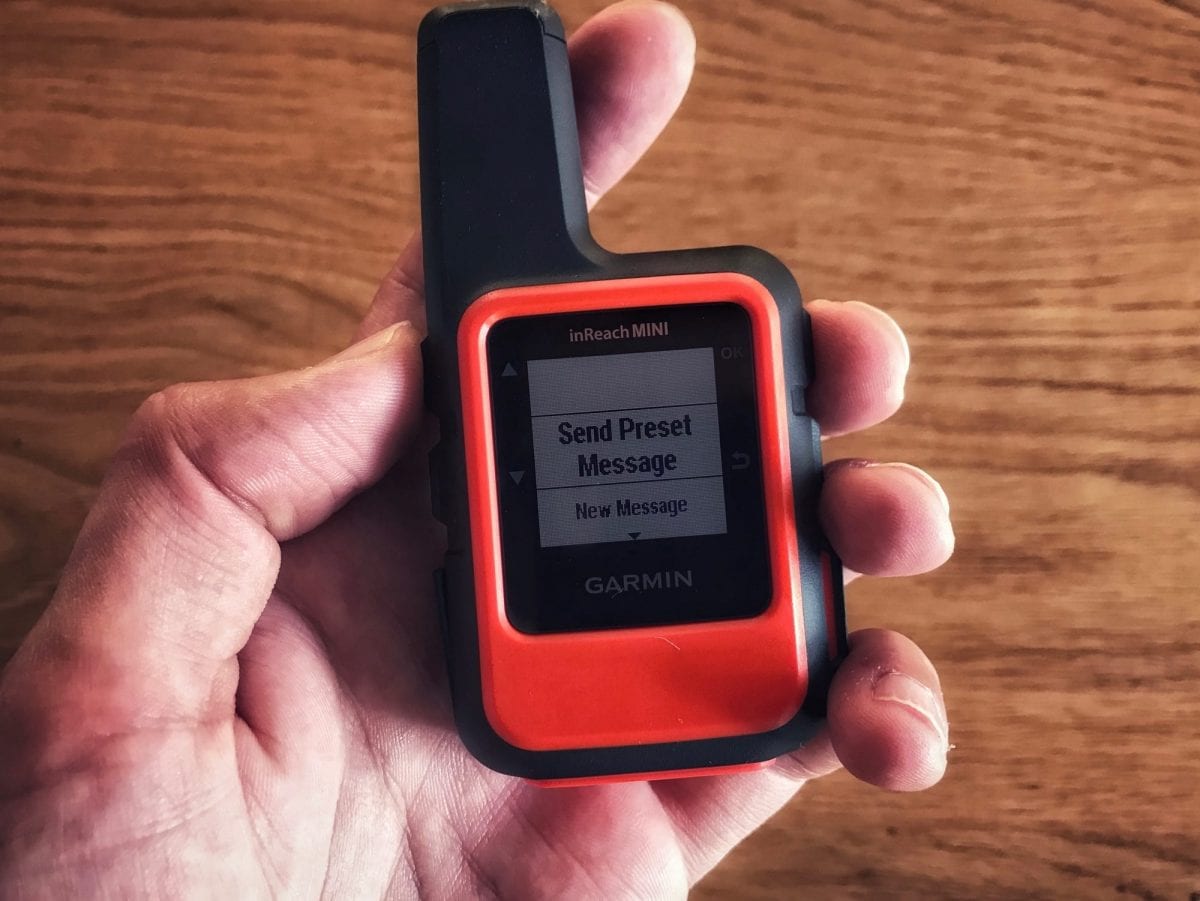 A Garmin InReach Mini does a lot of simple things remarkably well, especially under harsh circumstances.
Control a device. The Garmin InReach Mini does not have a touchscreen, but super robust buttons on the side of the device. That makes it easy to control the device even in harsh circumstances with gloves on.
Let people know what you're doing. The InReach Mini lets you set Preset and Quick Text messages – pre-defined actions (a specific message to specific people) and messages that can be activated within 3 clicks on your InReach Mini. That makes it super simple to let your relatives know you started your trek or arrived in camp safely.
Send for help. The SOS button is conveniently located on the side of the device. You need to 'unlock' the button before activating it. Please note that you need an InReach service plan for it to work (see more below).
Let people know where you are. The MapShare function lets you share your location on a map (either open or protected with a password) with 10-minute intervals. You can also send text messages that are plotted with your location on the map. A simple way to keep everyone posted on where you are.
Have people ask where you are. The MapShare function has another smart feature – it lets other request your location – which will be sent to the map as long as your Garmin InReach Mini is on. A really simple way to solve the issue that your relatives don't know where you are.
Weather updates. Something I did not do until my Arctic Circle Trail hike in Greenland (also see my full post on weather updates during the ACT), was getting weather updates via the Garmin InReach. There is both a (free) basic option and a paid, more detailed premium option ($1 per request). This works remarkably well if you do not have other options. 
By connecting the Garmin InReach Mini to a Garmin Android/iOS app, the possibilities are expanded even further. The Garmin will act as a super-accurate GPS device for the map on your phone and you will be able to control your Garmin InReach Mini via your phone – from sending more elaborate text messages to SOS functions.
What a Garmin InReach Mini is not for
While Garmin InReach Mini does a lot of simple things remarkably well, especially under harsh circumstances, it is just not for fancy stuff under normal circumstances (let alone in harsh circumstances).
If you are an occasional hiker that is hardly ever out of cell phone reception, you won't need the InReach Mini.
If you just need an emergency beacon and don't need additional communication functions, consider a Personal Locator Beacon (PLB).
If you're looking for a fancy touchscreen navigation (or super easy navigation at all), a mini iPhone to call your friends or if fancy Instagram photos are more important than SOS buttons, the InReach Mini is not for you.
The practical stuff and conclusion – Garmin InReach Mini
The Garmin InReach Mini is a super robust, simple device that does the things it should do remarkably well. Send your friends and relatives a text message, send an SOS message, share your location. And do all these things when wearing gloves in horrible weather.
I paid €356.95 for my Garmin InReach Mini device.
Additionally, you will need a Service Plan that will allow you to use GPS, send text messages and notify rescue services. There is a range of options here – from annual subscriptions to more ad-hoc monthly subscriptions and from base subscriptions to full options which also include additional emergency rescue teams and transportation to a hospital of choice anywhere in the world. I opted for the Freedom recreation plan that has 40 text messages and unlimited 10-minute tracking (without the extra fancy options). This costs €39.99 per month (can be canceled and re-activated each month).