I never had better dinners than the evenings after a multi-day hike or marathon (like the amazing local food I had after the Athens Marathon in Athens). Based on my packing lists, you'll get a pretty good idea what kind of food I like while hiking, but here's my list of the best food for hiking – according to me:
The best food for hiking – according to me
The best food for hiking – Main meals (breakfast, lunch, dinner)
1) Adventure Food warm meals.

I have tested different meals and meal types at home and on the trail, but quickly settled on the Adventure food warm meals for every meal of the day (read on how I prepare them in a separate post) – definitely the best food for hiking. When preparing, I store my leftover warm water in a thermos bottle to use it later on the day. Some things that didn't work out for me:
Breakfast meals: During my Laugavegur trail hike, I discovered I was not so much into their breakfast meals, so I switched into full warm meals for every meal of the day.
Cold soaking: I have also tried cold soaking (just adding cold water and having it soak for a while), but to fix my 'hiker hunger' I noticed I just need a warm meal. Cold soak saves quite some time (you do not have to warm water) and weight (no gas canister, pans, etc needed), but for me, personally, the comfort outweighs the hassle.
Meal variety: Adventure Food offers a wide variety of meals, ranging from Pasta Bolognese to Hotpot and from Pasta with Salmon to Rice Curry. I tested them all at home before taking them with me in the field and I on purpose take many different flavors (as my taste/appetite will vary through the days, depending on the moment) but am sure to stack my two favorites extra (Bolognese and the Hotpot).
The best food for hiking – In-betweens
1) Bifi Sausage
Bifi sausage is a thin, jerky-like salami, which is pretty high on salt and proteins, which I really enjoy especially later on the day during my hikes.

2) Trail nuts
Since I got offered some trail nuts on the Fimmvörðuháls trail in Iceland, I always carry them with me – a mix of different nuts on the trail, just to eat while hiking.
3) Power Gel
I usually carry 2-4 power gels per day for quick refill of calories and electrolytes. From time to time I also carry their waffles or drops (like wine gums). Be sure to drink enough before/after your power gel intake.
4) Wine gums
One of my guilty pleasures. Perfect to get some sugar.
5) Fruit (just any)
Often times, it is really hard (or just super expensive) to re-stock on fruit on the trail, so I try to at least carry fruit for the first two days, whether it is bananas, apples, oranges or anything else that is easy to carry and is nutritious.
The best food for hiking – Extras
1) ORS
I always carry and take oral rehydration salts (ORS). Not only in case of diarrhea, but in general to refill salts I lose while sweating. ORS typically contains 2.6 grams (0.092 oz) salt (NaCl), 2.9 grams (0.10 oz) trisodium citrate dihydrate (C6H5Na3O7⋅2H2O), 1.5 grams (0.053 oz) potassium chloride (KCl), 13.5 grams (0.48 oz) anhydrous glucose (C6H12O6). Be sure to drink enough before/after your ORS intake.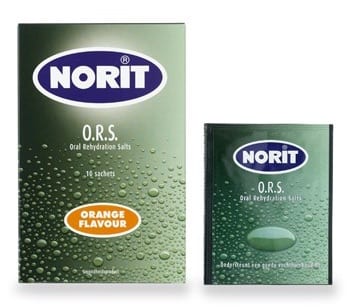 2) Vitamin pills
I always carry some sort of vitamin pills with me.
Calculating daily calorie intake while hiking
I know from tracking my hikes that on long days (e.g. Nijmegen Four Days Marches or 40-kilometer-days on the Laugavegur trail) I burn up to 4000 kcals per day. Although it is hardly doable to take in these insane amounts of calories, my daily food intake does add up to an acceptable amount:
Meals: 3*600 kcal = 1800 kcal
Vegetables: 150 kcal
Dessert: 300 kcal
Bifi: 2* 128 kcal = approx. 250 kcal
Powergel: approx. 3* 425kcal = 12750kcal
Totaling approximately between 3500 and 4000 kcals.
Plans to optimize my hiking food.
Although I'm pretty happy with the set-up above, I am very much aware I could save on money, waste (each Adventure Food meal is packed separately) and weight by packing larger packs of pasta, couscous, rice, sauce, etcetera. I am really aiming for this during next year's Arctic Circle Trail hike but didn't want to change my 'winning' and field tested meal set up just before a challenge like my solo Jordan Trail hike.
So, what are your food favorites?