When I saw that IHG opened a new luxury hotel in Amsterdam (next to their Intercontinental Hotel Amstel and the Kimpton De Witt) and that it would be a whole new brand, called QO (the first in the world), I could not wait to check it. And although the hotel is pretty neat, it is above all a bit confusing (but getting better over time). And with some recent tweaks, it might actually be my favorite hotel in Amsterdam. Please allow me to explain.
I will review the different elements of the hotel first, before diving into the only thing that bugs me a bit – the marketing talk used to convey their sustainability en circularity efforts.
Updated according to my recent experiences (January 2019).
Hotel QO Amsterdam
The QO is a really really remarkable hotel, but it kinda hides its true brilliance behind layers of marketing blah (more on that later). Because, below all the difficult marketing talk, is an extremely well-thought-of, sustainable and very convenient luxury hotel. Not that the hotel is super innovative per se, but it combines proven and tested sustainability techniques that have hardly ever been used in hospitality on this scale – hall lights are turned off and only turn on when movement is detected, construction materials were recycled, all water is recycled, etcetera.
The QO has 288 rooms, including 12 suites (designed by London-based agency Conran and Partners). It features conference areas (every time I was there, there were at least 4 meetings going on), a really nice restaurant (Persijn) and a breathtaking rooftop bar/restaurant, all designed by Amsterdam agency Tank.
The bar/restaurant, Persijn, doubles as a breakfast area for hotel guests.
Rooms at QO Amsterdam 8.5/10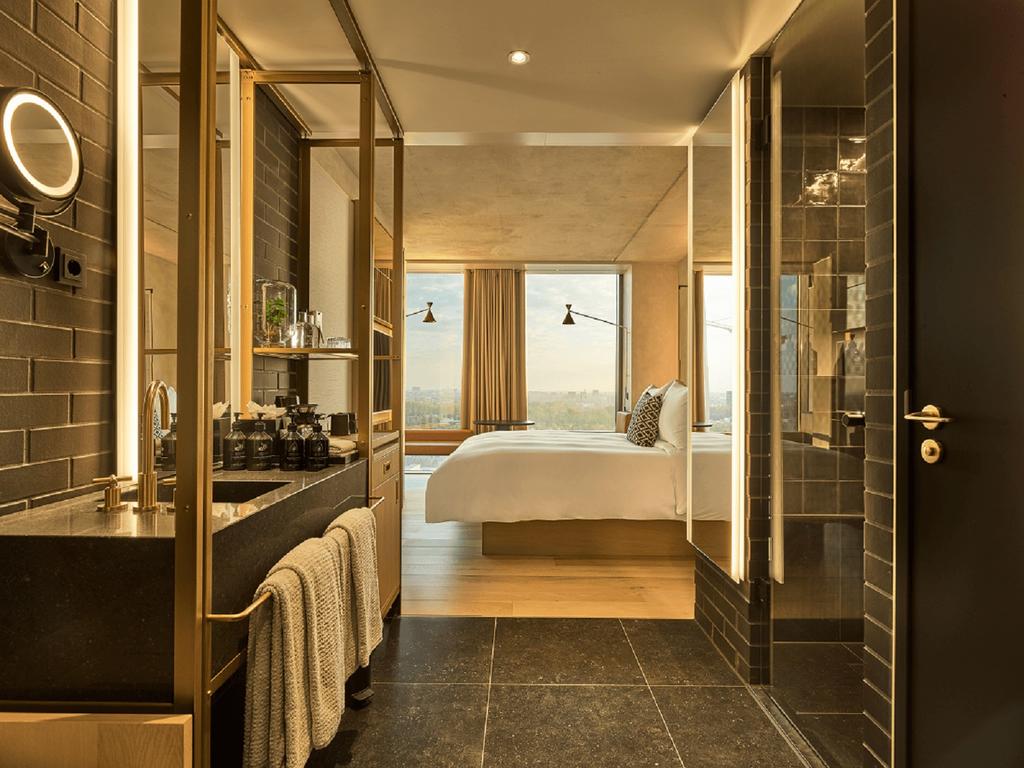 A brass construction and the different flooring (nice wooden flooring and tiles) devides up the rooms and create a logical division between the sleeping area and the entree/bathroom area, while dubbeling as storage space and a way to showcase sustainable accessories (e.g. their closed glass terrariums).
Rooms aren't super big, but because of their smart designs feel way bigger than they actually. Standard room assecories like hair dryer are stowed away neatly in drawers, as well as the room safe. Many rooms have a couch over the full length of the large windows, creating cosy corners overlooking parts of Amsterdam.
The showers are large, stylish, walk-in showers (my favorites).
Each room is equipped with an iPad which controls lights, TV and the window curtains. Although the interface is slightly less intuitive as the famous CitizenM iPads, it is amongst the best I have experienced yet.
Another nice detail is the coffee/tea supplied by the hotel, which is way higher quality than normal.
Service at QO Amsterdam 9/10
Updated according to my recent experiences (January 2019).
The hotel has had a remarkable improvement in the service levels over the last months. For example, where first, the reception area was slow, it is now streamlined and just works.
I had some minor issues during my stays, but these were solved remarkably well by the team. Listening carefully to my complaints, acting directly, involving other staff when needed and escalating it to the right managers. For me one of the textbook examples of how it could and should work in hotels. Extra shout-out to Thijs, a newly appointed duty manager who was extremely helpfull.
Additionally, they recently started to do Tuesday drinks (similar to the Kimpton Social Hours) – which is a really nice way for the hotel to involve single business travelers.
The only thing here – When entering the hotel, there is a elevator area right in front of you, but there is a bar on the right, which could, potentially, if you wouldn't know better, double as a reception area. However, the reception area is on the first floor, which lets you either use the stairs or go for the elevator. The elevator is operated by a panel before the elevator area, where you first have to choose the right floor (M for the reception, which is confusing in itself), before you get assigned one of six elevators. This choose-your-floor-on-the-panel-first thingy got me several times during my stay at the hotel, where I would have to walk back to the panel because I was already waiting at one of the elevators.
Location of QO Amsterdam 7/10
The QO Amsterdam is situated next to the Metro/Train connection near Amsterdam Amstel station, at Metro station Spaklerweg. Although the hotel location is good, other properties are closer to the city center and/or have better connectivity with the city.
Same goes for the view from the rooms. Although I can very much recommend the view from the bar or from a room on a high floor, overlooking the Amstel train station, the train tracks or a parking lot isn't the best possible view.
Going out for a run at the QO Amsterdam 9/10
QO Amsterdam is really close to one of my favorite places to go out for a run in Amsterdam. It's a few hundred meters to the Ouderkerkerdijk which will lead you to the city of Ouderkerk aan de Amstel, a beautiful road following the Amstel river. You can even follow the nearby lake, the Ouderkerkerplas and run back through the fields.
Or, you can run exactly the oppositie way along the Amstel river into the city center. If that's too far for you, you can cross the Amstel river and run through the Amstelpark. I guess, plenty of options for avid runners.
Getting stuff done at the QO Amsterdam 7/10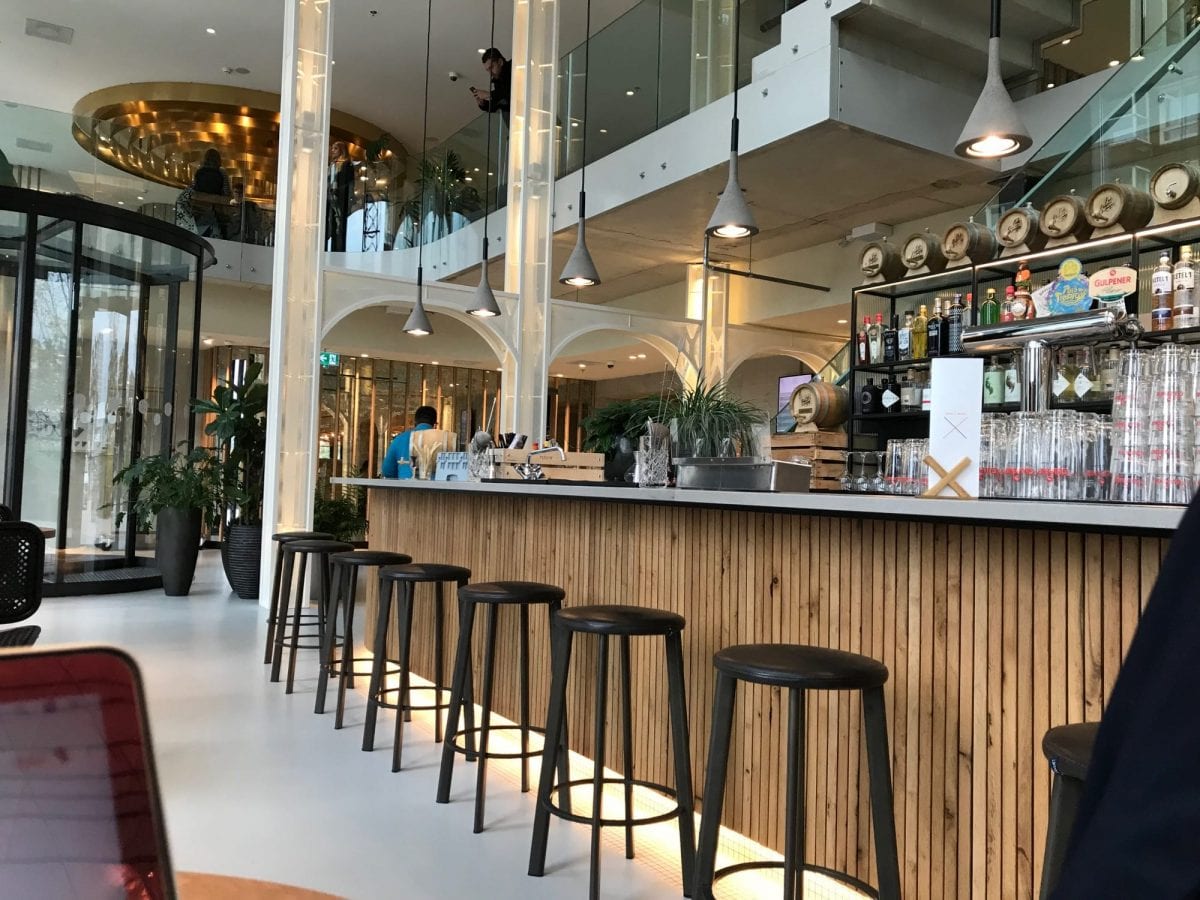 This could easily have been a 9/10 … if they had more power sockets. I really really like the communal areas on the ground- and first floor. Light, open, stylish. There's some great coffee (I listened in on one of the tours at the hotel and apparently the coffee machine costs €15.000) and/or other drinks. But the number of power sockets is rather limited, which leaves a higher table next to the wine cooler and the small round table next to it as the best places to sit down when you got some work to do. It's either that or a table without a power socket (as shown in the picture above).
Breakfast at QO Amsterdam (Persijn) 9/10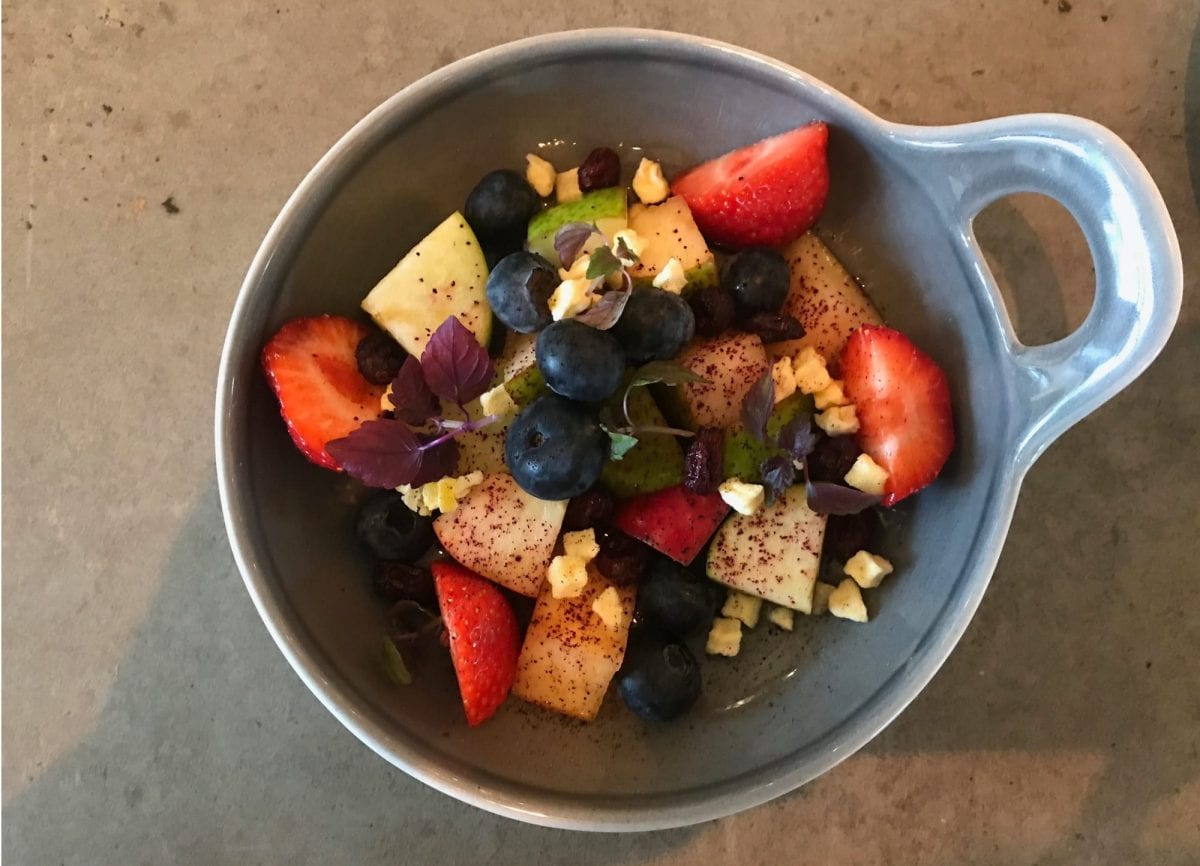 I had a la carte breakfast once at the hotel, which was promoted as "we do a la carte breakfast because we are a sustainable hotel" (I will come back to ). Kimpton De Witt does a la carte and does not promote itself as a sustainable hotel. So does nearby Hotel V. So did our hotel during our city trip to Madrid. So do many others nowadays.
But because the breakfast is just really, genuinely friggin' good and tasty, I'll cut them some slack. I had a fruit bowl which looked almost too good to start eating (often, it's just a bowl with some pre-packed fruit)
Before I conclude … the marketing talk spoiling the amazing hotel purpose
Feel free to skip to the next chapter (conclusion) if you're not really into a rant on how marketing speak is confusing the QO's true intentions.
The QO website says "we're a visionary lifestyle destination". I can totally imagine how the hotel was presented internally on a powerpoint. A guy pointing out that two trends are shaping our society nowadays: Technology and sustainability. Super high-tech elevators with touch screens, iPads in the room. Catering to the sustainable crowd and -above all- the new millennial generation. Ah, and these millennials are totally into mindfulness as well. And yoga.
And in a way that is just exactly what they are doing, and actually pretty well. I think my issue with it is mainly how it is worded in hollow phrases – in marketing speak that does not add to the hotel's admirable purpose and vision, but takes away.
Let's start with sustainability and circularity. As the hotel site says "Each aspect of the QO has been designed to significantly reduce environmental impact while also contributing to the atmosphere and energy we want you to experience during your stay. From intelligent windows to our rooftop greenhouse, we're a remarkable living building, shaped by nature and driven by ingenuity". What they actually do is rather impressive. To highlight a few sustainable masterpieces:
they recycle all the water (shower water becomes toilet water)
the rooftop greenhouse supplies ingredients (herbs, vegetables, fruit and even fish) to the on-site restaurants and bars
hall lights are turned off and only turn on when movement is detected
they work with local sustainable entrepreneurs
the hotel has a very nifty advanced way of regulating heat ('the intelligent facade')
80 percent of the building's illumination is provided by natural daylight, reducing the need for electric lighting during waking hours
many constructing materials were recycled – almost a third of the concrete used in the construction of the QO came from Amsterdam's iconic old Shell building
Then technology. Apart from the elevator which confuses me every time (more on that later), the technology in the hotel is rather functional. Each room has an iPad which controls lights, TV and the window curtains.
Last but not least, mindfullness. The fitness on the 20th floor is not just a fitness, but Embody (its name) is described as a "holistic wellbeing studio" (sic) that offers "the latest in fitness and wellness trends with a wide range of group classes, holistic personal training, small group training, nutritional food options, and mindfulness workshops". Although I'm a regular at hotel gyms and even fancy a yoga session once in a while, even this is waaay too much for me.
So, maybe this is a testament of my Dutchness, but in my humble marketing opinion, they could tone their blah down a notch and focus more on highlighting their accomplishments to their guests in a more down-to-earth way. E.g. Prague's Mosaic House has a calculator on their website with their sustainable energy, water initiatives, even the low level IHG properties (Holiday Inn Express) let you collect points when you hang a sign on the door the room shouldn't be cleaned, ABN AMRO's circular Circle pavilion has signs about the rainwater in the toilets, etcetera.
So, the start, all this marketing talk confuses me a bit. For me, it takes away from the admirable circular and sustainable hotel concept.
My stay at QO Amsterdam 8,5/10
Overall, I really really enjoyed my stays at the QO Amsterdam. It is probably my favorite hotel in Amsterdam (apart from the Kimpton De Witt, but that is unfortunately not for my regular stays) – well, if they fix the reception and tone down a bit on the marketing talk.
In total, I have had more than 7 stays at the QO Amsterdam. The average price I paid per night was approximately €120,- (excluding breakfast), with prices ranging from €100,- (very lucky, their opening special offer) to €150,-.