I turned 36 today. But because of work, I had to travel and decided to spend the night in Brussels before traveling onwards. So I spent the night in a hotel, on my birthday. As this was probably sad enough, I decided to make the best out of the situation and turn this into a small hotel birthday experiment. I was really curious to see how two different but similar hotels from two different hotel groups would react to the fact that one of their loyal and frequent guests would spend his birthday evening at the hotel.
Spoiler: it did not end well. Queue sad trombone.
In 2019, I did a similar experiment, but with two properties I spent more than 20 nights with.
Read here how this went
.
For readability, I broke this post down in different parts
On hotels and their loyalty programs
Loyalty programs or frequent traveler programs are complex. They seem to balance between a rewards program and a  loyalty program; between mere collection points and between a softer, less transactional way of looking at the relationship. For example, IHG Rewards Club says "Every time you stay in one of our hotels anywhere around the world, you're part of our extended family. We're waiting to welcome, inspire and reward you." This sets expectations rather high – it implies that the IHG Rewards Club does way more than merely having you collect and redeem points. Hilton Honor states "Hilton Honors is the guest-centric loyalty program for the entire 14-brand Hilton portfolio, striving to make travel more valuable, more flexible and more personalized – for every type of traveler.", which also opens up room for expectations with it's reference of 'guest-centric' and 'more personalised'.
I know very well from my work as a digital consultant, that execution on this is really difficult. It is really difficult as a bigger organization to really understand the needs of frequent travelers and act accordingly (see my separate blogpost on this). People who use your products and services frequently (the travelers' tribe) often have their own quirks, needs and habits you -as a designer/product owner- often did not plan for.
It is hard to capture these complex relationships in an overarching platform, process or system. That makes it logical to try and see how small interventions can make a difference. A personal email. A bottle of water in the room. A bottle of champagne when this go wrong. And … a surprise when it's your birthday.
I decided to leave my habit of booking via Booking.com (after more than 500 stays via Booking.com) and start booking via hotel loyalty programs after a few cases where Booking.com did not support me as a loyal customer (or did not even react) in a dispute I had with a hotel. So now, I am a member of both IHG Rewards Club and Hilton Honors programs (see my separate review of both programs). I turned Spire Elite (their highest tier level) with IHG Rewards Club earlier this year and had enough qualifying stays with Hilton to turn Diamond (their highest tier level) in their Hilton Honors program. Because of delay in the processing of stays, my Diamond status was not acknowledged by my birthday on September 2nd.
On Birthdays
A few years ago, I decided not to celebrate my birthday anymore. I had grown tired of forced celebrations and did not feel not-dying for a year was a true accomplishment to be celebrated. So I really and honestly do not care to much about my birthday, birthday celebrations or gestures from brands on my birthday.
For brands, however, a birthday seems to be the moment to communicate with their customers. It is a data point they usually have (often, you will have filled out your birthday somewhere) and it is a simple, positive moment you can act on. From a simple email to a small gift and from a discount to a personalized video.
My small hotel birthday experiment
So combining this all – the ease of a birthday intervention, my statu as an elit member at two hotels and the occasion that presented itself (I had to spend the night in a hotel on my birthday), was a nice starting point. I decided to see how two hotels would handle my checking in. I really don't want to be ungrateful, I just was genuinely curious how hotels would use a seemingly obvious opportunity to delight one of their frequent customers ("one of our favourite guests" even in IHG Rewards Club's own words).
Crown Plaza Brussels – La Palace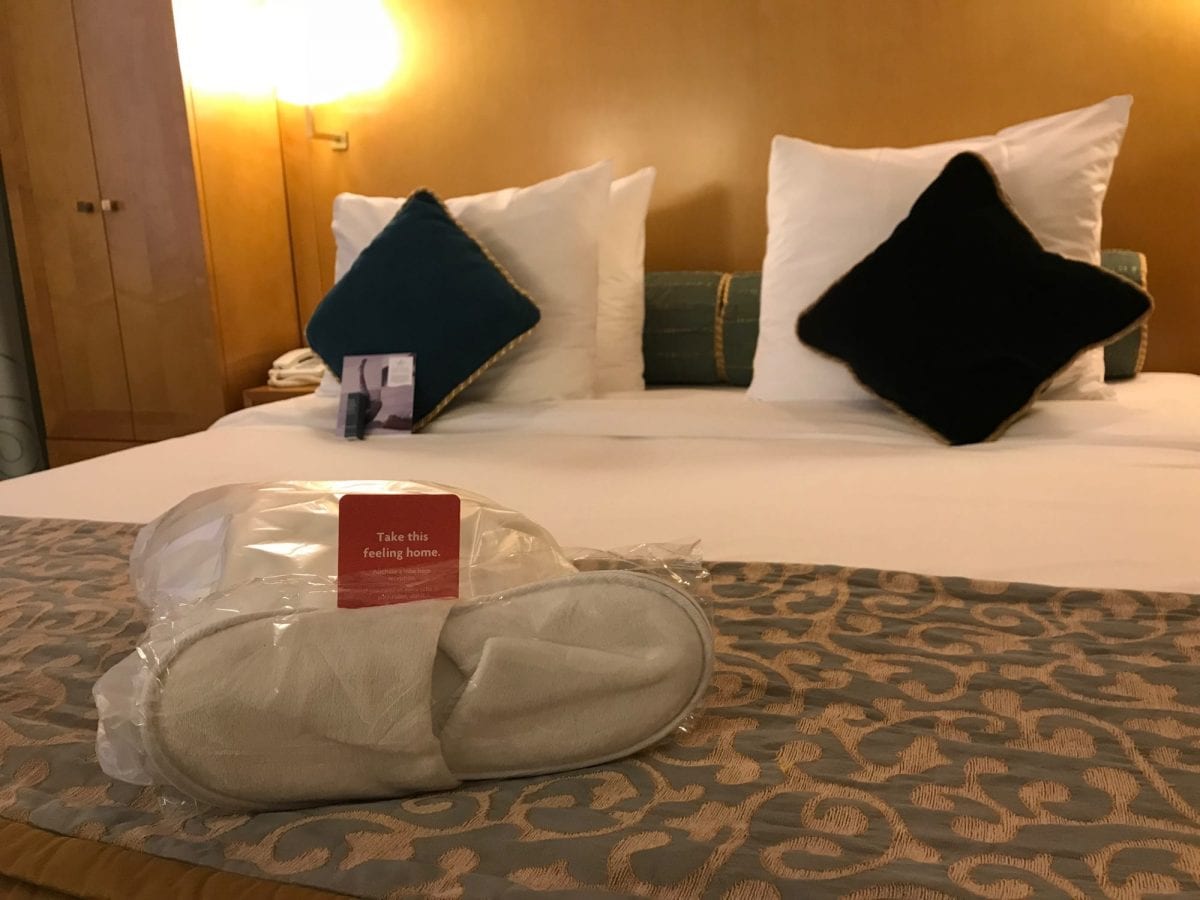 The first one to check in was the Crown Plaza Brussels – La Palace. A correct front desk employee welcomed me, thanked me for my loyalty and guided me through the standard check-in procedure (ID, Credit Card authorization). I got upgraded to the Executive Floor, which means a slightly nicer room and free usage of the minibar in your room. The room I got was on the front side of the hotel where there was an Urban music festival going on till 10PM (no biggy, but suboptimal). No mention of my birthday. Bummer.
I did get an email by the way while on the train towards Brussels from IHG about my birthday (unrelated to that day's hotel stay): "Surprises are part of every birthday celebration and here's one you probably weren't expecting. 1,000 bonus points from us to you – no stay required. Just take a few minutes to register for your birthday bonus, then blow out your candles and start celebrating." I really like the gesture,
The email reads "A gift for one of our favourite guests". I am not sure to think of it. Really?
"you probably weren't expecting. 1,000 bonus points from us to you" – although I really really appreciate the gesture and I did not expect this to happen, I kinda expected this to happen. I got €5 from my favorite outdoor store, €2,50 from my favorite online retailer, -15% on their shop from my favorite airline, -20% and -15% from NH hotels on my next stay … so I can't really say this is a huge surprise.
Registering for the birthday bonus. This is probably a technical feature (seems they are building on the same structure they use for their quarterly accelerate programs), but it feels "off" that on one hand I am their favorite guests and I get the personal approach with this email, and on the other hand I have to log in and identify myself with my IHG ID or password.
So many thanks for the nice gesture, I personally would make some small changes to the process.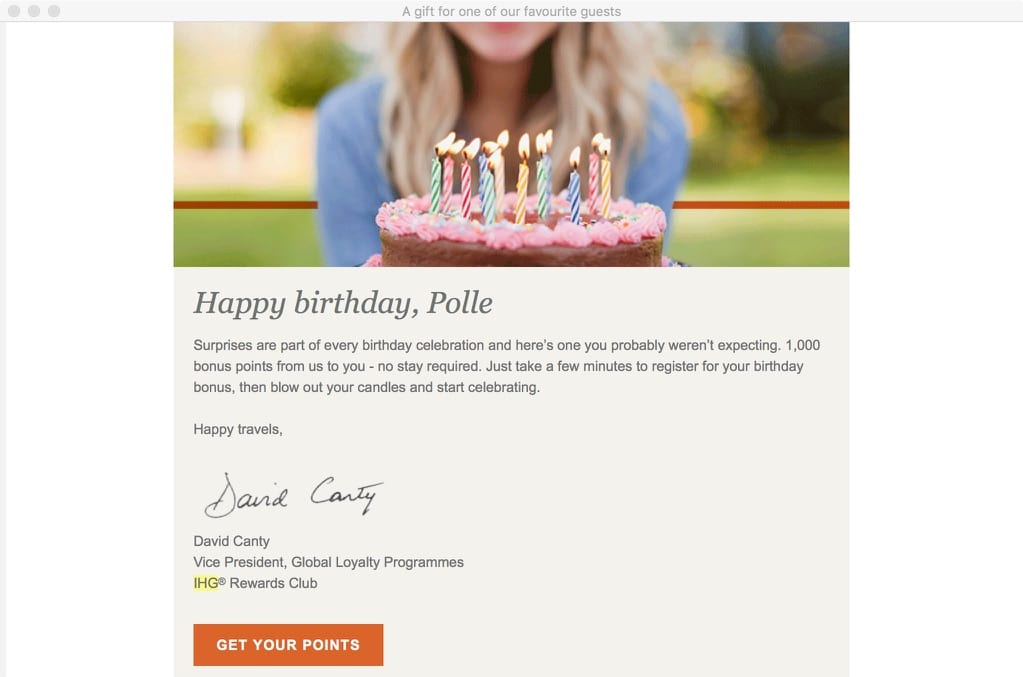 Hilton Brussels City
Then the Hilton. When checking in the front desk employee welcomed me and asked me if it was my first time at this hotel. This was rather unusual. I really really like the fact that normally at Hilton properties the staff instantly sees on their screen that I have been to the property before. I guess this happened because I only decided last minute to turn this evening into a small hotel birthday experiment.
I got a normal Hilton Honors member room with free bottles of water on the second floor (no upgrade – which is in line with Hilton Honors policy – I sometimes do get an upgrade, I sometimes don't), away from the street noise.
No mention of my birthday. Second bummer of the evening. Experiment failed.
Also not email from Hilton Honors (unlike IHG Rewards Club). Bummer.
Some notes on my small hotel birthday experiment
In Brussels, on Place Charles Rogier, two Hilton Honors / IHG Rewards Club hotels are literally next to each other: the Crown Plaza Brussels – La Palace and the Hilton Brussels City. That makes them rather perfect for a comparison. The location is pretty much exactly the same, the price was pretty much the same (€107.06 for Crown Plaza and €111,06 for Hilton) and the position of the brand in the respective brand portfolios is similar. I had stayed at both hotels before. Approximately 4 times at the Crown Plaza Brussels – La Palace and 8 times at the Hilton Brussels City.
To cut Hilton some slack: according to Hilton Honors' overview, I was still 1 stay away from Diamond status (their highest tier level), although I had already stayed two additional nights (it takes some days for Hilton Honors to add stays to the customer account). Additionally, I only decided last minute that I would set up this small experiment and there was slightly less than an hour between my booking and me checking in.
My take-aways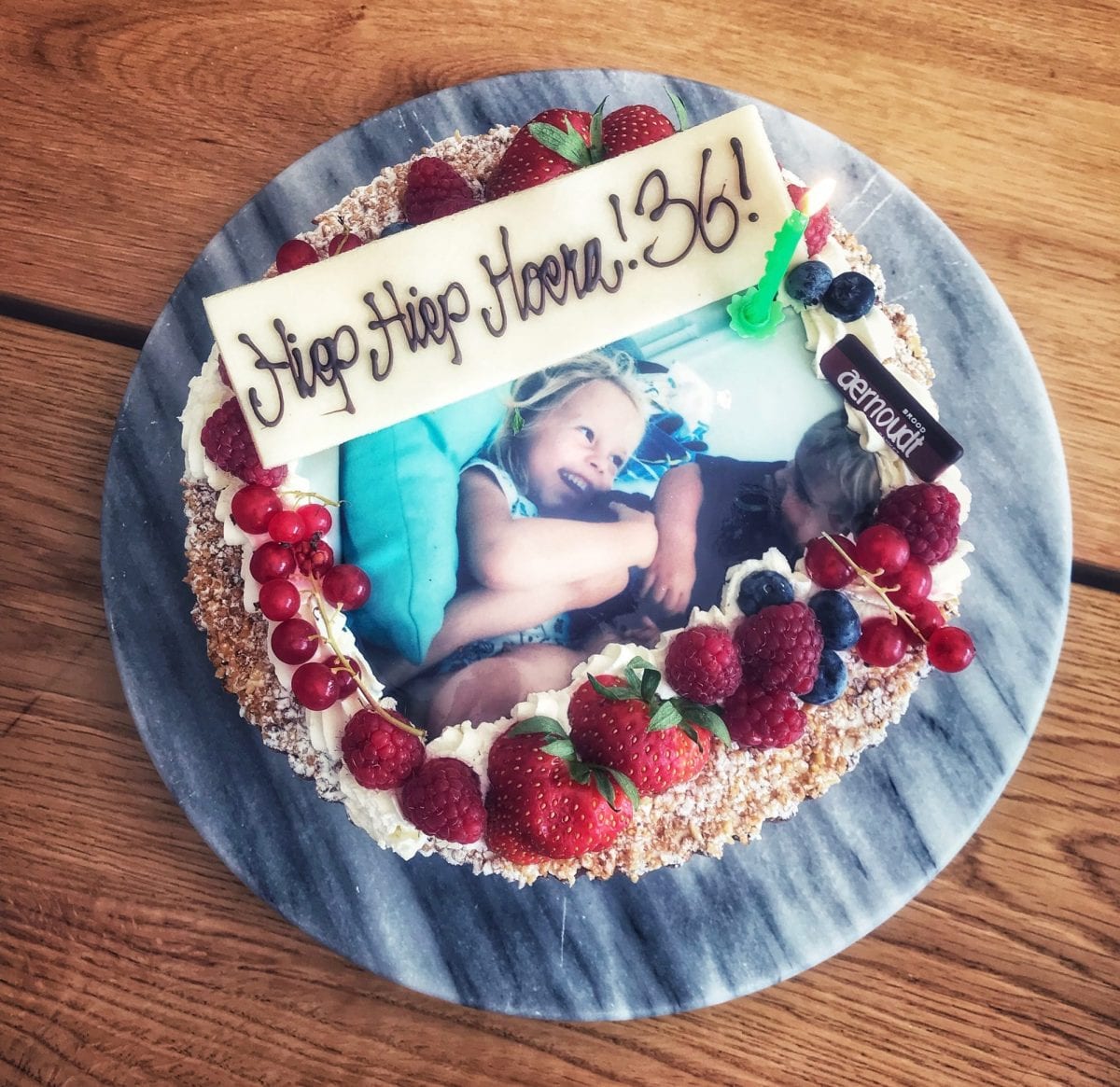 Although I did not expect something to happen, I kinda expected something to happen. Spending the night in a hotel on your birthday seems the simplest of checks in the system. I can imagine sending an automatically generated email to the hotel in case of a guests spending the night in the hotel in his/her birthday.
The intervention could be really small – from just having front desk staff acknowledge your birthday ("wow, it's your birthday today, so nice of you to spend it with us"), from a small gesture (drink at the bar, handwritten card on the hotel room), to bigger gestures (upgrades, drinks in the room).
I guess small interventions really can help turning statements like "guest-centric", "you're part of our extended family" and "you're one of our favourite guests" into daily practice.
Got similar experience, got ideas how to fix this or act on this? Let me know.