I'm really not too much of a luxury person. I love my hikes with the basic comfort of an inflatable mattress and a sleeping bag. I usually opt for decent no-frills hotels that are near the place I have to be. But when the Kimpton De Witt Amsterdam opened last year I could not resist.
The Kimpton De Witt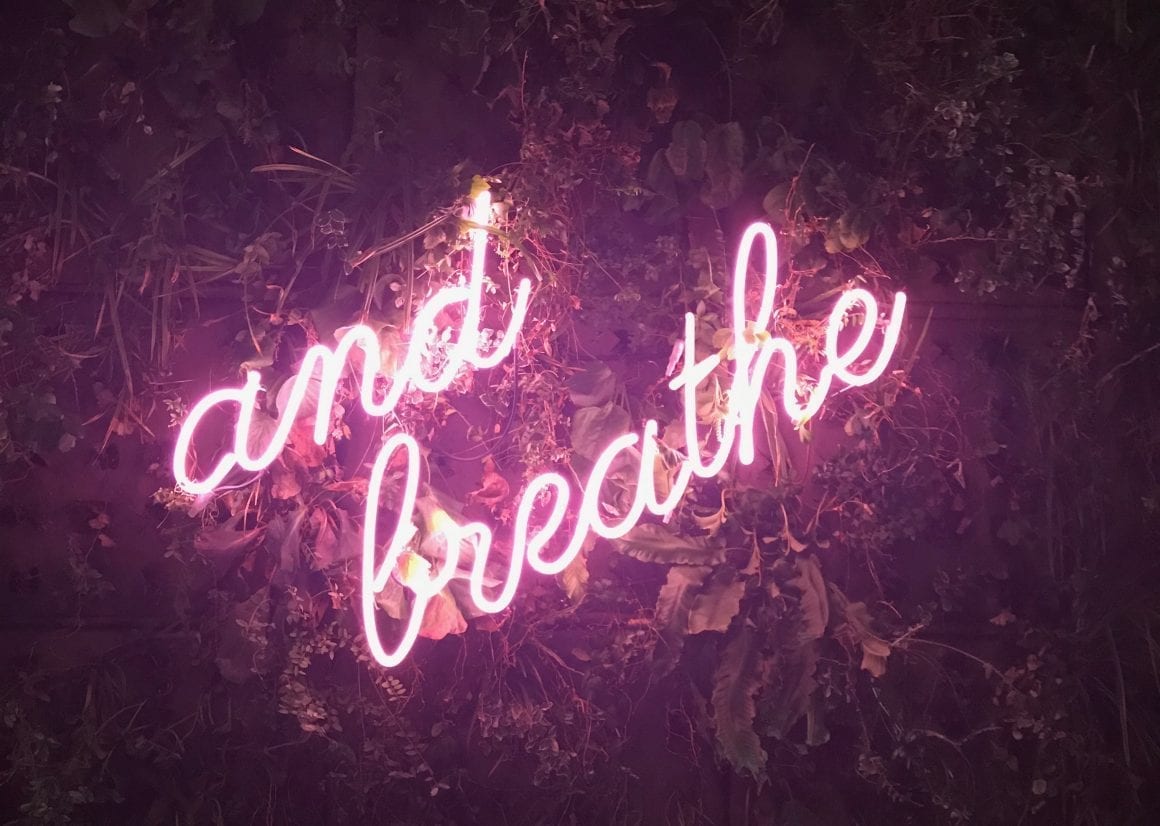 The Kimpton De Witt (and the other Kimpton properties) is one of the more luxury properties within the IHG brands. A lot of my frequent traveler friends ('the travelers' tribe') complain(ed) about the limited number of luxury IHG hotels (which I tend to disagree by the way – Indigo, QO and Kimpton more than suffice for me), so it was good to see Kimpton join the IHG group last year.
The Kimpton De Witt hotel houses a rather peculiar building – it is a maze of connected buildings. Some parts adjacent to the street (like the Wyers restaurant), other parts hidden behind other houses (fabulous 17ht century Amsterdam buildings). Some parts Eighties building, other parts 17th-century house. Inside, the nice soft blues (with a lot of references to Delft blue tiles) and greys, minimalist clarity offset by eye-catching contemporary artworks and intriguing furniture – creates a pool of calm.
The large lobby area (with some annoying stairs by the way) and the large lounge divides the big ground flour into separate seating areas, each with a different mood. The hotel's restaurant and bars, as well as the different elevators to the different parts of the hotel all, come together here (it took me 3 tries to find the right elevator at first, but that might have been me).
Location of Kimpton De Witt Amsterdam 7/10
The Kimpton De Witt is at the Nieuwezijds Voorburgwal, right in Amsterdam's city center which is actually not the best area to have your hotel. It's not about street noise, it is just about location. Let me elaborate. Although I had my room next to different streets (during my different stays), I did not hear any street noise, so that's perfect. However, the area around Amsterdam Central Station is just not the most exciting area of the city.
Central Station area is most of all loud, busy and touristy in the bad way. Crappy restaurants, souvenir shops, dirt, fast food, AirBnB-overload … the works.
Other parts of the city (East near Oosterpark, De Pijp, De Jordaan) offer a more exciting area to explore. Probably the best thing about its location is the access to public transport. There are plenty of trams stopping in front of the hotel – otherwise, Central Station offers super speedy access to plenty of buses, trains, metros and even ferries (to the Northern part of the city).
Rooms at Kimpton De Witt Amsterdam 8/10
Light at Kimpton DeWitt Amsterdam

Bathroom game going strong in Kimpton DeWitt Amsterdam

Details at Kimpton DeWitt Amsterdam: room numbers

Room at Kimpton DeWitt Amsterdam
The rooms have a stylish combination of design furniture, eclectic framed images, Delft-blue and grey accents and French doors, giving the room a warm, cosy feel. There is careful attention to detail – fancy room numbers, rooms have an espresso machine, internally-lit wardrobes and closets, umbrella (it's Amsterdam, you'll probably need it) and even a yoga mat. Beds are pretty comfy and American-style in its softness and overload of pillows.
The work desk doubles as TV closet and is ok to have your laptop and get some work done. Ok … in the way that it won't be the best desk you'll ever have (but the top has a recessed area for your pencils which is pretty cool).
Bathrooms have walk-in showers with French-door-style glass windows showers, really nice grey/blue Escher-esque tiling and (my fav) Marie-Stella soaps and creams. Oh, I love that smell.
Service at Kimpton De Witt Amsterdam 8/10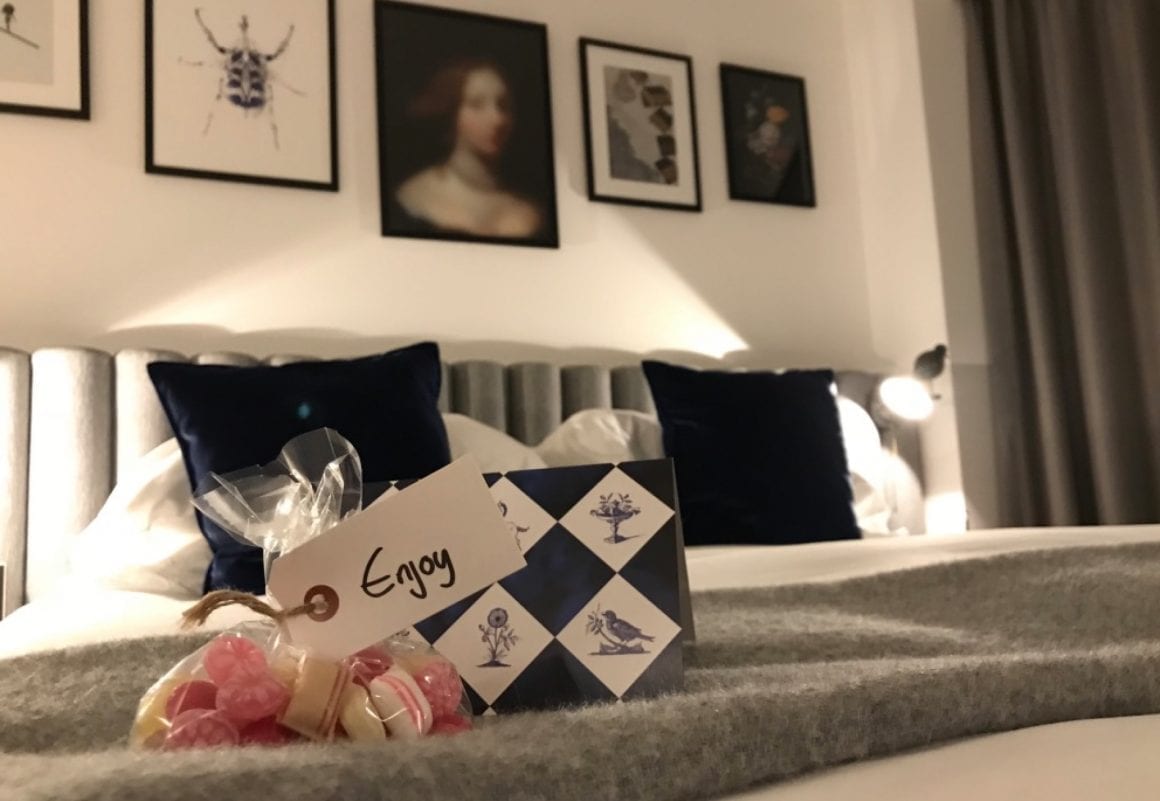 The team is super friendly. From the team at the reception (who instantly recognized me from the second day already) up to the support staff – great vibe and atmosphere. Reception runs smooth, but I could not suppress the feeling that it is very international-hotel-style. It made me feel like a random reception area at any other big international hotel, where I would have preferred a more local feel.
Furthermore – I had a small issue with one of the bed lights in my room. It was instantly fixed and I got a nice present from the team.
Getting stuff done at the Kimpton De Witt 5/10
Getting work done is a bit of a challenge. The lobby is fine to have a few drinks or wait for friends or family to arrive, but to get some work done … it is rather suboptimal. No real work spots or nice tables to sit on and a lack of power outlets make it a bit challenging to get your late night or early morning getting-things-done-game going strong.
Additionally, the bar is super nice, but poorly lit, which makes it a pretty crappy place to get things done and the Wyers restaurant is just (in my humble opinion) a bit too fancy to finish my last PowerPoint bullets while the people sitting right and left are ordering their next bottle of champagne or fancy cocktail.
Breakfast at Kimpton De Witt Amsterdam (Wyers) 9/10
Breakfast is a la carte at the Wyers restaurant in the building and pretty neat. Apart from the usual suspect (a wicked bacon and eggs, american pancakes, oatmeal) they offer things like 'cauliflower tabouleh salad'. Additionally, you'll get some fresh fruit and obvious choices of juices and coffee.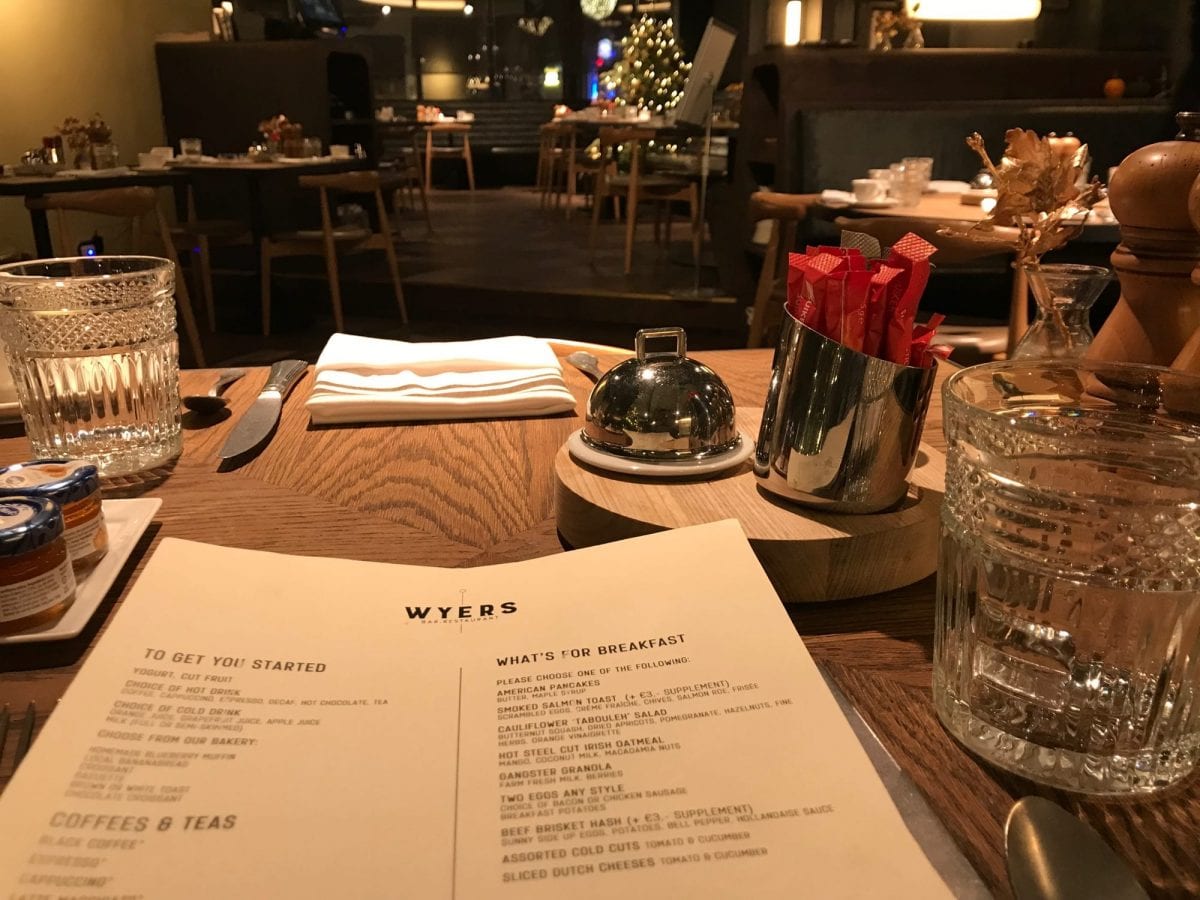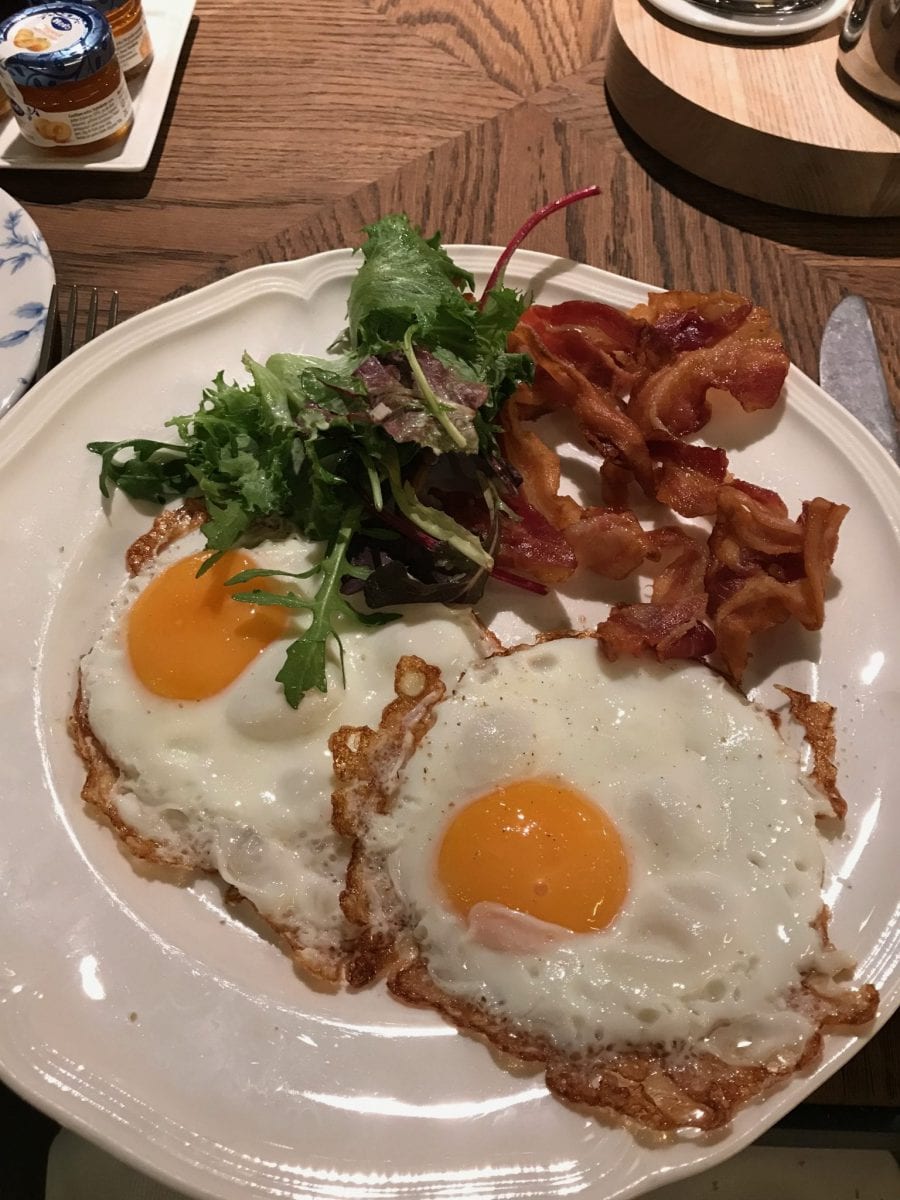 My stay at Kimpton De Witt Amsterdam 8,5/10
Overall, I really really enjoyed my stays at the hotel. Fact is, that although Kimpton properties remain one of the top IHG properties, prices are accordingly – making that you should pick wisely.
In total, I have stayed 5 nights in the Kimpton De Witt. The average price I paid per night was €117.65 (excluding breakfast) because the hotel had just reopened. With this rate I got a €15,- credit for drinks in the bar (actually pretty neat gesture). This is extremely low for this property – the lowest I have seen is approximately 140 euros per night (booked well in advance with IHG members rate).
Update: In February 2019, I spent Valentine's weekend with my wife at the Kimpton. The hotel was under construction and we had some issues (e.g. food from the previous guest in our room), which made the stay substantially less pleasant.