I started digiting my packing list in Notion during COVID times in 2020. I use the powerful connected workspace app Notion to keep a database of all the hiking gear I own – it gives me insight in what I have (and could use for my hikes) as well as options (e.g. insight in the different tents, backpacks and sleeping bags I have). Combined with the fact that I have been keeping the packing lists of my previous hikes (e.g. the Jordan Trail, Arctic Circle Trail) makes I can super quickly copy-paste my packing lists and automatically calculate weight, calories, and other key variables. So, this is my packing list for solo hiking the Peaks of the Balkans.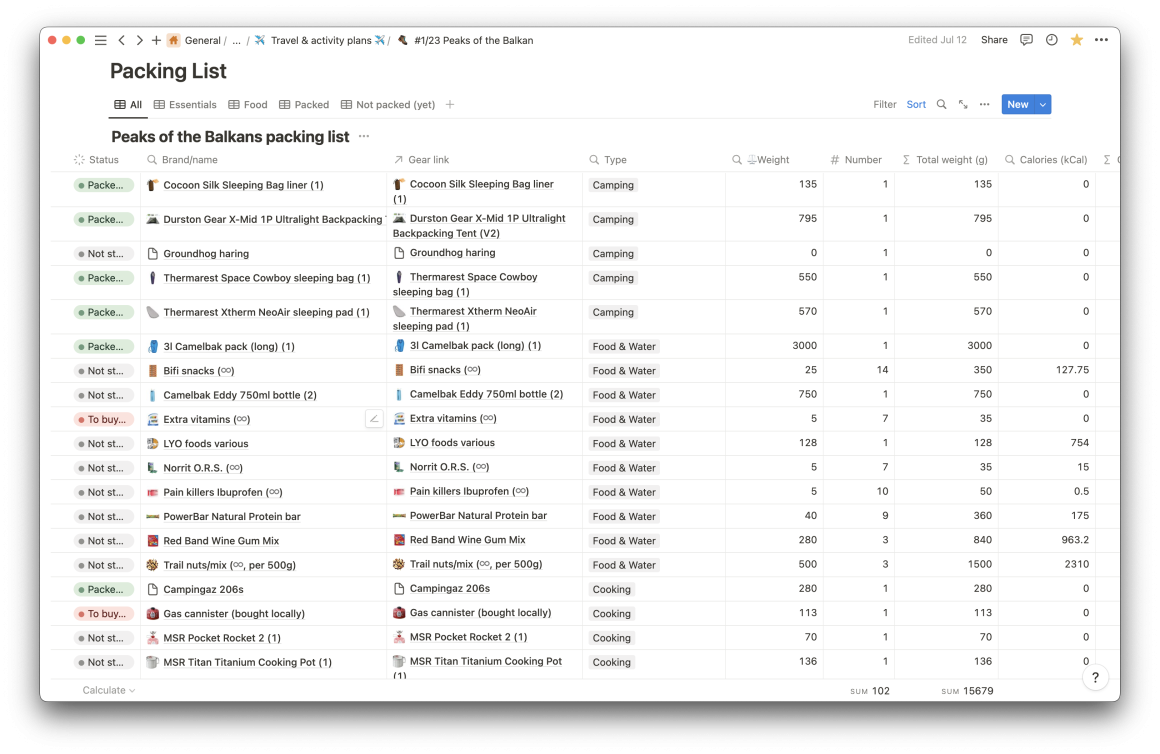 Key challenges and considerations
Compared to some of the other trails I did, there were some minor challenges/considerations:
Shelter: You are not allowed to camp in the nature reserve which rules out most of the Montenegro part of the trail. Furthermore, there are plenty of local inns, shelters, hotels or other accomodations you can book (and thus give back to the local community). Additionally, everyone I speak about the trail is raving about the local food and hospitality. The question becomes which parts of the non-Montenegro part of the trail do you want to camp (if any) and which part you want to be in a stay. I decided on some sort of hybrid, where I would camp most of my first days on the trail (to enjoy the true nature feel) and would stay in inns, shelters, etc. the second part of the trail (mostly Montenegro, but also a stay that was highly recommened by friends). This meant that I did need to pack tent, sleeping gear, cooking gear and some food for on the trail.
Food and food preparation: And that brings me to the second point, food, and preparation. During my preparation, I found out that in Albania and most of the Balkans, gas canisters do not have a screw-on Lindal valve (compatible with my MSR pocket rocket), but rather the "older" gas canister with the "soft spot" on top, that require other burners. This forced me to be more intentional about my food and food preparation. I could not ship a Lindal valve canisters because of international shipping regulations; so it left me either with the choice to eat in the villages on the trail or buy a local canister. I finally settled on eating locally to avoid the hassle and just camp in the wild (and eat nuts, bars and other things at night and in the morning).
Rain protection: As I was pursuing a summer hike during a heat wave in the Mediterranean area, I considered for a moment to only take my lightest rain jacket with me; but as weather can change fast in the mountains (I learned that the hard way in Iceland on the Laugavegur trail and more recently on the Faroe Islands), I decided to take my heavy duty rain coat with me.
Cash money: As it is not (yet) possible to pay by card and the region relies on cash money, make sure to pack enough to be able to pay for food, shelter and incidentals. I eventually took 500 euro with me, just to be sure I would be fine in case of emergencies (e.g. needing transportation out of the region).
Notable differences
Compared to my last hikes, here are the key changes I made:
New tent: I've been overthinking my tent setup for a while now. I still love my trusty MSR Elixir 2 tent, especially for bad weather situations (Iceland, Greenland, Scandinavia), but it is a bit big and heavy for shorter hikes and less challenging weather conditions. On the other hand, I have not been fully sold on my MSR thru hiker. It works in good weather, but I was a bit annoyed by the condense (water) caught in the foot-part of the tent and the fact that is a really really small tent (my brother tends to call it "a coffin"), in which it is difficult to store gear apart from your sleeping mat. I don't like critters and crawlers in my bag, so try to put them in a tent, which is impossible with the thru hiker. So, I bought a Durston Gear X-Mid 1P Ultralight Backpacking Tent (V2) that I can easily set up with my trekking poles. It will be my first hike, so will see how it fits my needs.
Full packing list
I share my full packing list on Notion; if you have any ideas, comments, or suggestion, feel free to reach out!