While preparing for my Arctic Circle Trail hike and packing my last items, time and time I was warned for the unpredictability of Greenland weather. With my experiences of my hike of the Jordan Trail in mind where 12 people died and 3700 people were evacuated because of flash floods in and around Petra, I started planning for unpredictable Greenland weather as well. Although accidents like these are very rare, being safe on the trail should always be your main priority, so I hoped for the best, prepared for the worst. Here are my tips for getting weather information on the Arctic Circle Trail.
My personal experience with the unpredictable Greenland weather
Based on the average temperature in August from the last years and the latest weather reports, I had prepared (and packed) for 2-12 degree Celcius temperatures. I was aware that it had rained a lot in the summer of 2020 and that had resulted in very wet patches on the trail and an abundance of August flies and mosquitos.
But that did not prepare me for the actual situation. The trail was extremely wet, making it sometimes hard to follow and inevitably leading to wet feet from time to time. And the weather turned out to be 25 degrees Celcius (or warmer), which would mean that for most of the day I would walk with shorts and a t-shirt – only between 5h30 and 7h30 in the morning, I would need to wear some longsleeve or down jacket. Luckily, I brought zip-off pants and did actually have the option to wear shorts.
I even encountered a Czech couple who were wearing their underwear because they only had long heavy duty pants that were just too warm.
In other words: I was unlucky with the unpredictable wetness of the trail, but very lucky with the overall weather. It could easily have been the other way around.
Weather information on the Arctic Circle Trail – what you can do yourself
Part of my morning and evening routines is checking on the weather. There are five main sources for weather information:
Locals. Based on interactions with locals at the start of the trail and -if you have some luck on the trail- you should be able to get a good sense of the dangers ahead. Locals are usually super helpful and knowledgable when it comes to weather dangers (so I learned during my challenging days on the Iceland Laugavegur and Fimmvörðuháls trails where I got caught off guard by a snowstorm). I was sure to check for information when arriving in Sisimiut.
Other hikers. There is one big advantage of my hiking Sisimiut to Kangerlussuaq (instead of the other way around, which is more common); the fact that I will encounter more other hikers that will be able to share their stories, experiences and information.
Garmin weather updates. I use my Garmin InReach Mini for communications on the trail. The InReach also offers weather updates for free as well as a more detailed premium version ($1 per update, added to your monthly subscription fee). 
Local weather broadcasts. Weather forecasts are broadcast four times a day (06:05-11:05-16:05-21:05) via VHF in English (summer only), Greenlandic and Danish. Enquire at the local tourist office as to which VHF channel you should use.
Local weather phone number. Weather forecast in Danish, tel. no.: 154. Shipping forecast in Danish, tel. no.: 158
Instagram (see my post about it). I won't use Instagram as my key source, but following hashtags like #arcticcircletrail as well as local villages will actually help you get insight in weather conditions/clothing people are wearing and will bring you into contact with other hikers that have local information. In my experi/ence, they are very open to share their thoughts and experiences (like with my Jordan Trail hike).
Furthermore, it is important to adhere to some basic safety tips like to not camp too close to glaciers or water (duh).
Weather information on the Arctic Circle Trail – how others can help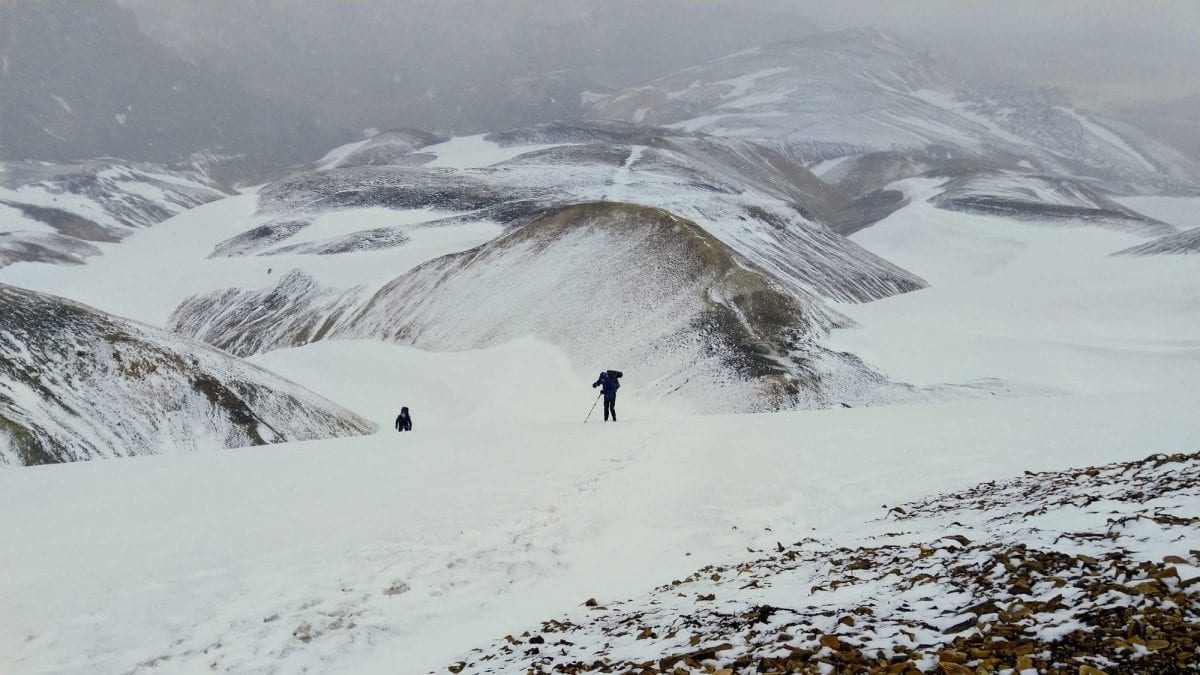 For me, the Icelandic Safetravel.is service is still a textbook example of how weather services for hikers could work – a platform that lets hikers log their trails, that gives proactive warnings and will come and look for you if you don't check out from your announced travel plans. I really genuinely hope someday this will be turned into a global service to keep hikers safe. But without a Safetravel.is service in Greenland (so close yet so far), I decided to mimic building my own.
Your own weather emergency system. As with the Jordan Trail, I asked my dad and brother to keep me informed via text message and -in case of emergencies- via my Garmin InReach Mini. This way, I would still have a team that would be looking for weather warnings, even if I would be missing out on them on the trail – either because I was busy hiking or because of missing data connection on my phone.
So, find someone in your group of friends and/or family who can act as an extra check on the weather – your own Safetravel service.
It's better to be safe than sorry.
So, what are your tips?