What to take when you're at world's end.
An introduction to the Arctic Circle Trail
Greenland's Arctic Circle Trail is often listed as one of the best long-distance hikes in the world. The trail stretches up to 200 kilometers (124 miles) from the edge of the ice cap to the fishing town of Sisimiut on the West coast. While 85% of Greenland is covered in ice, there's a narrow strip along the coastline that's actually green! And red. And purple. And yellow.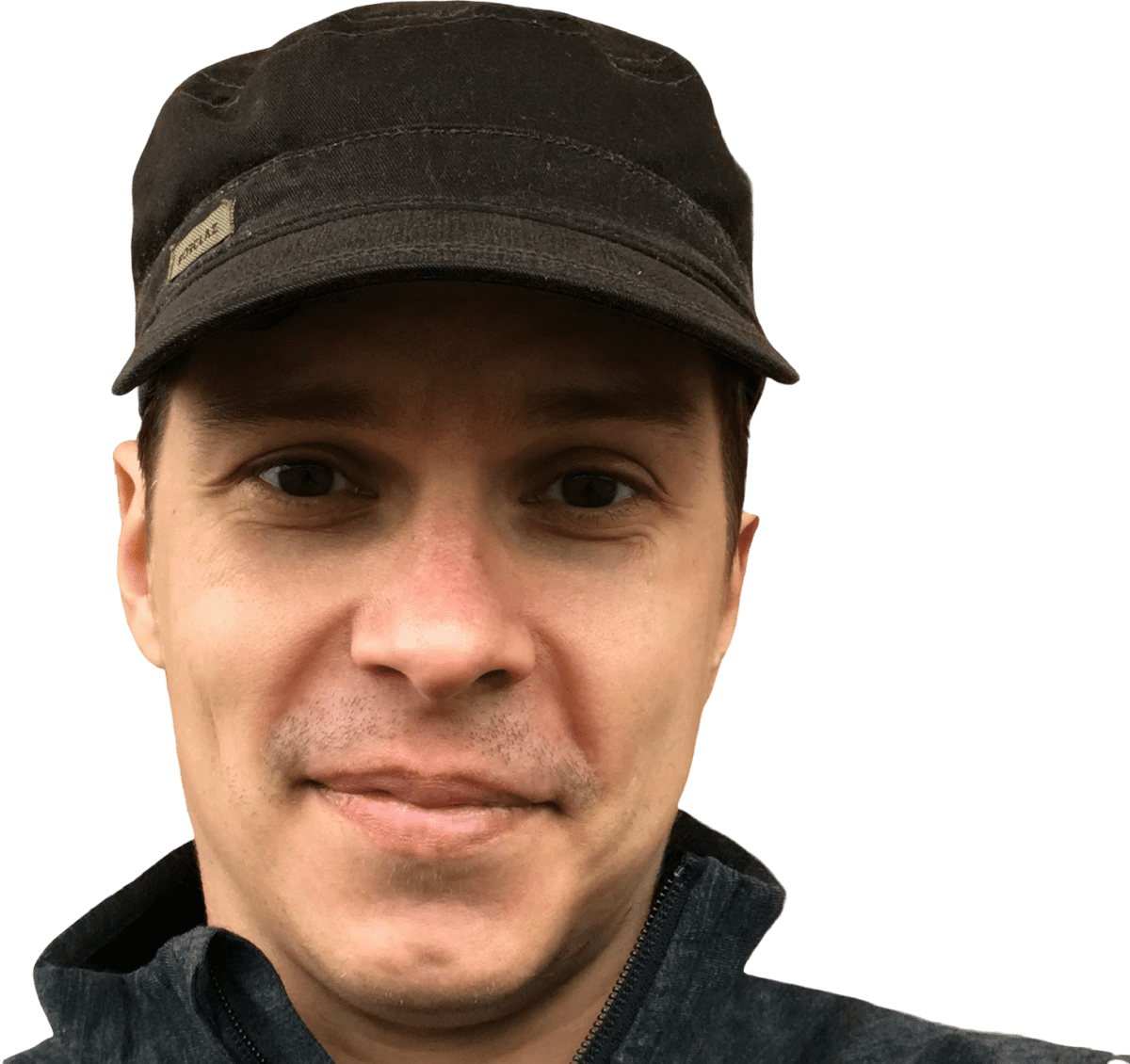 Hi, I'm
Polle
and I travel 200+ nights per year. I learned that traveling
with an open mind
makes you create memories worth sharing. This is my notebook - omakase.
Considerations when packing for the Arctic Circle Trail
The unique characteristics of the Arctic Circle Trail offer specific challenges for your packing list. Here are some, as well as my personal considerations:
You will be on your own. From all I've read, heard, and researched, the trail isn't particularly hard. But it is remote. And you will be on your own. So, when packing, the most important thing to keep in mind is exactly that. There won't be re-supply points, there won't be shortcuts. So everything you won't take, you won't have and everything you take, you'll have to carry for 6-10 days. And it means that any sort of personal locator beacon or similar device, like a Garmin InReach Mini is a must. I usually take and a personal locator beacon and a Garmin InReach Mini as I'm hiking on my own and want to have a fallback if any of them fails. But it also means thinking about off-time: what will you do in the hours that you're not hiking. I'm still doubting whether to take my Kindle e-reader with me.
Pack for the weather. There can and will be rain. There can and will be cold. You will have to cross streams. So that means layering up for clothes and making sure you have waterproof gear. E.g. I will take my gaiters to keep my pants water-free and clean. And for a moment, I considered packing my MSR Thru-Hiker tent, but after spending a night in our garden at home, testing it, I decided it is too small and there is too much condensation to comfortably spend a week in the tent when hiking the Arctic Circle Trail – so I'll be taking my MSR Elixir.
Pack enough food. As you'll be on your own, key is to pack enough food. I'll try to pack between 4000-4500 calories per day plus some extras in case I have to spend an extra night on the trail. This will even allow me to ration my foods when I really get in trouble.
Pack light. Finding a good balance between weight and value is always key. There are some non-negotiables here (food), enough warm clothing. The trail poses some challenges but also takes some challenges away. For example, there is no need to pack up to 10 liters of water (like with the Jordan Trail) as there is plenty of water available on or near the trail. Also, as I have quite flexible planning and it stays somewhat light during the night I have time and opportunity to wash my clothes, which helps me reduce the number of clothes I'll need to take. So, only 3 liters of water and a bare minimum of clothes that I will be able to wash more than enough. In total, I aim for maximum 12 kilos of base weight.
Recent tweaks and changes to my Arctic Circle Trail solo hike packing list
Since my last Laugavegur trail hike and later -in different circumstances- my Jordan Trail hike, these are the key tweaks/changes I made:
Gregory

 Baltoro 65 (M) for 

Gregory

 Z30 Iron Gray. The Baltoro is bigger than the Z30 and will make sure I can more easily pack my gear and keep my gear dry while hiking.
Head net to keep away flies and mosquitos (I read this pretty much in every post, especially during June/July).
Garmin InReach Mini. As only 300-2000 hikers complete the Arctic Circle Trail every year, it is very well possible that you won't encounter other human beings for several days. Additionally, cellphone reception is really bad, which makes the InReach Mini probably the best way to keep in contact with the homefront and get help in case of trouble.
Camelbak Eddy instead of Camelbak bladder. As water is plentiful along the trail, I guessed it is easier to refill my Camelbak Bottles than my bladder. One of the downsides to a bladder is also that it is hard to see how much water is still in it and the fact it is emptied out, makes it frees up space in your backpack for your gear to move around in your backpack.
Extra clothing. I brought an extra pair of clothing compared to what I would normally bring as after hiking the Arctic Circle Trail, I am heading out to Ilullisat. Worst case, I would not be able to wash my clothes along the trail and a fresh pair of clothes would be appreciated by the others on the plane and in the Ilimanaq lodge.
My packing list for the Arctic Circle Trail
Essentials
Backpack (

Gregory

 Baltoro 65 (M))
Backpack rain cover (

Gregory

 Baltoro 65 (M))
Walking sticks (Black Diamond Alpine Carbon Cork) – I will bring two as I will need both of them for my MSR Thru Hiker tent and as I am planning to use them for river crossings.
Sea-to-summit eVent Waterproof bag 4x (for waterproof packing of my gear – also see my separate post)
Sea To Summit TPU Accessory Case
Sea-to-summit trash bag
Camping
 Clothing
3* Underwear (Icebreaker) – I use two black ones for hiking and a red one for the evenings/nights
3* Under shirt (Icebreaker) – I use two black longsleeve ones for hiking and a red one for the evenings/nights
3* Hiking pants (The North Face)
1* Thermoball jacket (The North Face)
1* Softshell (Icebreaker)
Rain jacket
Rain pants
Sun glasses Julbo Aero Zebra Light Fire
Head Net (for mosquitos)
Footwear

3* Walking socks
Hiking boots (Meindl Sento GTX I first used on the Jordan Trail)
Vivobarefoot Primus Swimrun SG Mesh as camp shoes and for water crossings
Electronics
Mobile Phone (iPhone 8) for pictures and communications + cable
Battery pack Xtorm Power bank + micro USB cable (also used for Garmin InReach Mini)
Garmin InReach Mini (with monthly subscription)
Watch/route tracker (Garmin 935) + dedicated cable
Garmin GPSMAP 64s with Garmin Greenland maps loaded onto it (+ mini USB cable)
 Toiletries
1* Towel
Toilet articles for personal use
Plaster for blisters and medicine for personal use
2* Wet toilet paper towels
Hygiene hand gel
Biodegradable soap (for washing, cleaning)
Sun screen
3* lenses + lensfluid
glasses + box for glasses
Cooking
MSR Titan Titanium Cooking Pot
MSR Pocket Rocket
MSR fire spark starter
Gas cannister (bought locally in Sisimiut)
2* Camelbak Eddy
Spork
Pocket knife
Food

Also, see my dedicated post on food on the Arctic Circle Trail.
12* Adventure Food Dinner (5 days lunch and dinner + 1 extra day)
8* Oatmeal breakfast
10* Powerbar gel
10* Powerbar Gelshots
2*5-pack Bifi
Medicine
Pain killers
Extra vitamins
Other
Some Danish Krona (will pick them up in Copenhagen) when I want/need to buy stuff before/after the trail.
Sharpie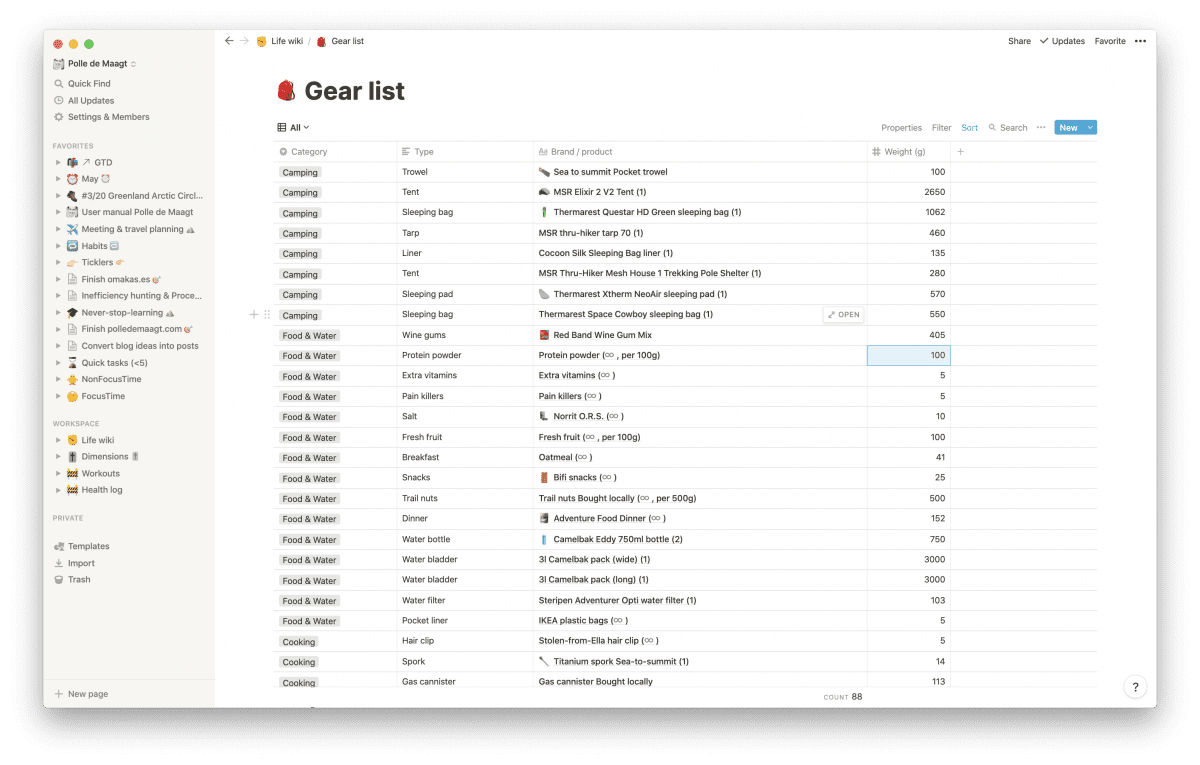 See my digital packing list in Notion
My digital packing list for the Arctic Circle Trail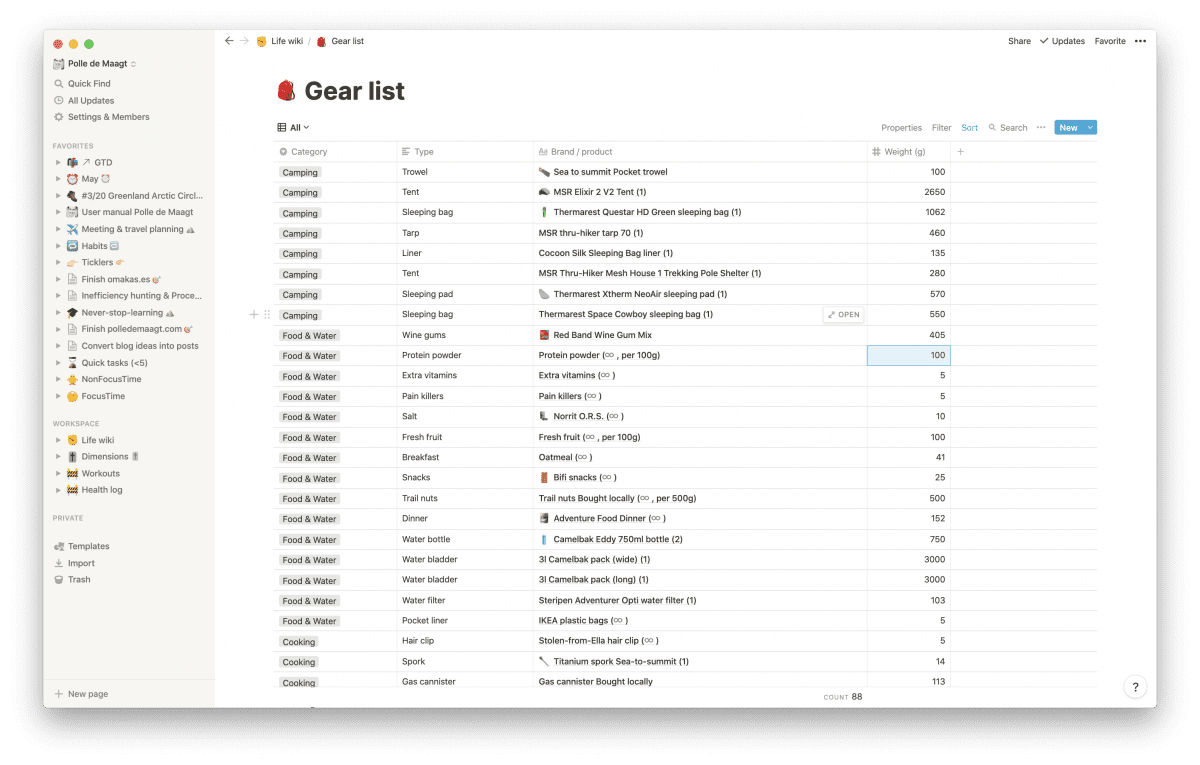 Packing is a fun and essential part of doing any hike, let alone long-distance hikes. It is -however- sometimes a bit tedious to keep track of all the gear you have, all the gear you want to pack, need to pack, are missing, weigh everything, tweak, weigh again, repeat. Up until recently, I have been building mainly from the packing lists I had collected over the years. But it all still felt suboptimal and I would lose track from time to time, forget to pack stuff or (often in my case) would just pack things I wouldn't use or need. So since I had some extra time on my hands during Corona times, I decided to digitize my packing list in Notion and even create a separate list to calculate my daily calory intake. It helps me automatically calculate the weight of my pack and helps me decide what to bring. I will take you through my setup below.
I started out with making a database/table with all my most-used gear. This would be my master reference list, the list of gear to choose from when packing for a new hike. An additional benefit would be that it will double as a total list of all the gear I have (sometimes it is hard to keep track). I did not add all my gear at once, I decided to add gear gradually, starting with my first upcoming hike, and would keep adding gear every time I would need it for my packing list.
Also, by using this structure of a "master" packing list and separate instances every time I go for a hike, it is easy to look back on previous packing lists and to keep track which gear I use all the time (and which I hardly use at all).