Omakase is the art of letting go, of having an open mind. And planning and preparation seems to be … well … the exact opposite. But it is pretty hard to hike multiple days in the mountains without preparation. Preparation and planning often frees up time and opportunity to travel with an open mind. And frankly, it is one of the significant parts of the fun; exploring the option, reading up on the region and its inhabitants … anticipation is a big part of the fun in hiking. So, this is my planning and preparation for the Peaks of the Balkans trail.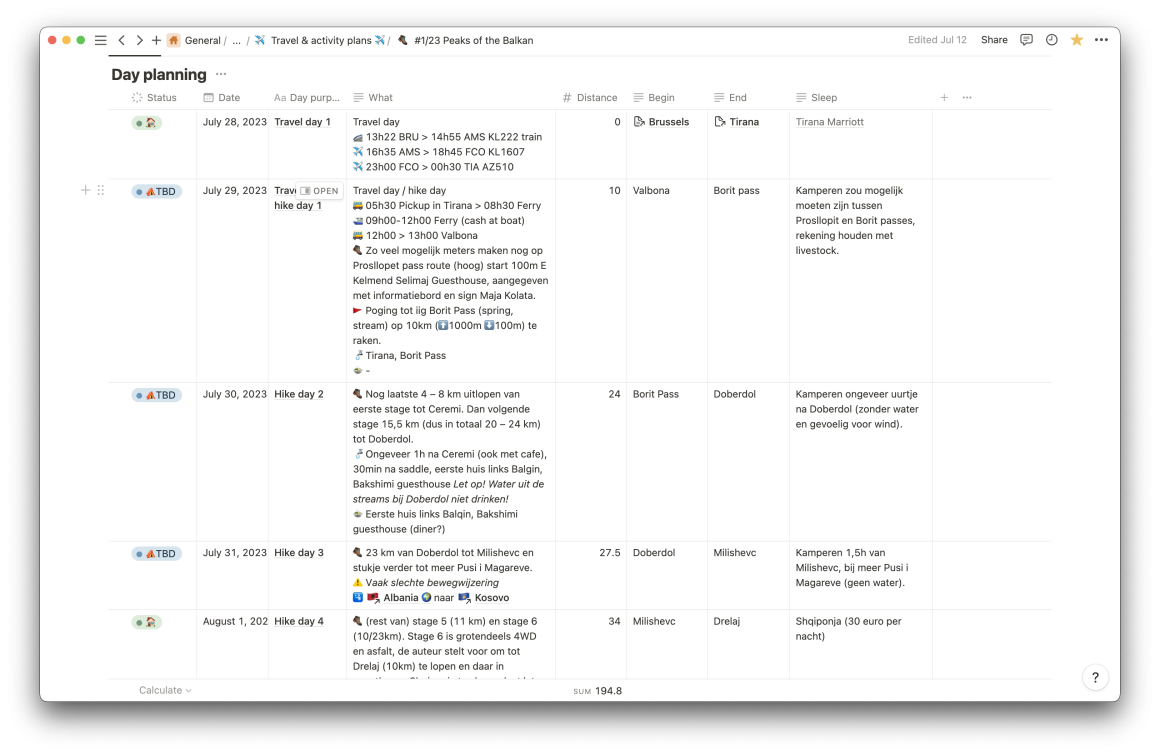 Before we start: Peaks of the Balkans
Stretching 192 kilometers, the Peaks of the Balkans Trail bridges three nations, Albania, Kosovo, and Montenegro, and crosses through some of the continent's least-explored landscapes. Hiking through the green valleys and wildflower-strewn meadows, one can feel the utter remoteness of this captivating landscape, where the gunmetal-grey Albanian Alps, locally known as Bjeshkët e Nëmuna or Prokletije, tower overhead. Unlike Europe's more famous alpine resorts, this region lacks hotels or ski lifts, adding to the sense of isolation and the feeling of stepping into a hidden world that has eluded the attention of the outside world.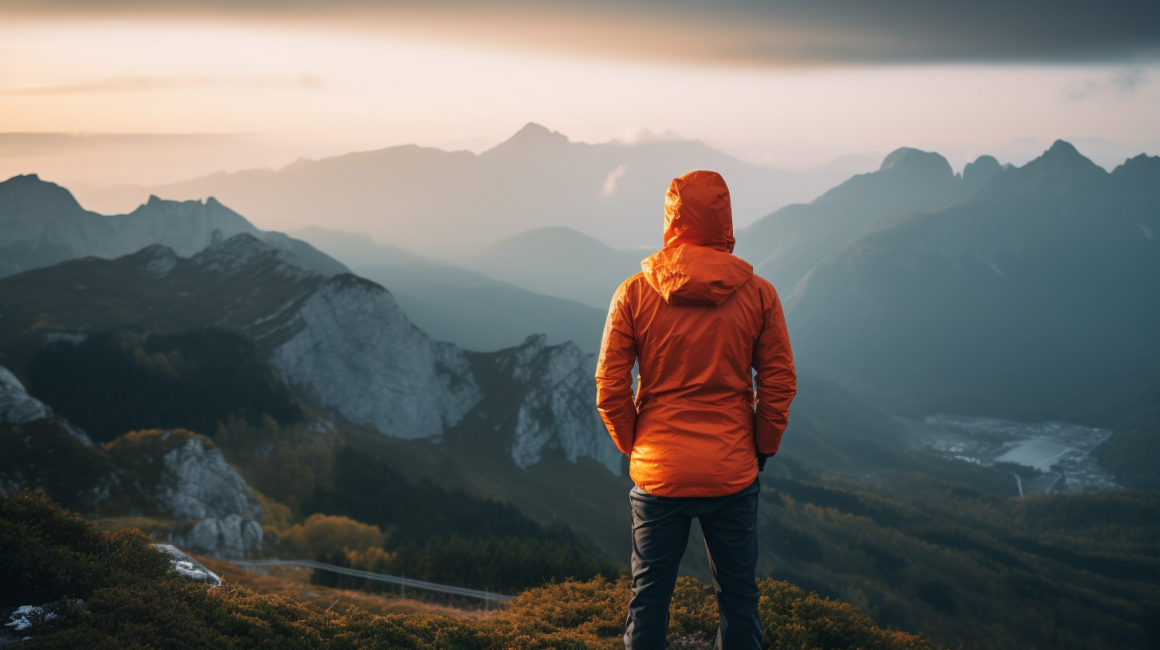 The origin of the name "The Accursed Mountains" remains a mystery, with local legends offering intriguing tales. One story suggests that the devil himself sculpted the jagged glacial karsts in a single day of mischief, while another recounts the curse of a woman who, trekking with her children on a scorching-hot day, couldn't find any water and cursed the mountains in frustration. Some claim that Slavic soldiers struggling to march through the peaks named them as such. In a way, the enigmatic origin story of the mountains mirrors the enigmatic nature of Albania as a whole, a land with a complex and layered history waiting to be discovered.
Embarking on the Peaks of the Balkans adventure allows hikers to explore these stunning landscapes while experiencing the cultural tapestry of the region. The trail not only presents a physical challenge with its rugged terrains but also offers an opportunity for visitors to engage with the local communities and witness their resilience and hospitality. This transnational trail not only showcases the natural beauty of the Balkans but also serves as a symbol of unity and cooperation, connecting nations through a shared love for their extraordinary landscapes and a desire to share them with the world.

Step 1: Settle on the idea for my Peaks of the Balkans trek
In Notion, where I also keep my digitised packing lists, I keep a separate list of different treks, trails, day hikes and destinations I get tipped by others. On the corresponding pages, I keep track of my ideas and planning. Some plannings are already very detailed (e.g. I have pretty much a finished plan for Torres del Paine), some are just blurbs or thoughts. In this list, I had been keeping some ideas on the Peaks of the Balkans for a while now.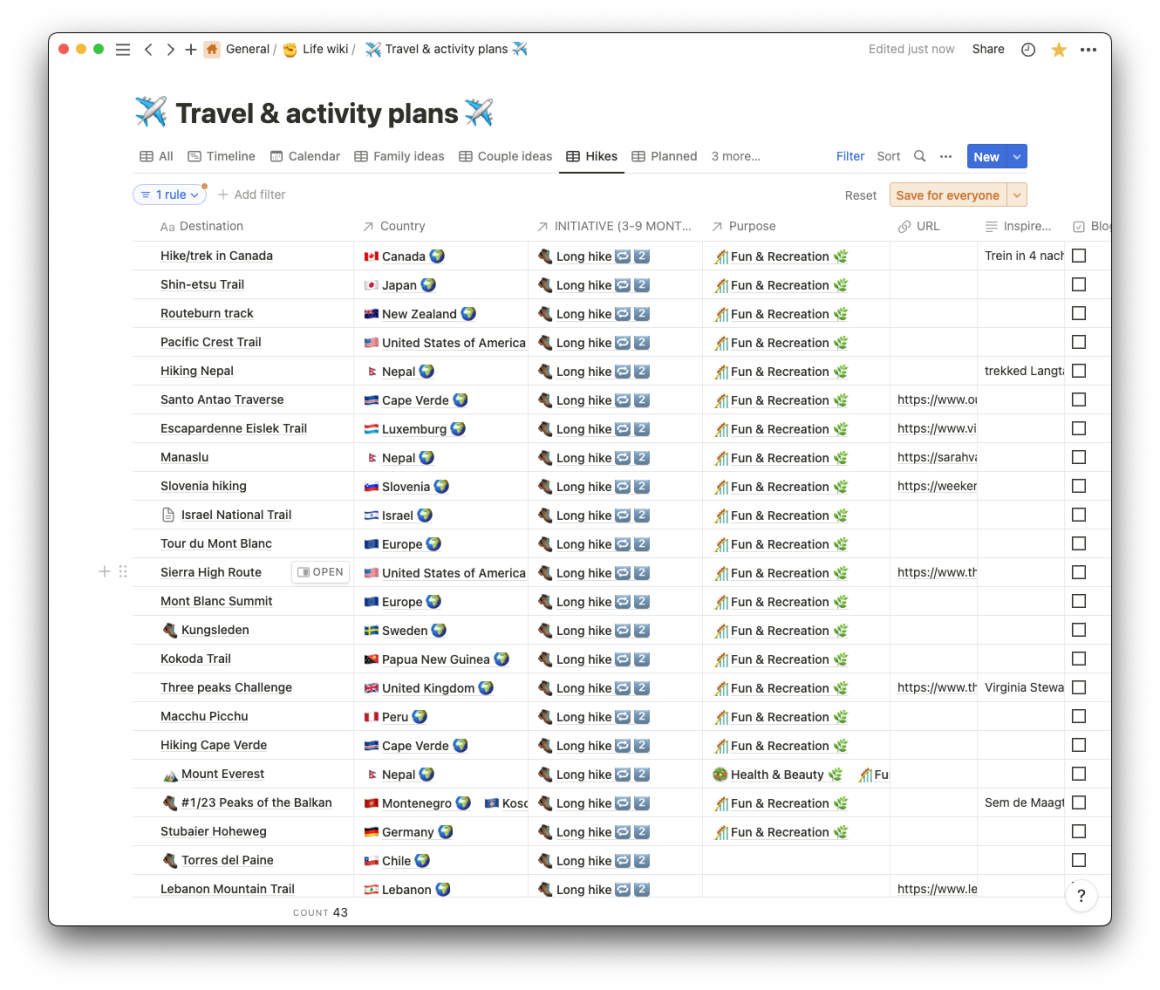 After my solo hike of the Arctic Circle Trail in 2020 and (failed) second attempt to finish the Jordan Trail in 2021, I had eyed doing the Peaks of the Balkans trail in 2022. I settled on it for several reasons – it was relatively closeby compared to Jordan, Greenland and other potential destinations, it is relatively easy to reach, it is not too short and not too long (6-10 days is perfect is it allows me to hike it in between the weeks I have my kids), it has great facilities (some bigger villages to re-stock, some good food on the way, etc.) and it is gaining popularity, which means it probably is one of the few years when it is still possible to hike the trail without it being too crowded by groups. Finally, my younger brother hiked the trail with his girlfriend and was extremely enthusiastic about it.
However, life is what happens to you while you're busy making other plans – I sold a house, bought a house, moved countries, so my plans fell through and in the end, I did not do a proper hike for over a year.
So when I started planning for 2023, it was a logical choice to start planning for the Peaks of the Balkans.
Step 2: Validate my Peaks of the Balkans plans.
Usually, problems start to arise the more detailed the planning gets (e.g. I only realised later that gas canisters in Albania don't have a Lindal valve which forced me to change my food preparation plans).
I already had some notes from my earlier research and the tips my brother gave me, and the very good Cicerone Trekking the Peaks of the Balkans book. I complemented it further with reading up on some blogs. Some key take-aways that were relevant for planning:
It is not allowed to wild camp in the nature reserves in Montenegro; so at least for the Montenegro stretch I needed to rely on inns/accommodations;
You need to have a permit to cross the borders on the trail. This limits flexibility in your day planning (so be sure to make careful planning before you go). It is a slight hassle but for a minor fee, companies like Zbulo can fix this for you. I was truly delighted with their service; they fixed my permits smooth and fast, responded very quickly to my questions. So can definitely recommend them.
To maintain my status with my favorite airline loyalty program, I was a bit limited in my travel options;
Step 3: Settle on a date for my Peaks of the Balkans hike.
As it had been too long since I did a decent hike, I looked for the earliest opportunity in 2023 that would allow me to be away for 10 days and would not conflict with my work too much. I finally settled on late July, early August. Not ideal because of the potential hot temperatures, higher prices (because of high season) and crowds (because of high season), but hey, you have to compromise somewhere.
I eventually settled on travel date July 28 to travel to Albania and travel back from Albania on August 6th.
Step 4: Lock-in my Peaks of the Balkan.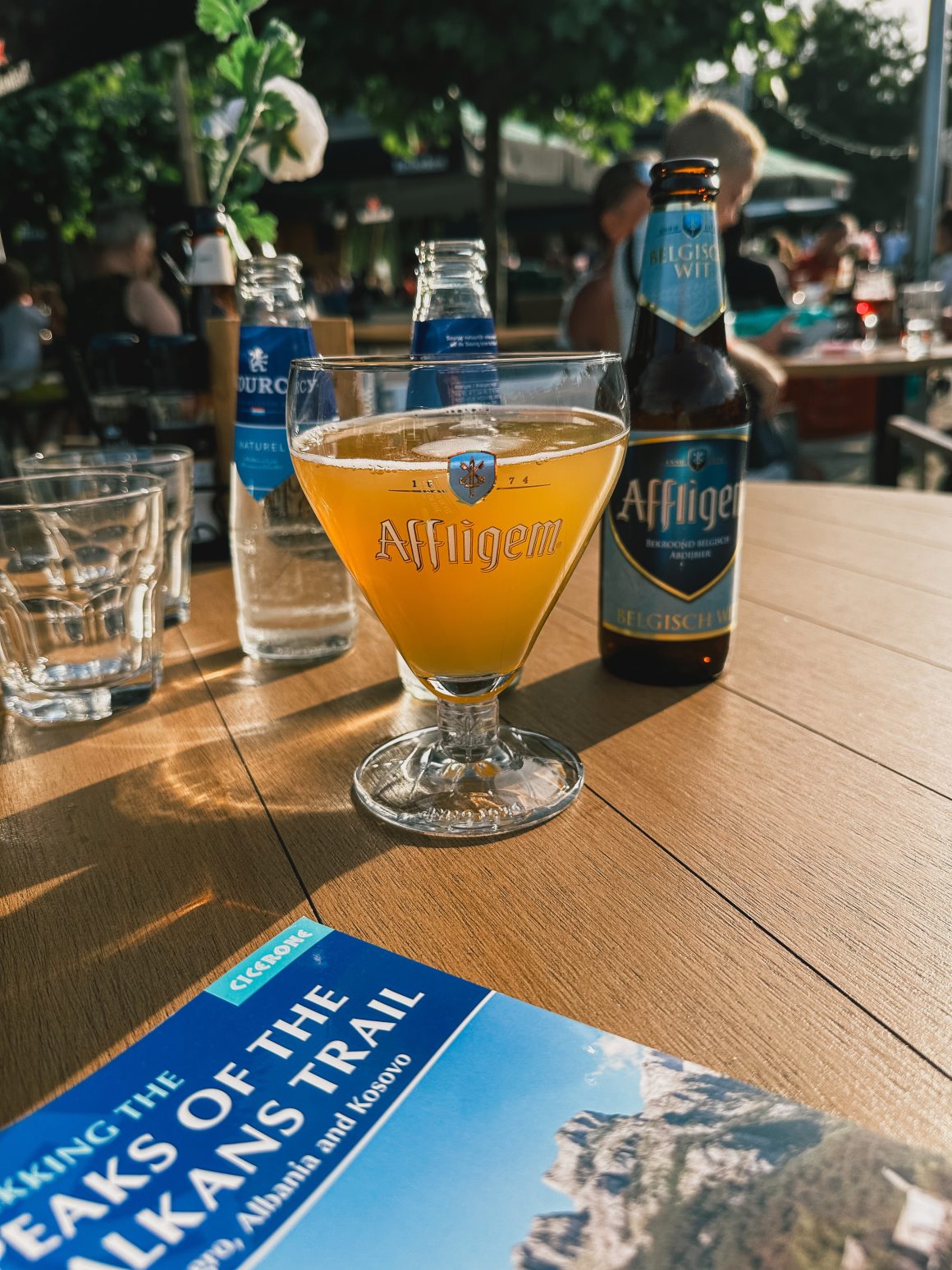 Locking the trip in proved a bit more challenging than I anticipated at first. I initially had booked a trip from Brussels via Amsterdam to Podgorica, but that flight was cancelled. So, eventually I ended up with flights from Brussels via Amsterdam and Rome to Tirana to then take a bus and ferry to Valbona. Suboptimal, but the only way to stick with the loyalty program, my planned dates and the days I needed to hike.
After finishing this, I started roughly planning my days and selecting camping spots and/or accommodations; I ended up combining AirBnB and Booking.com spots and a stay at the Tirana Marriott for my first and last nights. I usually book the same hotel at the start and end of my trek so I can leave part of my luggage there (some tech, some clothing, other redundant stuff). It allows time to change clothing after and before my flight home and not carry more with me than strictly necessary.
Step 5: Create a rough day planning for the Peaks of the Balkans trek.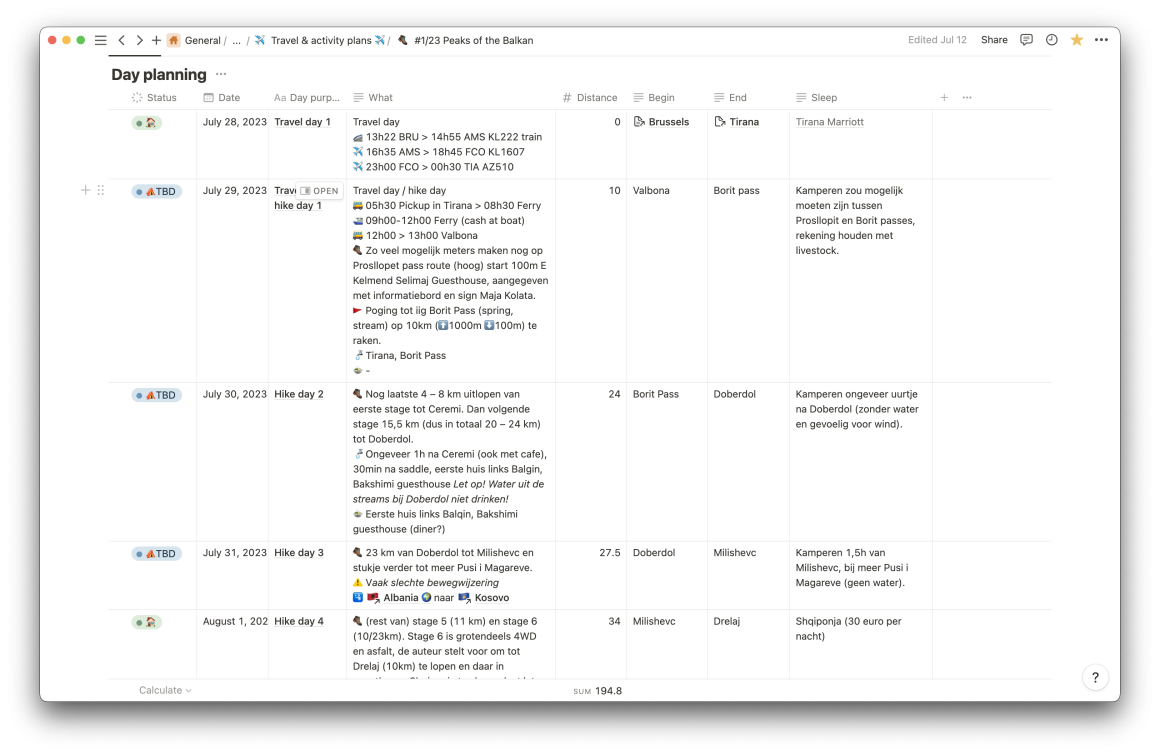 Based on the dates available, the booked flights, I started drafting and refining my day planning. Again, be sure to arrange your cross-border permits beforehand (I did this with Zbulo).
Also see the detailed planning in Notion.
Step 6: Create a packing list for my Peaks of the Balkans trek.
Based on my overall planning, including when I could and could not camp in the wild, I started crafting my packing list.
Budget for our Peaks of the Balkans trek.
I will update my final budget after the hike.