I was born and raised in Tilburg and spent close to 20 years of my life there, before moving to Amsterdam and -later- Gent. So here are the best tips for Tilburg – according to me.
Why you'll love Tilburg
Tilburg itself might not be the most vibrant of towns. Cities like Eindhoven, Breda or Den Bosch or – if you have a bit more travel time – Rotterdam or Maastricht might offer more for your city trip.
Still, it has plenty of things to do and see – .
Apart from that, Tilburg is a great base to explore some great experiences near the city: De Efteling, Beekse Bergen, National Park de Loonse en Drunense Duinen to name a few.
My best omakase experience in Tilburg
The Japanese habit of omakase (お任せ) when you're ordering at a restaurant pretty much means, "I'll leave it up to you", inviting the chef to be innovative and surprising in the selection of dishes. I try to do it in every city I visit, and apply the idea behind to everything between how I pick my runs, how I pick my food, how I plan activities with my kids, how I explore cities and how I travel in general. So, I tried this in Tilburg as well.
A few years ago, there was a French restaurant, owned by a friend of a friend of mine and his French wife on the Heuvel square, next to the Sint Jozefkerk. The kitchen served simple, French dishes. So when I had dinner there and asked the owner to choose for me, he served me his favorite dishes, dishes that were off-menu. Amazingly tasty, France-inspired fish dishes, small bites, specially imported olive oils … it was just amazing.
With every dish, bite, smell you could just feel and taste te passion of the owner and his wife for the products and dishes they were preparing.
Unfortunately, the restaurant had to close, but it was one of my best omakase experiences ever.
The best restaurants in Tilburg – according to me
Auberge du Bonheur is a nice restaurant on the edge of the city, including a nice 7-course surprise menu.
The best hotels in Tilburg – according to me
Auberge du Bonheur is a really nice hotel just outside the Tilburg city. It is situated on the edge of the Warande park, which makes it a quiet and relaxing atmosphere. The restaurant (as mentioned above), is nice as well and often, there will be combination deals with hotel and restaurant at a discount.
The Van der Valk hotels chain built a new hotel just outside of the city near the highway. Although the connection to the city isn't the best (hard to get a bus – best option is a €15,- taxi), the hotel is super nice and the breakfast is great (including my favorite sausage rolls).
The best places for a drink in Tilburg – according to me
Korte Heuvel is the street with a lot of bars – from the mainstream Studio Tilburg to cozy bars full of history like Cafe Weemoed.
De Smederij is nice bar near the train station.
The best things to do in Tilburg – according to me
However, there are still plenty of things to do:
Museum De Pont is a really nice contemporary art museum.
Textile has played an important part in the history of Tilburg, and you can learn all about it at the Textile Museum. The Textile Museum in Tilburg isn't your average museum. It's actually a complete textile factory with an extensive collection of textile design. The Textile Museum shows you how techniques and machinery have developed over the years. You can also see how designers experiment with fabrics in the 'Textile Lab'. Ah, and as my mom works here, you actually have a chance to meet her 🙂
De Zeven Geitjes is a children's paradise (you can combine it with a nice walk in the nearby Warande and Wandelbos parks). You can practise 'laser tag' in the woods outside, bow and arrow shooting on the grounds or play miniature golf. There are various special events for children (e.g. birthday parties) and there's a pancake restaurant that looks like something from the Hansel and Gretel fairy tale.
Annual fair (Tilburgse Kermis). This is the largest fair in the Benelux nations offering between 230 and 250 attractions every year. It's also unique in that the whole city center is closed off to accommodate it creating a fairground 4.5km long. Each year the Tilburg Kermis attracts more than one million visitors which makes it one of the best-attended events in the Netherlands.
On top of this, there are quite some really nice day trips you can make from Tilburg:
De Efteling is arguably one of the best theme parks in The Netherlands, if not Europe (actually, it won several awards throughout the years, including best theme park for kids) – a fantasy-themed amusement park in Kaatsheuvel in the Netherlands. The attractions are based on elements from ancient myths and legends, fairy tales, fables, and folklore. The park was opened on May 31, 1952.
Safaripark Beekse Bergen is the largest wildlife zoo of the Benelux region and provides a home to approximately 1,250 animals from over 150 species, varying from small mammals to large birds.
National Park de Loonse en Drunense Duinen is a 35 square kilometer national park. The dunes in this national park are unique and not to be found anywhere else in North Western Europe.
The best places to work in Tilburg – according to me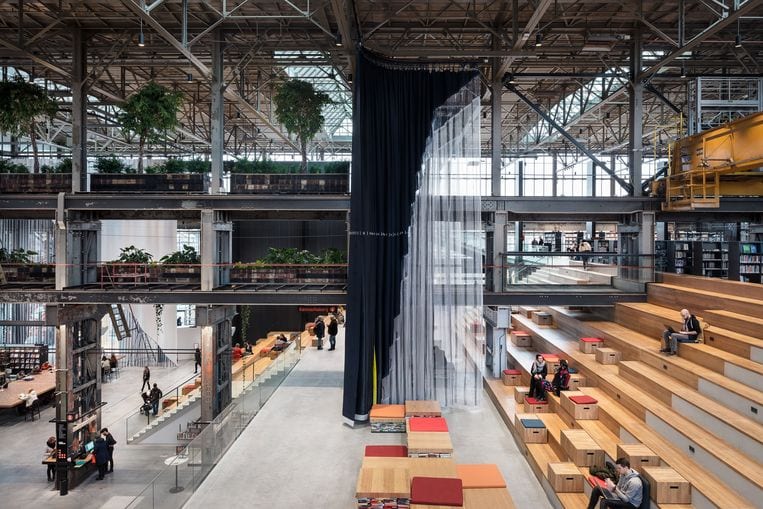 The new LocHal, next to the Tilburg Central railway station is amazing. It houses a library, a book store, a bar and plenty of space to get some work done.
The best places for a run in Tilburg – according to me
I spent hours and hours, kilometer after kilometers in De Warande and Wandelbos parks in Tilburg.