Since my brother Sem moved to Utrecht a few years ago, I spend at least an evening every two months in town for dinner or drinks. Here are the best tips for Utrecht – according to me:
Why you'll love Utrecht.
Utrecht is the lively, beating heart of The Netherlands, built around the Dom tower, which you can see from any point in the city, so there is no way you can get lost in the attractive, car-free city center. Utrecht boasts beautiful canals with extraordinary wharf cellars housing cafés and terraces by the water. As well as the Dom tower, Utrecht boasts hundreds of other monuments that each contribute to the special atmosphere in this centuries-old university town.
The fact that Utrecht is one of the most popular student cities in The Netherlands makes it always is vibrant – there's always something to do whether it is a nice evening out in the bar or a great festival.
My best omakase experience in Utrecht.
The Japanese habit of omakase (お任せ) when you're ordering at a restaurant pretty much means, "I'll leave it up to you", inviting the chef to be innovative and surprising in the selection of dishes. I try to do it in every city I visit, and apply the idea behind to everything between how I pick my runs, how I pick my food, how I plan activities with my kids, how I explore cities and how I travel in general. So, I tried this in Utrecht as well.
The best omakase experience I had in Utrecht was in a restaurant that currently doesn't exist anymore. My wife and I had just heard we were pregnant of our first kid Ella and wanted to celebrate. We had an amazing surprise dinner near one of the bastions surrounding the city.
The best hotels in Utrecht – according to me.
Grand Hotel Karel V is a 14th-century monastery in central Utrecht and once home to medieval knights, priests, and emperors. Now, it's a 121-room hotel with a spa, some great food.
NH Hotel Utrecht used to be a dirty outdated hotel in the middle of Utrecht's city center (although on the non-city-center side of the railroad). In recent years, the hotel has undergone a complete restyling and now is a great hub for your Utrecht stays and Utrecht trips.
There are a lot of new hotels recently in Utrecht. There is a Hampton by Hilton (Hilton) near the Central Station (with a Crown Plaza by IHG opening soon). Hampton by Hilton is … well … a Hampton by Hilton. The location is great, but for the rooms, service and breakfast, it is just basic – but that might be exactly what you need.
With the connections to the Southern parts of Utrecht improving rapidly and if you're on a tight budget (or because of a festival or conference, all hotels are sold out), you could even consider Utrecht Papendorp Holiday Inn. About 5 minute walk + 15 minute bus to the city center.
And then there are plenty of places not too far out of town:

Logement aan de Vecht is a beautiful old building next to the canal between Utrecht and Amsterdam. It is beautifully renovated and is close to some great running routes. Breakfast is truly amazing.
The best restaurants tips in Utrecht – according to me.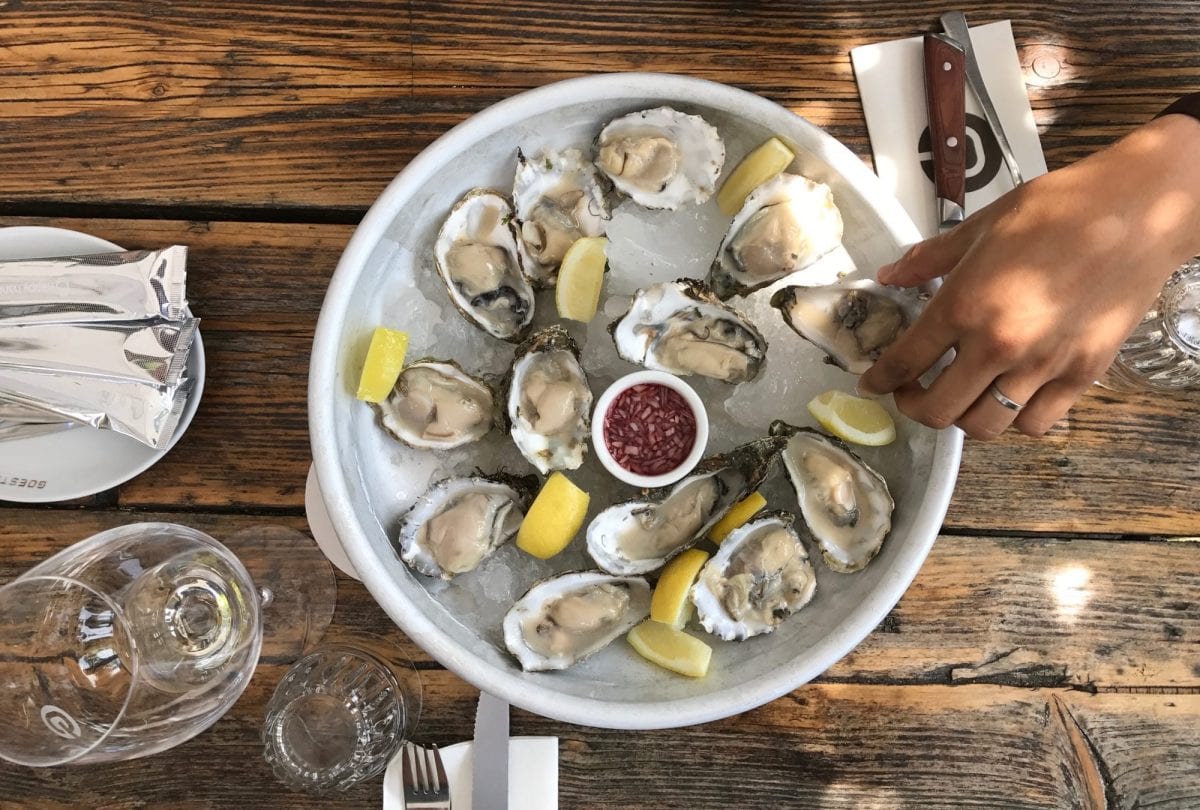 De Rechtbank.
Stadskasteel Oudaen.
Restaurant Goesting has a great terrace and is housed in an amazing building, the former dog's stables of the Veterinarian Faculty of the University of Utrecht.
Piero's is not so much of a restaurant, but an amazing Neapolitan pizzeria – either for a quick bite or for takeaway to eat along the old Utrecht city fortifications. 
Goeie Louisa (the restaurant of the Karel V hotel).
De keuken van Gastmaal (Biltstraat).
Vis en Meer (Drieharingenstraat).
Pronto Pronto (Neude).
Amberes (Burgemeester Reigerstraat).
De Goedheyd (Hamburgerstraat).
Japanese Don Dining KOUNOSUKE has some really good Japanese food (including sushi). When I visited with my brother some time ago and tried to order 'omakase', they had no clue whatsoever what I was tryin to say. This is in no way related to the food and the staff (the majority is Japanese), but clearly my pronounciation. 
De Klub (and its neighbour the Brewpub) are really nice, tasty places to spend your evening.
For breakfast and lunch:
De Bakkerswinkel (Wittenvrouwenstraat)
Vlaamsch Broodhuys (Nachtegaalstraat)
Sector 3 (Twijnstraat)
De Rechtbank (Nieuwstraat)
The best bars in Utrecht – according to me.
Wijnbar Lefebvre has great wines and maybe the best plate of bites (charcuterie, cheeses) I ever had.
Ledif Erf is a large square between the Oudegracht and the Singel, it is surrounded by water and known for its sunny terraces.
Kafe Belgie is the Belgian beer place in Utrecht.
Olivier is a beer cafe near Central Station with a lot of different beers.
Ruben's Proeflokaal is an amazing wine bar.
The bar of Hotel Dom (Domstraat) has good wines and cocktails.
Brewpub De Kromme Haring is not really in the city center, but has a range of great beers.
Vandestreek has arguably the best low alcohol beer in the world and also has a bar in Utrecht.
Especially in summer, Utrecht is a great city to spend time on a terrace of one of the many bars and/or restaurants:
Goeie Louisa (Hotel Karel V, entrance via Springweg)
Het Ledig Erf square
Het Wed square (De Vingerhoed and Orloff)
Winkel van Sinkel (Oudegracht), but be sure to sit near the water.
De Zaak (Korte Minrebroederstraat)
The best coffee in Utrecht – according to me.
30ml coffee near Central Station is a centrally located roastery/coffee bar.
Blackbird Coffee & Vintage is a very nice place for a stop along the beautiful Utrecht canals.
The Village Coffee (Voorstraat) is a great place for coffee.
The best things to do in Utrecht – according to me.
The fact that Utrecht is one of the most popular student cities in The Netherlands makes it always is vibrant – there's always something to do whether it is a nice evening out in the bar or a great festival. It is a very versatile city – so here are the best tips for Utrecht to spend your days – according to me:
Stroll through the canals area and Dom Tower.
Nijntje Museum (Miffy Museum). There is even a Miffy traffic light at the Lange Vliestraat.
Not too far outside of Utrecht there are some really nice green areas. One of our favorite places to visit in the weekend is Teahouse Rhijnauwen, where there's a nice pancake place.
Utrecht Central Station is the busiest train station in The Netherlands – just spend some time watching all the people pass by.
Not for me (I'm not so much of a shopper), but Utrecht is a great shopping city.
The best places for a run in Utrecht – according to me.
Utrecht perhaps is one of my favorite cities in The Netherlands to go for a run. Whether it is a nice run in the city center or a run in the green areas surrounding the city – Utrecht is breathtaking. So here are the best tips for Utrecht to go out on a run:
Run around the city center. Following the Stadsbuitengracht (former ditch protecting the city from attackers), will take you along some nice green areas right in the city center. A full round is about 7-8 kilometers.
Run eastwards along the river (thanks Chung for the tip). Starting from the central Ledig Erf square, you'll quickly run into the green fields along the Kromme Rijn river. The river runs for distances that even will make ultrarunners blush, so just turn around at one of the crossings to finish a loop. Don't want to run the same route again? Consider a small detour near the Fort Rijnauwen.
Kanaleneiland. In the southern part of the city is the area called 'Kanaleneiland'. It's a small 'island' near the large canal from Utrecht to Amsterdam. Running around the island is about 9 kilometers and will take you along the water and different quiet green areas. As it was close to my brother's