I guess there was only one fitting way for this solo hike attempt to end: in the hospital. And so it did. On Monday, November 15th, somewhere in the afternoon, it was a lightly sun-burned Dutchie, smelling of 4 days of not showering in the Jordanian desert, limping his way into the Islamic Hospital in Aqaba. Another testament to the fact that the trail is welcoming, warm, and beautiful, but also merciless for people who don't respect its rules or just get plain cocky. This is what happened.
Leading up to the hike
I can't say I was really prepared for the trail. Yes, I did *some* preparation. Yes, I spent some time planning the trip, optimising my gear. But an insane work schedule and some circumstances in my personal life made I had not been training the way I should.
It did help I could build upon the proper preparations I had made for my solo hike in 2018. I had to optimise my packing list rather than building it from scratch. I had to update my Arabic words to use. I adjusted my day planning and my water planning. I double-checked what to do in case of a snake bite and how to prevent it, but also was now aware that generally speaking, snakes (and those pesky scorpions) are having their winter sleep in november. I made a food plan, but it was sort of more of the things from the LYO food website that seemed most appetizing. I read through the collected tips from other hikers and reached out to some of them for updated tips and advice.
I guess I had adopted a more laid back, omakase approach to this attempt. I had told myself to take this attempt one section at the time. Focus on getting to Petra first, before even thinking about the next stage towards Wadi Rum, let alone Aqaba. Same for the days, my daily routine was rather simple – get as much kilometers in in the morning and see what the afternoon would bring. It worked very well for me this hike … until it didn't. This is the story of my 7 days alone on the Jordan Trail that ended in the hospital in Aqaba.
Section one: the familiar road from Dana to Petra
The driver drops me off in the small city of Dana around 10h30 in the morning. I had dropped of my swimming trunks and other clothes in Aqaba at the Al Manara, Saraya Aqaba, so I would have something to look forward to, something to walk towards to. The next few days would be a familiar sight. It is exactly the same route I did in 2018. Or is it?
It does not take long to see that I have grown older, but the trail matured as well. In the first 8 kilometers, I encounter 3 large groups of 10+ hikers and a local Bedouin who speaks fluent English (quite uncommon). But the increased popularity of the trail is most obvious when I arrive in the small settlement of Feynan. As soon as the local kids spot me, they gather their displays, rocks, and homemade bracelets to make some money out of this unsuspecting hiker. The increased popularity made them adapt their behavior and make the most out of the situation.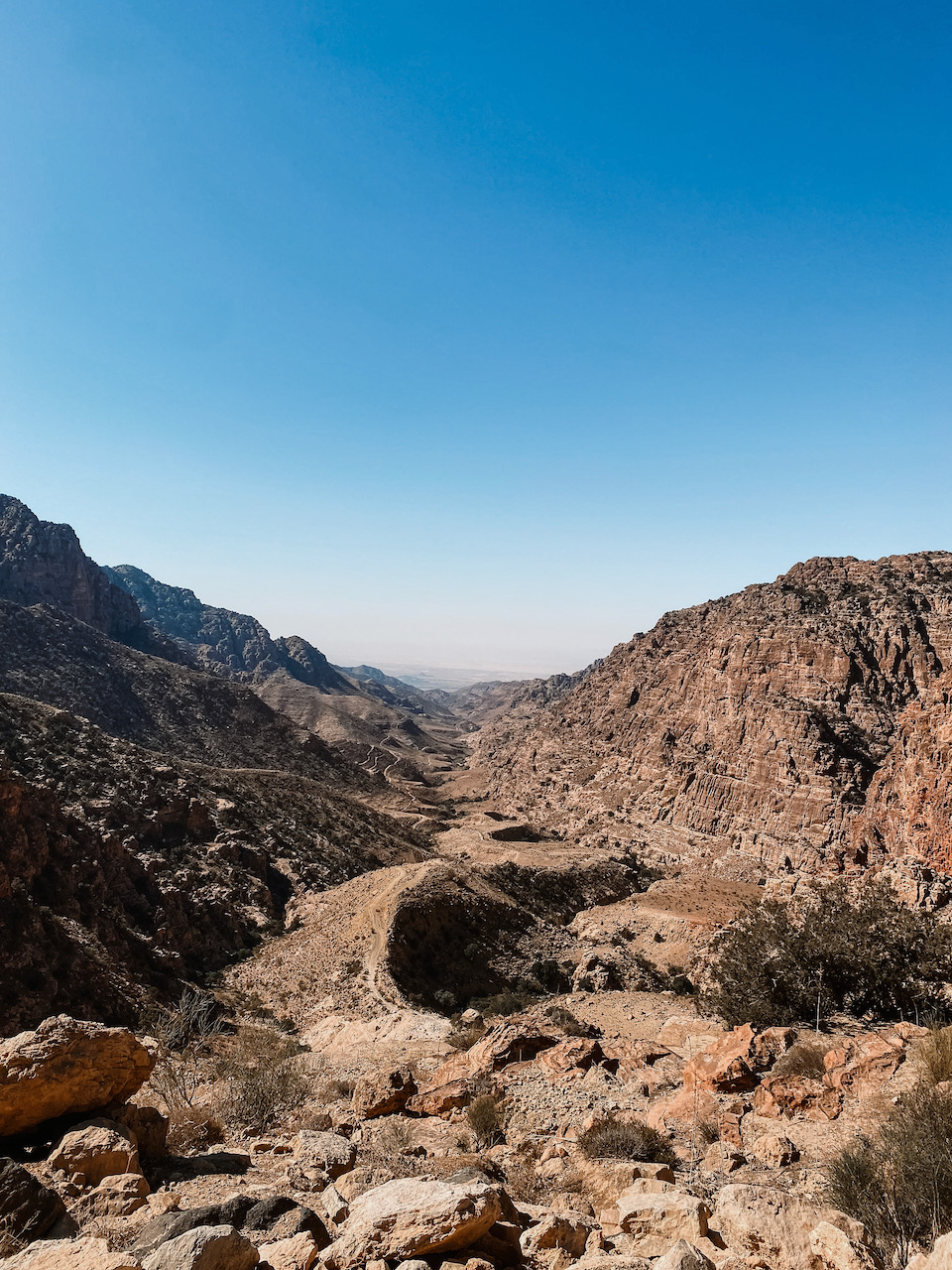 Some things clearly did *not* change. It is exactly at the moment when I think everything's fine, that I have a perfect pace and actually send that via Whatsapp to my friends and family at home, that I realise I took a wrong path about a kilometer back and that I have to get my way back on the trail. The trail is clearly unforgiving for people who get too self-secure. I'll get back to that later.
Meeting Joel
The moment I merge back on the Jordan Trail, I spot another solo hiker who is keeping a similar pace. It turns out to be Joel, a 28-year-old Swiss ski-teacher, avid hiker and climber, who couldn't do the Pacific Crest Trail because of COVID and settled on the Jordan Trail instead. We click, step in sync (to be completely honest, I'm kinda tired and happy I can be in his slipstream for a few kilometers), and decide to push for a wild camp some kilometers further down the road, clocking a respectable 27 kilometers for the first day.
It is how it works on the trail. And it is why I love solo travel and hiking alone. It is great to be alone and be on your own, but there are moments it is great to briefly join paths, spend time together and then each go your own ways.
Maybe best illustrated the next morning: I usually skip breakfast and eat something while hiking the first kilometers, Joel takes a bit more time and we decide to each head our own ways and that we'd probably meet up after crossing that morning's pass at the water stream in the next Wadi Feyd (Feyd dry river bed valley), where we both plan to take a longer break and refill our water supplies.
Fool me once, shame on you; fool me twice, shame on me
It was day two on the trail and it was a special day.
I would pass the point where my friend Richard was evacuated from the trail by the local military in 2018 when he got dehydrated. It had been a few weeks before my first trail attempt, and it was the first moment it really, truly sank in that the Jordan Trail is not a trail to underestimate.
I would also pass the point where I made a key navigation error in 2018 which made me camp on the slopes of a canyon. I got in such trouble (running out of water, stuck on the slope) that I had to climb out of that canyon the next morning – I think the closest thing ever to me having to push the SOS button on my Garmin InReach to get evacuated out of a situation.
With all that being said, I felt good that morning. I had recovered well from the first day, loved the weather, and was in a good place. And I knew what was coming that day, first a tough climb up Jabal Feid (Feid mountain) over the Ras Naqb Shdeid saddle and then a steep descent into Wadi Feyd, where we'd find our first spring/water of the trail, a good moment to fill up my water bags and take a longer break. Joel and I would meet up and proceed together for the rest of the morning. And that is exactly what happened.
And I was happy we did. Because -and it is really hard to explain- but …
Even though I did this section of the trail before.
Even though we were warned.
Even though we both had our GPS in our hands.
Even though we are experienced hikers.
There were multiple instances where we either took the wrong trail or needed at least a few minutes to figure out where to go.
There were moments we would just both stare at multiple different routes of goat droppings, clueless which one to follow. Or moments that there was just a very clear, convenient path or wadi carved out in front of us, just realising that was exactly *not* the route we should take.
It was even that bad that I actually took the path that led to me getting stuck in the canyon last time, realised it after 50 meters and needed to turn back and correct to the right trail again. Fool me once, shame on you; fool me twice, shame on me. It just shows how challenging and unforgiving the Jordan Trail can be.
Eventually, we found our way and were able to enjoy all the beautiful views the trail brings.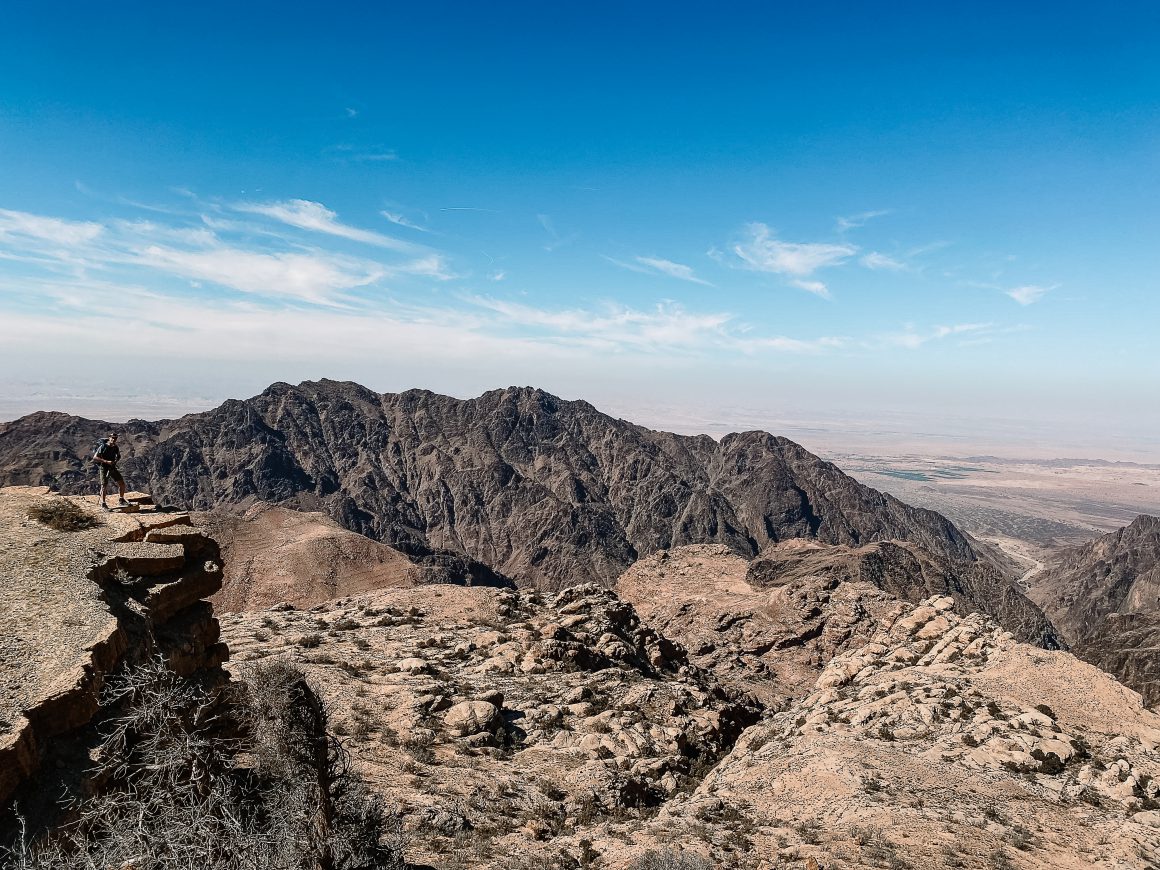 Around lunchtime, Joel decided to take a longer break and cook some food, while I preferred going on. We agreed to push for the Al Farsha wild camp, the camp closest to Little Petra, so we could have an easy day tomorrow – we would only have to walk a few kilometers to Little Petra to then do our final victory lap through Petra, a total of about 18km.
It gave me the chance to wander off trail a bit and see if I could surprise my old friend Faris. We had met three years ago when I had climbed out of the canyon and was looking for water and a cup of tea to catch a breath. We had stayed in contact ever since. But unfortunately his camp was deserted and he turned out to be in the capital Amman. The ongoing draught and COVID had forced many Bedouin and others to reconsider their place to live and he had moved away from the arid areas for now. We agreed to meet in Amman when I arrived there.
When eventually arriving at the Al Farsha wild camp at the end of the day, I instantly realised I need an alternative. The wind is picking up and the campsite is out in the open, making my bare basics tent wave like a flag in the wind. I remember the canyon leading up towards Little Petra, just a few kilometers from there, and decide to try my luck and find a place where I can camp for the night. Quite close to the entry of the canyon, I find an overhanging rock that has been clearly used before by local shepherds to shelter from the rain, as rocks are stacked to close gaps in the rock wall.
A true feast of penne bolognese and freeze-dried apple crumble closes off a 33km day on the trail.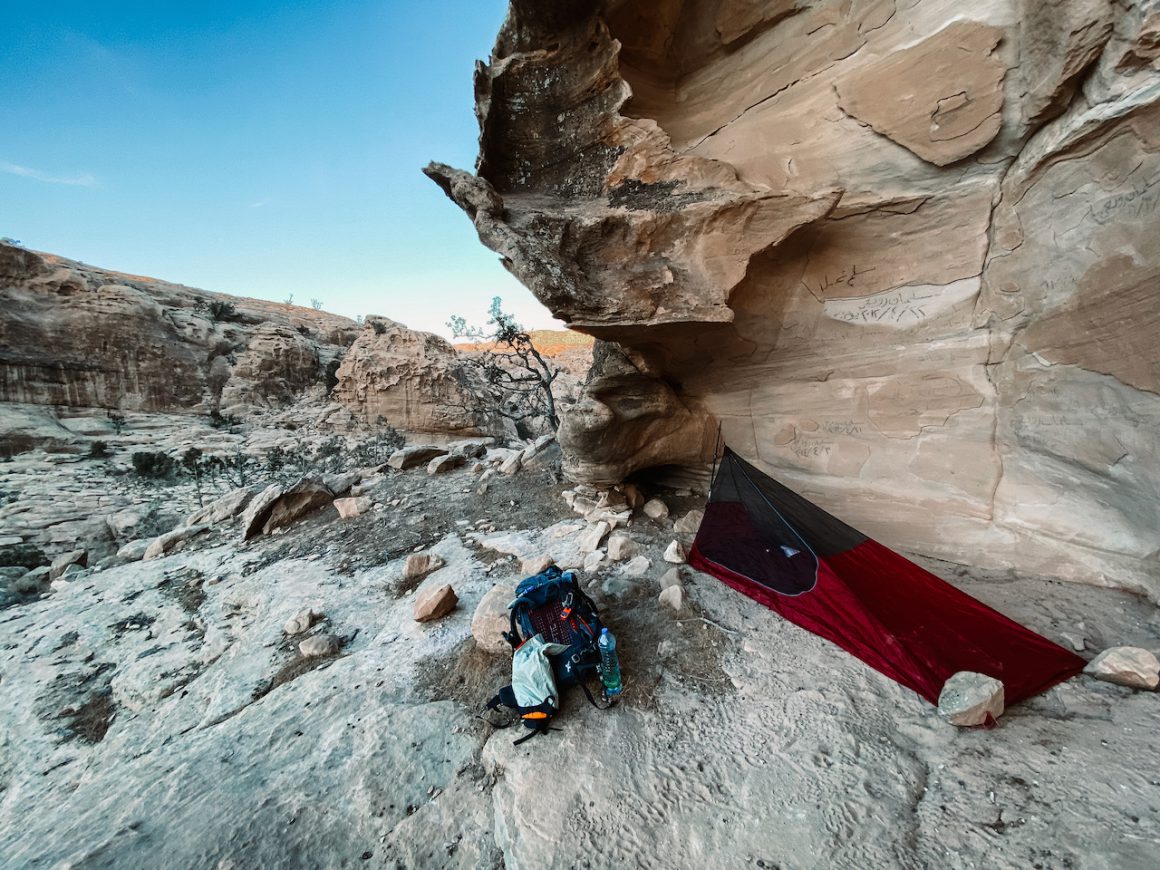 A victory lap … too soon
I woke up revived, packed quickly and set foot to Little Petra. Entering Little Petra from the North on the Jordan Trail is one of my favorite experiences. "Hidden" behind a large tree in the middle of a wadi is a steep trail up a canyon. As soon as you're on the top, you stand in the middle of a shop in Little Petra – a surreal experience coming out of several days of wadi's, desert and mountainous areas.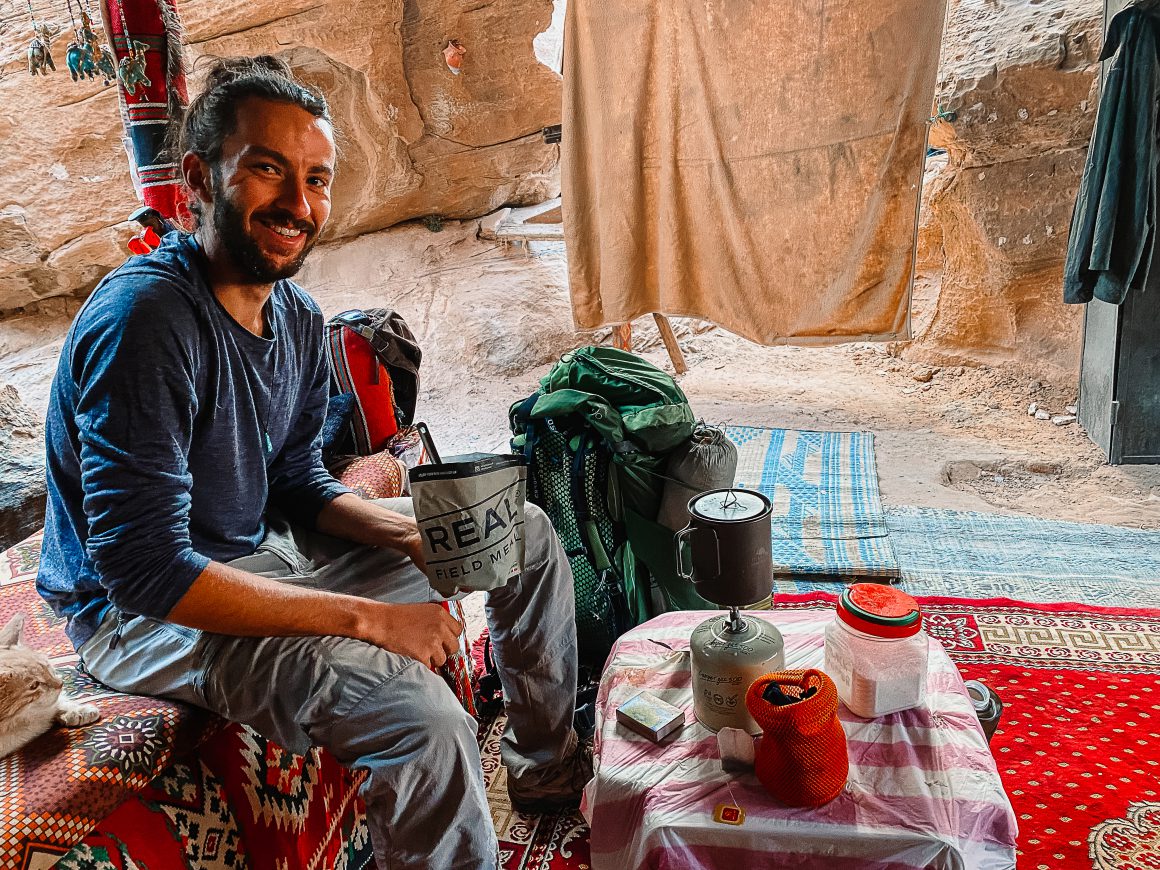 And, to make it even more surreal, my new friend Joel was sitting there, in the middle of the store, boiling water. "Would you like some tea", he asked me, pretty much pretending nothing was going on and this was the most natural thing in the world bumping into each other here. We had a tea, shared experiences from our last day (he did actually pass my shelter under the overhanging rock in the dark and completely missed me), and agree to keep a decent pace to finish the day around lunchtime – giving us ample time to rest. As I've seen Petra before, I have no need to see it again in detail and Joel decided to take the next day to explore Petra in more detail.
So we set out, and as it is still early in the morning, we're passing a pretty quiet and deserted Little Petra – the prelude to our glorious victory lap. We almost can imagine ourselves as the heroes entering the mighty city of Petra. We can almost smell the mixed grills, Coca Cola and other amazing things we have missed for the last 3 days. And then … there's the trail that finds ways to get you with your feet on the ground again.
When we walk out of Little Petra, we get stopped by two young guys. They tell us we need a "zero ticket" to walk from Little Petra to Petra. We were warned about this multiple times (sorry Lukas we didn't listen to you). But as much as we were warned, as many people had told us (including locals from the area) that we were totally fine walking from Little Petra to Petra and entering through Petra's Northern entrance as long as we had a Jordan Pass. The two young locals made very, extremely, extensively clear that this was not the case.
I won't and can't get into any detail on how we eventually got in, but let's say it took our combined 67 years of travel experience, a few grey hairs, and a bit of bending the truth.
The *only* way to get into Petra from the North side (not the large entrance in Petra, but the alternative entrance) is by going to the main entrance in Petra first, validate your Jordan Pass there and get a 'zero ticket' or buy a ticket at the main entrance first.
When we finally got in, we enjoy every second out of our "victory lap" through Petra and top it off with a mixed grill in Wadi Musa and even a Coca Cola, a rare feast on the trail. We both go our own ways after. Joel decided to skip the next section (because of the water challenges), spend some time in Petra and start from Rum Village (the last section of the trail) to finish at the Red Sea. I head to my hotel in Petra to stack some calories (I'll eventually eat two mixed grills, a pasta bolognese, a caesar salad and drink 6 cokes that day) and plan for the days ahead. Most notably, plan for water.
Section two: operation 'Water' between Petra and Wadi Rum
A few words on water
It is a good moment to briefly touch upon the subject of 'water' on the Jordan Trail. It is the single most important, difficult, and complex thing on the trail. Navigation isn't easy either. Or the heat. But water, getting water is most definitely the single most important and complex thing.
There is only one completely reliable source of water, the limited amount of stores you will find in the bigger villages along the trail (Dana, Petra/Wadi Musa, Shakriya, Rum Village).
Then there are somewhat reliable sources of water, the springs/wells/streams along the trail and the locals. The water sources vary with the season (if it has not rained in a while, they can be dry) and some are murkier than others (some look very clear/pure, others might from time to time look green with dead insects in them). It is difficult to fully rely on in your planning, best is to consult with locals or other hikers you come across to hear the state of the water source in that specific moment of time.
Locals offer a good source of water, but also not one you can depend on. Not in the sense that locals are not willing to help or that they don't have water, but they need it for themselves, so relying on them for water is a very false sense of entitlement as a hiker. The other way around, it might very well be the case that local Bedouins will offer you water and/or are willing to share if you ask them nicely. But again, don't build your water planning based on encounters with locals.
And finally, there are (paid) water drops, where you contact local representatives to hide/bury stacks of water for you on the trail, which you can pick up later. These are not cheap (2021 rates I heard were 50JOD per water drop, approximately 60+ euros), but are -depending on your planning- sometimes the only option to get it through specific sections.
To illustrate how this changes your relationship with water, I at some moment found Joel ranting about how the package of his dried meals had misrepresented the amount of water he needed. It had shown he needed 450ml but also said the water had to fill the bag up to a marking inside the bag, which turned out to be 350ml. That meant he had boiled 100ml water in vain! For nothing! We were obviously joking about it, but 100ml water is a lot in the desert. I would personally make sure to use every single drop and re-use leftover water to clean my spoon, my toothbrush, or something else.
Having said that, it makes more sense to go to the next section, the water-scarce section between Petra and Wadi Rum.
Several basics I decided to apply:
Start with enough water. I eventually settled on starting with 10 liters of water (3l in my Camelbak, 0,75l in a bottle, the rest in plastic bottles from the store). A total of 10 extra kilos, but better safe than sorry.
Drink enough water. I would not compromise on drinking water and would mainly monitor my urine (is it transparent rather than dark yellow) to see if I was drinking enough.
Take every opportunity to refill. I would use every opportunity to refill along the road. I made a promise with myself to filter/purify at least 0,75l of water if I would get to a well/spring and drink it, and fill up the rest of my reserves. Whether it was by directly filtering it (e.g. for my Camelbak) or by keeping a reserve of unpurified water to cook or maybe filter later.
Push for long days of hiking. To make this strategy feasible I decided to push for long hiking days to get through this water-scarce area in a reasonable amount of time. For me, it meant 30+ km days, with some days.
With that as a basic plan, I set out to Wadi Rum.
Grasping the magnitude of Petra
The trail to Wadi Rum lets you repeat part of the trail through Petra. The day before, we did the full trail from Little Petra, via the Northern entrance to the Petra main entrance and Wadi Musa. Somewhere, at a seemingly random place in the ancient city of Petra, you are to follow a faint path up, away from the crowds. It takes you along other caves, not part of the main route, and only makes you realise how massive the ancient Petra site actually is. There is no one entrance to Petra (or two, counting the Northern entrance), it is a truly organic, living city, we are merely grasping by exploring the site as it is accessible right now.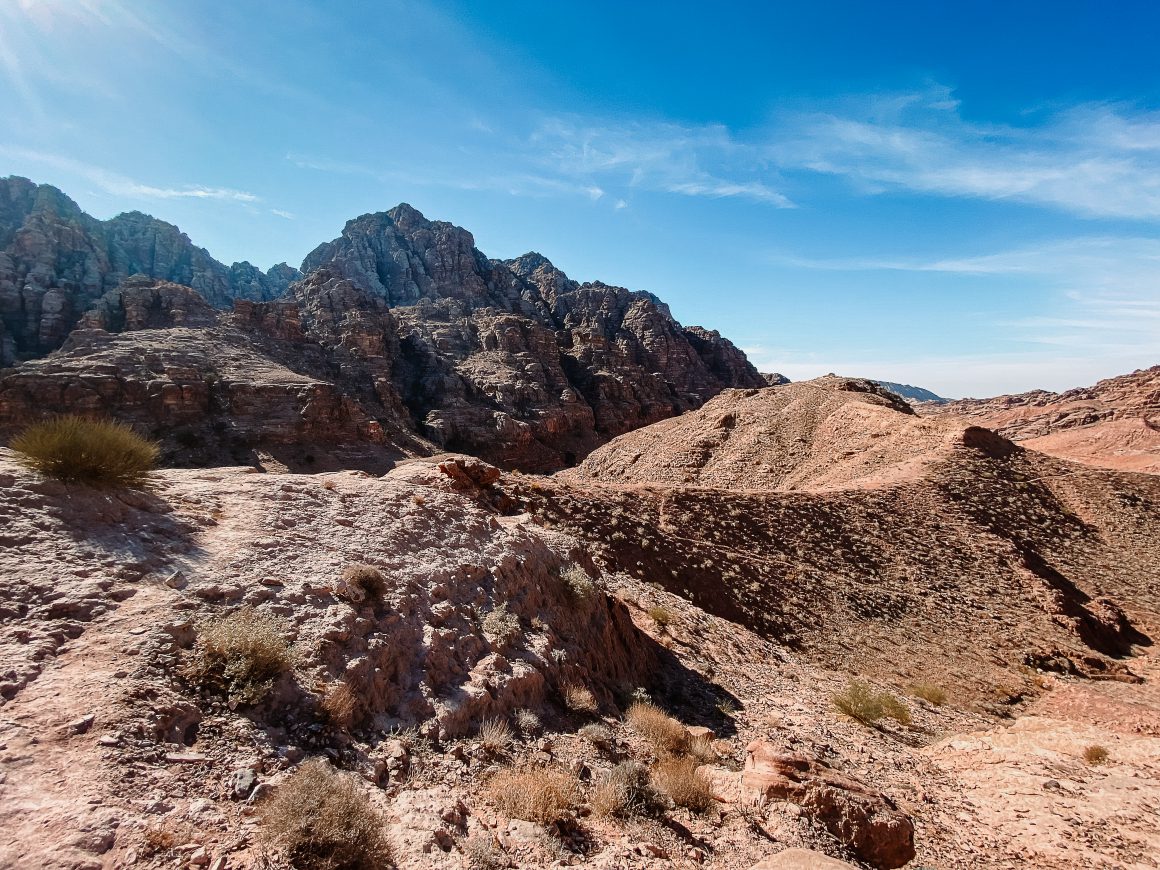 The trail angel of Wadi Sabra
The trail quickly brings you into more remote areas, away from the crowds and tourists, away from the pushy locals into the wilder mountains and the wadi that will color the next days. A breath of fresh air. Petra is amazing, but remote trails are truly my happy place.
As said before, I planned for refilling my water at every given opportunity. And that first opportunity was at Wadi Sabra, a canyon about 17 kilometers from Petra. And I already started to have second thoughts about my strategy. The green, murky, unappealing stream that was in front of me had to supply me with water until 15 kilometers further down the trail or the next day at Wadi Gseib, another 12 kilometers.
Just when I had filled my first bottle with water and when I was about to use my Steripen to try and if it could do magic on this unappealing liquid, there she was. Out of thin air. I did not hear or see her coming. A young woman with her donkey. She was gesturing no to the water and making the local sign for drinking (in contrast to Westerners who make the gesture as if they are drinking a glass of water, the gesture involves making a fist with your thumb down and your thumb towards your mouth as if you are squeezing a fruit – another moment that made me realise how awesome different cultures are – a way more logical gesture than the glass gesture). She pointed to her donkey and to the murky stream, indicating that the water would be fine for her donkey, but not for me. She took the bag that was on top of her donkey and offered me 'moi' (water) – she refilled my bottle and Camel Bak, smiled and away she want. As quick as she was there, as quick she had went. She refused to accept any gift or money or any thanks. The trail angel of Wadi Sabra.
Teaming up for a new local boyband in Wadi Al-Saif
Later that day I am close to arriving at the Wadi Al-Saif campground after a tough 36km day, when I hear someone yelling 'Chai! Chai!' behind me. Turns out it is Basil, who is camping out with his friends Attaf and Yunes behind a small hill in the wadi. I walked past without seeing them and as huffing and puffing milk-bottle-white foreigner kinda stands out in the Jordan desert, I was spotted instantly. Chai tea turns into dinner turns into an invitation to sleep at their camp turns into two of their friends joining in later to sing and dance together. I guess it's the Jordan desert equivalent of a bar crawl that escalates too quickly.
We use Google Translate to share stories (every time we want to translate we need to run up the hill to have cellphone connection, translate and run back to the camp to show the translated message), cook together, share mansaf for dinner, the guys smoke water pipe, we sing (or at least, I try to mimic what the guys are doing), they dance, I make moves that mainly resemble a bag of sticks trying to move. We have a blast.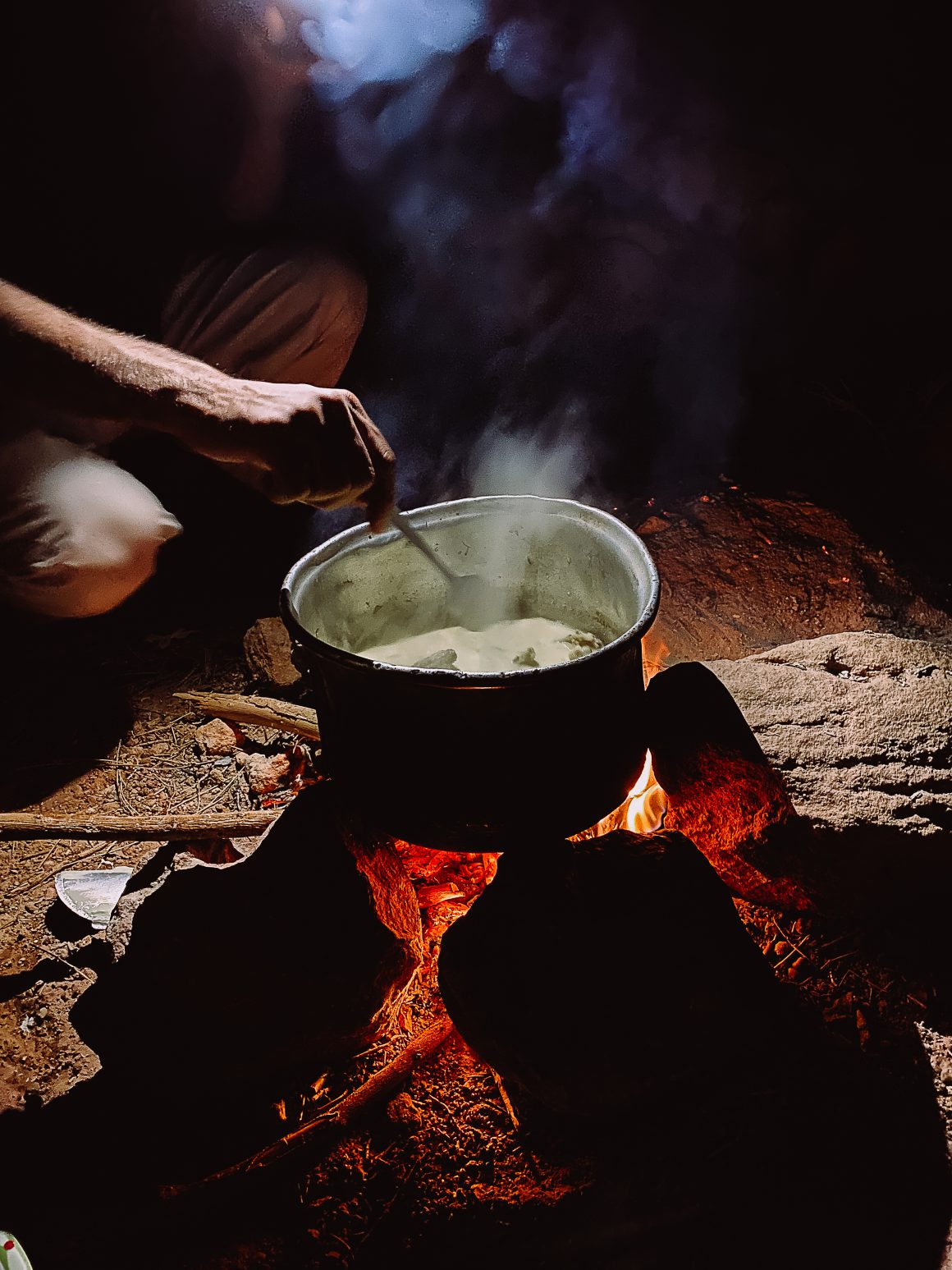 Rain. Rain?! Rain!
Early next morning I am woken up by the sun and try to break camp as quiet as possible. Although I try very hard not to wake up my new friends, Basil and -later- Yunes are woken up. We say goodby, and each go our own way.
It is my fifth day on the trail and I have settled into my new routine. No breakfast, eat while walking, get as many miles in as possible in the morning and see what the afternoon brings. I had decided to combine two sections (703 and 704) and hike from Wadi Al-Saif to Wadi Gseib and on to Wadi Aheimar. It pretty much meant I would be walking through wadi, wild mountains and gorges all day. But it would also mean that I would make it through the section between Wadi Gseib and Wadi Aheimar, considered by many to be one of the most beautiful, versatile and spectacular sections of the trail.
And the section certainly did not disappoint. Amazing wadi, gorges and sights.
I felt good and the sun was hiding behind clouds, making it a very comfortable temperature to hike, so I decided to see if I could do a few kilometers from the next section (705) towards Humeima. The clouds were a bit surprising. The weather forecast on my InReach even gave a whopping 10% chance of rain. That would be something … rain in the desert.
But as I was well on my way, it indeed started to rain. Rain in this time of year could potentially worst case lead to flash floods. And that's something avoid – better safe than sorry. As the first part of the section is mainly through wadi, I felt the need to push towards the wild camp spot around kilometer 11 at Ain Aheimar, to make sure I was safe on higher ground (to avoid any chance of flash flood issues). Stressed by time (because of falling darkness), I really had to push to make it in time, clocking a total of 38km that day and arriving when it was already getting dark.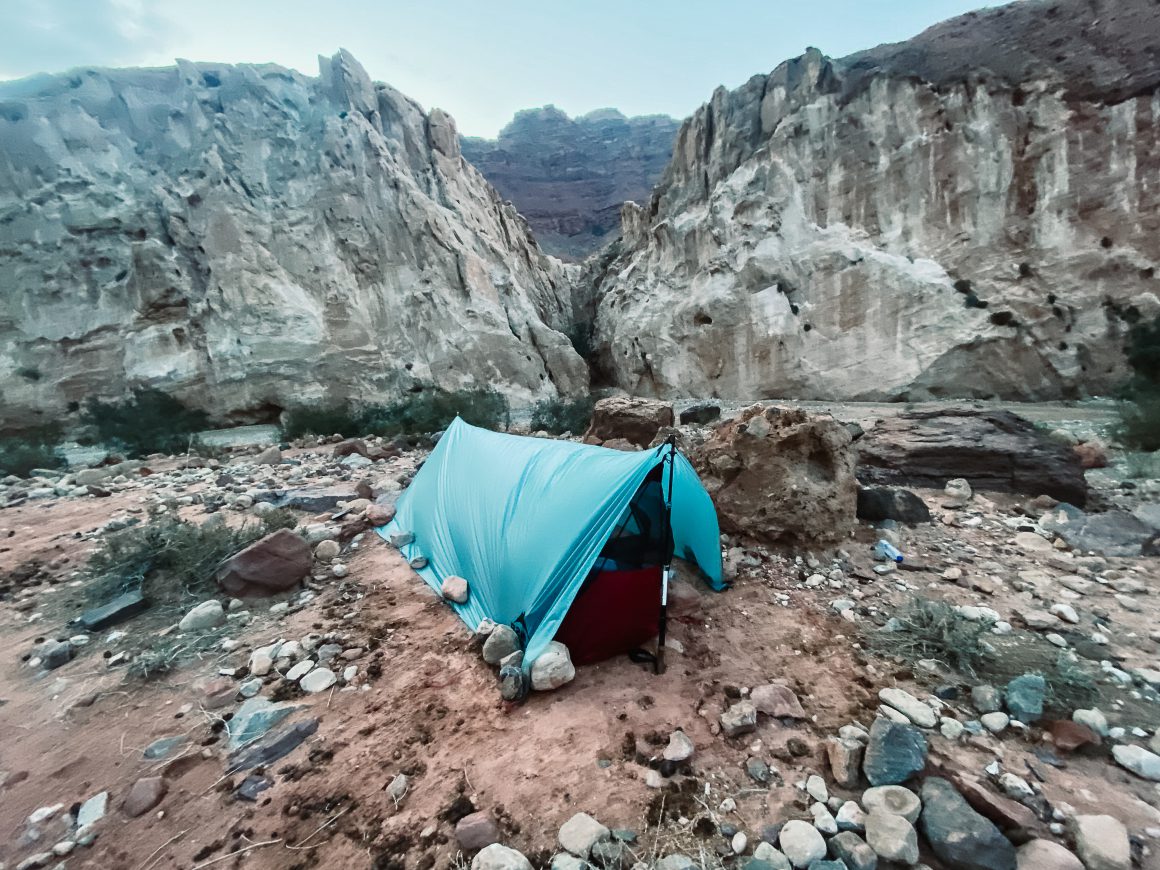 It is a horrible night on the trail. Yes, my tent is on higher grounds, free from any potential flash flood danger. But also, my tent is wide in the open on higher grounds and the wind is in the mood to play. As the underground is rocks, I can only secure my tent with smaller rocks and pray for the best. My tent holds, my tarp holds, but I get hardly any sleep.
And as bad the night might have been, the trail has always ways to cheer you up (pretty much like how happy you are, the trail has always ways to bring you down – more on that later). Because my wild camp was also home of the Ain Aheimar, a water source that could just as well have been part of a One Thousand and One Nights folk tale. In a corner of the open space, behind a large fig tree is an entrance to a well with fresh water.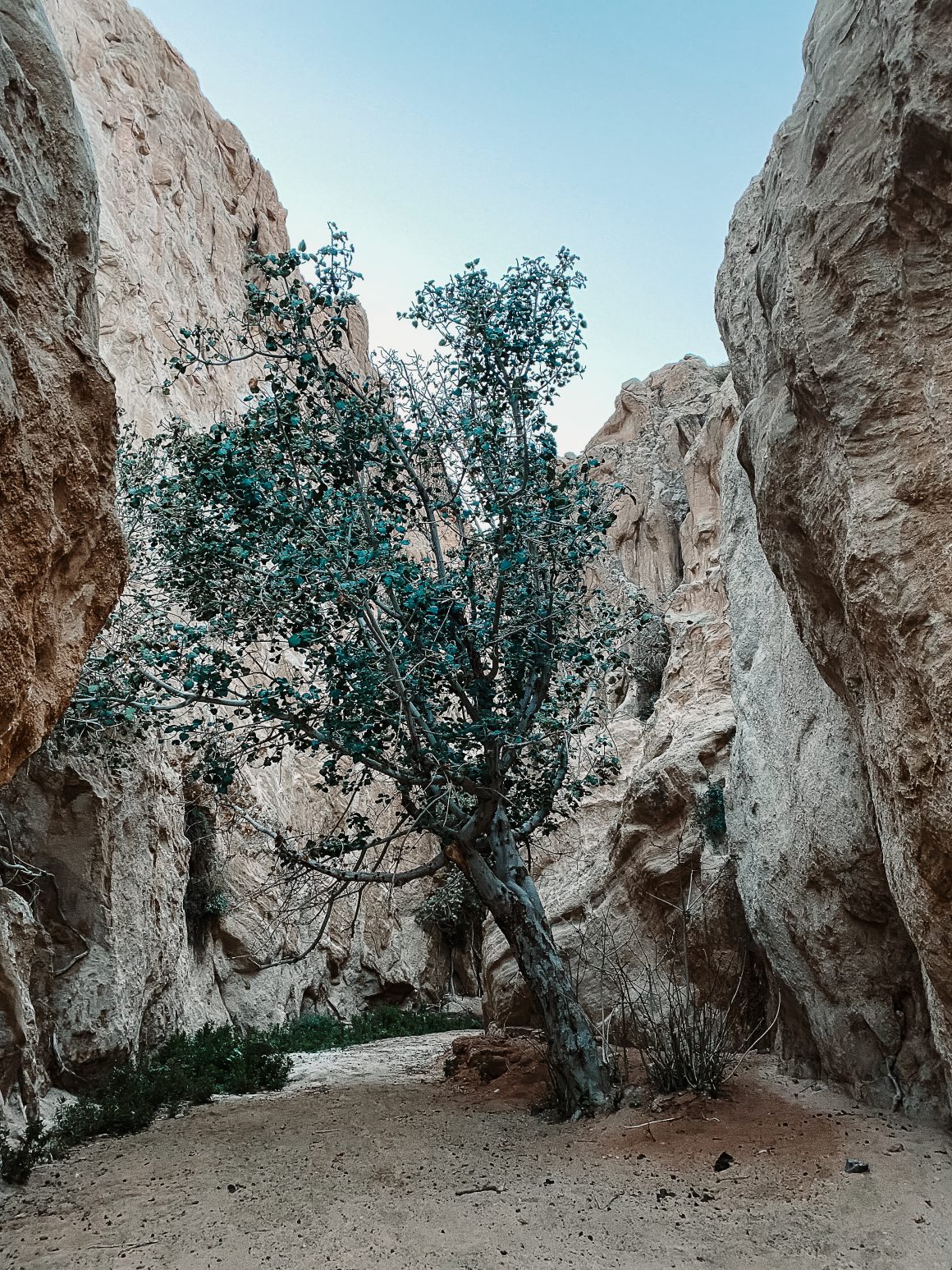 After that, rather routinely, I make my way up towards Humeima. It is not my best day, so I decide to have a tea at the legendary Abu-Sabah, a trail legend who has his own homestay next to the trail (a comfortable Bedouin-style tent) and later on, with some guys building a house near the Old Humeima ruins.
A lingering problem
And although everything was going well, I was getting a bit worried. It must have been somewhere on day 1 or 2, now 4 days ago that I had hit the big toe of my left foot against a rock. Annoying, certainly not uncommon on a trail like the Jordan Trail, where you're crossing large fields of scattered rocks, and are climbing rocky mountains. But over the last few days, my toe had been swelling up. Walking had become a bit more painful with the hour. With hygiene on the trail not being perfect, I started to worry more and more.
Section three: the end.
But without worrying too much about that for the time, I set foot from Old Humeima towards the Wadi Rum desert. I had not realised this before, but I had been dead lucky with yesterdy's rain. The rain had made the desert sand harder, more of a solid substance than the liquidy substance it usually seems to be. The dunes felt like a normal path and I was able to maintain an absurdly high pace (continuously between 5 and 6 kilometers per hour) in the sand.
The Wadi Rum desert
It all made my desert experience a convenient one. Navigating through the desert normally means focusing on one point on the horizon, sometimes up to 12 kilometers away and using a combination of jeep tracks, mudflats and easier pieces of sand to keep moving while keeping course. Now, I could pretty much speedwalk in a straight line and enjoy every bit of the magical desert experience.
Only flat, clear sand for kilometers and kilometers.
Kilometers of nothingness.
And then, suddenly, seeing camels coming your way from afar, having a chat with the Bedouins riding them, exchanging stories and each going your own way.
A convenient way to clock another 36km day on the trail.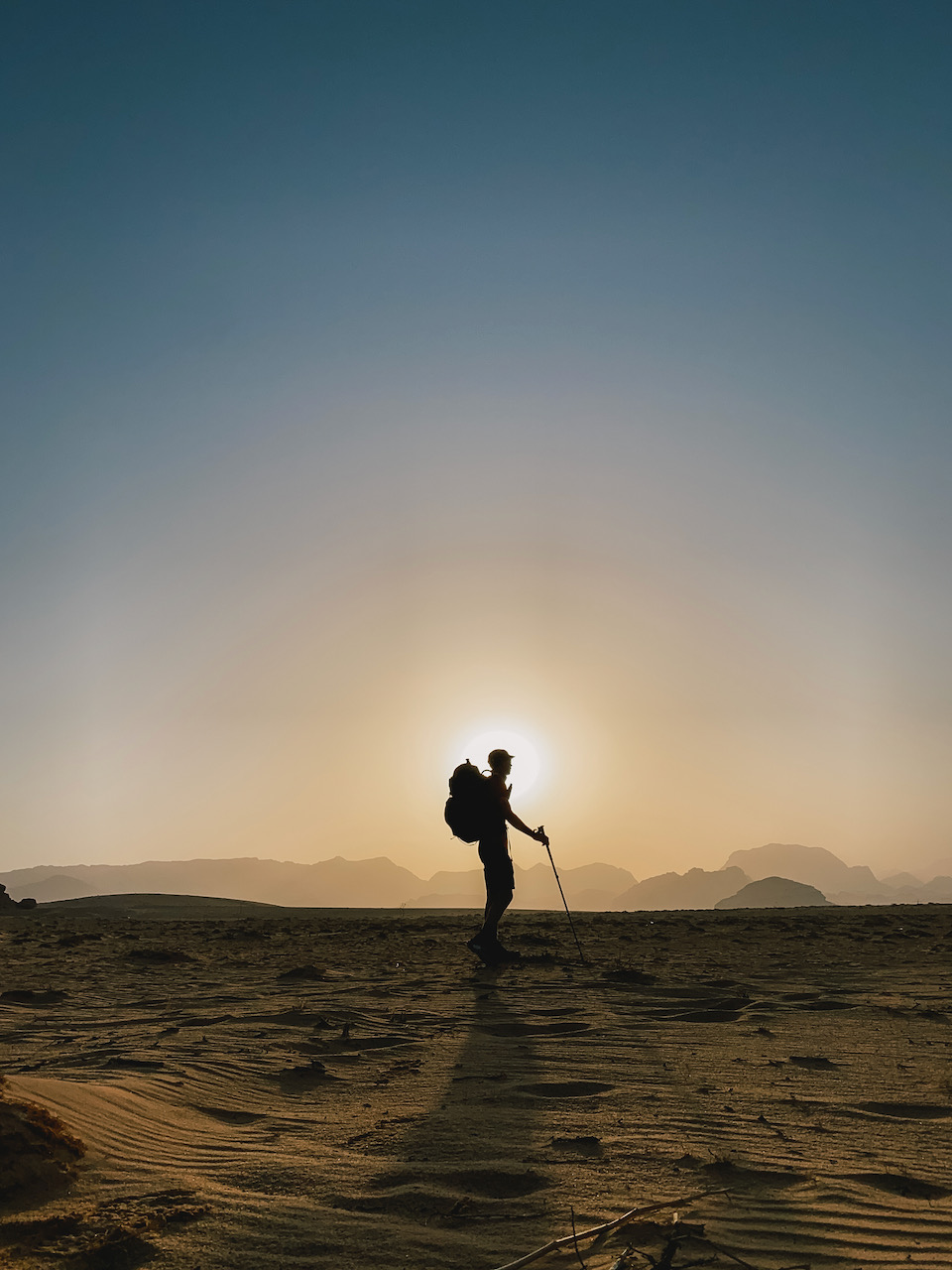 It made camping in the desert just as magical. No one around you, as far as you can see.
No sounds, but the wind.
My meal of freeze-dried Goulash, Farfalle pesto, and chocolate mousse hardly ever tasted this good.

And the next morning was as good as the previous day. The sand was easy to walk because of the rain of days ago and I could keep a high pace. Within record time I arrived in the small village of Shakriya, where I stocked up on water and encountered two Londoners attempting the Jordan Trail from Aqaba to Dana (the only hikers I had encountered from Petra to Wadi Rum, in contrast to the Dana to Petra section) – a great opportunity to exchange the latest details on the trail, water, etc.
15 November, a special day for me
It was a special day for me as well, November 15th. A few years ago, I had ended up in the hospital with a ruptured kidney. A kidney stone had ruptured one of my kidneys and the unfiltered body fluids were contaminating my body. The fluid had already reached my lungs and was starting to infect other parts of my body. It was just a matter of time before organs would shut down. It was a pivotal moment in my life and from that moment on, I decided to collect as many beautiful memories as possible.
I also stopped celebrating my birthday. I had never really been a 'birthday-person' – I did not see the fun or accomplishment of getting born. But surviving this adventure did mean a big deal to me. So since then, I started 'celebrating' the 15th of November as a reminder that life is short. So today was a special day.
Tapping out
The last 12 kilometers to Rum Village went by fast. Too bad it is via a busy highway, on the other hand, a great way to get some easy miles in.
But there was one big, lingering issue. An issue that was getting bigger by the hour. My toe was getting worse that morning and when I arrived at Rum Village, the commercial and touristic epicenter of the Wadi Rum touristic area, I decided to head straight to the local health center to have a doctor check my foot. It didn't take long for him to come to a conclusion.
No hiking. Toe infection. Maybe broken. Hospital. Now. No waiting. No hiking.
So. That was that.
With only 2, maximum 3 days of hiking left, after a week of solo hiking through the Jordan desert, it was over.
The hospital in Aqaba was quite straightforward. No broken toe (luckily), but a seriously infected toe. So no hiking, no swimming, a lot of rest, and a bunch of pain killers and anti-inflammatory medicines.
How else could November 15th end, other than in the hospital, just like a few years earlier.
Section four: the aftermath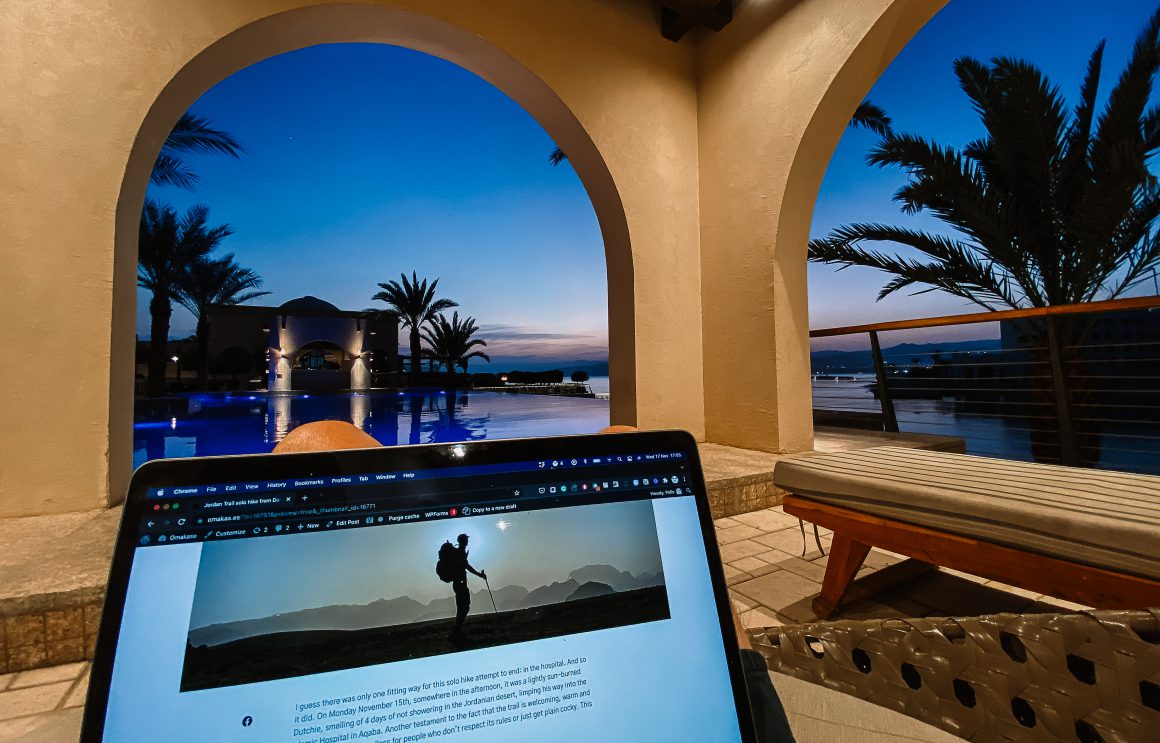 So, I'm typing this from the comfort of the Al Manara, Saraya Aqaba hotel in Aqaba.
I am left with a bittersweet feeling.
For the bitter, it is the second time (after being evacuated because of the flash floods 3 years ago) I was not able to finish the trail. Proud and ambitious as I am, it really s*cks to realise I will probably never finish the trail. There are plenty of other destinations and trails calling my name.
For the sweet, it was an unforgettable week of amazing memories. Being on the trail is my happy place, the moment I set foot on the trail, I leave everything behind. You merge yourself into the cadence of the trail: getting up with the sun, sleeping with the sun, eating when you're hungry, drinking when you're thirsty. It is an amazingly beautiful and varied trail and many of the sights will stay with me forever. And finally, all the amazing people I was able to meet.
And finally, there is the silver lining of if only … With clocking 222 kilometers in 6 days I was well on my way to comfortably finish the Dana – Aqaba section in 8, max 9 days. Not bad for someone who was undertrained and slightly underprepared.
Polle – Jordan Trail 0-2. The trail won again.