After carefully and meticulously planning and preparing my GR20 hike for 2018, I had to cancel last minute because of illness. That sucked. And even though I had a long weekend away with my wife to Madrid fairly soon after, I really felt in need of another holiday, a hiking holiday – it had been quite a busy and stressful few months. I considered a wide range of hiking trails all throughout the world. Weather (November/December – also, see my separate post on best hikes every time of the year) canceled out options like the West Highland Way (Scotland – although it was possible, I did not feel like walking 5 days in the rain), Kungsleden (Sweden) or spending some time in Iceland exploring trails outside of the Laugavegur trail. Limited time (I really have only 7-9 days) canceled out options like the Annapurna Circuit (Nepal), John Muir Trail (USA) or some of my bucket list trails in New Zealand. And then I stumbled upon the Jordan Trail in -duh- Jordan – and it just felt perfect. So here's my process of planning and preparing for my 2018 Jordan Trail solo hike.
Note: I am continually updating this post as I am in the process of planning my Jordan Trail solo hike to take place in November 2018.

For readability, I chopped my post up in different stages:
Before we start: Jordan Trail
The Jordan Trail is a long distance hiking trail in Jordan from Um Qais in the north to Aqaba (Jordanian port city on the Red Sea's Gulf of Aqaba) in the south. The trail covers more than 650 kilometers and travels through 52 villages and towns on its way. The trail traverses the diverse landscapes and vistas of the country – from the wooded hills of the north, the rugged wadis and cliffs overlooking the Jordan Rift Valley, the rose rock of Petra, the dramatic sands and towering mountains in Wadi Rum, to the Red Sea.
For thousands of years, ancient trade routes have cut across the same land that today constitutes the state of Jordan.  Jordan was the center of the King's Highway, a trade route stretching from Egypt to Aqaba, and then north to Damascus. That makes traveling Jordan by foot a practice that is as old as these ancient trails.
In recent years, the fields of outdoor recreation and adventure travel have grown rapidly in Jordan – and in the midst of this growth, a number of people and organizations started working together to scout new trails and to create one continuous Jordan Trail (which resulted in the Jordan Trail Organisation in 2015). What makes it even more awesome is that many Bedouin tribes are helping to develop the trail sections between Petra, Wadi Rum, and Aqaba.
This same organization Jordan Trail Organisation (JTA), organizes an annual thru-hike of the Jordan Trail in march-april (2019 will be the third edition).
Step 1: settle on the idea for my Jordan Trail solo hike.
So, the Jordan Trail is a 650km hike. Unfortunately, I do not have the luxury of taking two or even three weeks off from work and family very often. And although I am not a complete novice hiker and although I am rather used to putting in days of 40 kilometers or more, the full 650km in a full week seems to be a clear no-go (to put it mildly). Apart from that, the terrain we're covering, the lack of signage in most places and it's remoteness offer some challenges.
As I would love to see Petra, would love to finish at the Red Sea (I imagine that first sight after days of the desert must be a once-in-a-lifetime view) and Dana seemed to be a logical and relatively easy to reach starting point, I quickly settled on the approximately 270km from Dana, via Petra and Wadi Rum to Aqaba.
Aqaba also seemed a logical place to spend some time sipping some well-deserved cocktails after 300 kilometers of sand and rocks. I also found some nice resorts with flexibility, so I would have a buffer in finishing the trail earlier/later.
Step 2: validate my Jordan Trail solo hike plans.
As I always do, I read/watch pretty much everything I can get my hands on. YouTube videos, official websites, blogs from other hikers, etcetera. Some sources I used (and very much appreciated):
The Jordan Trail Association (JTA) website is a remarkably extensive source for everything, for example with detailed maps. I have been in contact with them via email with some questions about a permit for the Dana biosphere reserve (to be reserved the day beforehand via phone), a mention of armed smugglers (none in the area, there was a mention on the JTA website because of an incident 3 years ago) and a facilitation letter (JTA advised to get one in case you run into military near Humeima). They were super speedy and friendly in their replies.
The Ordinary Adventurer has a comprehensive overview of her Jordan Trail hike with some great tips.
The Expeditioner's 'After Trekking The Jordan Trail, Nothing Was The Same' offers a sobering and realistic account of the trail – with the beautiful moments meeting amazing people, but also the challenges of finding the trail.
G'Day Jordan Trail is a Facebook page of two hikers who are in the process of writing a book on the trail.
That left me validating/working on these questions:
How to get water. In the rock/desert environment that is Jordan, the rule of thumb is you will need 5 liters water per day, even without counting your cooking/cleaning needs. And that is not always easy to get. Even the official website to the Jordan Trail says "the lengthiest section where water is difficult to find, where you may want to arrange water drops or caches, is from Rum village to Aqaba.". To counter that, I decided to

Have a specific water plan in my day planning, where I know resupply opportunities with both stores and natural sources.
Pack the gear to store a massive 9,25l water if needed (2*3l Camelbak bladders, 2*0,5l Camelbak water flasks, 2*0,75l Camelbak water bottles, 1* 0,75l thermos flask for boiled water so I don't waste any water and can have a warm meal with boiling water once).
Pack a water purification system so I can source water from pretty much every water source on the trail.

How to navigate. 80% of the trail is without signage, so that means making sure to have a good GPS (I bought a Garmin 64s) with a good route/map on it. I also made sure I had GPS navigation on my iPhone.
How much to hike. As I said, unfortunately, I do not have the luxury of taking two weeks off from work and family. So, rather quickly I settled on hiking Dana to the sea, via Petra and Wadi Rum, roughly 270 kilometers. This would take me through the legendary Petra and Wadi Rum areas and to the Red Sea, which seemed to be the perfect ending.
How to be self-sufficient. As the Jordan Trail is running through pretty remote areas with limited re-supply possibilities, so I'll probably start preparing for a fully self-sufficient hike. I now packed food for 6 days and have the possibility to carry water for two days.
How to be safe. As far as I've seen in my first explorations, Jordan as a country is relatively safe (apart from some areas bordering conflict areas).
How to prepare for local culture. I am not too experienced in Arabic language and Arabic culture, so I had to do some reading (Lonely Planet, Rough Guide, Blogs and YouTube helped a lot). Thanks to Swedish photographer Leif Söderlund, I was able to make a list of Arabic words for hiking.
How to plan for the worst. Safety first. Always (see my separate post on safety while hiking). The trail is relatively new and therefore relatively unknown, unmarked and quiet (which is pretty much one of the reasons to do the trail). So that means making sure I prepare for emergencies (my Personal Locator Beacon, Garmin InReach Mini), cold and/or bad weather (extra blankets), dehydration, getting lost (extra food, good GPS, etc).
What to do in case of a snake bite in the backcountry. Jordan is home to 70 species of snakes, of which 10 are venomous and quite some scorpions. I collected my own tips how to prevent snake bites and what to do if I get bitten.
Plan for the weather. As much of the trail is without cellphone reception, I made a plan to keep track of the weather.
Practicals. Will my data plan/phone work? What about insurance?
Step 3: settle on a date for the Jordan Trail solo hike.
As it was already end of September when I started looking, I was aiming for my hike to take place somewhere November/December. In hindsight – if I would have had full options I would probably have opted for spring time, as there is more green (and water) along the trail.
But now, focusing on the end of year, I actually rather quickly settled on early November. Reading about the flash floods on the trail made me rather hesitant to hike after mid-November. Flash floods are sudden waves and rushes of water caused by heavy rain that turn small streams into ferocious rivers. Within as little time as 2 hours, a small stream can turn into a dangerous stream that is easily capable in drowning everyone what did not get out of its way in time (also, see the comprehensive YouTube video on Jordan flash floods). As most heavy rain happens December to February … well, let's avoid that period of time.
Step 4: lock-in the Jordan Trail trip.
Booked my flights and hotels on October 3rd 🙂
Step 5: create a rough day planning for my Jordan Trail solo hike.
5 november: Travel to Amman, stay in Amman.
6 november: Spend some time in Amman, get some last groceries for the trail.
7 november: Day 1 of hiking (also see the detailed planning).
8 november: Day 2 of hiking.
9 november: Day 3 of hiking.
10 november: Day 4 of hiking.
11 november: Day 5 of hiking.
12 november: Day 6 of hiking – arrive and sleep Aqaba or still on the trail.
13 november: Chilling at the resort in Aqaba.
14 november: Chilling at the resort in Aqaba, travel back to Amman.
15 november: Travel back home.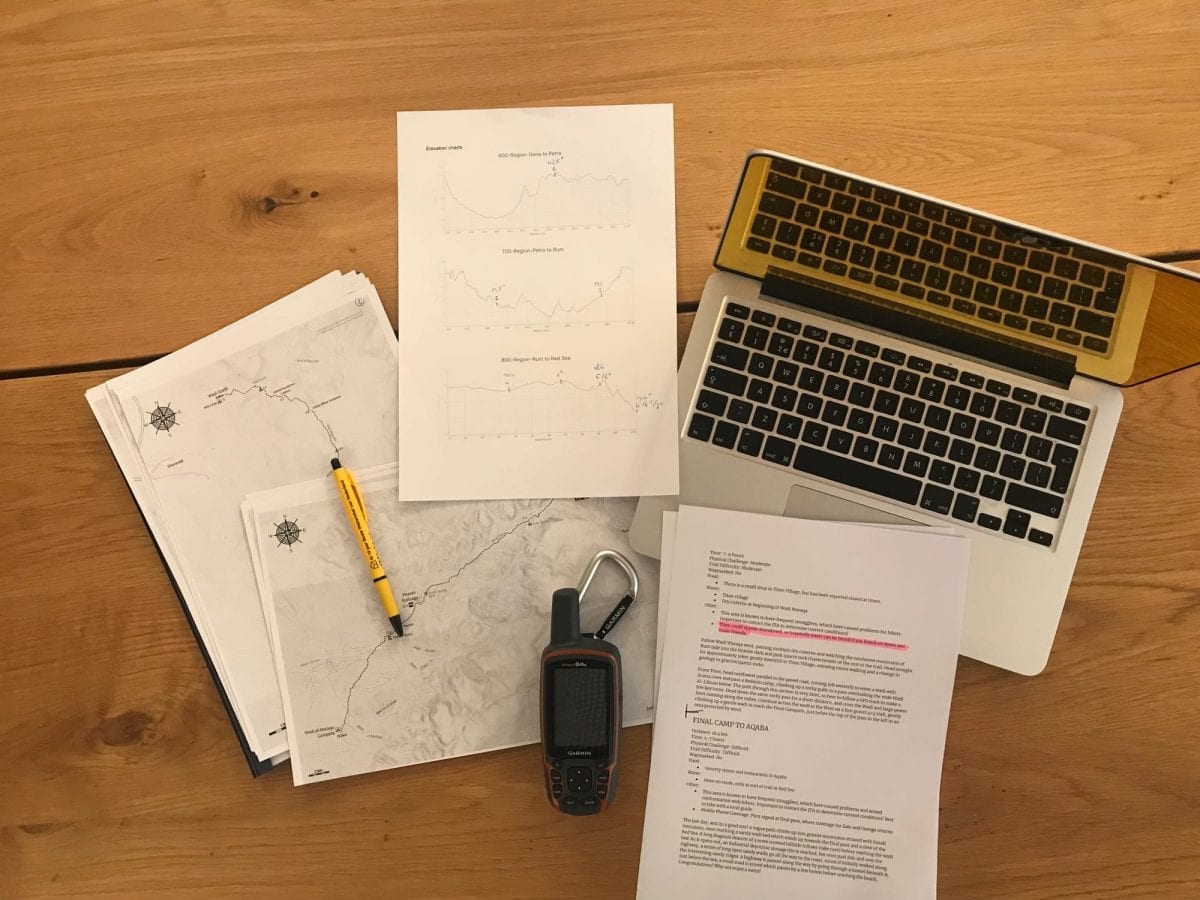 Fallback options
Especially since my experience at the Iceland Laugavegur trail and it's fast-changing weather, I promised myself to make a backup planning. I am now looking into an emergency exit possibility at Wadi Rum (which is the only place apart from Petra that has semi-decent connections) and I decided to add some flexibility in my stays at the end of the trail.
Step 6: creating a packing list for the Jordan Trail solo hike.
I created a separate packing list for my Jordan Trail solo hike, mostly based on the experiences I got from preparing the GR20.
Budget for my Jordan Trail solo hike.
Transportation
There are some super cheap Ryanair flights available, but they did not fit my travel needs (wrong days, flights till deep in the night), so I settled for Turkish Airlines:


My return flight from Brussels to Amman via Istanbul with Turkish Airlines cost €375,-
My flight from Aqaba to Amman with Royal Jordanian on the last day cost approximately €72,-
My taxi from Amman to Dana will cost approximately €100,- to €200,-

Accommodation

I stayed two nights in the Intercontinental Amman (paid for with IHG Rewards club points)
I stayed two nights in the Intercontinental Aqaba (paid for with IHG Rewards club points)
I booked one night after the 4th day on the trail, just as a precaution and failsafe to recover in case I would be too tired (68 euros, including breakfast and dinner).

Food
 Extras

Jordan Pass (for entrance to Petra and Wadi Rum, as well as VISA) cost approximately €86,-
Total cost estimate – 
Extra
Facilitation letter: Based on advice from the Jordan Trail Association (JTA), I got into contact with them to get a facilitation letter from the Jordan Ministry of Tourism. There seem to be occasional encounters with curious military from the nearby military base around the Humeima ruins. A facilitation letter instantly diffuses potential communication challenges. You can email JTA for this.
Water planning: Because water is so scarce, I actually made a separate water planning for the days on the trail, estimating how my water supplies would fluctuate and where to resupply.