Recently, I got lost in the hills somewhere in Iceland during a snow storm. The signage was invisible because of heavier snow of earlier weeks and at some point I apparently started following the wrong tracks in the snow. How inconvenient, it just happens while you hike – so what to do to keep safe while hiking? What are my tips for hiking safety?
Most of the time, I travel by myself (also see my separate post on why), whether it is hiking, running or my business trips. More than half of the solution for hiking safety is just being well-prepared. So here are the things I tend to do to keep safe during my hikes:
0) Don't be stupid – the basis of hiking safety
Don't punch above your weight.
Don't take unnecessary risks (I wrote a separate blogpost on that).
Don't do things you just know are stupid.
For an example, see Casey Neistat's Kilimanjaro story (that's just plain stupid).
1) Have a plan
Have a plan. I love taking my travel the way it goes (that's why this blog is called omakase). But when it comes to -especially- hikes, I prepare beforehand – I check the route, validate my ideas. I even have a special part on my website dedicated to planning and preparation.
I usually have some rudimentary form of scenario planning when packing and planning: how scr*wed am I if I don't have enough food with me versus how annoyed am I with some extra grams in my backpack (verdict: let's pack some extra food) or how annoyed will I be if there's a rain shower that makes my sleeping bag soaking wet (verdicht: let's wrap my sleeping bag in waterproof bag).
Have a plan B and know what to do if your plan fails. I usually prepare for a fallback option, a plan B so you will. Whether it is knowing where mountain huts are or knowing when you would be able to cut your trip short, make sure you always have an alternative option. In September 2018, I will be hiking the GR20 in Corsica in 6 days. As this is quite an ambitious timeframe to close the 180 kilometers through the mountains, I made sure I can quit halfway at Vizzavona, where there is a train station that can bring me to the airport.
Same goes for smaller elements of your trip: I at least pack one extra pair of socks, some extra food, have a fallback option if my phone battery dies, etc.
2) Prepare for your plan – crucial for hiking safety
It is hard to do something when you've never done it before. And it is even harder to do it when you're tired. If you have never hiked further than 30 kilometers, if you have never camped before and if you have never used a compass and try to do this all in once, you pretty much know beforehand that you're set up for failure.
Just a small example: I would love to do the Torres del Paine O circuit trail in Chile Patagonia. To prepare for it, I have decided to at least hike in similar circumstances once (my Iceland Laugavegur trail hike) and hike/camp for a similar number of days in challenging terrain (my GR20 Corsica hike).
3) Inform others of your plans
I try and inform others of my plans (and my changing plans) so whenever something happens, they will at least have an idea where to find me.
Probably a week before my hike I will send a rather extensive email to my family and some friends with my plans: when will I walk what distance, where will I sleep, what precautions did I take (taking my PLB with me, informing organisations like safetravel.is for Icelandic trips, etc etc), what are potential issues (do I expect to have limited phone connectivity, are there dangerous tracks and/or weather circumstances, etc). During my hike I will keep them updated on my plans and/or if my plans change (like what happened when I could not hike parts of the Iceland Laugavegur trail because of a storm).
4) Prepare for nature
Nature dicates your pace – whether it is because of the trail or because of the weather. It is crucial in hiking safety.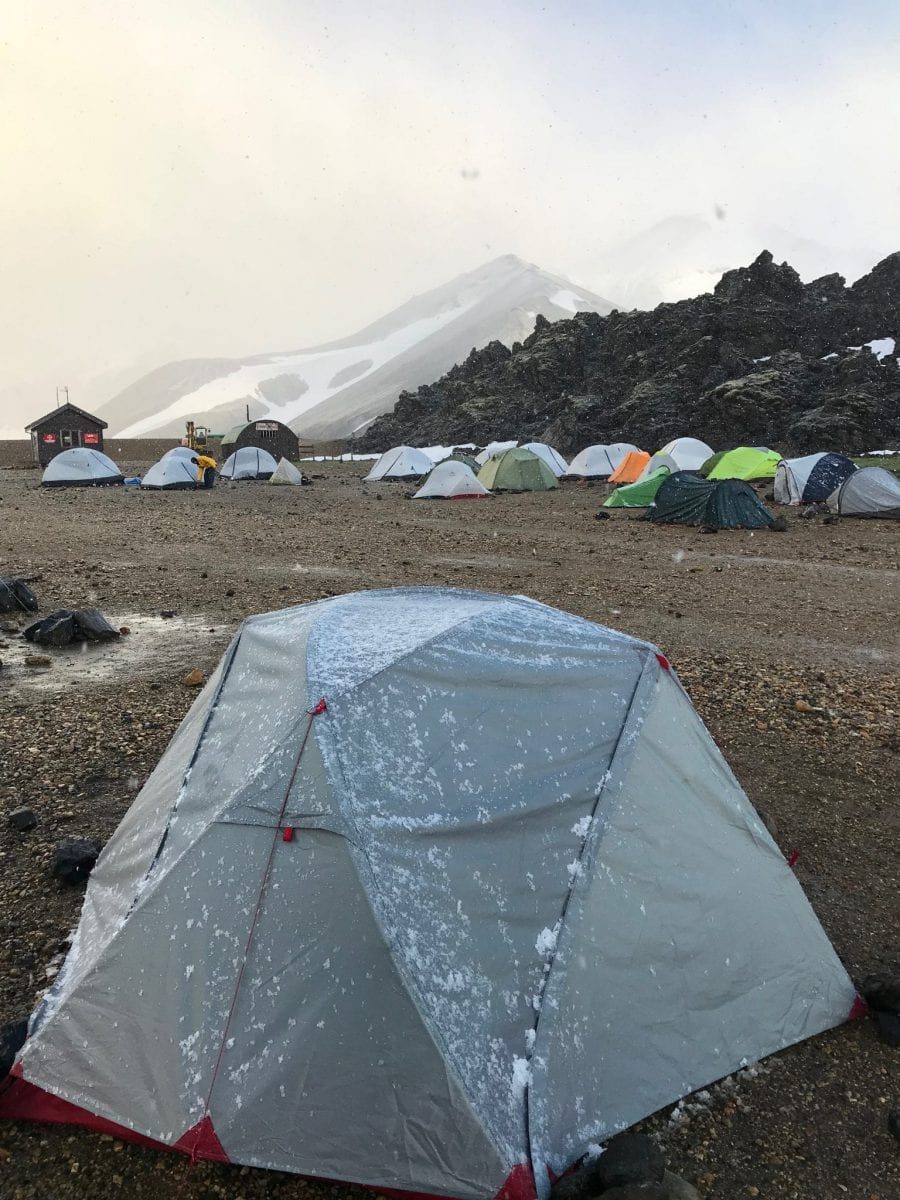 Weather conditions. Being cold and being wet are probably the worst things that can happen both to your body and morale. Having hard winds that break your tent so … well … you get cold and wet are a close third. Thunderstorms however, are something not to mess with. Be sure to ask locals what the weather forecasts are and plan accordingly.
The trail. Be aware of the trail and what the trail could be. Some trails can be super easy on a regular day, but super hard when there has been snow or rain.
Be sure you know what animals you will or can encounter. Being bitten by a snake would probably usually not be part of your plans. When I was hiking the Kumano Kodo in Japan I encountered several signs warning for the local poisonous snakes (and I encountered several on the trail). I had to admit at that point that I would not know what to do if I indeed would have been bitten by one: bind my limb and then walk to the nearest village as soon as possible or bind my limb and wait for help (probably the latter)?
5) Have the right gear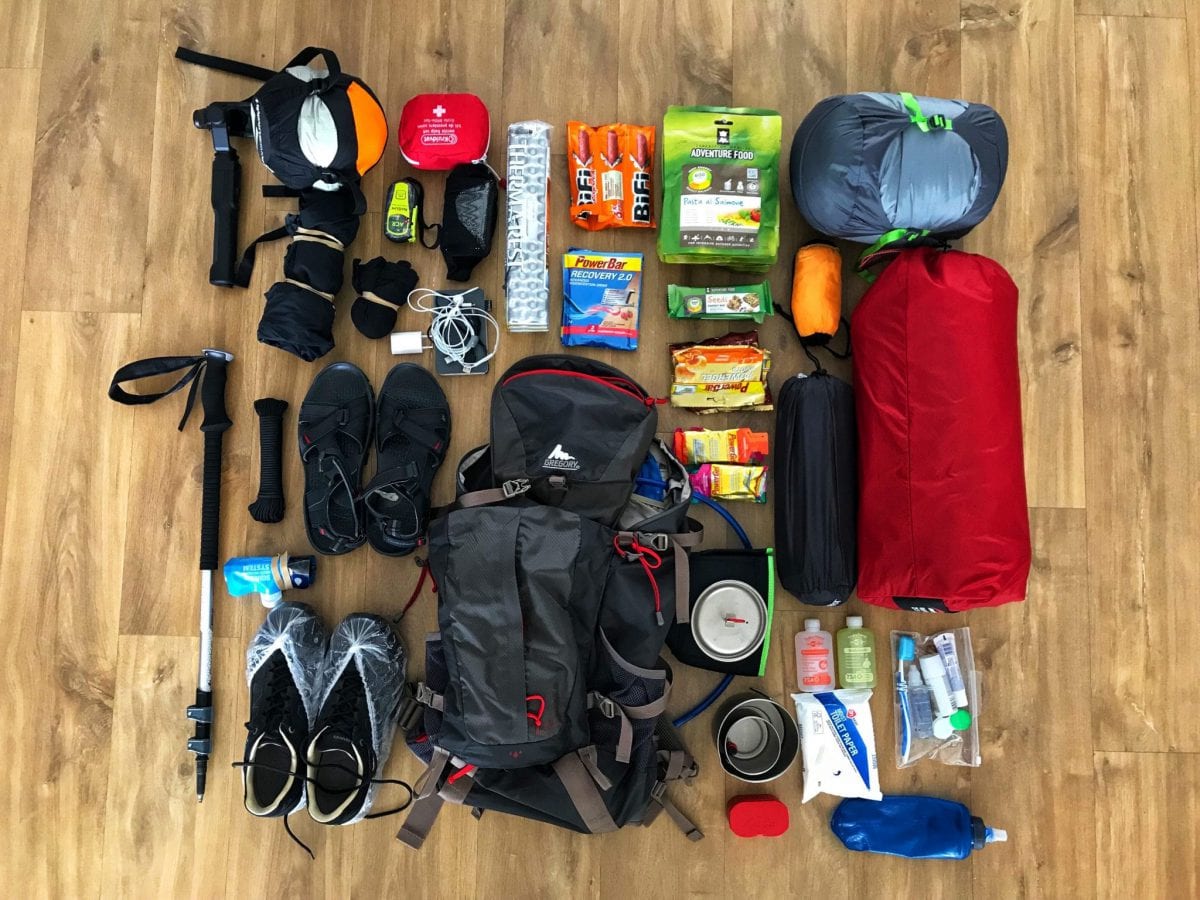 I mention this one last on purpose. Fancy gear is usually just a way to buy around the real problem.
Having the right gear for the right circumstances however will be different of day and night. My brother and I once had our running shoes (which can be perfectly fine when the weather is great) in the moors near Manchester (Peak District). After a day of hiking, our ankles were a total mess to the extent that we had to cut our hiking trip short.
I really do not mess around with food and water, dry gear and warm gear.
Food and water. Be sure to take enough food and water. Keep an eye on your water reserves, especially if you're packing a Camelbak you can't check on from time to time. Be sure you know where you can re-stock on water and/or bring a water purifier to stock along the way.
Dry. Be sure to pack the right stuff to keep you dry – pack your most important gear (sleeping bag, food, electronics) so that it stays dry even in worst circumstances.
Warm. Pack layers so you can add or remove layers.
Other conditions. There are some special circumstances that ask for special gear. E.g. if you're walking through the snow for long stretches of time, be sure to have sun glasses to protect your eyes and/or gaiters to keep your shoes dry.
Final words on hiking safety.
Preparation is the best way to keep safe. Be sure to know where you're going, that you're fit and well enough to go and that you have the right gear. That reduces 99% of possible things that can go wrong.