There might be very few events that celebrate the noble sports of hiking with more grandeur and enthusiasm than the Nijmegen Four Days Marches (Vierdaagse van Nijmegen). More than 40.000 participants, hundreds of thousands of enthusiastic supporters along the road and four days of 30,40 or 50 kilometer hikes.
Probably every person in the Netherlands has heard of it and/or participated in smaller, local versions of the Four Days Marches (usually kids in elementary school have the opportunity to hike shorter distances four evenings in a row).
In 2017, I set out to finish the 4*50 kilometer distance at the Nijmegen Four Days Marches. I had participated once in the sad year of 2006, when two hikers died on the trail because of the heat. The race was cut short that year after the first day, so I really wanted to finish it this year.
So here's my story in several parts:
On the Nijmegen Four Days Marches
The Nijmegen Four Days Marches is the largest multi-day walking event in the world with more than 42,000 participants from all over the world. Participants walk for four days in the Dutch city of Nijmegen and its surroundings, where they, depending on their age, sex and personal preference, walk a total of 120 (4*30), 160 (4*40) or 200 (4*50) kilometers starting from- and ending in the city of Nijmegen. On the final day, all participants walk the legendary Via Gladiola with thousands and thousands of supporters along both sides of the road to receive their Four Days Marches Cross as proof of their accomplishment.
The route is very well organized. From applying to the lottery (there are too many applications to accommodate), from getting your start number to checking out and from organized start to check-points and food/water posts and Red Cross posts along the road. On the third day of hiking, I had to pay a quick visit to a First Aid tent. From arrival to leaving the tent cost me 15 minutes, in which I checked in, was seen by two doctors and got the medicine I needed. It is, in other words, an extremely efficient almost military-style operation (a lot of military and experienced volunteers are actually involved in the organization).
To make it even more impressive, during the Nijmegen Four Days Marches there's the Nijmegen Four Days Festival, a week long festival with parties and performances all throughout town. The thousands of people who come to visit to party usually cheer for the people leaving for the marches early in the morning and come back in the afternoon when the first hikers return for the day.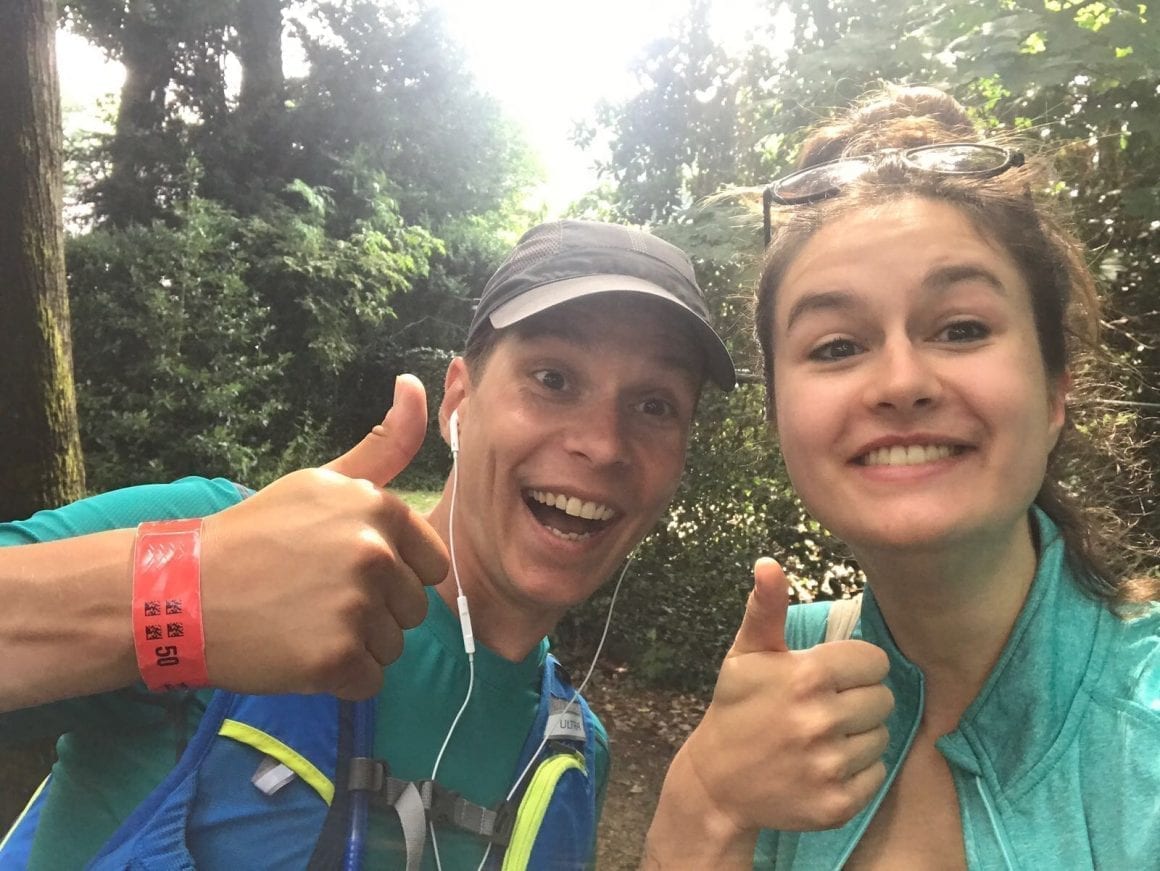 The wrong reason to hike the Nijmegen Four Days Marches
If you see this as merely a physical challenge, the Nijmegen Four Days Marches is certainly not for you. And that is exactly the mistake I made when I participated. I don't like to mix party and sports. I don't like large crowds when I'm working out, they tend to be in my way. I feel uncomfortable when people cheer at me (I like to be applauded for real achievements – the 4*50km did not feel like an applaudable achievement for me). I like giving high-fives to kids, but my high-five-quotum per day is around 10 high-fives. If you feel the same, you might want to skip the Nijmegen Four Days Marches.
If you, however, want to celebrate life and sports together with more than 40.000 enthusiast hikers, if you love conducting crowds of people into doing waves and/or Viking claps, if you get energy from people cheering at you, there is no event in the world that is better than the Nijmegen Four Days Marches.
Well, and I had not realized that before participating. I had decided on the strategy to start early, keep a fast pace and finish early to avoid both the heat (temperatures rose to over 30 degrees Celcius) and to avoid the large afternoon crowds that tend to slow you down a bit and increase the chance of injuries (tired, inexperienced hikers might stop in the middle of the road, or might suddenly rush to the left or right when they spot family or friends).
I am not saying I will never hike the Nijmegen Four Days Marches again – if I participate the next time I will make sure to prepare to do exactly as described above: to high-five kids for miles, to dance with people along the side of the road, to do Viking claps, to party after arriving, to celebrate hiking.
And then it begins … my experience hiking the Nijmegen Four Days Marches
It is 02h00 in the morning. Well, night actually.
That hurts.
I had decided to make Arnhem my base camp for this Nijmegen Four Days Marches (I stayed at the Holiday Inn Express there). A big city, a mere 20 minutes by train from Nijmegen. As Nijmegen is bathing in the Nijmegen Four Days Festival with all its bands, parties and people attracting it, I figured it would not make the best base to have some quiet rest after hiking 50 kilometers.
I have more than an hour to shower, get dressed, check the weather forecast and have breakfast.
The 3h30 train will take me to Nijmegen, arriving at 3h50. I then have 10 minutes to make it to the start area before we can start for our first day of 50 kilometer hikes around the Nijmegen city.
In the train and especially at the start, it smells and sounds like hiking. The last bananas that get eaten, the distinct smell of Tiger Balm. Some nervous laughter. Several (usually guys) that brag with their big mouths that this will be an easy task. Drunken party-people that decided to come out and wave the hikers goodbye to get some sleep.
And then there's the sound of the pistol and off we go.
The different distances start at different times. The 50 kilometer hikers start between 04h00 and 04h30, the 40 kilometer between 05h00 and 05h30 or between 06h00 and 06h30 and -finally- the 30 kilometer starts between 06h45 and 07h15 or between 07h30 and 08h00. As I am hiking the 50 kilometers, I am lucky enough to start at 04h00.
Every day is pretty much the same although the route (and distances and people) differ.
After the first kilometers making our way through Nijmegen city and it's outskirts and the occasional people along the road cheering, a remarkable thing happens: the sound of talking and mumbling mutes and the only thing you hear is the sound of thousands of feet making their way towards their end goal for the day. I love this moment, as it feels like everyone realizes what blood, sweat and tears is ahead.
The route takes you along different parts of Nijmegen and it's outskirts. Sometimes long roads with hardly any people, other times through crowded cities and villages where hundreds of thousands of people are cheering. In these villages there is usually plenty of free water and snacks (cucumber, wine gums, carrots, cookies, salty sticks) and food/drinks stands to replenish your food and water.
Because of the sheer numbers of hikers, the variety of people you meet is enormous. From large group of military participants -who usually carry more than 15 kilos of extra weight in their backpacks- singing songs ("push, push … push a little harder") to semi-pro speed walkers, from first-timers to people who have participated more than 25 times and from families to solo hikers like me. You'll meet the two guys who wear afro wigs and the two tall blond sisters who attract heaps of annoying men (it is cringeworthy to see how men react when they are around women). The grandpa who worked in the mines, developed some back problems, but still out-hikes the majority of young kids. The dad with his two young sons who keep pushing their dad to hike faster.
In all this, I kept to my routine of starting early, finish fast (I finished the first day in 7h44 and the second in 7h15), eat something in Nijmegen, head to Arnhem, sleep a bit, have dinner and sleep again to wake up at 02h00. And repeat.
And then there was day 3 of the Nijmegen Four Days Marches. 
For me, this was by far the most difficult day. It is often said that for many people the third day is the true judgment day. Mentally it is the hardest because you start feeling cramps and pain and mentally you only covered half of the total distance. Physically it is difficult as it takes you over the different hills just outside Nijmegen.
Same for me. Kind of. From early on in the morning, I had problems with my stomach and intestines. I could eat, but my stomach and intestines had difficulties processing the food. At some point I was actually afraid to eat something because I feared I would have to rush to the toilet directly after. So as soon as I could, I went to a First Aid tent where I got a quick checkup and some O.R.S. After that, I instantly felt better.
However, I had to carve in an extra stop later that day to eat some soup, change my socks and gather some courage (it is remarkable to see how eating soup and gathering courage go hand in hand – I felt so much better after). That also meant that I got stuck in the middle of the bigger, slower crowds of hikers.
In total, I lost close to an hour and finished the third day in 8h30.
And that made this day's 50 kilometer a bit more of a mental challenge. So let's talk a bit more on that.
It's the mental challenge, stupid.
The 50 kilometer is not so much a physical challenge as it is a mental challenge. 200 kilometers on mostly paved roads will bore even the most dedicated of hikers. Earlier marathons have taught me not to focus on the distance. As soon as you start counting down the kilometers to the finish, it is a long while. Rather than that, I try to not focus on the kilometers and just try and postpone the moment I check the mileage as long as possible.
But that is just one of the many challenges.
It starts with preparation. It takes a lot of mental dedication to actually train for hiking these distances. Again, that is not so much physical as it is the willingness to get up early in the weekend, get dressed and hike for hours. Time you could spend with friends or your family. I tend to do running as a substitute for hiking training.
And then packing. What to pack. Do you pack a lot of food and drinks (increasing the weight you have to carry) or do you rely on foods stands along the road? Which food will you like along the trail (I know from experience I love my wine gums and Bifis later on on the trail and I know my stomach only accepts Powerbar gels)? Do you pack rain gear (again, increasing the weight) or do you rely on a garbage bag to keep you dry? Do you pack for heavy rain (rain coat, rain trousers) or do you rely on a poncho? Do you pack extra socks in case they get wet? Which shoes to take, your lightweight trail runners or even running shoes or low hiking shoes or even hiking boots?
Making sane decisions. How much do you rest? When do you eat what? How do you handle the jetleg-style day plannings with getting up at 2h00 (do you go to bed early)? What do you need to recover after your 50 kilometers?
And then the hiking itself. How do you deal with blisters? How do deal with fatigue? When it's hot, do you increase your pace (like I did) to avoid the heat or do you rely on extra water and keeping a lower pace?
All mental challenges rather than physical challenges.
And then some more
And then, the final day. Day four. Friday. Via Gladiola day.
As it is the last day, mentally this is doable. You know you're almost done.
The mood amongst hikers is uplifting – they know they will have friends and family along the road and that it is pretty much the victory lap towards the finish.
For me, however, it was the ultimate proof that the Four Days Marches are all about the experience – when you walk fast, not too many people are waiting along the roads, not too much music is playing and the grandeur of the last kilometer with its big stadium-like setting is pretty much lost on you.
Note to self – it's the experience stupid.
My top tips and takeaways on the Nijmegen Four Days Marches
Hike for the experience, not for the performance. I made the mistake to participate for the physical challenge rather than for the experience. The Nijmegen Four Days Marches are above all a celebration of hiking. When you go with this flow, enjoy the hike and interact more with the audience and the other hikers, you will have a better time
Train. Either 30,40 or 50 kilometers are no small feat. Whether you train with running or with hiking longer distances over time, be sure you are physically prepared. But as said, mental preparation might be even more important – be ready for that.
Prepare for the weather. Often, the Four Days Marches has both very hot weather as well as some rain. Make sure to watch the weather forecast but above all to pack sun-protection (enough water, cap, sunscreen) as well as rain protection (depending on the severity a plastic back to full rain clothing).
Packing list for the Nijmegen Four Days Marches
I dedicated a separate post on my packing list for the Nijmegen Four Days Marches.