One of the things I love so much about hiking is that it throws you back to focusing on the bare essential: being safe from harm, having safe shelter, staying on the right track, keeping the right body temperature and having enough water and food. Water will definitely not be a problem on the Arctic Circle Trail – food however (as there is no way to resupply on the trail), might be as you need to bring everything with you. So here's my plan for food on the Arctic Circle Trail.
What food you need
On a tough trek like the Arctic Circle Trail, you'll burn so many calories and you'll need so many nutrients that pretty much anything you can get your hands on is perfect – you'll probably burn it anyway. But that doesn't mean you can't be smart (obviously, bringing a pile of Big Macs on the trail isn't the best solution) in planning a mix of nutrients and calories you need with some great local food.
Calculating daily calorie intake – Food on the Arctic Circle Trail
I know from tracking my hikes that on long days (e.g. Nijmegen Four Days Marches, the Jordan Trail or 40-kilometer-days on the Laugavegur trail) I burn up to 4000 kcals per day. Although there is no need to fully cover for each and every calorie, it is essential to get enough calories, salts and other nutrients in every day (something that was reconfirmed by the story of another thru-hiker on the Jordan Trail).
My food on the Arctic Circle Trail – self-supported
Although it is difficult to exactly match these to take in 4000+ calories every day with just trail food, my daily food intake does add up to an acceptable amount:
| | |
| --- | --- |
| Adventure Food meals Lunch, Dinner | 2* 600 kcal |
| Extra Adventure Food Vegetables | 1* 150 kcal |
| Oatmeal breakfast | 2* 143 kcal |
| 100gr trail nuts | 170 kcal |
| Adventure Food Dessert | 1* 300 kcal |
| Bifi sausage | 2* 128 kcal |
| Powergel | 2* 425 kcal |
| 100gr Winegums | 325 kcal |
| Powergel shots | 146 kcal |
| Powergel smoothie | 211 kcal |
| Total | 6131 kcal |
It is a quite ok balance of nutrients and is heavy on protein and salts and electrolytes.
On top of that, I take
Fruit. Anything I can get my hands on in Sismiut at the start of the trail and that's not costing waaay to much (as much has to be imported, prices are rather steep).
Davitamon Energy Forte vitamin tablets (2 per day)
Norit ORS (2 per day) – Oral Rehydration Solutions is a mix of salts and electrolytes that is often used when people lose a lot of fluids (through diarrhea or perspiration).
I do have pain killers with me, but try to limit use to a minimum.
My food on the Arctic Circle Trail – enjoying the best of local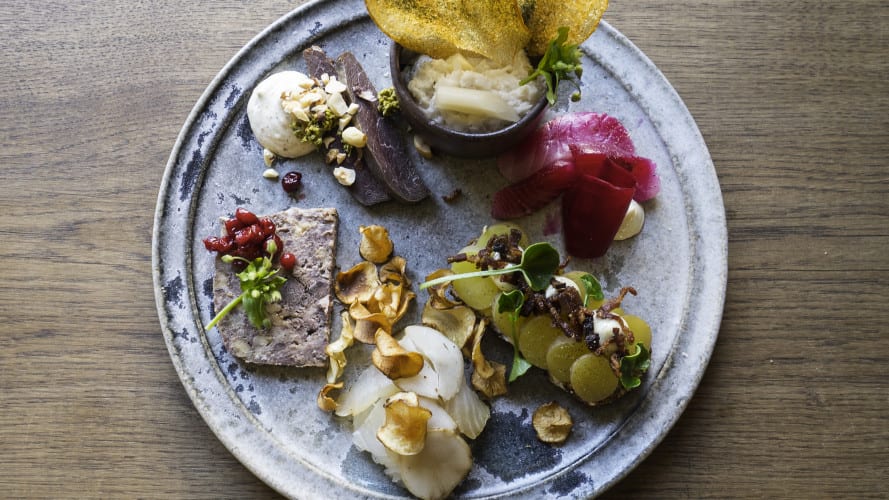 I do like my Adventure Food meals – it's part of my favorite food while hiking – but after close to a week of hiking, it start to be a bit monotonous.
My last meal before heading out on the trail will be at the Seamen's home in Sisimiut. My first one after the trail hopefully is at the Ilimanaq Lodge near Ilullisat.
I hope to be able to pick some wild berries on the trail. And I soooo hope to encounter Inuit that are kind enough to invite me for lunch or dinner on the trail (never hurts to dream, right?).
So, what is your food plan for your Arctic Circle Trail Trail hike?