Sometimes it's just a pity that hotels are not part of IHG, Hilton or Marriott's loyalty programs. It is a good thing, as hotels keep their autonomy and own vibe and culture, but it unfortunately makes it less appealing for me to stay (out of my more than 200 stays in the last year, I spent over 95% in IHG, Hilton or Marriott properties). So spending time in Hotel V Fizeaustraat was a nice breath of fresh air, away from standard Hampton by Hilton, Holiday Inn or similar properties. So here is my review of Hotel V Fizeaustraat Amsterdam: best of the seventies, best of now.
Hotel V Fizeaustraat Amsterdam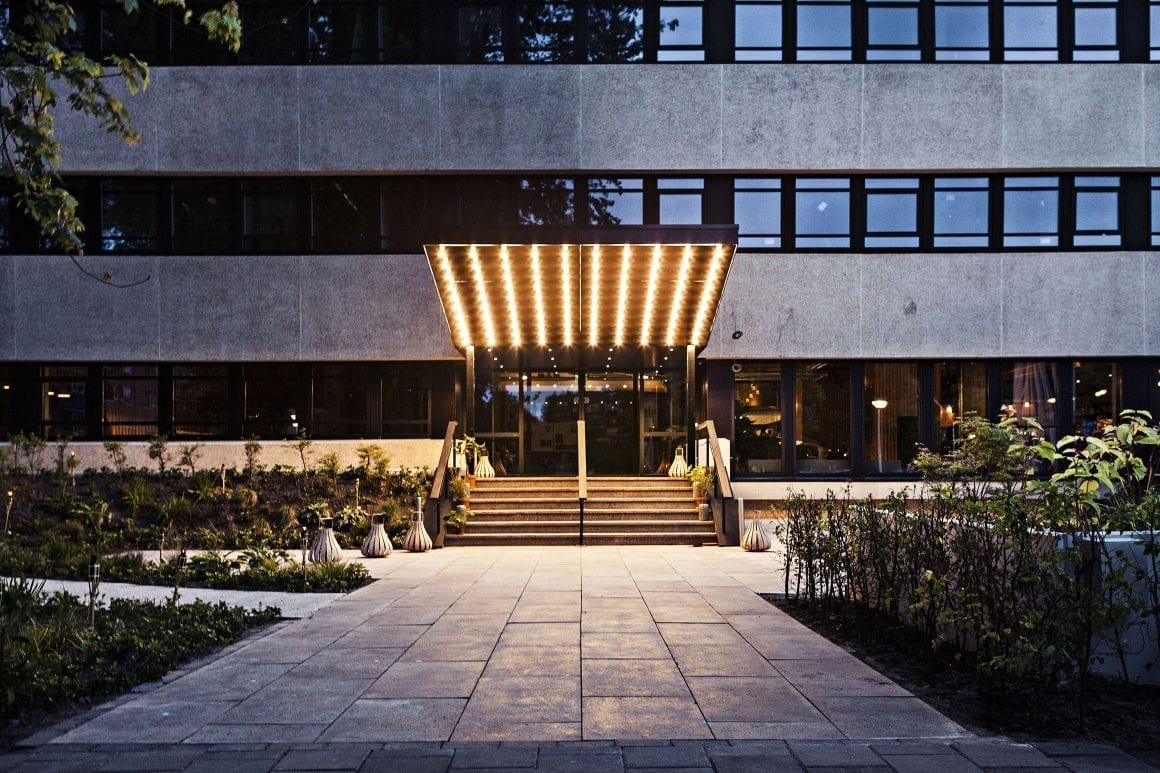 Hotel V Fizeaustraat is one of several Hotel V's in Amsterdam, each of them in the trademark Hotel V style. Hotel V Fizeaustraat stands in a beautifully renovated building from the 70s 'hidden in plain sight', amongst the peaceful neighbourhood of 'Amsteldorp' in Amsterdam's up-and-coming district of the East ("Oost").
This building is by renowned Dutch architect Piet Zanstra (1905-2003), who was responsible for a number of important buildings in Amsterdam. To keep the hotel as authentic as possible, the Hotel V team used it's 1970's construction date as heavy inspiration for the design process, even reinstalling certain features that helped us to retain the building's charm, such as the building's original metal windows (now reinforced with a durable, sustainable glass coating to help control climate and temperature). In keeping with the green surroundings of this neighborhood, the hotel installed green living roofing which has the added benefit of being sustainable and of course, beautiful and green.
A spectrum of greens and browns is broken here and there by patches of raw concrete (referencing the building's office-block past), with diverting moments of quirkiness – such as a giant chandelier made from bicycle chains reaching almost to the floor. Large, tinted windows let in lots of gentle light. Wicker chairs, leather sofas and comfy armchairs are scattered in groups through the large lobby-lounge and bar.
Location of Hotel V Fizeaustraat Amsterdam 7/10
Hotel V Fizeaustraat is (pretty much like the nearby QO Amsterdam hotel) not situated in the best possible location to explore Amsterdam. Yes, the neighborhood is delightfully green and calm, but misses the vibrant atmosphere of other parts of the city.
The hotel's lack of nearby hotspots is compensdated by the fact it is located relatively close (8 minutes walk) to Amsterdam's Amstel station with easy access to trains, trams, metros and busses into different parts of the city as well as the A10 highway.
Rooms at Hotel V Fizeaustraat Amsterdam 8/10
Hotel V Room

Hotel V Room
Hotel V Fizeaustraat has 91 rooms and has probably one of the best value-for-money rooms in the cheapest category (apart from maybe the Motel One chain in Amsterdam). Even in the cheapest rooms ("Comfort" class), you'll have comfortable king size beds, wooden desks, arm chairs (larger rooms also come with couches), smart TVs, minibars, and Nespresso machines. Bathrooms are in black and white and have roomy walk-in showers.
The 1970s retro theme that stems from the building's origin continues in every room with textural metallic macramé wall hangings, rattan seating and retro Marshall radios build on the Seventies motif, while sleek handmade wooden floors, steel shelving, and raw concrete make it modern. You'll even find a yoga mat. The color scheme reflects the hotel's leafy surroundings with plenty of green, warmed by gold, amber, and copper.
Service at Hotel V Fizeaustraat Amsterdam 8,5/10
I never had any problems or issues in the hotel. Hotel staff are young, friendly in a natural way, well-informed and helpful. What really seems to help is a great hiring strategy of hiring young Amsterdam residents who know their city and can offer good advice and genuine tips (which worked well in the first two V hotels).
Getting stuff done at Hotel V Fizeaustraat Amsterdam 7,5/10
The breakfast area is a great place to get some work done – spacious, light with great coffee, wifi and food. The only unfortunately thing here is that the area only opens at 06h30, forcing you to work from a less convenient area right next to the check-in desk if you're an early bird like me.
Breakfast at Hotel V Fizeaustraat Amsterdam 8,5/10
Hotel V Fizeaustraat Amsterdam serves a la carte breakfast in the The Lobby restaurant (more on that in a bit), my favorite breakfast style, which is more and more common amongst hotels like QO in Amsterdam, Kimpton De Witt in Amsterdam, One Shot Fortuny in Madrid and the likes.
Not a buffet, but a choice of one sweet and one savoury item from a long menu (you can choose from an upper and lower part of the menu, although in my experience, the staff never minds you picking two things from one and the same part). 'Savoury' could be eggs Florentine, an entire English breakfast with black pudding, mushrooms, sausages – or more. 'Sweet' includes fruit salad with passion-fruit mascarpone, granola yoghurt (the two being my favorites on the menu) and American pancakes.
The Lobby restaurant at Hotel V Fizeaustraat Amsterdam 8/10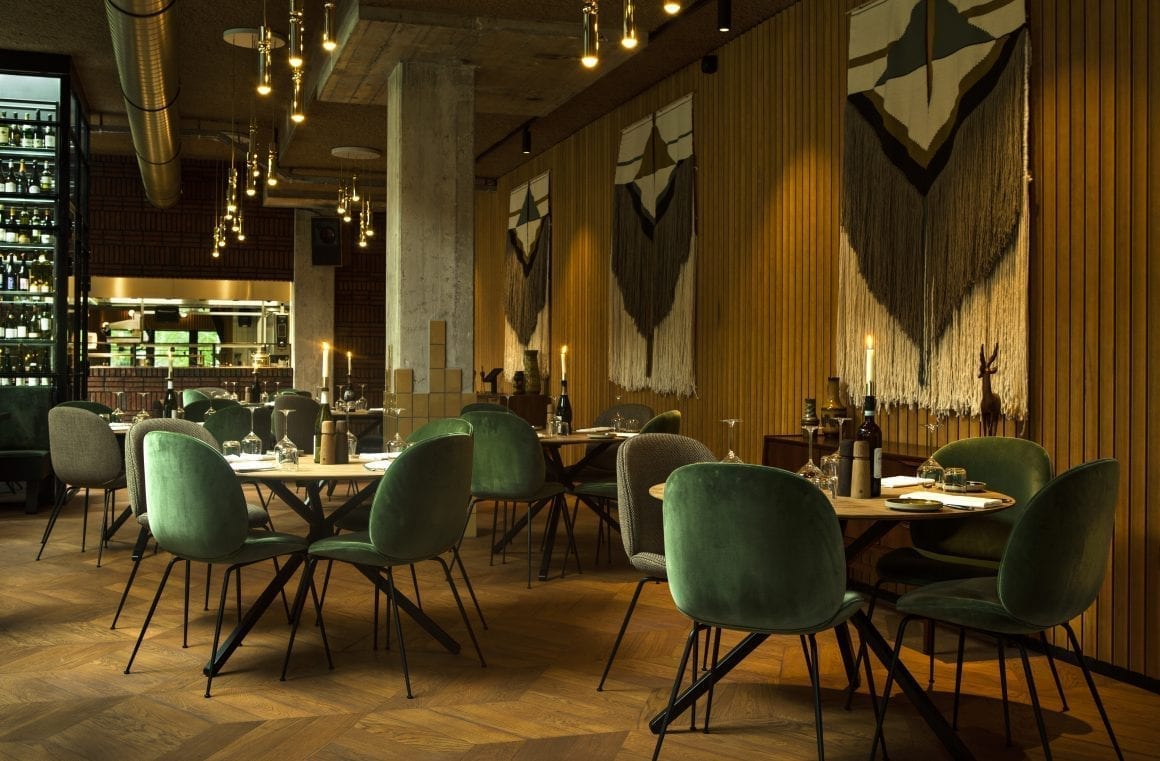 In the same area where breakfast is served (or the other way around), Hotel V has its The Lobby restaurant.
Hotel V Fizeaustraat offers a nice 3-course lunch and famously good flammkuchen. Their other small bites are nice as well (yakitori skewers and their bread with aioli being my favorites).
Dinner at The Lobby Fizeaustraat is always busy – it attracts an interesting cross-section of in-the-know foodies, gray-haired neighborhood residents and hip hotel guests – which makes is one of the more vibrant and interesting hotel lobbies in my hotel stays this year.
My stay at Hotel V Fizeaustraat Amsterdam 8/10
Hotel V Fizeaustraat is a really nice base for your Amsterdam stays if you need a nice hotel with great breakfast with reasonable connections to the rest of the city (e.g. for a business trip where you'd like to have a business meeting at your hotel). There are hotels located in nicer parts of the city if you're looking for a weekend away with your significant other.
I stayed 5 times at the Hotel V Fizeaustraat and paid an average of 105 euros per night, including breakfast. Be sure to keep an eye on their price and availability calendar as prices can fluctuate between as low as 90 euros and as high as 190 euros per night.