When I was in Stockholm for a 3-day training, I was looking for a hotel close to public transport, great service, a decent breakfast, and amazing staff. As I expected to be tired in de evenings, I was in need of a quick way to renew my energy for the next intense days of training. Miss Clara Hotel Stockholm (part of Marriott) was exactly that and more – great for both business and leisure travel.
Miss Clara Hotel Stockholm
Miss Clara is a boutique hotel that opened in April 2015 in a handsome Art Nouveau building from 1910 that was formerly a private girls' school. Over time, it has gathered attention from publications like The New York Times.
The stone floors which are still present in the majority of the common spaces throughout the hotel have been with the building through its whole existence. Built in 1910, the building was originally created to host Ateneum (which is still the wifi password), one of the nation's biggest academic establishments for girls only.
Nice detail is in the naming of the hotel, referencing Clara Strömberg. Clara was the extremely popular head mistress of the Ateneum girl's school who enthusiastically guided her students through school work and personal conundrums. With a passion for life and a courage to challenge the norm she served as the inspiration for the hotel, so much that was decided to adopt her name – hence Miss Clara Hotel.
Location of Miss Clara Hotel Stockholm 9/10
Although my training in Stockholm was pretty much on the other side of the city (near Telefonplan metro station), the location of Miss Clara proved to be great. The nearest metro station is about 200 meters from the hotel and is one stop away from the T-centralen central railway station which connects both with other parts of the city as well as to the Arlanda-Express which gives you a 20-minute speedy connection to the Stockholm Arlanda international airport. This alone makes Miss Clara an amazing place to explore the city.
On top of that, the Miss Clara neighbourhood is great. Plenty of amazing bars, restaurants and shops and within walking distance most major tourist sites, including the Royal Palace and Gamla Stan (the Old Town).
Rooms at Miss Clara Hotel Stockholm 8/10
Miss Clara Stockholm Office bed

Miss Clara Stockholm Room

Miss Clara Stockholm Room view

Miss Clara Stockholm Room
Rooms in the Miss Clara are simple yet stylish. Not too much, but certainly not too little.
High ceilings, expansive windows, and grand rooms—the original features of the 1910 building—have thankfully been left intact, resulting in 92 elegant, light-filled rooms.
My room had beautiful dark parquet floors and further use of Swedish materials, including but not limited to, limestone, oak, bentwood, and natural leather made the rooms feel extremely warm and cozy. The glass-walled limestone bathrooms add to the airiness of the rooms and include luxury toiletries by Orla Kiely (loved it almost as much as Kimpton's).
And the best things were in the details – in front of the window was a smart, multi-functional and clearly bespoke storage unit that stretched out the length of the windows and include pull-out desk, a mini safe, a dryer and other materials and mini-bar.
A row of windows overlooking neighborhood rooftops and the domed cupola of the adjacent Adolf Fredrik church (with a pretty neat sunrise for free).
Service at Miss Clara Hotel Stockholm 9/10
I probably had one of my best service experiences in a while (special thanks to front desk employee Tea). When checking in, I had asked the hotel reception if -when I would get up early the next morning- I would be able to get a coffee (possible indeed) and what would be the best place in the hotel to get some work done. Tea showed me an empty space on the long, welcoming front desk additionally asked me if I would like to have a coffee now (yes, as I was super tired). During the afternoon, I was busy having different calls and Tea brought me another refill of coffee. When later I went to reception to pay, they had waived the two coffees. Amazing way to have me instantly feel at home.
I had no further issues.
Getting stuff done at the Miss Clara Hotel Stockholm 8.5/10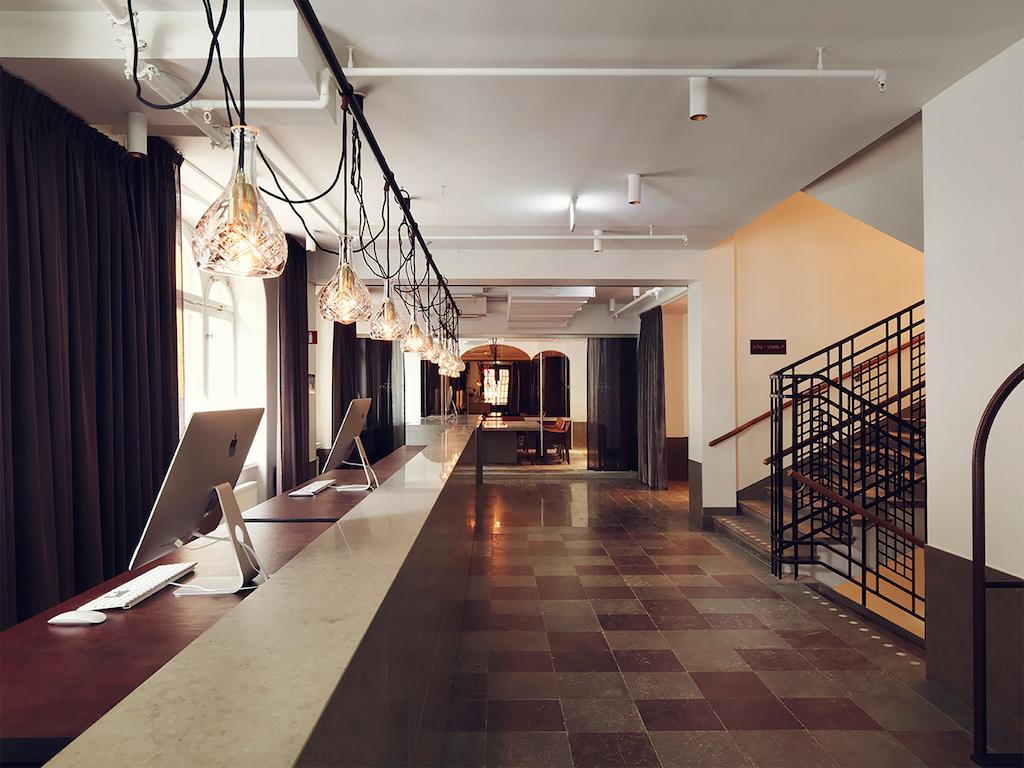 Workspaces don't have to be fancy or elaborate to work well. I spent most of my first day working from the far end of the hotel reception 'bar' in the reception area.
As the office space was not booked, the front desk employee even offered me to work from the fancy conference room at the far end of the reception. That, in combination with my superb service experience (as above), made it an amazingly comfortable setting to get some work done.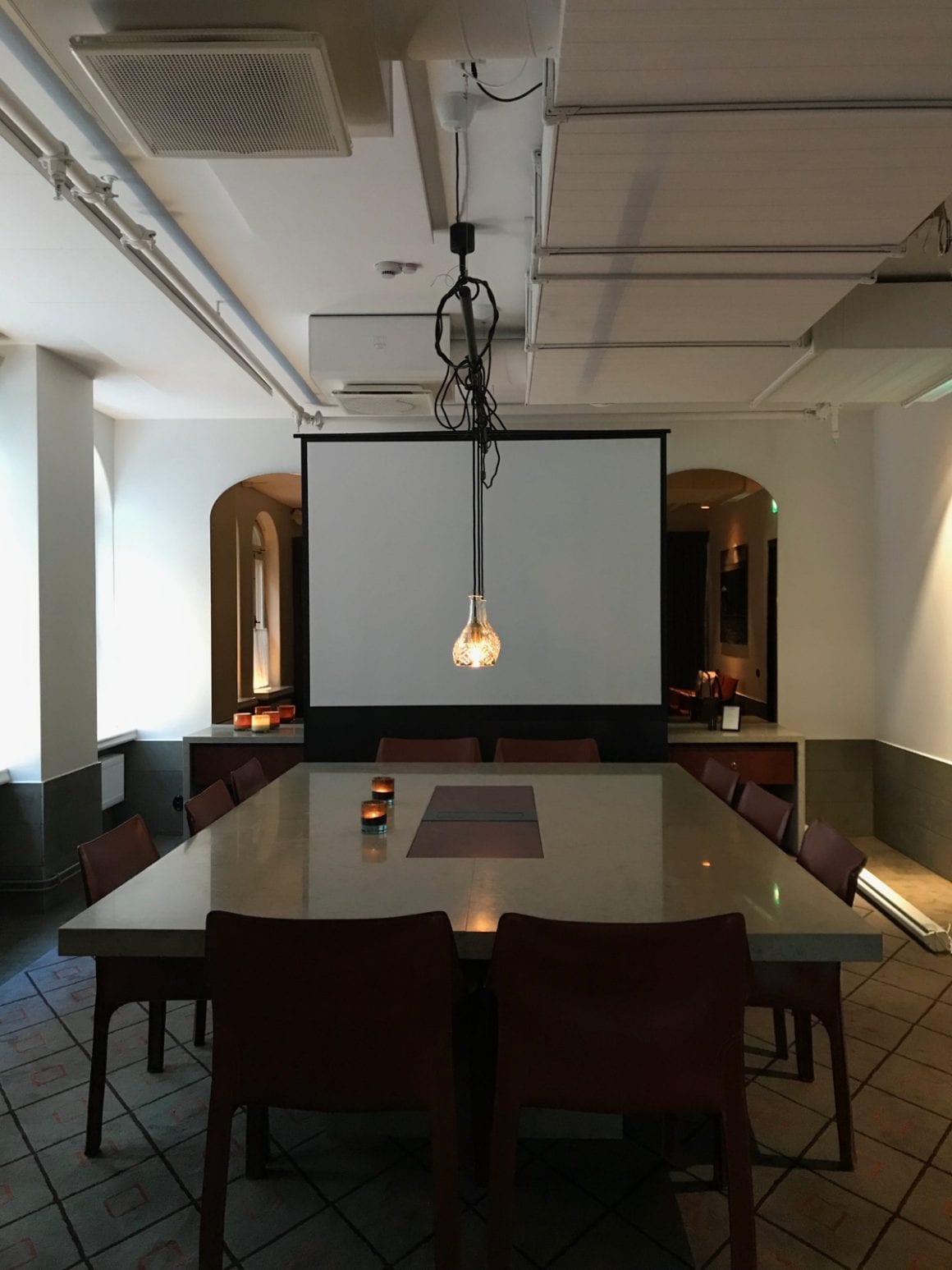 Breakfast at Miss Clara Hotel Stockholm 8/10
Miss Clara Stockholm Breakfast area

Miss Clara Stockholm Breakfast

Miss Clara Stockholm Breakfast
The breakfast at the hotel was a very decent buffet-style breakfast. As you probably know by now, I am a sucker for a-la-carte breakfasts. Despite that, the hotel had a very broad range of super fresh meat, cheese, bread, cereals and other standard breakfast foods. Plenty of juices and fresh fruit to go with it.
The only thing that was slightly strange was a centrally placed coffee 'tap' where you could get your coffee. It did certainly suffice, but either table service coffee or a fancier way of presenting it (closer to the rest of the breakfast), would in my humble opinion make more sense.
What was slightly annoying was that on my last day, breakfast (coffee and bread) was still being prepared while the breakfast had already opened. Breakfast opened at 06h30 and coffee would not arrive until 06h45. This is obviously not a super big deal, but a slight annoyance as I had to catch a 06h55 metro and was in great need of some shots of caffeine.
My stay at Miss Clara Hotel Stockholm 9/10
I had a great stay at the Miss Clara Hotel in Stockholm and will definately be back. Both for leisure or business trips, it seems I have a new favorite hotel in Stockholm. If the hotel would implement an a-la-carte style breakfast it might actually rival the Amsterdam QO hotel and One Shot Fortuny in Madrid as my favorite property.
In total, I paid 4200 Swedish Krona for a 3-night stay, including breakfast, which is about 400 euros. For the value and for the fact that Stockholm in general is an expensive hotel city, a great deal.