I turned 37 last week. And, just like last year, I did a little birthday experiment. This year same experiment, different city, different hotels. The key difference? I picked hotels I had stayed at a lot last year. It turned into my not-so-sad little hotel birthday experiment.
Because of work – like last year-, I had to travel and had to spend the night in Amsterdam. So I spent the night in a hotel, on my birthday and set out to spend the night in another hotel later that week. And I again decided to make the best out of the situation and turn this into another small hotel birthday experiment. I was really curious to see how hotels from two different hotel groups would react to the fact that one of their loyal and frequent guests would spend his birthday at the hotel. And this time I picked the two hotels where I spent the most nights last year – I spent approximately 20 nights at the QO Hotel and more than 50 nights at the Renaissance Amsterdam Schiphol Airport.
Spoiler: it went considerably better than last year.
For readability, I broke this post down in different parts
On Birthdays
A few years ago, I decided not to celebrate my birthday anymore. I had grown tired of forced celebrations and did not feel not-dying for a year was a true accomplishment to be celebrated. So I really and honestly do not care too much about my birthday, birthday celebrations or gestures from brands on my birthday.
For brands, however, a birthday seems to be the moment to communicate with their customers. It is a data point they usually have (often, you will have filled out your birthday somewhere) and it is a simple, positive moment you can act on. From a simple email to a small gift and from a discount to a personalized video.
My small hotel birthday experiment
So combining this all – the ease of a birthday intervention, my status as an elite member at two hotels and the occasion that presented itself (I had to spend the night in a hotel on my birthday), was a nice starting point. I decided to see how two hotels would handle my checking in. I really don't want to be ungrateful, I just was genuinely curious how hotels would use a seemingly obvious opportunity to delight one of their frequent customers. Last year's experiment was in Brussels, where I tested the Crown Plaza Hotel and the Hilton Brussels City on the same square. This year, I had to be in Amsterdam and tested the two hotels where I spend the most nights last year (and should know me best) – The QO Hotel Amsterdam (part of IHG) and the Renaissance Hotel Amsterdam Schiphol (part of Marriott). With IHG, I currently hold Spire Ambassador status, with Marriott I currently hold Titanium status.
QO Hotel Amsterdam
First up – the QO Hotel in Amsterdam. For a while (mainly in the months before and after New Year) I had spent the majority of the nights here. After that, the prices had almost doubled, so I had moved to other properties (the QO is just outright amazing, but slightly outside of my travel budget after the price hike).
I checked in on Sunday, the day before my birthday. No mention of my birthday at check-in but … I got a really nice suite upgrade, a kind letter by the team and a small gift (box of play cards and dices). Nice play QO!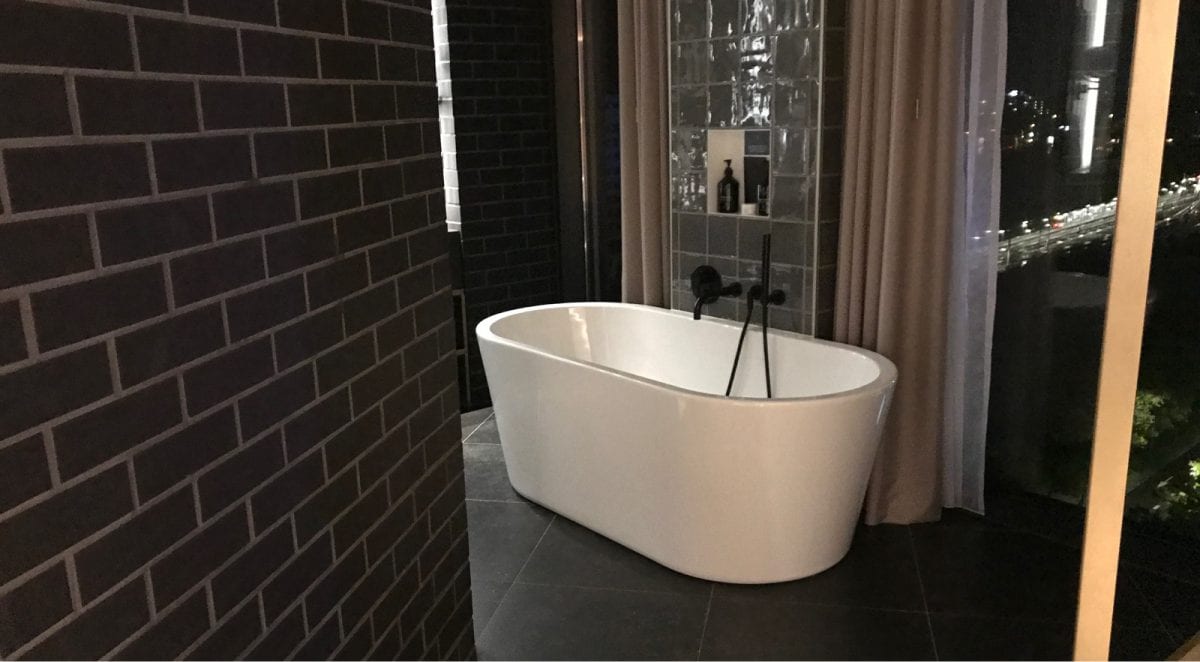 Renaissance Hotel Amsterdam Schiphol
Later that week (actually 2 days after my birthday) I had to move to the Renaissance Hotel Amsterdam Schiphol. Recently I have been staying a lot here. Over 50 nights this year alone – it helped me fast track to Marriott Platinum (and now even Titanium) and was one of the reasons I really got fond of the Marriott properties this year (more on Marriott here).
When I arrived on Wednesday evening I got greeted by the Front Office Supervisor who congratulated me on my birthday. Moments later, the General Manager stepped in and did the same. Over the course of the evening, several other members of the staff did the same. Even the next morning, some of the breakfast staff congratulated me.
But the big surprise came when I entered my room – I had gotten (another) suite upgrade, there was a bottle of water and a bottle of champagne waiting and the team offered me a complimentary dinner at the restaurant (which introduced a new menu that week, which made it an extra exciting dinner).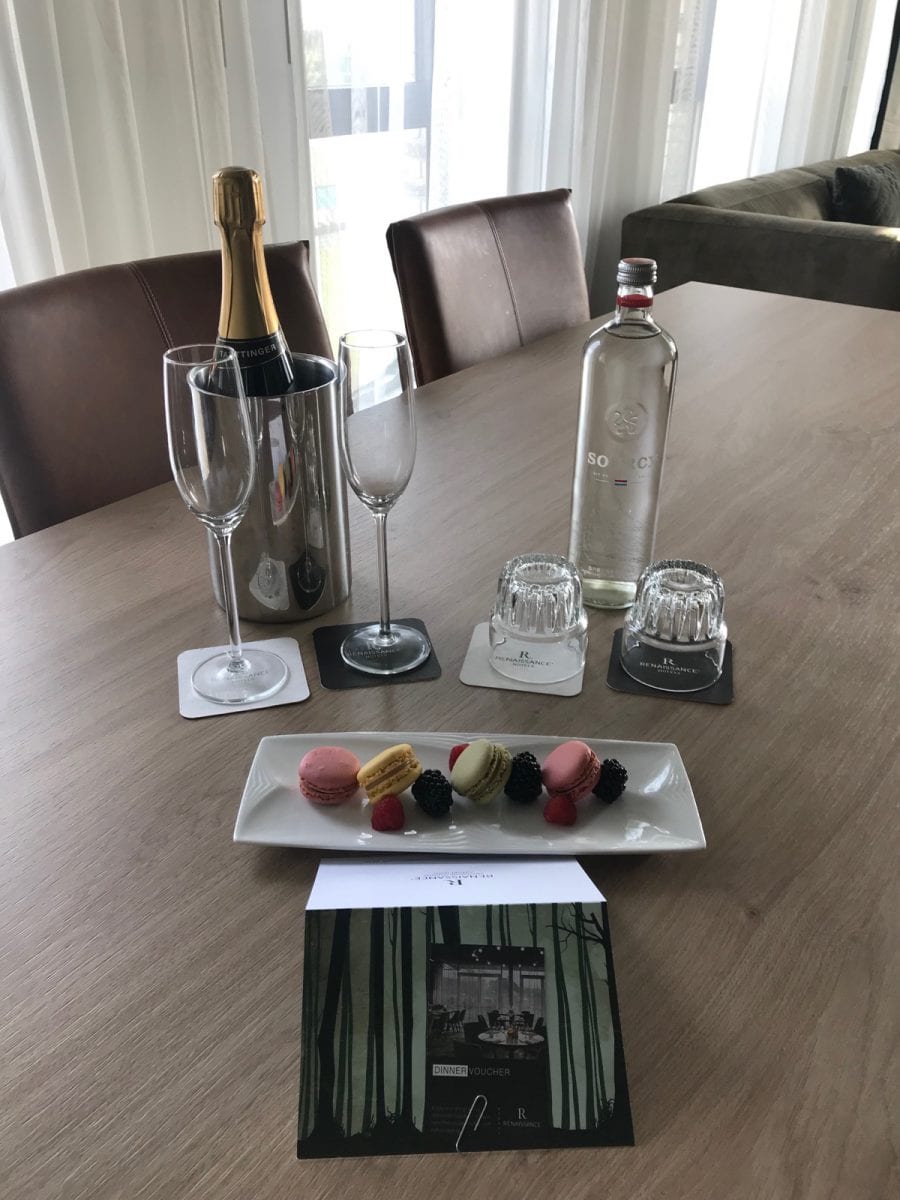 Some notes on my small hotel birthday experiment
I had stayed at QO Amsterdam more than 20 nights in late 2018, early 2019. It definitely is my favorite IHG property in Amsterdam – with the Intercontinental Amstel being a bit too stiff for my liking and Kimpton DeWitt often struggling to keep up Kimpton standards (especially in comparison to the Kimpton Fitzroy in London).
After some bad experiences with IHG's service, I decided to explore Marriott further this year. Using their fast track and benefiting from the fact that Renaissance Schiphol was a rather new property (with corresponding low entry pricing). I have seen the property evolve over the last year.
My take-aways
Especially after last year's experiment, I was now extra curious about what would happen. Although I did not expect something to happen, I kinda expected something to happen. Again – spending the night in a hotel on your birthday seems the simplest of checks in the system. And now even more as I stayed at two hotels that new pretty much every single one of my hotel wants, wishes and quirks.
So, there seems to be a difference in how hotels treat 'regulars'.
The intervention could be really small – from just having front desk staff acknowledge your birthday ("wow, it's your birthday today, so nice of you to spend it with us"), from a small gesture (drink at the bar, handwritten card on the hotel room), to bigger gestures (upgrades, drinks in the room). And that is pretty much exactly what happened. The sweet suite upgrade and the lettter from the team at QO was more than enough to make me feel appreciated as a loyal customer. And the Renaissance went truly above and beyond with the personal reception, the suite upgrade, dinner and champagne. Many many thanks to both teams to make these stays to remember.
In all honesty, I think I was most overwhelmed by the personal approach from the Renaissance team. Even without the upgrade, the champagne and the dinner, I would have appreciated the congratulations from so many team members massively – it truly made the week memorable. I guess small interventions really can help turning statements like "guest-centric", "you're part of our extended family" and "you're one of our favorite guests" into daily practice. Thanks QO and Renaissance for bringing my faith back.
Got similar experience, got ideas how to fix this or act on this? Let me know.