This is a tribute to SafeTravel (safetravel.is). A platform so smart, simple, yet effective it should be implemented for travelers around the world.
I'm not even sure where I had heard from them. The safetravel.is website. While I was validating my ideas for my Laugavegur solo hike in Iceland, I probably stumbled upon a blog post from another hiker mentioning the service. You'd be able to submit your travel plans and if you would not check out after finishing your trip, local rescue servicing would be alerted. It sounded as a great idea, especially as I was traveling alone on the Laugavegur trail early on in the season.
So I submitted my travel plans, only to get a reply within less than 5 minutes from Anika:
With the trip monitoring function its best to have the checkout time for the arrival of your last stop as if it's the day after you may forget to check out and trigger the search and rescue process. This also makes it more effective for us if you need rescuing because then we would start the search for you sooner. I recommend that you cancel this trip monitoring and submit a new one. You can also wait until closer to the time so you are more sure of your exact dates and times as the weather in Iceland is known to affect those a bit. Let me know if you have any questions.
I was super impressed. Not only did they reply insanely fast, they were truly concerned about my well-being and gave me concrete and direct advise on how to make best use of the service.
Some background on SafeTravel
SafeTravel is an accident prevention project of the Icelandic Association for Search and Rescue aimed at providing travelers with education and resources for safe travel in Iceland. They offer travel safety tips (also have a look at my hiking safety tips), gear rental (including Personal Locator Beacons).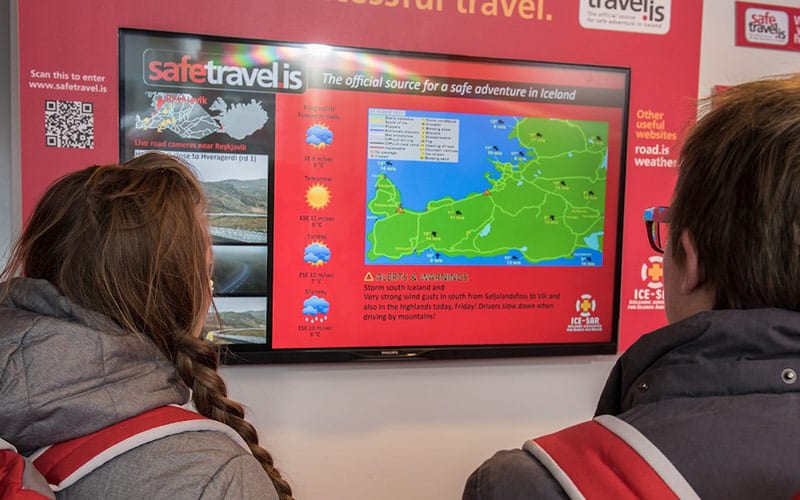 They also run a series of information screens at key travel hubs to keep visitors informed during the course of their travels. Additional safety information can be found on the project's 3 social media channels: Facebook, Instagram, and Twitter. Safety alerts are updated daily on the website in English, Icelandic, French and German. Travelers can speak directly with a SafeTravel safety agent in the Reykjavík City Hall (Ráðhúsið) or on Skype between 8am and 8pm every day.
The project was founded in 2010 and has since grown to include a variety of features including travel plan submissions, personal locator beacon rentals and a one stop, up to date travel conditions interface.
Submitting your travel plan

Submitting your travel plan is super easy. In 9 steps, you will be guided through all the information SafeTravel needs to help you if the proverbial shit hits the fan. Your name and address, family members, your exact travel plans (location, time, dates), if you carry maps, locator beacons and/or other materials, etcetera etcetera.
After that, you get a confirmation email with all your details and a link you will need to check out when you have completed your travel plans (be sure you do, otherwise, the emergency teams will be looking for you in vain and the consequences will be yours).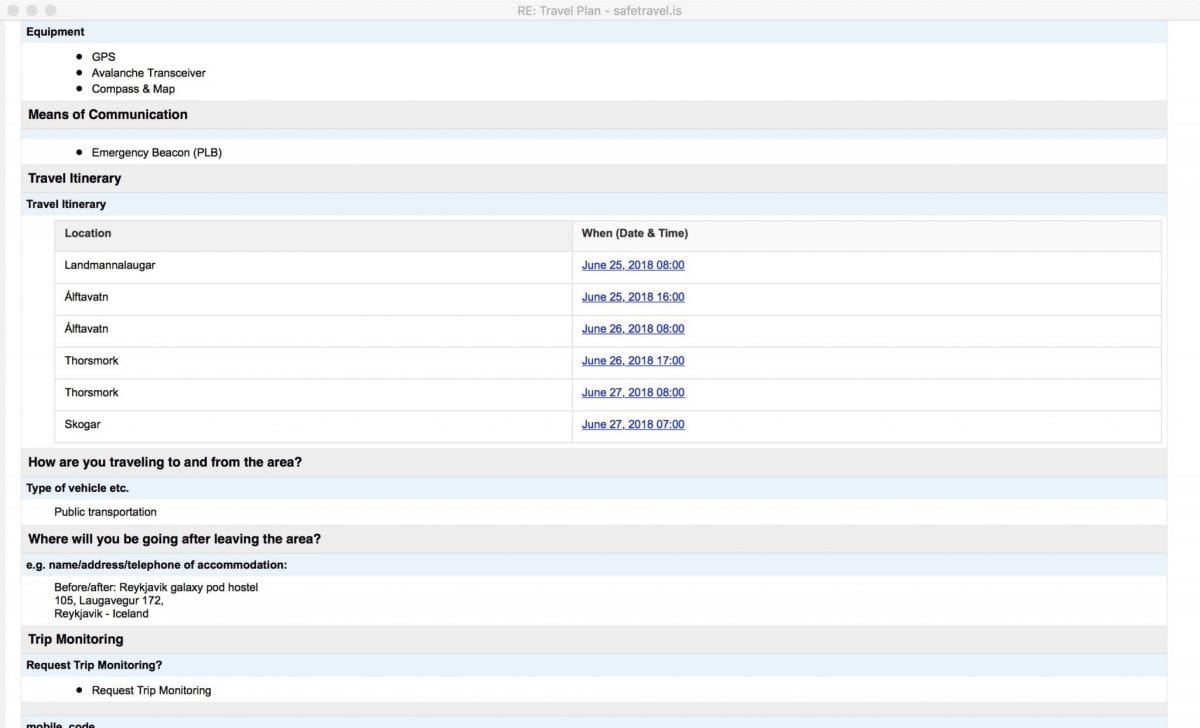 Additionally, the SafeTravel team will do a check on your travel plans (as I wrote in my introduction).
If you opted in, you will also get text messages with local safety alerts (I did – I was super happy I was alerted long before of the bad weather circumstances on my first planned day on the trail).
My experience with SafeTravel
Apart from the experience I mentioned above, we, unfortunately, had to field-test the service as well. On the first day of my Laugavegur trail hike, I had a particularly rough day because of the snow (apart from the fact that I covered close to 40 kilometers). Although the weather and the trail improved during the day, about 10 kilometers from my planned camping ground at Emstrur/Botnar, I was mentally struggling. I was tired, had sore legs and the ever ongoing black Lava fields weren't really able to distract me. So I sent a WhatsApp message with pretty much that to my wife.
Unfortunately, the area has bad cellphone reception so it was the last message I was able to send to my family in -what turned out to be- more than 14 hours. Because of the bad weather conditions in the area, it had my family worried.
So early the next morning my brother Sem used the chat function on the website to check on me. Although the team were not able to locate me (because there was no immediate emergency), they were able to comfort my brother (and the rest of the family) with the fact the area has bad cellphone reception and that they would be able to track me if something went wrong because of my Personal Locator Beacon.
When I was finally able to reconnect with my family, at least they were slightly more comfortable.
Some last words
Projects like SafeTravel are never ever a replacement for common sense, good preparation and your own safety precautions. But it is an additional safety buffer on top of your existing safety measures.
If you're traveling through Iceland and especially if you're hiking in remote areas, I can not stress enough to submit your travel plan on the SafeTravel website.
So Anika, Jónas and the rest of the team, thanks so much for your daily efforts to make traveling more accessible and above all, more safe.